With plenty of familiarity between Revolver, DiG, Rhino, and Sub this season, will previous results bear out or can teams flip the script at Nationals?

Ultiworld's coverage of the 2023 Club National Championships is presented by Spin Ultimate; all opinions are those of the author(s). Find out how Spin can get you, and your team, looking your best this season.
Pool A Preview — Pool B Preview — Pool D Preview — Competition Schedule
Almost every team in Pool C has played each other already this season, with results going fully to chalk. But that chalk certainly isn't what we expected at the beginning of the season, with Revolver experiencing a revival in 2023 while Rhino's slam has had less impact than anticipated. Will teams stay true to their performances this season, or could some preseason projections come to pass?

San Francisco Revolver
USAU Ranking: #3
Power Ranking: #10
Regional Finish: Southwest 1
Overall 2023 Record: 16-5
Against the Nationals Field: 6-5
Against the Pool: 1-0 vs. DiG, 1-0 vs. Rhino Slam!
Coming in as our preseason #9, San Francisco Revolver have had their strongest regular season since 2018, outproducing what anyone outside the team expected of them and earning themselves the no.3 seed at Nationals. That's a solid achievement and a sweet reward – now, what can they do with it?
There are three main reasons for their success this season as compared to the last three: giving their youth the keys to the offense, shifting their defensive philosophy, and returning Michael Ing. Flashback to 2018: Revolver had no players on the roster that were 22 or younger. Five years later, they've got four guys on the offense and several others on defense that are still in college. Riley Kirkman-Davis and Calvin Brown in the backfield are vicious, and Kyle Lew has emerged as a starter for the D-line in his first year in elite club. And we haven't even mentioned Anton Orme and Kevin Tien, who have both, in their own ways, turned into dream continuation cutters for O-line stalwart Adam Rees.
For almost a decade, Revolver had the defensive personnel to win their one-on-one matchups consistently, which required little reason for smart heads-up defense. Shedding the "win your matchup at all costs" mindset has created space for their new identity of help defense. This system fits the current personnel on the team really well, and can give teams trouble that don't have experience going against an alert, switchy defense.
Michael Ing coming back from injury has also been a huge boost for the team. He's stepped back into a high usage role and will remind the division how impactful his skillset can be. A good performance at Nationals should send Ing stocks values back to all-time highs on the West Coast – maybe even on a par with where they are out east in the mixed division.
They're ready within themselves, but the challenges from outside will be extremely tricky to manage. DiG and Rhino (see below) will not be easy outs by any stretch. Despite the difficult draw, however, Revolver are feeling confident going into pool play. "I think Nationals is a lot about who can improve continuously from the beginning to the end of the tournament and having those early challenges can be really important," said Ing, one of the team's captains. "Kind of depends on the type of team that you are. I think it plays to our favor."
Likely Ceiling: Semis
Likely Floor: Prequarters
Boston DiG
USAU Ranking: #7
Power Ranking: #6
Regional Finish: Northeast 2
Overall 2023 Record: 21-6
Against the Nationals Field: 6-6
Against the Pool: 0-1 vs. Revolver, 1-0 vs. Rhino, 2-0 vs. Sub Zero
We did not get to see full strength Boston DiG against Nationals-level competition very much, if at all, this season. They brought a smaller group to US Open and – because… well, see the next paragraph for the "because" – did not get a bid to Pro Champs, so we saw them beat up on Elite-Select level teams instead. Even so, it's silly not to consider them a potential dark horse candidate to win it all.
DiG were very strong last year, but choked at Regionals against GOAT after losing to PoNY on universe in the first game to go. "In a way, not qualifying last year has really given everyone a little fire under their ass," said star D-line cutter Orion Cable. "We've put a ton of time and energy into this team. I think it'll pay off."
DiG are going to be hungry to attack this tournament now that their program has felt the brutal sting of missing Nationals. Good luck to any offenses that have to play against this D-line, their young guys will be flying around out there. The offense, meanwhile, has looked pretty sharp with a returned Mac Hecht, a souped-up Simon Carapella, and, if reports from Northeast Regionals can be trusted, a fully healthy Leo Gordon.1
All the teams at Nationals have excellent players, though. But not all of them have excellent coaches. In a tournament where talent is a prerequisite, it's more the coaching and system that separates the elite teams from the rest. Jake Smart and Sam Lehman are a proven duo who get the most from their guys and deliver exceptional results. Giving their brain trust this much time to prepare against the other teams in their pool will be a huge advantage for DiG.
Also, has anyone heard from Ben Sadok this season? If he's in form, that's going to be a problem for the field.
Likely Ceiling: Semis
Likely Floor: Prequarters

Portland Rhino Slam!
USAU Ranking: #10
Power Ranking: #9
Regional Finish: Northwest 1
Overall 2023 Record: 17-10
Against the Nationals Field: 7-8
Against the Pool: 0-1 vs. Revolver, 0-1 vs. DiG
It isn't unfair to say that Portland Rhino Slam! have been bad compared to what we expected of them this season. And the expectations weren't unfair either: they were following up a quarters-semis-semis streak at the last three Club Championships by adding some of the best players in the game and continuing to farm the suddenly very fruitful local college scene. The truth is, though, it hasn't translated to that level of on-field product yet. Unfavorable weather conditions really seemed to give them trouble, their handler play has been meh, and they didn't notch all that many good wins this season. However, the sheer star power on this roster makes me want to toss out the entire regular season and give them a pass going into Nationals.
Because Rhino have a lot to be excited about. Their D-line is loaded with athletes like Itay Chang, Daniel Lee, and "clutchgod" David Sealand. Their cutter corps is among the strongest at the tournament as well. Dylan Freechild, Raphy Hayes, Leandro Marx, Will Lohre, and Felix Moren are a nightmare group to gameplan against and will require a lot of deliberate strategy to contain them.
It would not be surprising if the Rhino we get at Nationals is vastly superior to what we saw during the regular season. "We have always had a great combination of athleticism and skill. As we've tinkered with things as the season has gone along, we've started to click and it's starting to look really explosive and nice," remarked five-year captain Vinh Bui. "I would say this is the most talented Rhino team that I've been on."
However, getting to championship level isn't as simple as flipping a switch. Will they continue to underperform, or gut out some upset wins because of their excellent talent?
Likely Ceiling: Semis
Likely Floor: Prequarters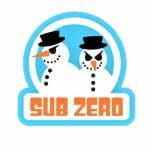 Minneapolis Sub Zero
USAU Ranking: #16
Power Ranking: #16
Regional Finish: North Central 1
Overall 2023 Record: 21-7
Against the Nationals Field: 1-3
Against the Pool: 0-2 vs. DiG
With an average age of 21 years old, Sub Zero are more likely focused on hatching a plan for how they can sneak into the after party than they are making a deep run.
All jokes aside, their youth can present an interesting challenge to some of the more hardened teams in Pool C. Imagine they start off their game against Revolver with a point like this. With so few reps at the Nationals level for the majority of their team, it's difficult to imagine them scoring a win against their poolmates. To be clear though, they are not a free win compared to some of the other fourth-pot teams. If they build some momentum early in a contest, they could sneak out a win. "I think it's gonna be a bloodbath of a pool. Any team can win, and any team could just have a bad day and not make the bracket. I'm excited because I know that we're gonna be tested in games that are very winnable," said captain Noah Hanson. "All of those teams are good, but I expect to play up to them and I expect them to have to respond to us because we're going to apply that pressure."
It's unlikely they make it out of the pool, but it's a great experience for their young talent to get a Nationals under their belts. Going to Nationals for the first time will catalyze some of their more inexperienced guys and be great pieces to continue building for the future with. That is, until they move to New York and play for PoNY instead2.
Likely Ceiling: Prequarters
Likely Floor: Out on Day One
---
Gordon missed most of the regular season to injury. ↩

Insert your best Ben Jagt, Ryan Osgar, Charles Weinberg, and/or Tony Poletto joke ↩