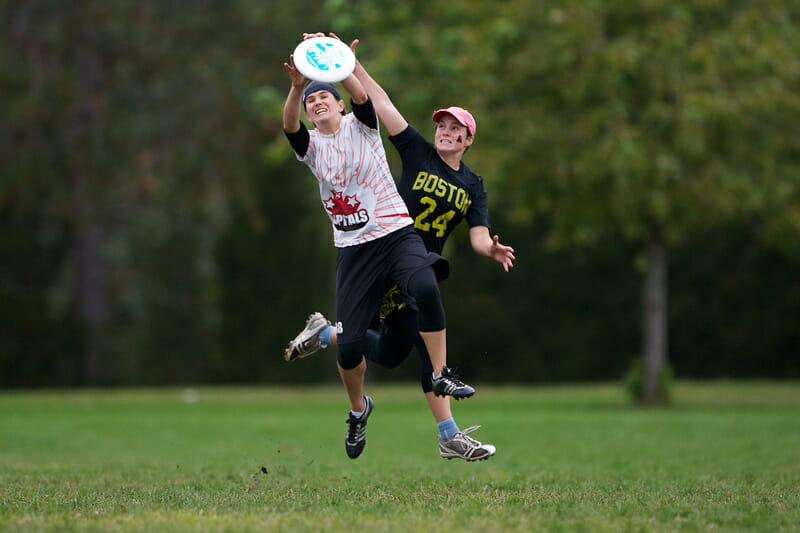 Aside from the mixed division, there weren't a whole lot of surprises this weekend at Northeast Regionals. Ultiworld went 7 for 9 on picks from our tournament previews. That said, there was plenty of drama. Games were close and hard-fought and, in many cases, could have gone either way.
Here's all the action from this weekend in each division. Check out lots of game photos here.
Open
FINALS

For a full recap of the Ironside v. GOAT finals, check out our game story and the full game footage.
2ND PLACE GAME
New York's PoNY had to get past a very tough Amherst alumni team, Dark or Light, who took them to double game point after getting a handful of late breaks to tie it up. PoNY pulled out the win, though, giving themselves a momentum boost as they head into the second place game to face Toronto's GOAT, who had just lost a heartbreaker.
It was clear from the start that GOAT, who had beaten PoNY 15-10 on Saturday, were still feeling the Ironside loss. Their defense never found the intensity they had the day earlier — and PoNY's offensive line cruised, never letting off a break.
On defense, PoNY was hungry. Handler Chris Mazur said from the start that they "smelled blood." The game stayed close until near halftime, when PoNY's D line started racking up some breaks.
PoNY closed out the comfortable 15-10 victory to punch their ticket to Sarasota.
BACKDOOR GAME
GOAT dropped down the bracket again after their loss and had to face off against the dangerous Dark or Light, who had upset Boston's Garuda — the four seed — earlier in the day before almost taking down PoNY.
The game was close throughout the first half, with each team getting one break. GOAT went into half only up by one.
But in the second half, Dark or Light's short rotation — they played about ten guys — caught up to them as they were unable to put much pressure on GOAT's offense. GOAT grabbed a couple more breaks and maintained their lead to win it 15-12, creeping into the Club Championships.
What's remarkable is that GOAT — who couldn't have been closer to beating Ironside, the clear Nationals one seed — may find themselves as the bottom seed at Nationals. GOAT has just one win against a Sarasota-bound team (Atlanta's Chain Lightning) and have to be seeded lower than PoNY, whose only win against a Nationals squad came against…GOAT in the second place game.
This could mean a rematch between GOAT and Ironside in pool play in Sarasota, probably not something Ironside particularly would like to see. Teams will need to bring their top game against GOAT — they won't be losing every game in Sarasota.
Mixed
FINALS
Although Northeast's Mixed division was unpredictable down the bracket, the finals played out as expected. Boston's The Ghosts faced off against crosstown rival Slow White after both cruised through Saturday's bracket play. This was their fourth meeting of the year.
The Ghosts, with the 15-12 victory, won the season series 3-1, with their only loss coming at August's Chesapeake Invite, a tournament where they were missing some of their key players. The win means The Ghosts will be enjoying a top seed in a pool at the Club Championships.
2ND/3RD PLACE GAME
This game had no Nationals implications except for seeding, but Montreal's Odyssée fought hard to beat New York's 7Express and Connecticut's District 5 to punch their ticket. They faced Slow White again after losing in the semifinals to them on Saturday.
Slow White again proved themselves the better squad, closing out the day with a 15-9 victory.
BACKDOOR GAME
The backdoor game pitted Lexington's Wild Card against District 5. D5, a strong Nationals contender last season, didn't have the same firepower this year, but had beaten Wild Card in the last round on Saturday to stay in the second place bracket.
But Wild Card's deeper team may have made the difference in the last round Sunday, as they ground out a tough 13-11 victory to lock in a bid in their first year as a team. Extra impressive was their long road through Sunday, having to win four games straight to get to Sarasota.
Women's
FINALS
After Boston's Brute Squad got the pool play victory 8-7 over New York's Bent, they locked up a spot in the finals to face the top seeded Ottowa Capitals. It was a hard-fought, very well-played game, with both teams making big, athletic plays to make it one of the more fun games to watch on the weekend.
The Capitals' handlers showed real strength, making some great throws to propel them to a 15-12 victory, taking one of the bids that Brute Squad and Bent earned for the region during the regular season.
BACKDOOR GAME

The expected backdoor game between Brute Squad and Bent was a battle. The teams went back and forth, getting huge Ds and grinding out marathon points, particularly at the end of the game. Brute Squad pulled ahead by a couple breaks, but Bent got one back late to get within one at 13-12 in a capped game to 14. The final point was an absolute slugfest, as both teams had great chances taken away with huge plays, before Brute Squad finally punched it in to get the region's final bid to Sarasota.
Anyone watching this game would have to conclude that it's a real shame there weren't three bids, as both teams played spectacular ultimate.
Photo courtesy of Burt Granofsky from Ultiphotos.