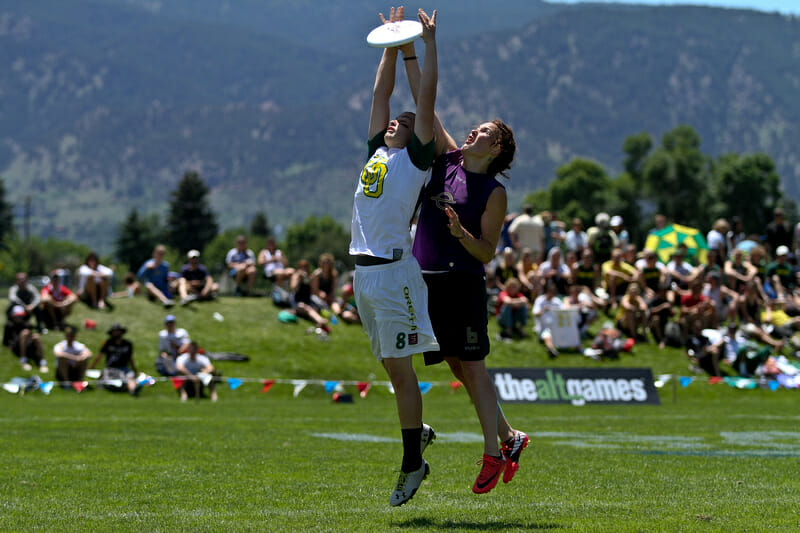 With their spring seasons beginning to unfold and a few tournaments under their belts, the twelve women's teams at the Stanford Invite will face off to get an early idea of where they stand, as well as hone in on skills and work out weaknesses for the rest of the spring.
The lineup for the 2013 Stanford Invite pits a number of west coast teams against each other again — many of whom played each other at Pres Day Invite or the Santa Barbara Invite — with a few outsiders traveling west for some quality competition.
Split into two big pools of six with the top two finishers of each pool going straight to semifinals, Stanford Invite allows for teams to face a large number of opponents over the course of the weekend. With both winners of the 2012 and 2011 College Championships, as well as a field of teams that have had a consistent presence over the years at the College Championships, "impressive opponents" will not be hard to find. 11 of the 12 teams are ranked in Ultiworld's Top 25. Additionally, all of USA Ultimate's top five ranked teams will be in attendance.
Pool A: Oregon, Washington, Carleton College, Sonoma State, California, UCLA
Oregon (#1) and Washington (#4), the two finalists of 2012 College Championships, will meet again, with Oregon looking to get another tournament win following their recent triumph at the President's Day Invite. With Sophie Darch and Bailey Zahniser at the helm, Oregon's skilled offense has the ability to both attack quickly or slow it down, depending on what the situation demands. With the Freshman Of The Year Jesse Shofner, together with sophomore phenoms Alex Ode and Bethany Kaylor, the underclassmen of Oregon only add more skill to an already very experienced team. With talent on both sides of the disc, Oregon is definitely the team to beat going into this weekend.
Washington has a fourth place finish at President's Day under their belts, and are definitely looking to be the ones to upset their regional rivals in pool play to get the top spot into semis on Sunday. With the talented Sarah Davis and Lucy Williams leading their roster, the 2012 College Champions are poised do well in their pool. Offensively solid, and with new coaching talent in Kyle Weisbrod, if Washington can remain free of injury, they should be in good position to remain near the top of their pool.
After finishing an extremely close second at the Queen City Tune Up, Carleton College (#6) makes the trip west to test their talent against that of the left coast. Sporting two of the most proficient handlers in the women's game, Anna Reed and Julia Snyder, this dominant squad will be looking for upsets, and, if QCTU is any indication, is likely to find them. Efficient and athletic, Carleton will definitely prove to be a challenge for many of the teams in their pool.
After a commendable 2012 season, Sonoma State (#13) is lacking the talent in offensive catalyst Maggie Ruden, but has thus far played very close games with Texas (#11) and California (#15) (falling to Texas, but beating California) at President's Day Invite. In order to get more wins this weekend, Sonoma State will be looking to use leaders Cindy Cruz, Hannah Stueckle, and Candice Pacheco against a very skilled pool. If Sonoma can get their whole roster involved and smooth out some of their weaknesses, they will be a strong contender at the Invite.
The California Pie Queens come into the spring with an eighth place finish at President's Day Invite, after losing big to British Columbia (#2) and going down to both Colorado (#8) and Sonoma State in one point games. The fact that they had to play two more games to get to quarters proves that they have the fight necessary to get wins when they need them. This weekend will be big for Cal — having lost big talent in Claire Desmond and Abby VanMuijen they may need to change a few things in order to get wins against some of the teams they have already played.
UCLA goes into this weekend looking to make up for their slightly rough tournament finish at Presidents Day. Although their coach was absent, they are also missing Sabrina "Kodiak" Fong, who seemed to run their offence and take the hardest matchups on defense. This weekend may see UCLA testing out new zones to be that ever-shifting team that gave many teams trouble last year.
Pool A semifinalists: Oregon & Carleton
Pool B: British Columbia, UC-Santa Barbara, North Carolina, Stanford, Wisconsin, UC-San Diego
UBC (#2) heads up Pool B after falling to Oregon in a very close finals game — despite beating them in pool play — at Presidents Day Invite. With wins against Washington and California propelling them to the top of the pool, this UBC squad is ready to face anyone who gets in their way. Under standout Catherine Hui — one of the most dynamic players in the game — UBC has a crop of athletes who are more than willing to bring intensity to every point. Their tight dump defense will give quite a challenge to the rest of the pool, and will likely be key in them holding seed this weekend.
UC Santa Barbara (#3) comes into Stanford Invite with a third place finish at Presidents Day Invite, and have yet to face UBC this season. With two big wins over Washington and a very close game against Oregon, UCSB seems to know what to do get wins when they matter. Although they must be feeling the loss of Marie Madaras, they still have the solid playing and captaining of Alicia Thompson to hold them together. This year, UCSB also is graced with the skills of mixed all-star Lisa Pitcaithley, who blends well into a key handling role for the Burning Skirts. The one/two matchup in this pool will likely be a fantastic game to watch, and is anyone's game to take.
North Carolina (#12) makes the trek to the opposite coast after a fourth place finish at their home tournament, Queen City Tune-Up. Under coaching duo Lindsey Hack and Raju Prasad, this small team of athletes will have to discover their true depth against the notoriously talented teams at the Invite. With players as unstoppable as captain Lisa Couper leading them on offense, UNC could prove troublesome to shut down on offense. Although they have lost some major talent in hander Lindsay Lang, the rest of handling squad seemed to step it up, which may be all they need in order to remain near the top of their pool.
Stanford Superfly (#5) comes into the weekend with the Santa Barbara Invite as their only college tournament so far. Led by Michela Meister, one of the most athletic defenders in the game, Stanford will be looking to garner some wins in their region–and protect their home turf. Consistently a Nationals contender from the Southwest region, Stanford will be looking to assert their dominance and get a few wins to kick-start the rest of their spring season.
Wisconsin (#20) is another team making the trip west after competing at two big tournaments already this season. Finishing seventh at Queen City Tune-Up and ninth at Midwest Throwdown, Wisconsin will be looking to come out strong this weekend and make a better showing than they have thus far. With an apparently rough Saturday at Midwest Throwdown, Wisconsin proved that have the important ability to shake off losses and move on to the next game–a skill that may turn out to be extremely advantageous both this weekend and throughout the season. With Rebecca Enders and Alison Ellis set to guide the group of tall Bella Donnas, they may be a dangerous force in Pool B.
Rounding out Pool B is UC San Diego (#24), who finished just behind Cal and Sonoma State (ninth) at Prez Day. With two solid wins against UCLA, but losses to Washington, Cal, and UCSB, San-Diego will be looking to their coaches, Carlo Mosca and Alisha Stoun, to help them get a win or two in pool play in order to pump up their region some more. Winning all their games handily, minus the finals, of the Stanford Open, UCSD definitely has some fire in them that could prove to be dangerous if dismissed.
Pool B semifinalists: UBC & UCSB
---
A big tournament for regional recognition and strength bids, no team at this tournament will go down without a fight. The Northwest and Southwest have a combined 10 of the 20 bids to Nationals currently, but many of those teams (Stanford, Sonoma State, Cal) will need to have good weekends to maintain their Southwest strength bids. Teams like North Carolina (ranked #22) and Wisconsin (ranked #26) will have their eye on the prize.
With U23 tryouts over, and plenty of top players on each team, the skill level of the women at this tournament is quite impressive, to say the least. Setting the tone for the spring season, and a big factor in determining strength bids for the series, Stanford Invite will be sure to have more than its fair share of scrappy, aggressive games, close wins, and will end with one very proud champion.