At the College Championships next weekend, University of Kansas Betty will step onto the fields in Cincinnati as one of the biggest surprises of the season. In a South Central region that was stronger than it has been in years, Betty grabbed not only a strength bid but a Regional Championship as well. With the spotlight shining on them for the first time since their last Nationals appearance in 1999, Kansas Betty is ready to show the country who they are. Allow me to introduce them.
Why Now
When a team evolves from placing 7th at Regionals in one year to becoming Regional Champions the next, something must have changed. For Betty, change mostly stemmed from staying the same. Last year Betty was slowly putting together the pieces of a strong team, and going into this season they only lost one player. Everyone knew something big was happening, and they decided to double down.
The team dedicated themselves to Betty more than ever before. They went from having 14 out of 25 girls showing up to practice to nearly full attendance at every practice, all season. They have taken the same roster to every tournament since October, and they worked out their kinks.
Captain Kat Songer embodies this commitment. She chose to defer applying to medical school in order to attend University of Kansas for another year so she could play. Kansas Coach Loren Schieber explains, "The whole reason she wanted to come back was because she felt like something special was going to happen this year, and she wanted to be a part of it."
How They Play
Beginning with their breakout performance at Missouri Loves Company, Kansas Betty has been pushing onto the National radar through their grit and their clean, graceful play. They are a handler-driven team, a style inherited from coach Schieber's history as a handler. Their fundamentals are undeniable, and their chemistry shows in the extra half-second that the cutters watch the handlers as they clear. The cutters know what throws can happen — and they know exactly when they will.
This arsenal of handlers includes Caitlin Fitzgerald, Christina Baker, and Kat Songer. All three girls would be able to helm the offense on their own, but instead they work off of each other to advance the disc, finding their cutters and resetting like polished professionals.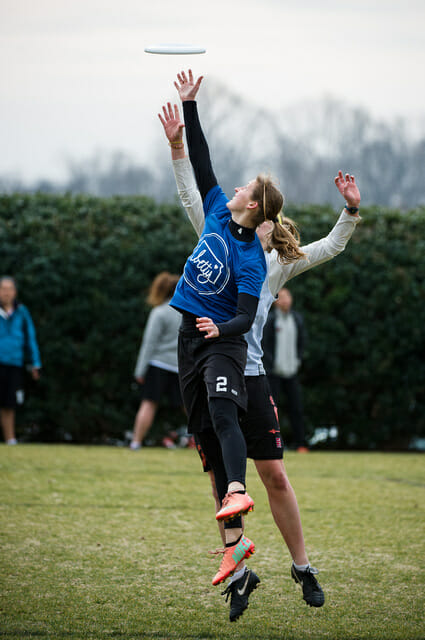 Joining those handlers are downfield cutters Nadine Rowen, Tess Hoerle, and Jenni Corcoran. Hoerle has been a workhorse for Betty, and if Nationals is windy — and isn't it always? — Nadine Rowen will be invaluable to their zone offense. With the biggest backhand on the team, Betty's zone strategy is to find Rowen through the cup, and then flood the deep space with the rest of their cutters for her punt. Big play, reset to handlers, big play.
"A lot of teams are afraid to really push it upwind," Schieber explains, "But that has worked well for us: we really trust our receivers to make that catch."
This isn't surprising. It sometimes seems as though coastal teams merely adopted the wind. Midwestern teams were born in the wind, molded by it.
Schieber is hoping for wind at Nationals. "When it's cold, when it's wet, and it's windy, our team's gonna win," he said. "A lot of teams see the wind as a foe, and for us, we see it as an ally."
On defense, Kansas lacks the height or the physicality of teams like Northeastern or Oregon.  They will have to dig deep into their toolbox to shut down the players and plays that they'll meet next weekend. Then again, I underestimated Kansas' defensive skills once: I won't make that mistake again.
How They Got Here
A week before South Central Regionals, the outlook for Kansas was not as bright. Songer, Baker, and Rowen all became seriously injured or ill in the week before Regionals. Then, on Saturday morning, Caitlin Fitzgerald woke up with abdominal pain that kept her out of most of Saturday's games. Betty nevertheless won the games they had to, opening their lines and preserving their heavy-hitters for their game against Colorado State. With their handler trinity back in place, Kansas beat the feisty Hell's Belles 13-7.
Sunday gave Betty the gift of 10 mph winds, making bracket play upwind/downwind. In the semifinals they traded points with Colorado Kali for most of the first half. Both teams managed to score upwind, but slowly.
By the time Kansas took half 8-6, they had 20 minutes until the soft cap would blow. Kansas began on offense downwind out of half, increasing their score to 9-6. Kali and Betty traded downwind points until soft cap blew, but the margin was too big for Kali to overcome, and Betty sealed their victory and their bid on a fantastic upwind score from Tess Hoerle, winning 12-8.
Schieber will never complain about getting the golden ticket to Nationals, but for Betty, their eventual victory over Colorado College in the finals meant more.
"Our goal wasn't to make it to Nationals. Our goal was to win Regionals. As far as success of a program, I think it means a lot more to say 'We were Regional champions' than to say 'We were Nationals qualifiers.'"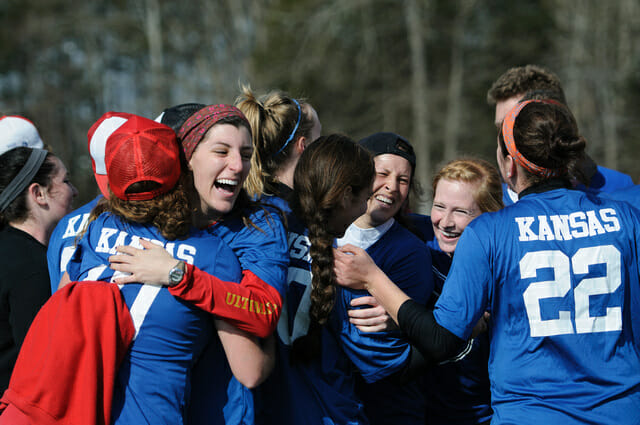 What They Want Now
Kansas will be the 5th seed in Pool A at Nationals, facing 3 teams they have already seen this season: Ohio State, Michigan, and Virginia. They held their own against Virginia and Michigan, improving their intensity and their performance in the rematches. Against these teams, they will fight to prove a point and possibly steal a game. Victoria will be their first new face, so they will have to adjust quickly to shut down the Vixens' top players and gain momentum of their own.
That said, the Bettys know where they stand in the seedings, and Schieber says that their success won't be cleanly delineated by wins, losses, point margins, or stat sheets.
"We don't want to quit. If that means we get beat by 5 points to an awesome team, maybe that happens," he said. "But how we finish the game and our composure on the field is really my biggest goal because that composure will help us know whether this is a flash in the pan or whether we're here to stay."