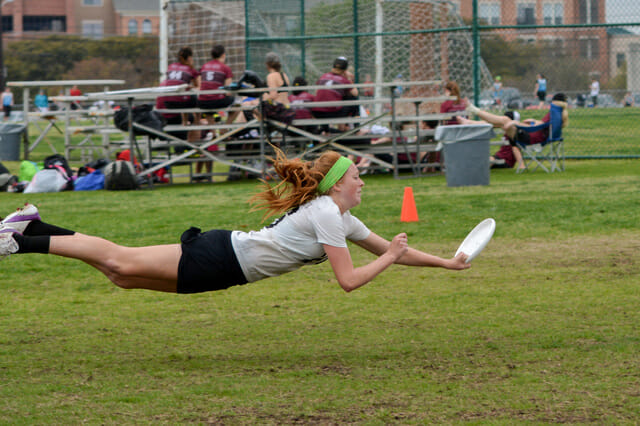 If you want to know what a strange and competitive year college ultimate has been in the women's division, look no further than the two seeds at Nationals. Each and every two seed has shown flashes that they could tackle a one seed, wrestle a pool to the ground, and force their way onto the ESPN3 stage. They have also each stumbled, tripped, and fallen in games they weren't supposed to lose – sometimes to one another.
Mysterious, mercurial, inconsistent – call them whatever you'd like, but know that when they play their best, these teams can do incredible things. UC-Santa Barbara felled Oregon and Central Florida, which Stanford almost did as well, falling one point short against Oregon. Michigan topped UCSB in dominating fashion, while Stanford found themselves on the losing end of a game against Carleton.
Some of the other pockmarks of their seasons are less flattering. A Michigan loss to Harvard, UCSB barely competing with Texas, Carleton being blown out by UBC, and Stanford losing to UC-Davis each leave their wounds. Each team is hoping to learn from these mistakes and avoid repeating them with the pressure on in Cincinnati.
All of the two seeds have plenty of culture, history, and experience to fall back on. There are no programs just breaking into the fold here here; these teams have been royalty before.

UC Santa Barbara Burning Skirts (Pool D, #5)
Much can be made of the four games that UCSB lost this season, but their record is still that of a team that expects to win. The Burning Skirts are, bar none, the most menacing second seed at Nationals, and they have all the weapons at their disposal to handily dismantle Washington Element's ambitions.
Santa Barbara has been tricky to predict this season: they are a team that flaunts their stars and their flaws in equal measure, and you're never sure which Burning Skirts team will arrive at the fields. A loss in the President's Day final to Oregon is understandable, but a quarterfinal loss to Texas is deeply confusing. The Burning Skirts were able to quell most doubts at the Southwest Regionals with a healthy sweep of the weekend that culminated in a 13-12 victory over Stanford.
Whether you're watching Nationals on the sidelines or on Twitter, there's one name you'll look for during Burning Skirts' games. If you have read anything about elite women's ultimate, if you've followed the rollout of Callahan videos, and if you've watched a certain video way more times than appropriate, you know her name.
Is Lisa Pitcaithley being heavily hyped? Yes. Her stardom should not dampen the reality that the rest of the Burning Skirts' roster is also aggressive, consistent, and even tall. But there's only so long that one can discuss the qualities of a car without discussing its engine, and Pitcaithley has incredible horsepower.
The fiery Lisa Pitcaithley will take a real shot at a title, and she should play her hand at Nationals like an epic, four day highlight reel. Her energy is infectious for the Burning Skirts, which in the past has meant that lethargic games for Pitcaithley translate into lethargic games for UCSB. But if Lisa P goes all out, the Skirts will follow suit and lay waste to their pool. The Burning Skirts will stroll into the College Championships with one of the country's best records and one of the biggest question marks: which team will show up?
The Burning Skirts will begin the long weekend against UCLA on Friday, and they will probably keep the game closer than it needs to be. Their big battle against Washington will be next, and the likes of Amanda Kostic, Barbara Hoover, and Shira Stern will go toe to toe against Lisa Pitcaithley, Kelly Gross, and Noelle Neason. Throw the West Coast's top talent in a ring, and put Pool D on the line — this will be a game to watch.
Carleton College Syzygy (Pool C, #6)
There were so many reasons to doubt Carleton this year.
Gone from last year's squad, which romped to the final, are Anna Reed, Flannery McArdle, Marlena Hartman-Filson, and Grace Quintana, among others. Their entire region was weakened by an exodus of some of the country's best players, which, when combined with this year's weather, stifled their chances to see top competition in the regular season.
Tragedy struck the Carleton campus when three players from the men's team lost their lives in a traffic accident just prior to the Stanford Invite, which Syzygy and CUT both dropped out of. Normalcy was shattered, routine vacated, and a grieving period began.
With so many barriers in their way, Syzygy's ability was tried. They played Queen City Tune-Up without their leader, Julia Snyder. A 4-3 record, with two of those losses to future five seeds at nationals, was their takeaway. The NW Challenge dealt them the same hand as they worked out the kinks. Outside of those two tournaments, they had only the college series.
Yet somehow, this team has again emerged as one of the country's top ranked. Wins over Stanford and Victoria have a lot to do with that. Talent like Snyder, Kirstie Barton, Bri Rick, and Emily Buckner has a lot to do with it. A powerful bond has a lot to do with it.
Despite having two huge downfield targets in Rick and Buckner, combined with two top-notch caliber throwers in Snyder and Barton (the same type of combination bowled over competition in 2013), Carleton has displayed depth. There are at least nine other solid contributors on the roster. North Central FOTY Katie Ciaglo has been a great addition to the Syzygy backfield. Lucia Childs-Walker, Ahna Weeks, Claire Rostov, and Leah Cromer all can have a big impact with their individual talents. And those are just some examples.
If there is still a reason to doubt this team, it is because of their soft schedule. They are 4-6 against the field in Cincinnati, with only one of those wins coming against a top eight team; their six losses are peppered with ineffectual performances against lower-seeded teams. The North Central region champs comfortably took the region's only bid, with little resistance from their foes.
Three of the four teams they'll play in Pool C will be familiar. Pool C's five seed, Colorado, has split the season series with Carleton, an unhealthy sign, but Julia Snyder's presence correlates with a +4 margin for Syzygy. Similarly, a 12-9 February loss to Northeastern was sans Snyder. The scoreboard abuse they suffered at the hands of UBC, however, cannot be ushered away. Their last opponent is an intimidating Central Florida team coming off one of the nation's best seasons.
Repeating the success of last year's college championships is a long shot for a Carleton team in a dramatically different context than before. They were a favorite last year, and while their seed hasn't varied much, their situation has.
Stanford Superfly (Pool B, #7)
It wasn't so long ago that Stanford was building a strong case for the "contender" label. Writing them off is easy if all you use are the stamps of red and green on their scorereporter. Their known injury struggles might paint a different picture. The end result is that their ceiling is somewhat unknown.
Here's the results: one-point wins over Washington, Western Washington, and Central Florida, two wins over UCLA, including a 15-2 regionals massacre, and a victory over Whitman. They even have good losses with double game showings against UC-Santa Barbara and a one-point L against Oregon.
And the roster has impressive pieces. At the top is versatile veteran and Callahan nominee Steph Lim, who uses her explosive first steps to gain yards and her disciplined fakes to get the disc to the break side. She's flanked by intrepid young handler Monisha White, a developing field marshal who commands the field with aplomb beyond her years.
After that come experienced playmakers like Hilary Vance, Halsey Hoster, and Jennie Lummis. They have the stud youngsters in handlers Caitlin Go and Amanda Somvilay. Don't forget the big-time athlete in Maya White and the seasoned role player Anne Rempel. Top it off with an elite coaching staff.
So what's missing? Where does the doubt come from?
They lack any of the dominant performances of the best teams in the division. With a more complete roster, Superfly was felled by UCSB twice at Regionals. A prognosticator may even be troubled by their 11-10 upset at the hands of UC-Davis in their Conference Championship.
And you have to wonder if, pound for pound, the talent of Superfly can line up across from the likes of the other contenders. The answer may very well be yes, but because of the way the season has played out, we just don't know.
Their pool presents some resistance, but offers opportunity as well. Prideful Oregon will not be messing around in pool play, Tufts is talented, and Colorado College is the mystery team with nothing to lose. Their game against Western Washington may be the crux of pool play. WWU and Stanford have gone back and forth with some strange games this year — colored by exhaustion or injury — but these teams will be on even footing this time around.
Stanford has some very difficult tests in pool play, but passing them could send this team's confidence and momentum into the territory usually reserved for semifinalists and championship quality teams. There's plenty of evidence that Stanford belongs in that conversation, but they have planted enough doubts to make them more of a whisper and a suggestion than a statement. They'll be left to make the statement themselves.
University of Michigan Flywheel (Pool A, #8)
For the first time since 2007, Michigan didn't make it to Nationals last season. For years they exuded Midwestern dominance with easy wins and endless bouts of trademark cowbell. They were tall, fast, physical; players still have nightmares about guarding Becky Malinowski. But in 2013, Michigan found themselves with all the pieces but not quite enough hunger to push through a close Regionals game against Northwestern, and they lost the notoriously lonely Great Lakes bid.
That Flywheel is gone. This year the team is quiet, focused, and disciplined. They practice in the wind, the snow, the mud. Their throws were already good, so they made them better. They were already an intelligent team, so they got shrewder. And they look like they're having a lot more fun. They haven't been flawless, with aberrant losses to Colorado State and Harvard like unforced drops on their stats sheet. But when Flywheel is on, their offense is an ode to the game.
Meeri Chang conducts the well-oiled Flywheel machine with ready resets, calm play, and deep pockets filled with throws. At a gusty Regionals, Chang threw at least three high release backhand breaks on a whim while elsewhere points stretched into oblivion in the wind. She is flanked by Hannah Henkin, Theresa Zettner, and Carolyn Vlach. The Jacqueline Jarik/Becky "Tots" Moore duo tears teams up downfield.
Flywheel's small roster of 18 players has fostered a deep-seated chemistry that they can rely on even as legs tire late in the weekend. Almost everyone on Flywheel has the throws, and few players hesitate to launch the disc no matter their position.
Michigan will meet their match in the tournament's top seed, Ohio State, an Ultimate version of one of college sport's most vicious feuds. Both teams have discipline, chemistry, and a level of focus that can grind into games like ruthless grips. Both teams have long lists of playmakers, and they have yet to meet this season. Despite my regional loyalty, however, it's hard to bet against Ohio State, a team who knows how to do everything except lose.
After beating them once this season, Victoria undoubtedly has a target on Michigan's back. In fact all three teams below Flywheel will probably push for close games with the two seed, and the small squad may have their hands full with a string of close games. Michigan should be able to seal these games, but could nevertheless take a beating.