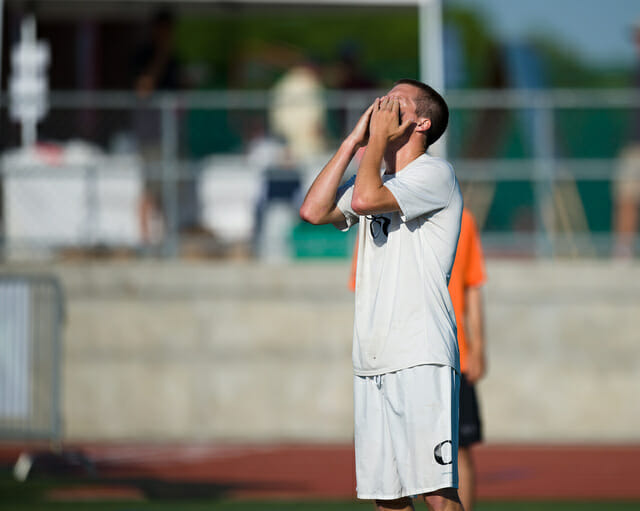 There are a couple of ways to look at the performance of Oregon Ego at College Championships in the last three years. Let's consider what we know to be true:
First, Oregon is a program that has been home to an impressive cast of talent these past few years: Dylan Freechild, Cody Bjorklund, Aaron Honn, and Camden Allison-Hall have all worn the Ego uniform. This talent has lead them to College Championships five years in a row, entering them into the canon of college teams that will remain in the national conversation indefinitely.
In each these last three appearances, Oregon has exited in the semi finals.
Second, we have seen and heard the hype. Those stars were surrounded by hard-working teammates like Brian Penner and Gabe Fruchter, and has soon-to-be stars in young players like Connor Matthews and Chris Strub. This is uncharacteristically the makings of a powerhouse program.
An appearance in semis is no small feat, and one could look at their last few trips to Championships and come away only with the impression that Oregon really does live up to its reputation. On the other hand, if they're good enough to make semis, what's keeping them from the last stage of the tournament?
Ego flew under the radar earlier this year after a less-than-stellar performance at Stanford Invite. In fact, they took losses against a fleet of other national contenders over the course of their season that left their ability to compete at the top level in 2014 in question. But once again, they reached the semis, before being unceremoniously bounced by Colorado.
Quieting the Criticism
Oregon initiated their run at the tile this year with a bang in Pool D, grinding out an offensive battle against UNC-Wilmington in the afternoon on Friday and never looking back until they met Colorado in the semis. An unstoppable horizontal stack was powered by beautiful throws out in front of Oregon's speedy cutters, and their athletic ability matched up well in the air with a number of other tall teams.
Any doubts about Oregon's abilities to win games were put to rest through the Quarterfinals, as Ego didn't even face a deficit until Colorado broke on the first point of the semifinals and never looked back.
"Three weeks ago, four weeks ago, I never really guessed we would have gotten this far. And in some ways I think it was an advantage to us to come in a bit of an underdog. We played better at this tournament than we have all year," commented Ego Head Coach Jay Janin.
Oregon Shell-Shocked Late in the Game Against Colorado
In the semis, however, the fire left the eyes of Ego. Maybe it was the loss of senior deep threat Gabe Fruchter early on in the game, or maybe the sight of their emotional leader Freechild unable to find effective spaces to do damage to the Colorado defense. Either way, by the middle of the second half, it was clear that Ego's spirits had diminished, and they looked gassed while chasing surging Mamabird cutters.
We certainly saw a change in attitude on the field today, perhaps one that has taken hold of this team before in the semifinals. Is it as simple as that? Are the outlooks and efforts from a hard-working group of young men an uncontrollable?
"It's sports. They're college kids. I think there's a lot of mental stuff going on," said Janin.
Honn will return next year joined by the young returners Strub and Matthews, both of whom had tremendous weekends. Freechild is rumored to be returning for a fifth year. There's no doubt that they'll return next year to leave their mark again, but we'll continue to wonder if they have the toughness to claw past the semifinals.