Raleigh Ring of Fire captured the 2014 Colorado Cup with a win over Portland Rhino.
BOULDER — Weather was perfect all weekend in Aurora, Colorado, with beautifully maintained grass and no helicopters in sight. The two most dominant teams of the weekend — Portland's Rhino and Raleigh's Ring of Fire — met for the second time in the tournament finals, with Rhino having upset #1 seed Ring on Saturday in early pool play.
Ring avenged their Saturday loss and took home the Colorado Cup — USA Ultimate's Elite-Select title – with a 15-13 overtime finals win. The game promised to be an exciting rematch between the two teams and, with multiple runs by each squad in the finals, it certainly delivered.
Freechild and Rhino Rally to Push Finals Rematch Down to the Wire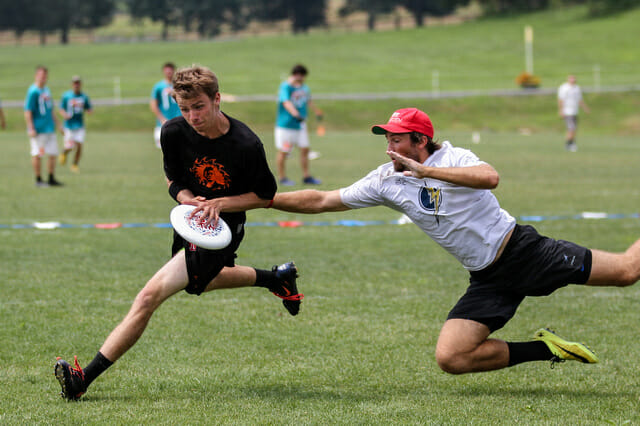 Rhino's defense got off to a good start, looking like they would be able to contain Ring's dangerous deep attack. Timmy Perston led the defensive squad while captains Dylan Freechild and Jacob Janin led the O line to an early 6-4 Rhino lead.
However, Ring battled back with huge plays by Ken Porter and Justin Allen, getting multiple breaks and taking half 7-6. While Rhino came out of the half humming on offense, Allen and Porter continued to make big plays throughout the match; Ring's handlers were consistently dropping beautiful deep shots into the athletic Porter's hands.
Led by those two, it looked like Ring might pull away after they took a 12-10 lead and were set to pull for game point.1
But — as many Ultimate fans have seen for the last few years now — it's unwise to count out a Freechild-led squad. Using easy, handler-driven disc movement, Freechild and Rhino answered to make it 12-11.  Freechild then got a sneaky goal line D on the next point, stopping the otherwise game-winner from Ring. Timmy Perston finished the break with a big sky over Justin Allen to tie the game at 12-12.
After both teams missed hucks on the next point, Ring eventually held. Freechild and Janin answered with aggressive handler movement, with Freechild scoring upline to tie the game up at 13-13, and the observers announced that the hard cap was on and the game would be played to 15.
Ring then worked the disc up the field, scoring the first go-ahead goal easily.  The Rhino offense, which had been so remarkable all weekend, took the field, looking to answer. But a miscommunication sent a huck from Freechild well past Janin, who had already cut in. As could be expected, Ring hucked quickly, Shane Sicso made an incredible play to sky a crowd of players, and Ring took the finals and the tournament, 15-13.
Battling Adversity
It's not how you start; it's how you finish.  This Ring of Fire team had an early misstep in their first round loss to Rhino, but they were able to get revenge in the game that mattered the most.
"This is the first time we've won a big tournament in 5 or 6 years," said Ring coach Mike Denardis. "It is important to show yourself that you can accomplish these big wins. This weekend we built on our successes, and our success culminated in this win."
Both Ring of Fire and Rhino will certainly use their positive weekends to build confidence as they enter the final stretch of the club series;  it will be interesting to see how far both of these teams can get this year.
That first half of Saturday's Ring-Rhino matchup was peppered with Ring miscues; Rhino took advantage with patient offense run through Freechild.  Denardis said the team was lackadaisical and looked tired. Ring turned things around a bit in the second half of Saturday's game, but Rhino's offense just didn't give them many chances to get back into the game. The first game finished 14-9, but did not even feel that close.
After that first Saturday game, Ring went on to have an impressive tournament. Throughout Saturday, no other team put up 10 points on the Raleigh squad. Ring had to play what looked to be a hotly contested pre-quarters matchup against a solid High Five from Michigan.  While High Five kept it close during the first half, Ring pulled away in the second and simply ran all over the Michigan team.; High Five (and most teams at the tournament) couldn't hang with Ring's huck game.
Early Sunday was a bit of a different story, as Ring found themselves in an absolute dogfight quarterfinals matchup against the tournament's #2 seed, New York's PoNY.
Ring started with a hot deep game, taking half 7-5.  But PoNY used improved deep defense and poachy handler looks to go on a serious run at the end of the game, forcing universe point at 12-12. Ring showed that they could be patient when they needed to and worked the disc up the field continuously on universe point — breaking PoNY's marks to score easily and finish the game.  Ring would go on to dominate a somewhat shorthanded Sub Zero in their semifinal match to earn their Finals rematch against Rhino.
Denardis noticed improvement throughout his squad. "We really got better over the weekend," he said. "We implemented [our] system and it is paying dividends…we adjusted well to the altitude and [we were] excited to play Rhino again."
Rhino: The Most Consistent Team on the Weekend
After their Saturday matchup with Ring, Rhino looked poised for big things on the weekend; their defense and offense looked well-balanced and complemented each other very nicely. "When our defense is playing so well, it makes offense easy," explained Rhino veteran Cody Bjorklund.
Indeed, Rhino cruised through the rest of pool play, dispatching Pittsburgh Dire Wolf 12-9 and Bay Area Boost (Mobile) FC 12-10.  Rhino looked dominant all weekend, relying on patient and clever offense and a deep defensive line.
Bjorklund specifically credited his team's roster depth as a main contributor to the team's success. "We are so deep this year — many of [our opponents] out here don't necessarily know the name of all of our guys, but our young guys are really stepping up," he said. Rhino made it through Saturday remarkably unscathed and ready to face whomever made it out of a tough pre-quarters battle between Madison Club and Streetgang.
The start of the day on Sunday saw Rhino continue their dominant ways with a big win over Madison Club 13-10.  As seemed to be Madison's trend all weekend, they started slow and Rhino was able to capitalize.
Rhino took on Santa Barbara's Condors in the semifinals; both offenses looked solid to begin the game, but Rhino's defensive line made some quick plays took half 7-3.  The D line continued to run over the Condors and Rhino finished this game easily 13-6.
Captain Jacob Janin was very happy with his team's final opportunity.
"We still have room to grow, but we are very satisfied with our performance thus far," said Janin. "Our offense has been good, but defense has been the key.  When D is winning, that takes pressure off of O."
It really had been a team effort so far, allowing their deep roster to continue to develop and get valuable playtime. As Janin explained,  "When we are playing as a team, we succeed.  When we cut for each other, we are good. We have players who are special at certain things. Dylan [Freechild] is of course going to do his thing. But are most successful when we cut hard for each other."
---
All games were played to 13, win by 2. Ring had game point and could have won 13-10 or 13-11, but Rhino tying the match meant it was overtime, win by 2. ↩