Can Ring of Fire, GOAT, or Temper get hot enough to topple perennial contender Seattle Sockeye?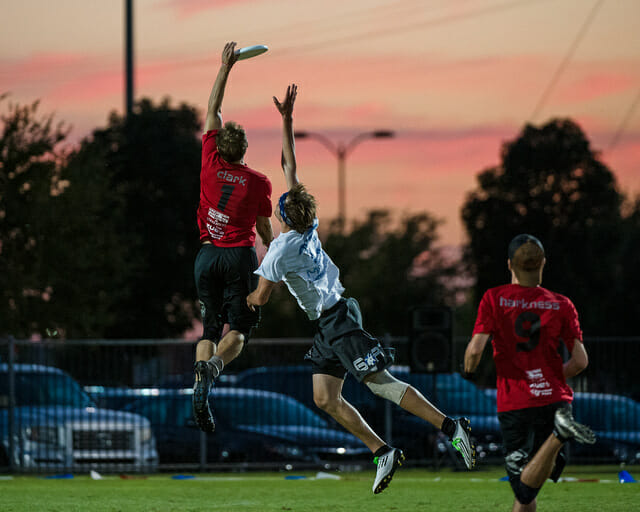 There's been a lot going on in 2014.
This is a Worlds year. Professional leagues continue their encroachment on the routine of the club season. There was a lot of Ultimate out there to be had by the nation's top players. There were different schedules, more moving parts, and more points.
Pool C captured the spirit and oddity of this 2014 club Men's season nicely.
Top seeded Sockeye has already done big things this year, earning second at the World Championships. Ring of Fire took 16 players to Colorado Cup and won. GOAT has already beaten both Raleigh and Seattle, in what must seem like a never-ending season to the dozen or so guys marching onward to nationals after an AUDL campaign with the Toronto Rush.
As we come to the end of this long scramble of a season, one thing is for sure: none of these teams appear to be limping to the finish.
Sockeye (#3) Looking to Build On WUCC Success
"Worlds was a defining tournament for us," said Sockeye captain Tyler Kinley. "…Teams that win often have one historic [moment] with a group of guys that sort of signals 'we can win and we can compete with anyone.' The World Championships was that tournament for a lot of our young guys."
This wasn't the first time Sockeye was able to battle-test their less experienced players at Worlds. Kinley reflected back on Prague in 2010.
"Joe Sefton, [Sam] Harkness, myself, Nate [Castine], and Spencer [Wallis]… we were all on that double game point line that won the semifinals over Chain. It really put in your head the notion that 'we can win.'"
After playing in last year's Championship final – after beating Ironside on double game point in semifinals – everyone on Sockeye has seen the big stage. It's not exactly a leap of faith to believe this team to be among the best in the world but perhaps an important affirmation for a team with big aspirations.
It's a funny paradox. You get the feeling if Sockeye goes deep into this tournament you'd have to credit a large part of it to Worlds. Then again, if they stumble, some of that blame might fall on the atypical season a Worlds year creates.
WUCC mangled Sockeye's tournament schedule. They went to the US Open in early July. Then they appeared to show some signs of a Worlds hangover, going 3-3 at Emerald City Classic in late August, including a quarterfinal loss to GOAT. But they responded by cruising to a Northwest Regionals victory where they handled Rhino and a Morgan Hibbert-less Furious George team. Hopefully for the Fish their play has leveled out.
What can you say about this team's play that hasn't already been said? Sockeye's offensive movement is well documented. They distribute the disc. They don't lean too heavily on one guy. As mentioned, they have an elite core of guys that have played together for a very long time.
Save a 15-8 loss to Sub Zero at the US Open, Sockeye hasn't lost by more than two points all season. No panic there. That's the sign of a team that always has a chance to win.
"We go into every game thinking it's going to be against 'an opponent' not trying to change how we play based on what we expect from the game," Tyler Kinley said of his team's approach. "We push the notion that we play at our level. It's about us doing what we need to do every game."
Not Ring of Fire's (#6) First Rodeo
These guys should buy a time share at Nationals. The last time Raleigh Ring of Fire missed Nationals, the English Patient won Best Picture and the Spice Girls had a number one song. That's 17 years ago.
This trip to the dance will be pretty unforgettable even for the Triangle.
There are a lot of familiar faces from the Ring days of old on this squad…and a lot of familiar faces that are just now donning a Johnny Cash emblem. Keep in mind that this is a united North Carolina team.
Ring aggregated top talent from other nearby Men's teams like Ben Deiter, Shane Sisco, and Joey Cretella from Cash Crop. Deiter is a rangy, fast O line cutter. Cretella and Sisco have carved out roles on defense and are chopping at the bit to take the field at their first club Nationals. "[Cretella and Sisco] have been playing that high level game. They've been shorted on Nationals so many times that I know when they get the opportunity at Nationals they're going to play their hearts out," Ring of Fire head coach Mike Denardis told Ultiworld. "Those guys have been playing well."
It isn't just the new personnel that makes 2014 a memorable season for this team. There was the madness at Southeast Regionals as Omen set the bracket ablaze. Ring, then, didn't face Chain Lightning in the final like everyone expected but they were able to survive a white hot Orlando Omen team with elite height, even in the face of a 7-5 deficit.
Without playing Chain…has this team really begun to play its best Ultimate?
"I think there were glimpses at Regionals. Even when we got tested by Omen there were points when we really needed to dig and dig deep and I saw that team," Denardis said. "I didn't see it the entire tournament but I saw it for enough of the tournament…we can have a Nationals that puts us into the top couple teams in the country."
If they are indeed getting to their best game right now, Ring could really make some noise. Denardis' team has some unique, quality players on both sides of the disc (Jon Nethercutt, Noah Saul, Taylor Pope, and Justin Allen to name a few) and they've got the depth not to run themselves ragged on Thursday when you need to run a bigger rotation to put yourself in a good position for the bracket.
It's Nationals and every team is going to be tough. That said, Ring has some serious firepower. Let's see if they can put it all together.
GOAT (#10) Now the 'Dogs
You have to wonder how much, if any, of GOAT's disappointing 2013 Nationals performance was a side effect of the Toronto Rush's AUDL campaign. Whatever the reason, last year's overall second seed didn't play the part of favorite very well in Frisco. Let's see how GOAT plays the underdog.
Their handlers reset the disc well and they aren't afraid to take shots. A competitor in Pool C described them as "…underrated in terms of the rankings. Definitely a quarterfinals team." They're not wrong. GOAT is still a very dangerous team.
Some interesting things to think about: Toronto has gotten better. GOAT picks up defensive monster Morgan Hibbert and Aaron Liu from Vancouver and brings back Great Britain's Justin Foord, potentially softening the blow of the possible loss of Jeff Lindquist (punctured lung). GOAT has already beaten Sockeye and Ring.
A few months can mean a world of difference for a team in elite club Ultimate. These wins didn't happen last week but they're far from meaningless. You go to tournaments and you play who you play. Wins build confidence.
Morgan Hibbert has the book on Sockeye.
Hibbert captained Furious George against regional rival Sockeye for a long time. This is a big deal — aside from Hibbert's excellent defensive play. GOAT head coach Scott "Shooter" Hastie is well aware. "He brings a different set of eyes coming from a different program," Hastie said of Hibbert. "He looks at things a little differently from a defensive perspective and we're happy to have that analysis right there with us the whole time."
Toronto has shown they can beat anyone and with Hibbert's insight, be sure and keep your eyes on the GOAT vs. Sockeye game at 9am Thursday. Could be a big one.
Temper Made Nationals. Now What?
Just like at Mid Atlantic Regionals, DC's Truck Stop is seeded one spot ahead of Temper in the rankings. The only difference is that there are 13 teams seeded ahead of Truck Stop.
This is a great start for Temper. They drove out the old Oakland reputation and qualified for Nationals in their first season. This team has the talent and resume to break seed but it's tough to see them getting a win in the pool. If it's about building a program, they've got time and a cast of people like Nick Kaczmarek and Dave "Weasel" Lionetti who know how to make that next step a reality. The future is bright for this team.
Temper was dealt a big blow earlier this week when they learned they would be without the services of star athlete Rob Dulabon who had to undergo an appendectomy. He will not make the trip to Texas.
***
Seattle is no Cinderella. They're a thoroughbred. This is a storied program that's always in the conversation to win a title. Expect them to be in semis – but this pool will make them earn it. Ring is big and appears to be rounding into form. Meanwhile, a GOAT team has added pieces quietly and very gotten better.
This is Nationals and anything can happen — a universal truth that every team in Pool C knows all too well. The action in this grouping could make for some wild prequarters games.