Bravo tops Ironside; Chain and Furious are well below the top two.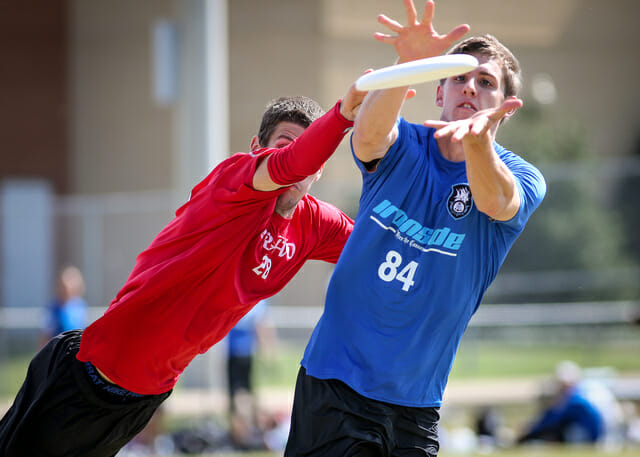 Surprisingly, surprises were hard to come by today in Pool D. When the cleats and jerseys were finally off, Denver's Johnny Bravo were sitting comfortably atop the pool, and Boston Ironside were surely considering their resting place at second seed and the ensuing consequences. Atlanta Chain Lightning were seemingly comfortable with holding their three seed, and Vancouver Furious George finished the day a disappointing — but wholly expected — 0-3.
Johnny Bravo Show Some Depth
Johnny Bravo answered the doubt that existed about their chemistry today, some of which I touched on earlier this week in my preview of the pool. With players from out of region forced to fly in for "double-header" practice weekends and a group of stars that are used to being the go-to player on a team, finding the right roles for this team has been a full-season challenge.
Coach Bob Krier has been well aware, and noted that since the team set its sights on the series. The Bravo we saw at the Pro Flight Finale was not the Bravo we saw today. While their throwers were certainly on point often, Bravo showed the ability to break marks, work the unders, and stay patient today. "We believe that we have all the parts to win, to win everything," said Krier. "This is where we were expecting to be at the end of the day."
It was Bravo's third win of the day, their 12-9 victory over Ironside, that cemented their focus and concentration. When the wind had reached its peak during the fourth round, Bravo fought through some tough marking from the Boston defense, and connected on throws that many coaches would not condone or actively teach. Both Nick Lance and Kurt Gibson connected on 50-plus yard hucks into the wind: high and hanging throws that landed in space, out of reach of Ironside defenders. They were the kind of throws that only trusted stars make: those that defy offensive systems and good decision making, but pay off wildly.
"We know that we have a lot of throwing ability," said Krier. "We trust throwers to make the right choice. As long as we're taking those shots from movement, then anyone on the team is allowed to rip that, even into the wind."
Bravo's movement and patience was well-directed by Bart Watson and Brett Matzuka in the backfield, and the unders were owned by Ryan Farrell, Jimmy Mickle, and Gibson. Though he was without a true highlight play, Sean Keegan was a constant pain down field for Boston, and similarly, Brodie Smith played his role as a master thrower well and stayed out sticky matchup situations on defense.
With patience locked in, Bravo fended off the slow and steady Ironside comeback, even as the game deteriorated into a gross number of picks and travels made in the second half. With the constant wind isolating one end zone, it was Bravo's willingness to take those low percentage hucks to space into the wind, and the distance they created paid off.
Bravo now draw a favorable matchup with PoNY in prequarters, a game where their height advantage should prove to be more than enough for the New York team to handle. If they go through, they'll face the winner of Truck Stop and Temper, both of whom may not be able to stop this Denver squad.
With one day down, Bravo looks good, but there's a lot more tournament to play. "Our expectation is that we want to win everything at this tournament," said Krier.
Ironside Not Done Yet, By Any Stretch
Ironside may have beaten themselves in their game with Johnny Bravo. "The big problem was that we got the disc enough, we just didn't execute our offense," said coach Josh McCarthy after Boston's loss. "There were a lot of uncharacteristic mistakes — we were looking off the first cut and then the offense would break down."
Certainly in this last matchup, the well-documented no dump offense that Boston favors crumbled into some minor backfield chaos with Bravo's pressure. Three or four players would crowd the reset system, and high stall throws ended up in the grass or in the hands of Bravo players. This was a case of Ironside not executing their game plan fully, and then trying their hand at some of the more wild throws up and down wind that Bravo were completing. It didn't work well, and it wasn't quite the showing expected from a team that is often the definition of systematic.
Outside the last round loss, Ironside saw excellent contributions from many of their players, easily beating Chain Lightning in Round 1 and quietly dispatching Furious George in Round 2. On offense, Josh "Cricket" Markette flew around the backfield directing traffic, with cutters Danny Clark, Will Neff, and Alex Kapinos all playing well. Captain George Stubbs often ran the show on defense after the turn, although pressure was created on opposing handlers consistently by Russell Wallack and Rusty Ingold-Smith.
Against Chain especially, Ironside looked deep and patient, ready to execute and not easily flustered.
Going home tonight, Boston may be reconsidering how they prepared for Denver. "We were prepared for them to throw it deep," said McCarthy after the game. "They did that some, but they also worked it under." Between the surprising prowess of Bravo's cutting and the equally surprising breakdown of Boston's offense, it would not be a safe bet to write Ironside off.
As a result of their loss, Ironside find themselves facing Doublewide in their prequarters matchup — a tall, athletic team that will challenge the defense again and push Ironside to use their experience on offense to find their patience again and execute.
"We got a loss out of the way, and now it's time to play our game," said McCarthy. "We don't need to do anything differently than what we've been working on to accomplish all season long."
Chain Was Prepared for This
This pool was not a good draw for Chain, but they knew that going in. Two deep teams were seeded above them in Ironside and Johnny Bravo, both of whom had the athletic ability to cover Chain's deep game and disrupt much of the backfield play that typically creates those long ball opportunities. Nonetheless, Chain crept back into both games in the second half, working the disc high side to low side in between handlers and finding their major cutters.
In their win against Furious George to save seed, Chain found their game to a certain degree, although the wind had increased to such a speed that the long shots were still somewhat stifled. Nonetheless, Tyler Conger, Jared Inselmann, and Allan Laviolette all found their stride and Chain showed that they were still strong competitors against a Vancouver team that continued to struggle.
Conversations with Chain players after the game suggested that they were always looking forward to different matchup in prequarters, and they may have found that in their Friday morning game against Kansas City Prairie Fire. The latter may have made a statement today with their win against Doublewide, but Chain have been here many times before and will look to take advantage of the younger team.
Considering that this team is one with wins over both Machine and Revolver at different points during the season, results for Chain tomorrow will depend on which version of this team shows up. A win would pit them — most likely — against Machine, a team that had a major mental lapse against Chain at the Chesapeake Invite back in July.