Minnesota struggled as the favorite. Coming into the Series as an underdog, they've thrived. Can they keep it going in Milwaukee?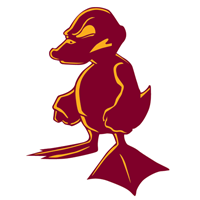 As we all know, Milwaukee is an Algonquin word meaning "The Good Land." For Minnesota Grey Duck, Milwaukee is the promised land.
After bowing out early – and in dramatic fashion – at Regionals the past two seasons, it seemed unclear when Minnesota would make it to college Nationals.
Now, with confidence bolstered from taking down regional big brothers Carleton and Wisconsin, the North Central champions will look to avenge the follies of yesteryear.
***
"Probably more than anything I think we have enough guys who have been a part of those teams that weren't able to execute the way we wanted and they weren't going to let it happen this year," Minnesota head coach Tallis Boyd said of his squad. "This year was different and we approached it differently from day one. We're excited that the results kind of matched that."
Indeed, this year was different for Grey Duck. A lot of guys on that roster have felt the pain of falling short as heavily favored top seed.
In 2013 they had been the top ranked team in college ultimate before being famously upset by Iowa and failing to qualify. Last year was more of the same; top seed, upset, no Nationals.
2015 is a total role reversal. Minnesota entered Regionals – not as a favorite – but as an underdog.
At the top of the North Central sit two blue blood programs who have combined to win six college championships since 2001. Storied programs like these are never dogs. They do not roll over.
"Anyone who's been around the North Central region, knows anything about it – knows Carleton and Wisconsin are the keepers of the region," Boyd said with a tone of respect. "We knew we were going to have to beat both of them to achieve what we wanted, which was getting to Nationals… like we've focused as a team all year. It's about what we're doing and if we do what we do then it doesn't matter who we play. And that held true at Regionals."
Tough to ignore names on the front of the jerseys in company like that. But Grey Duck does. They got to their brand of ultimate in the game for the pool and thumped Carleton 13-4. In finals against Wisconsin, Minnesota kept their composure and grinded out a tight game, 13-11. Boom. Regional champs.
There's probably some reluctance out there to buy stock in this team. Rightful skepticism. Though Grey Duck has a lot of the qualities you'd want for an interesting Nationals Cinderella story.
The Depth to Compete
"Our top lines are deep," Boyd said. "It's not two guys or three guys that we need to play well, we can run 10 to 15 guys and if we can get some of them playing well we're going to be okay."
Coach Tallis Boyd would have a pretty good handle on the necessary depth in long tournaments like this, having won mixed club nationals with Drag'n Thrust in back-to-back seasons.
The rock steady handling of Soham Shah, Grey Duck's Callahan nominee, will be holding down the offensive backfield, with cutters like Ryan Osgar getting open and looking for Ben Jagt in the deep space.
1st Team All Region player Josh Klane will reportedly be ready to go after struggling with injury for much of this season.
Defensively, Minnesota has two sophomores that Boyd described as "relentless handler covers" in Tony Poletto and Tristan Van de Moortele. Both members of that combo received All Freshmen honors in 2014.
Finishing Strong
If you believe in the hot team, this is it. Minnesota went to some quality tournaments like President's Day and Centex, and made a concerted effort to focus on the big picture: the Series.
"We're peaking at a very good time right now and that was a goal all year long," Boyd reflected, while continuing to reinforce his team's mantra. "We talked about 'It doesn't matter what's happening… we need to peak at the end of the season.'"
Hanging a 13-4 win on Carleton then beating a gritty defensive team like Wisconsin for the belt? That sure sounds like peaking.
The Temperature is Right in Pool B
Pool B is more lukewarm than hot. Texas A&M was at the dance last year and should represent themselves well but after Dozen it's a free for all. Western Washington had a surprise Regionals performance in the Northwest. Cincinnati is untested in many ways. Central Florida is a Nationals regular and has already beaten Minnesota twice this year – but so did Carleton – and Grey Duck was able to exact revenge.
It's no small feat to finish near the top of this grouping, but there are less sharks in this pool than the others.
Come On and Take a Free Ride…
…about five and a half hours on I-94, all the way to Milwaukee. The best thing Minnesota can do is continue to embrace the underdog mentality and enjoy the ride.
It's tough to get a good read on this team. On one hand, it's a stretch to pick (what is essentially) a first year Nationals team to do anything of significance. At the same time, these guys have already achieved a lot. There's not really any pressure. More than any other team, Grey Duck will have the ability to play fast and loose.
With two disappointing seasons behind them, this incarnation of Minnesota has already done a lot to make up for lost time. They took down two regional rivals and appear to have created a plan for balancing the approach to the regular season and the series moving forward.
The persona of "favorite" didn't seem to fit quite right for Minnesota. All of the sudden, they try on the underdog hat and they're a different team. Winning the North Central is already a feather in their cap. Maybe they can add a few more at Nationals.