Pool B is filled with unknowns and newcomers. Will Texas A&M rule the pool?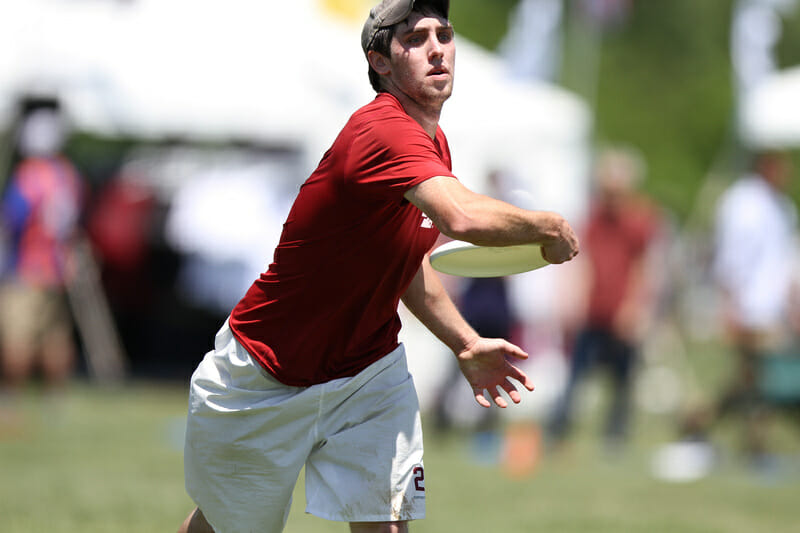 Disclosure: This post is brought to you by Ultimate Central. All opinions are those of Ultiworld. Thanks for supporting the brands that make Ultiworld possible!
Pool B will avoid most of the bold headlines and attention in 2015.
This is no pool of death. Nor does it have a heavy favorite for the title. Instead, it has the intriguing teams, the maligned teams, the newcomers to the show, and the darkhorses of the tournament.
Called the boring pool, the pool for the lucky, it will take a deeper vision to see the group's potential.
The five squads will be flying under the radar for the early days of tournament play, but deserve more attention than they are likely to receive. Pool B, it could be argued, contains the easiest path through to the bracket  (the group's winner will have a quarter's matchup likely against the second seed of Pool A), and if one of these teams gets hot on the road, with minimal resistance in their path, they could steamroll right into the semifinals.
Let's take a closer look.
Deep Run: #2 Texas A&M
Texas A&M finished at #5 in the final USA Ultimate rankings after a very solid regular season, won a tough region convincingly, and now has perhaps the easiest pool for the early stage of Nationals, snagging the number two overall seed thanks to some regional upsets (UNC taking down UNCW, Western Washington winning the Northwest, and A&M's own toppling of Colorado in the SC Regional final).
And yet, there isn't much talk about Dozen Ultimate, as many simply don't perceive them as a title contender.
One of the reasons behind this is their lack of big wins. The 11-4 record looks very shiny from a distance, but upon closer examination, you'll see wins over middle-tier teams and losses to the likes of Pitt, Florida, Central Florida (second seed of Pool B), and UNCW.
The victory over Colorado (a fairly dominant 13-8 score margin) is perhaps the most impressive, especially of the later season, but that came in rain against a Mamabird squad that made quite a few mistakes to fall behind early.
Yet pause a moment to praise their talent. Captain Matt Bennett is one of the best in the game at handler and an assist-machine, and Dalton Smith, Dozen's other player-leader, also has returned for a fifth year to prove he can be a playmaker that can do it all. They are well-coached by Jose Cespedes, focused on executing their sets and zones when it matters, and hitting this peak year at the right time, with this number two seed being the culmination of a three-year, grinding, long-game plan.
The problem with Dozen Ultimate has always been the lack of depth. As recently as 2013, they struggled to field a team with more than fifteen committed guys.
2015 has been different. They pulled in a deep and athletic rookie class, with veterans like Ben Lewis and Kevin Land stepping up to be the glue-guys that hold it all together. The group is healthy and confident.
Bennett's bombs are going to be a regular fixture on the Nationals fields; he and Smith will not be afraid to ball, and they'll carry the group with them. The question is: how far? As the top seed in the pool, their road got a heck of a lot easier.
Due to USA Ultimate seeding rules, Texas A&M deserves their position, but most pundits have a fairly lengthy list of title favorites before them.
Nevertheless, due to the schedule, Dozen Ultimate can see a clear path. They have the tools to build the road to semis, provided they can keep their eyes on the ground directly in front of them. If they get caught looking too far ahead, inconsistencies in the young guns may lead to a stumble early, which could be disastrous.
On the flip side, if they can keep consistently cruising, smashing their way through this solid, but certainly not spectacular, pool, they'll have some momentum going into the bracket. The pool games will matter, if only to keep their two stars healthy and not overly taxed; the grind of Nationals has seen legs fail before. If all goes according to plan, Texas A&M will be there Sunday, peaking just in time for semis.
Bite in the Dog: #7 Central Florida
It's not about the size of the dog in the fight, it's about the size of the fight in the dog.
Mark Twain would have put his money on Central Florida's (not so little) Dogs of War to run amok in Pool B and bust some brackets.
Runners up for 2013's national title, don't tell these guys that their squad's glory days are behind them. If you do, prepare to hear the cry "havoc" and to see Andrew Roca's fighters let loose on their enemies. Critics, however, will say they lack the punch (or bite) to make an impact.
It just hasn't quite been the regular season we thought we might see out of Central Florida. Their results are certainly solid and a #9 ranking in the country is nothing to sneer at. But some of the losses have been troubling (Illinois at Warm Up, Harvard at Easterns), and most recently the struggles in the postseason against in-state competition (a loss to Florida at Conferences, and two tight defeats against Florida State).
They've lost some of the raw, athletic power and talent (although they still have a fair amount of height) since the 2013 run, and in 2014 Dogs of War only made Nationals by a narrow-margined victory over Georgia.
This year they found themselves in the deepest region in the country, and often overshadowed by rising Florida State, but still have the weapons to win the big games. Jeremy Langdon seems to be always open and uses his athleticism to be involved in a variety of ways, Michael Fairley is another top-notch receiver, Alex "Kid" Bullock provides some big throws in clutch spots, and a strong supporting cast of speedy veterans will make other squads work.
The group will be an interesting one to watch, especially against Texas A&M. You have arguably a clash of two superstars in Smith and Bennett going up against Central Florida's top to bottom experience and deep bench. Still, UCF has had inconsistencies this year that have just made you grimace to watch, and they'll need to bring the fire early to go shot for shot against Texas A&M, who (on paper) feels to have the advantage in the matchup. The Dogs of War will also have to be looking over their shoulder; Minnesota is no pushover.
Perhaps UCF's greatest advantage is experience, not only in the recent years of national-level success, but in their regular season wins (one over Texas A&M and one over Minnesota earlier this year).
It'll be fun to watch Central Florida. This dog has a bite, and it could easily be argued they've been sleeping on the nation. Anticipate a lot of tight games across the board for the group, but especially for these guys.
Winning Wildcard: #11 Minnesota
Probably overseeded, but underappreciated, Minnesota may not win the pool, but there's a good chance they'll jumble the early competition with an upset over one of the top two.
Another survivor of a tough regional gauntlet, their advancement to the show is even more impressive than UCF's, as they won the North Central, a region forever tightly held by Wisconsin and Carleton.
The last two years have been head-scratching for Grey Duck, being knocked out of Nationals contention by Iowa and Carleton in 2013 and 2014 respectively, despite extremely strong regular seasons and favorite status (they were number one overall in 2013).
The curse ended in powerful fashion this year as they steamrolled through the North Central, smashing Carleton and coming up with close wins over Luther, Duluth, and finally Wisconsin in the Championship game to win their first ever Regional title.
Their roster hasn't received much attention, but Ben Jagt deserves to be on everyone's watch list — and he'll be high on the highlight reels for his goal-scoring — as does crafty handler Soham Shah. Josh Kautz provides a lot of fire to the team and will be involved in the action, as will Reese Hornnes as a big playmaker on defense.
Perhaps most importantly, Josh Klane is back, healthy, and feeling good. It's been a tough season for him, as he's been largely on the sideline due to a lingering back injury.
Minnesota is the wildcard here, playing with house money at the high roller's table. They have already erased their demons in dramatic fashion and their season will be counted a success with any kind of decent showing in Milwaukee.
As a result, they'll be playing with absolutely no fear, and even the favorites in their pool are reasonably beatable. This will be the crucible for their potential. They may not have the talent or the consistency to win the pool, but they'll likely upset someone along the way, and it wouldn't be surprising to see them get on a roll and make it to quarters. Teams that win the North Central tend to go far at Nationals.
Vote Minnesota most likely to surprise.
True Darkhorse: #14 Western Washington
If the top three teams in Pool B are flying beneath the radar, Western Washington is nowhere on the map. You've got to push to the second page of USAU's rankings to even find their name.
Call it a fluke or a gift, call it lucky, but Dirt is heading to Nationals for the first time, and in high-style as Northwest Regional champs.
They never had to play the powerhouse Oregon, but benefited from Ego's regular season nonetheless, getting a nice seeding bump which landed them once again in a schedule away from any of the real heavy hitters.
Western Washington took care of business in pool play at a small Regionals, knocking off #8 overall Washington with tight defensive pressure and an unstoppable offense, before facing off against British Columbia in the finals to win it.
Seth Kotzman is a name most haven't heard of, but he's the go-to-guy for Western, alongside Matt Russell on offense. They touch the disc nearly every other throw, often dished from handlers Dennis Casio and Zhi Chen. Todd Sliva leads as coach and brings a well-practiced and focused squad that knows its limits and plays well.
These guys grind and they took care of business in every fashion during Regionals, so you have to give them credit. However, they took advantage of a few gifts along the way, and they may not receive similar presents in Milwaukee.
Can Western hang tough with the big boys on the national stage? The answer is likely no.
The Stanford Open's Championship showed that Western is a cut above the majority of teams in the college ultimate world, but the Stanford Invite showed that they are a step–but a critical step–below the true elite of the top 20, as they fell in several tight games against other Nationals level competitors.
These guys will play tough in every match and there is no doubt there will be close games. If you like an underdog, pick the scrappy Dirt, a no-nonsense team that has spirit, pride, and poise. Nevertheless, it's hard to see them coming out with more than a win out of this pool (and even that will be tough to come by).
Punished or Punishing? #18 Cincinnati
Cincinnati is better than their 18th seed, but they've been so disparaged by other teams, fans around the game, and USA Ultimate itself (punishing them with the #18 spot in the field of 20) that it's hard to separate their talent from their logical (if somewhat disappointing) decision to cut out from their last tournament (Huck Finn) and coast on their ranking to earn a second bid to Nationals for the Ohio Valley.
You have to wonder how Cincinnati is responding to the criticism…it's all others can talk about around the country: is it tainting their own vision of themselves, even a little bit? After all, this is their first trip to the College Championships; doubting the route that got them there is the last thing they want to happen.
One positive sign to the contrary is their post-season performance. A weaker minded team might have wobbled, or even folded, under such pressure to fail to take the bid they had so carefully preserved. But the opposite ensued: Cinci dominated every other team besides Pitt, crushing Ohio State 15-8 in the game to go, looking extremely smooth for a team lacking late-season games.
Coach Jonathan Brodhag should be praised for his skill in navigating the tricky waters of the controversy and the Ohio Valley post-season. It was a delicate balance to stay confident going in, despite all the harsh criticism, and also to deal with a game against Pitt, one that they didn't throw, but also didn't go all-out in. As it has always been, the goal was Nationals. The team kept their eyes on the prize and won when it mattered.
The offense is polished, more than it's ever been before, while the defense is strong and fired up, and they likely have the fitness for the big-level games. And they sure aren't afraid to take defensive shots. Bidding aggressively on the disc has been a hallmark of this squad for the past two years.
They are surprisingly well-rounded for a newcomer to the national stage; they spread the disc around a lot, but Dan Latz, the fifth-year captain, is the clear on-field leader. The other Latz (Justin) contributes well, as does Adam Turner. Kieran Kelly and Zach Warner lead the aggressive defense. Their in-region competition knows that this solid cadre deserves to be there, but will the rest of the country realize the same?
Expect other teams to have the "Let's stomp Cincinnati" mentality, hoping to prove that they don't belong; Minnesota, especially, was critical of the move to duck out of Huck Finn and will likely bring the intensity in their matchup with the Bearcats.
But Cinci will have the opposite mindset, which can be arguably just as strong. They'll be fighting to prove they are a good team, regardless of which tournaments they chose to attend. They'll likely need to get to prequarters to make that impression stick, however, and it will be an uphill climb for them to get there.
Predictions
Texas A&M won't cruise, but they'll win. I see both Minnesota and UCF challenging, but A&M going undefeated into that nice, cushy quarterfinals matchup. They may have had to work harder than they would have liked to get there, but they'll still have a fair and beatable opponent and a very good chance to get to semifinals.
Minnesota has momentum on their side and will take the second spot. If the curse truly is broken, then watch out for this team; it's about putting it all together and peaking at the right time. They have no expectations and that makes them very dangerous. I think they also have a favorable schedule. Starting with Western Washington (they'll have the morning bye; Dirt will be coming off their first Nationals game against UCF) will get them in their groove, and they'll turn on the fire to go after Cinci just as hard as they were gunning for in-region rivals Wisconsin and Carleton. They may lose a tight one with A&M on Saturday morning, but I think the battle for second will be even closer and they'll have the spark to edge UCF.
Central Florida is going to be solid on this tournament top to bottom, but they also lack the star power to put teams away early, and so they'll be playing extremely close games all weekend. These guys have the experience and depth over any team in the pool, but I think A&M has found its groove since the Dogs of War last played them, and Matt Bennett and Dalton Smith will be fresh and firing when they meet up. I also wouldn't be surprised to see Western Washington challenge them in a trap game that UCF has struggled in all season.
Cincinnati will fall to Texas A&M and then will have a cutthroat match with Grey Duck that could leave them reeling. They probably have the talent to take a win over Western Washington and give Central Florida yet another tight contest, before falling to the fourth position to end things out.
Western Washington is going to find a few fans at this tourney, as I have no doubt they'll impress with both their solid play and their spirited style. I think they'll start early by surprising people to take a lead on Central Florida, but I also think they'll end up falling winless.
Veteran Power
The top three of the pool have been here before and it will show as they make the farthest push for placement.
Minnesota and Texas A&M can bring their success into the bracket, and A&M's likely ceiling is semifinals. UCF will be out for vengeance if they drop to the third seed and the toughest prequarter. There may not be much noise now, but by the time the bracket starts, people will start to notice Pool B.