Oregon won their 3rd title in five years in Milwaukee.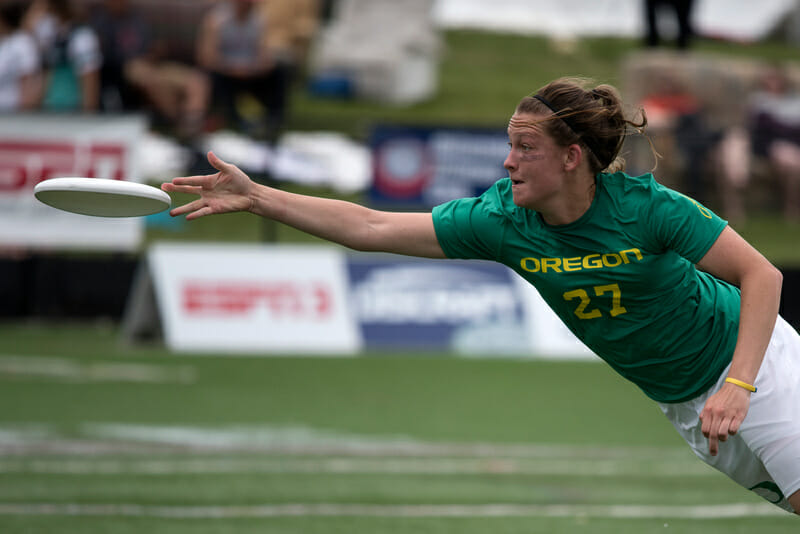 The morning opened with 20 mph winds ripping through the stadium, pushing and pulling discs across the field and out of receivers' hands. Tournament veterans thought of the Boulder 2011 nationals and shuddered. Would we all have to suffer again?
The first few points, featuring two dominant upwind breaks from each team, signaled a different story. Stanford and Oregon handlers displayed confidence in the wind, hitting their targets with poise. Fugue has thrown an imposing zone for most of the season, choking teams' offensive flow by guarding the deep space and cutting off easy swing options. They've shown this zone to Stanford several times already this season with marked success, taking them down at Stanford Invite and again at Northwest Challenge.
The expectation was that they would set the same zone today in the wind, pushing Stanford to either execute perfect small ball or bomb it deep. Instead, for most of the game, Oregon offered a different challenge: Stanford would have to outrun Oregon to win.
"I felt like we could wear them down," said Oregon coach Lou Burruss. "We're wearing down at the same time…[but] we felt like if we kept playing person, they were going to have to work and work and work, and we were deeper than they were and that was to our advantage."
Stanford set their own signature zone on Oregon, inviting over the top throws the cup could slap down. Early on, Oregon struggled with their handler resets, throwing far floating swings or simply turfing easy resets. Stanford responded with a different kind of turnover, as Monisha White heaved discs out of the coffin corner to gain position. Stephanie Lim and Michela Meister were uniquely masterful in the wind, throwing with confidence and skill upwind to advance Superfly's cause. Their play stood out in a half filled with missed cues and air bounced resets.
Despite heavy turnovers and sloppy throws from both teams, Stanford earned two breaks to bring the game into half on an 8-7 lead for Superfly. The score for half fittingly came on a 40 foot high boost from White that Caitlin Go nabbed on a reeling second effort catch.
The first half was ugly, dangerous, and full of opportunity. The typical barriers in a windy game — upwind points and breaks — had already been knocked down, but no team was better for it.
Ugly and dangerous were not the adjectives Oregon Fugue would end their season on. They held out of half, and then grabbed two rapid fire breaks in a row. Fugue worked the disc up the open side line upwind, with Alex Ode finding Angela Tocchi for the first break. They exploited another Stanford error to score again for the second break, earning their third single possession goal in a row. Each goal was borne out of a beautiful short game; Oregon gloried in the smaller looks in order to get the bigger payoff.
The change didn't stem from a crucial offensive adjustment on Oregon's part: it came from a mental shift.
"It was just emotion," said Burruss. "How do we want to go out? We are going out, this game is going to end. How do we want to go down?"
Those breaks would set the tone for the rest of the game. Both teams would change tacks in the back half of the game, but Oregon's defensive efficiency in the first three points gave them a buffer for the rest of the game, and they would be the only breaks of the half.
"They came out of half really strong," Stanford coach Jamie Nuwer agreed. "We tried a different type of zone against them that tried to stop the over the top looks. Clearly, it was not as successful as we had wanted."
Stanford would score to stop the break train with an excellent Meister goal. On offense instead of hucking and hoping, the Superfly handlers began running dominator upwind. Monisha White, Stephanie Lim, Michela Meister, and Jennifer Thompson owned the field, running a masterful weave down the field that Oregon defenders couldn't contain.
But all the yards in the world can't save you if you don't make the final inch. They marched to the upwind red zone four times in the second half, but they couldn't convert. Just one catch in the upwind endzone could have given Stanford the game, an agonizing hypothetical to run through.
After these endzone drops, Oregon began hucking for position.
"We felt partway through the second half, they can't go 70 yards on us," coach Burruss said. "So if we were on the wrong side of half field, we just started punting."
The cap blew, and the season's deadline grew two points closer. Stanford continued to advance the full length of the field, and lose it at the last moment. They managed to close the margin to a tantalizing 12-11 game on a short downwinder to Halsey Hoster. Stanford needed one break.
Stanford pulled, and while the Oregon handlers were resetting the disc, Veronica Cruz nabbed a huge D on a swing near the upwind endzone. But once more Stanford turned it in the end zone, and Oregon dutifully shot the disc 70 yards away.
The desire was palpable during Oregon's final possession. Every handler swing was laden with the expectations of a program and a long, successful season. When Bethany Kaylor – the star whom injury benched last year – threw the final assist to Olivia Bartruff, the stadium sighed, and then cheered. Oregon won their third national title, 13-11, in the last five years.