With a crowded field of contenders headed to Apopka, who has a chance to emerge with a victory?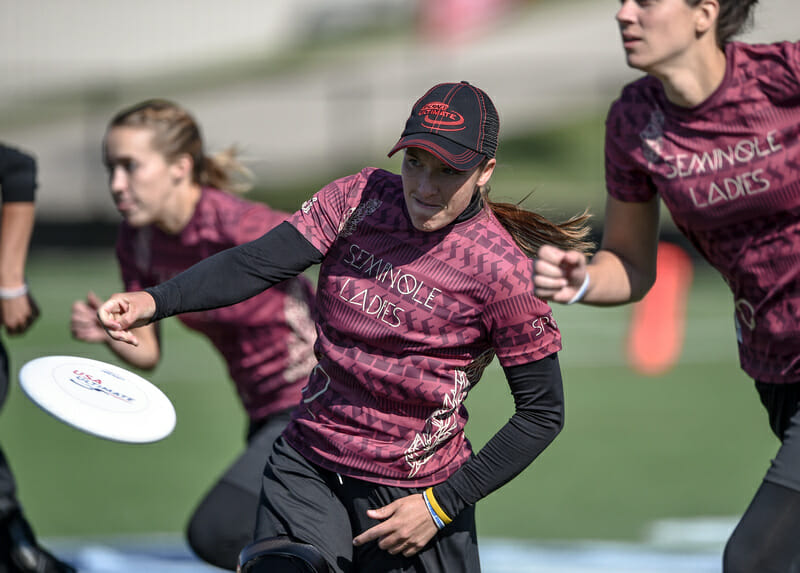 The article is presented by Nike Ultimate Camps; all opinions are those of the author. Please support the brands that make Ultiworld possible and participate in Nike Ultimate Camps!
It is here. The Spring Season. Martin Luther King weekend means that the first major tournament of the college season is here in the form of Florida Winter Classic. A number of talented teams from across the country will compete in Apopka, FL, this weekend to kick off their respective campaigns and start the spring season in the women's division.
Last year's tournament winners, Kansas Betty, unfortunately do not return, but an intriguing and entertaining field across the tournament's top two tiers should make for an enthralling tournament nonetheless. Without further ado, let's take a look at the teams with an on-paper shot at winning the tournament.
Tier 1
Pool A
(1) Florida State Seminole Ladies
(4) Michigan Flywheel
(5) Florida FUEL
The Seminole Ladies take the number one overall seed after finishing tied for ninth in the club's debut at Nationals a season ago and a strong showing in the fall, which saw them win Itchfest.
FSU was perhaps a little overlooked by most of the ultimate media and community prior to the beginning of the fall season. They were a newcomer to the national stage in 2015 and lost a number of long-time members of the program – three of which were first team all-region last year. But this season's edition of the Seminole Ladies does return some key veterans, such as Skylar Taggart, Kristin Lloyd, and Lisa Fitton, to name a few; they add a key graduate transfer as well in Didi Elsner for Florida.
This experienced group leads a team full of playmakers both downfield and with the disc in their hand, looking to prove that last season was no fluke for the burgeoning program with a strong start to the spring season at FWC.
FSU's chief challenger in Pool A should be Michigan Flywheel. Flywheel had a strong fall themselves, with an up-and-down, though overall impressive showing at CCC in October and with a win at Shootout in November. Flywheel is looking to get back to Nationals this season after missing out a year ago, the second time in three years the club missed out on the college game's grandest stage.
At CCC, Michigan had the appearance of a team very capable of hanging with some of the best teams in the country when they were able to play their best. At Shootout, they demonstrated an ability to play at their best more frequently and that has to be the goal again this weekend. If Michigan plays to the level that it demonstrated itself capable of in the fall, and are able to play at that level on a game-to-game basis, they can challenge any team in this tournament.
Florida rounds out Pool A and the tournament hosts are an intriguing team this weekend — and for this season. A disappointing 2014-15 saw FUEL miss out on Nationals for a third consecutive season, but the turnover from a year ago was minimal and a significant number of the returning players gained valuable experience on the club team Tabby Rosa over the summer. Captain Jaime Estes is a dynamic playmaker and Tori Taylor is a fierce downfield player both on offense and defense. Those two, with help from a solid and experienced supporting cast, could prove a difficult test for some of the higher seeded teams at this tournament as well as some of the more favored teams in the Southeast this season.
Pool B
(2) Ohio State Fever
(3) Central Florida Sirens
(6) North Carolina Pleiades
Ohio State garners the overall two seed after finish higher than UCF at last year's Nationals. Pool play in Pool B will give Fever a chance at revenge for their loss to the Sirens in the final game at CCC in the fall.
Fever very much looked the part of a team that returned most of its key players from a prequarters run at Nationals last season with a second place finish in Athens. A weekend without Stevie Miller and with Caitlin Duffner missing all of Sunday at Shootout, however, saw the team finish 5th.
Duffner is unfortunately still out with a torn ACL, but Miller will be back for Fever at FWC and along with the likes of Alora Rieff, Sadie Jesierski, and company, they give Fever a real chance to win not only a tough pool, but the tournament as well.
While Ohio State is the highest seed in the pool, UCF has to be considered the favorite to win it. The Sirens were completely dominant at CCC and four of the six teams in Tier One this weekend were part of the field that presented very little trouble for UCF in Athens. Shayna Brock, Stephanie "Eli" Williams, Alexa Wood, Janina Freystatter, and the rest of the Sirens played at a completely different level than their counterparts then, though it will be an entirely different test this weekend.
At CCC, teams did not have their rosters set and few teams are as good in the fall as they will be come the spring. Word is that UCF's already small roster has shrunk a bit since the fall as well. Head coach Joe Tilley's system and the UCF stars that run it were far too much for the teams they played back in October. How those teams, Ohio State especially, handle UCF this time around should be very telling as to how UCF's spring will go.
If UCF's lack of depth catches up with them and its defense is not as effective against more finely tuned offenses, then they may need to reassess the direction they go for the Series. If they pick up where they left off in the fall, then it could be a very long tournament for every other team in Apopka.
North Carolina rounds out a Tier 1 that could realistically go any number of ways and UNC represents the potential for an unpredictable top tier perhaps more than any other team. Under new coaches Jessi Jones and Jenna Dahl and behind star performances from Jenny Wei, Elisabeth Parker, and Vanny Nguyen, UNC impressed at CCC on its way to a semifinals berth.
Pleiades also worked in a few rookies back in the fall and it will be interesting to see how some of the younger players have come along since then. If the middle and bottom parts of the roster can improve enough and become a consistent supporting cast for the team's stars, UNC could shake up the top seeds come bracket play this weekend and perhaps use the tournament as a springboard to push for a return to Nationals after a three year absence.
Tier 2
Pool C
(7) Georgia Dawgma
(10) MIT sMITe
(11) Alabama Ramma Jamma
(14) Akron Gold Diggers
Pool D
(8) Auburn Nova
(9) Iowa Saucy Nancy
(12) Emory Luna
(13) Tennessee Big Orange Screw
Will any teams in Tier 2 make beyond quarterfinals? With such a solid Tier 1, it will be tough, but Georgia, Auburn, and Iowa seem the likeliest candidates, which is reflected in their seeds.
Georgia, with so many rookies on the team this year, will be dependent on how quickly those young players have improved since the fall. The young Dawgma showed signs of improvement through CCC after a rough start and if the team was able to keep that momentum going through the rest of the fall then perhaps they could make a splash in the first tournament of the season.
Nova impressed at its lone fall tournament — Itchfest — with a second place finish, but they lost to the only other Itchfest team that is in the FWC field this weekend, falling to FSU in the final by a score of 15-2. Auburn should be able to put itself into a position to take on a Tier 1 team for a shot at a place in quarters if it can take care of business in its pool. Can this relatively unknown team announce itself on such a big stage this weekend?
Iowa Saucy Nancy is one of the more intriguing teams in Tier Two. After an impressive season a year ago and an impressive showing at a tough Missouri Loves Company in the fall, Iowa may be the likeliest Tier Two team to break into quarterfinals. A relatively young team, with a handful of fourth-year seniors on the roster to lead the way — Sam Barlett, Nicole Johnson, Edrienne Yap, and Elizabeth Gronert — Iowa has as good a shot as any to upset a Tier One squad if it manages to top Auburn for the Pool D crown.
***
Whether or not any of these teams or any of the others in Tier 2 are able to topple one of the top six seeds is just one of the many story lines to watch to this weekend. The beginning of the spring season is when these teams start to reveal who they really are, which is why FWC is such a hard tournament to predict. But it is also why so many look forward to this particular tournament each year.