The unsanctioned tournament still offered plenty of insight into the Northwest teams.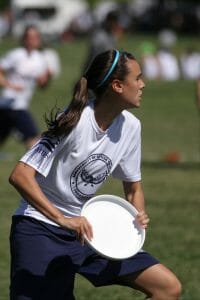 The college regular season may have already started for the rest of the country (although Jonas seemed to have other plans), but the Northwest has its own schedule, with spring semesters and quarters typically starting later than it does elsewhere. The top NW women's team gathered this Saturday on the Western Washington University campus for one last unsanctioned tune-up before being unleashed on the rest of the country.
The format was a one-day six-team round robin with a formidable line-up: Oregon (Ultiworld #1), UBC (#2), Whitman (#4), Washington (#12), Victoria (#16) and Western Washington (#17). The grueling schedule — most of the teams played five games without a bye — further motivated teams to play deep into their lineups. The weather started off overcast, turning to steady drizzle in the third round before clearing up later in the afternoon. Wind was light throughout the day.
British Columbia (5-0): Kate Scarth appears to fit right in with the already impressive UBC roster. She was slotted in as the center handler on the O line this weekend, often flanked by Esther Au and Emma Madden-Krasnick, who both looked very comfortable stepping into larger and more handler-centric roles. UBC was without Leah Mulholland, Megan Leong, Kailin Chang, and Judith Yeo, who are not playing with Thunderbirds this season. This group represents fairly significant and unexpected losses for one of the division's favorites. Sophomore speedster Naomi Morcilla was also out with an injury.
UBC was particularly impressive on offense, making it look easy throughout the day, most notably against Oregon, which was unable to earn a single break (although they certainly had their chances in the second half). Of their first eight goals in their game vs Oregon, four were quick scores from Scarth to Donaldson to McCann, a combo that we will be seeing a lot of this year. Both teams loaded up their O-lines and subbed deep on D, which led to a lot of easy holds for most of the first half. Oregon turned it over a couple of times in the early going, but UBC gave it right back.
At 4-5 Oregon gave up a 2nd turnover and Ellen Au-Yeung threw deep to tall rookie Alei Mohr, who continued for what turned out to be the game's only break. Near the end of the 1st half, Oregon moved Beth Kaylor onto D to cover Donaldson, and that slowed the UBC offense. However, despite forcing numerous turns, Oregon was never able to convert and the UBC won 13-11 to become the 2016 Bellingham Invite champion.
Oregon (4-1): Oregon was missing some key players this weekend (Jesse Shofner and Alex Ode at WUGC tryouts, Maggie Kennedy injured on the sidelines) and, like most teams, played wide open lines. Whitman pushed them in the first round, going up 8-7 before falling 12-10, while UW stayed close until the end. With increased roles, Lillian Weaver and Sarafina Angstadt-Leto stepped up with strong performances, while Beth Kaylor and Hayley Wahlroos had their usual big throws and layout Ds.
Whitman (3-2): This Saturday, the Lady Sweets were missing much of their top end (Claire Revere at WUGC, Margo Heffron sick, Linnea Soo nursing injury), so their strong performance further indicates that they have built a solid program with the depth to be a perennial Division 1 contender despite a student body of less than 1500. Even without some of their stars, Whitman played tough against the top teams, leading Oregon and drawing even with UBC in 2nd half before succumbing.
As expected, Nina Finley, Ari Lozano, and Alissa Soo played prominent roles, while junior Alex Hardesty is a potential breakout player as a core handler for the Sweets. Their Seattle youth pipeline continued to deliver, with Livia Amorosi (Ingraham HS, Seattle YCC Mixed), proving to be an immediate contributor. After being the shortest team at D1 nationals in 2015, they have also picked up some height in the form of 6'1" Kaile Akker, previously the top blocker for the Whitman volleyball team.
Washington (2-3): Another year, another massive roster turnover for UW. For 2015, they brought in 7 grad students, but those 7 are all one-and-done. This year, Element has 11 new players joining 9 returners, with a good mix of freshmen (4), players moving up from the B team (4), and grad students (3). UW seems to be sticking with much the same schemes as in 2015 (high tempo O and hard-working man D), but with mostly new faces and/or new roles across the board.
On offense, Cami Canter has huge shoes to fill in taking over as primary O-line handler from Emma Kahle, with freshman Sophie Johansen (Fryz, Seattle YCC Girls) taking Canter's place as an O-line handler. Former Brown captain Ellen Goldberg and fellow grad student (but in 1st year of eligibility) Kate Dusenbury look capable of filling Tess Young's role as tall downfield targets. On defense, Nora Landri was doing a credible Lauren Sadler impression this weekend—tight handler D, poach blocks, and quick movement after the turn, while Grace Noah looked strong in her handler role after another successful club season with Seattle Mixed. The team is looking forward to Sarah Edward's return later this quarter to help solidify the handling core.
UW's execution came and went at times, a problem that plagued them last season and was at the heart of their disappointing showing at Nationals. They beat Victoria 10-8 in a sloppy first game, then hung with Oregon right to the end before falling 10-13. After a solid start, things regressed in the rain versus Whitman, but they finished strong with a win over Western (see video).
Western Washington (1-4): Chaos was another team with lots of missing pieces in Bellingham. Tiffany Phan is back practicing with the team after knee surgery, but not yet playing, and Abbie Abramovic and Alea Clymer were on the sidelines with injuries. By the end of the day, cutters Jendy Edgerton and Alana Hall were also not playing, making it hard to read too much into the day's results.
Sophomore star Maddie Gilbert was all over the field with layout Ds, skies for goals, and hucks after big unders, while Jessie Thoreson was highly effective in a primary handler role and Ariel Edwards made lots of plays downfield. The other workhorse handler was freshman Samiya Ismail (Fryz, Seattle YCC Girls, Franklin HS), who seems certain to have a major impact this year with her big throws.
Notably, WWU dominated Victoria 13-1 in the 2nd round, which had some extra urgency for Chaos as revenge for the Vixens knocking them out of the game-to-go to 2015 Nationals. Western also gave Whitman a battle, losing 8-12, but they lacked the consistency to truly challenge the top teams and fell to a more focused UW 11-13 in the nightcap (see video). Time will tell if they can shore up the consistency issues that kept them from making Nationals last season, as they are plenty talented.
Victoria (0-5): The Vixens struggled in the early going, with lots of drops and miscommunications as they fell to Washington 10-12 and Western 1-13. Much of the team did not make it to the Sundodger Alternative in November, so there was a feeling that they were playing together for the first time. As the only team at the tournament with no B team, the Vixens were also balancing playing time across their lengthy roster (25 players) and the resulting inexperience showed at times.
The offense seemed to flow best when both Corinne Dunwoody and Naomi Redmond were in the game, and those two will have to carry much of the load again this year, especially without Scarth. The Vixens started to come together in later rounds vs. UBC and Oregon. In previous seasons, Victoria's coaches, the Bruleighs, have been able to develop players effectively. Expect Victoria to be a dangerous team as the season progresses.
Closing Thoughts
My first impression from the Bellingham Invite was the high level of play despite the many missing stars; the reign of the #evilempire looks to continue. I saw nothing to dissuade me from picking Oregon as the favorite to win it all again this year. Fugue were playing it loose, but I got the feeling (as I did last year), that if they need to they can turn it on at any time. Lou Burruss is gone, but with almost the same line-up as last year, it feels like the "Clown Tent" philosophy carries on.
UBC won the Bellingham Invite, and the addition of All-Star Kate Scarth is a huge boost. However, I no longer see quite the amazing depth that UBC had last year, especially in disc skills (speed is another matter). With losses due to graduation (Terynn Chan, Victoria Lam, Lisa Wong, Amy Luo, Zoe Suche) and eligibility (Erin Bussin) plus players that are not returning for various reasons (Chang, Leong, Yeo, Mulholland), UBC has lost players accounting for more than half of their goals from 2015 Nationals and about 40% of their assists (including 7 of 14 players with multiple assists and 5 of 10 with four or more). UBC has added rookies that look to be effective cutters/defenders (such as Alei Mohr and Paige Muir), but my analysis of data from previous years suggests that assists is the more telling statistic.
One issue for Canadian teams is that high school teams play mixed gender, leading less development of handler skills for girls. I anticipate that as a couple more Thunderbirds develop increased comfort in a handling role over the course of the season, UBC will become an even more dangerous threat to compete for the title. As with Oregon, at this early point in the season, the coaching change (from Tasia Balding to Jeff Cruikshank) seems more like a continuation than a shift. UBC was still looking for Donaldson making a big under cut and then hucking it to a speedy receiver. Of course no one wants to show off the new stuff in preseason; we may not see the real changes being implemented until late in the season or even nationals.
With the return to action of their stars, Whitman seems ready to compete with top tier, while Western is primed to return to Nationals after missing out last year. Washington demonstrated that they can hang close with any team, and as Victoria develops their young players and tightens their lines for the regular season, they are definitely a threat to grab a 6th bid for the Northwest. It will be particularly interesting to see how the Vixens match up against teams from the Southwest and beyond at the Santa Barbara Invite this weekend after having just faced all the top NW teams.
Select games from the BI will be posted to the Ultiworld Video Subscription, including the first of many anticipated matchups between Oregon and UBC.