Who you got?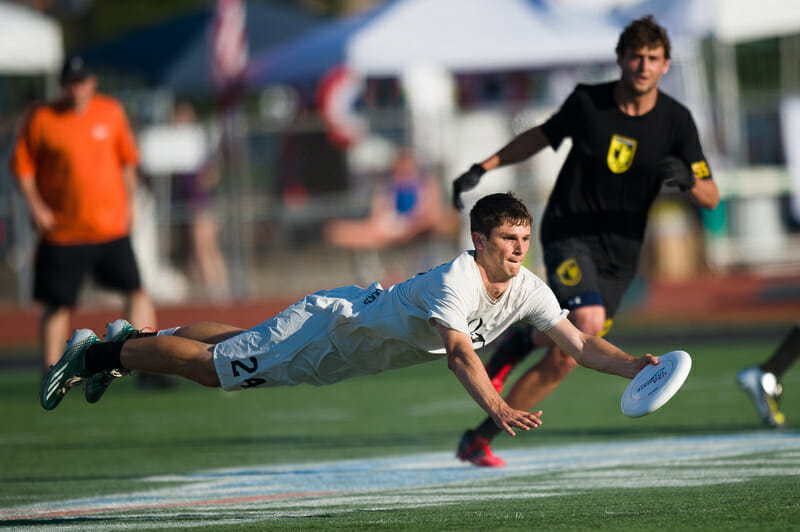 SAN DIEGO — Here is a look ahead to the semifinals of the 2016 Presidents' Day Invite.
Men's Division
British Columbia Will Be The Best Test For Oregon Yet
While Oregon's speedy offense has stumbled occasionally this weekend, hardly anyone has been able to hold down this championship level line. Simple pull plays executed with a chemistry unmatched this weekend have given Ego cutters the space the need to work, and the sheer talent has had little trouble earning this disc back after the occasional drop. Adam Rees seems to be stepping into his captainship well, making plays wherever necessary for Ego.
Smarts and experience has made opposing zone largely ineffective against Oregon so far this weekend, and no team yet has been able to send out defenders fast enough to keep pace in person defense.
That's what makes the British Columbia Thunderbirds such an intriguing opponent in tomorrow's all-Northwest semifinal.
Peter Yu and his teammates have the best blend of speed and talent on both sides the disc that Oregon has seen so far this weekend. While the Thunderbirds certainly keep deep shots in their back pocket, their brisk, backfield-based attack has left a pile of useless marks in its wake. It smacks a little of Ego's offense when Freechild was still in charge.
Ego's defense, which is where much of the Eugene youth has been stationed over the weekend, will have its hands full with British Columbia. The teams will match very well in size and athleticism, and it could be the first time the Oregon truly needs to slim its lines and start to pull its veterans over from the O-line with greater frequency. That will be a good time for the Thunderbird offense to take advantage, if and when some of the Ego top end starts to tire.
A strong performance from the Thunderbirds should give Ego a real test — the 2015 finalists will need a big effort from their young D-line to preserve the energy of their offensive veterans and hang on.
A Test For The Unpolished And Gritty
Neither Colorado nor Washington packs the polished punch of the elite throwers of Ego or the slicing and dicing backfield of British Columbia, but each team has earned their places in semis by committing to good disc movement and a solid system to earn their semifinal spots.
Though Colorado's offense has shown flashes of a horizontal stack at times this weekend, they've made hay with their well-recognized vertical stack. Mamabird cutters always have a close eye on the backfield, and slight pauses define their patience as they watch throwers before streaking into weak side space for large gains.
Mark Rauls has been deadly with his mid-range throws to move the disc, and he's played on both sides of the disc, since the Colorado offense has struggled to move it without him. Isaac Chestler, a sophomore, has also stood on the field in the absence of Pawel Janas.
Colorado's hallmark this weekend has been scoring breaks in bunches to give their offense a cushion, at times using its superior athleticism to power through deficits and take back the lead. That success has been at the expense of offenses that can't consistently possess the disc well.
Washington has done just that, with a mix of sneaky resets, small ball, and trusting hucks that have all connected just as much as the Sundodgers need them to and nothing more. Beyond a smashing pool play victory over Cornell, Washington's wins have been with smaller margins than other top seeds, but they've been enough.
A full playbook bolsters Washington's confidence, and they've adjusted well to shore up their weaknesses mid-game, especially during quarterfinals when Western Washington had the Seattle squad on the ropes during the first half.
Part of Washington's adaptability has been the full suite of talents that Khalif El-Salaam offers to his team. He plays offense and defense as rhythm dictates, has an arsenal of fundamental and advanced throws, and has no fear when it comes to putting his aerial skills into play. He's been complemented by outstanding play from Cooper Schumacher as a receiver, and crucial cogs Steven Benaloh and Tomás Delgado.
But Washington's had trouble finding a consistent rhythm at times, and their commitment to possession will be key if cutters start to stagnate downfield. Colorado athletes will be on the hips of almost every cut, forcing Sundodger throwers to be more careful than they've had to be so far this weekend. Some fluidity in lines could help bolster the Washington defense and they'll need it — beating Colorado will require putting the Mamabird offense in a hole.
With lots of youth on the field for both teams, this matchup will come down to leadership and poise, something that's been in high demand for both teams this weekend.
Women's Division
Pace v. Pressure
Both undefeated. Both deep. Both flush with talent. This semis game will be a battle between two greats. On one side, Oregon Fugue — led by the "big three" of Jesse Shofner, Alex Ode, and Bethany Kaylor — is an up-tempo team and will be looking to push the pace all game. However, up-tempo offense doesn't always work, especially if the team across the field has depth like UCLA does. Blu, led by Kristen Pojunis and Han Chen, will offer plenty of pressure of their own.
Keep an eye on UCLA to throw their nasty cup zone to really test these Oregon handlers, including one of the most dynamic throwers in the game, Hayley Wahlroos.
Texas Needs A New Game Plan
It's a power pool rematch. These two teams entered the arena on Sunday and Stanford emerged with a crushing 14-5 victory. Texas will need a new game plan and some of that grit they brought during their other games to challenge Superfly.
Stanford's small roster of just 14 has proven that their skill level, despite low numbers, can get them to the top. The Melee defense will have their hands full with handlers Anne Rempel, Monica White, and rookie-sensation Hallie Dunham, all while trying to get some height on deep threat Courtney Gegg.
On the other hand, Texas can use Superfly's small numbers to their advantage and look to be patient with the disc and dominate time of possession.