44 teams converge on Austin for the big dance.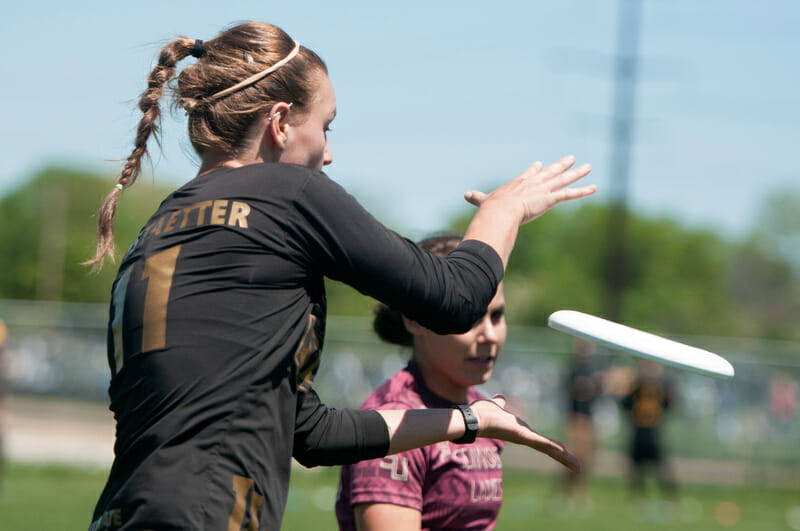 The article is presented by Nike Ultimate Camps; all opinions are those of the author. Please support the brands that make Ultiworld possible and participate in Nike Ultimate Camps!
Forget NCAA basketball: Women's Centex is the real March Madness. This is the Big Dance, and it's finally here. 44 teams from every region except the Northwest will attend, including 13 of Ultiworld's Top 25 teams and 12 of USA Ultimate's Top 20. Pflugerville, Texas, just outside of Austin, is the place to be seen this weekend.
The format has shifted slightly this year to accommodate the sheer volume of high-caliber teams: Tier I has 8 teams instead of 12, Tier II still has 12, and Tier III has 20 instead of 15. Don't panic: the tournament will still feature Without Limits' signature crossover games, so enterprising Tier II teams still have a crack at the bracket.
Tournament Profile
Date: March 19-20, 2016
Location: Pflugerville, TX
Weather: High 60s, sunny with mild winds Saturday
Top 25 Teams: 13
Tier I
Pool A
Can Someone Stop UCF?
They're ranked #1 in the USAU rankings, and they're #2 in the UW Power Rankings. They're 19-2 so far this season, and one final loss won't deter these juggernauts. Central Florida is the team everybody knows but nobody can control.
UCF will may bring a bigger bench this weekend, but the names on the stats sheet will look familiar: Shayna Brock, Eli Williams, and Janina Freystaetter will hold the spotlight in Texas. Their tight rotation means every player is competing for her spot on the field as well as the point at hand; the core players know each other and they know how to win efficiently. These women are excellent pacesetters who will slow the game to a crawl. Other teams have to find creative ways to change this game if they want to stop the Sirens.
Colorado Prepared To Grind
#10 Colorado Kali spawned some of the most memorable stories from last year's Centex: from rowdy sideline swamp cheers to their coach Claire Chastain eating worms for their layout Ds, this team knows how to generate DIY energy and momentum in a game.
Colorado didn't have a spotless Stanford weekend, but the team was able to connect pieces of their offense more effectively than they had at the President's Day Invite. Molly Brown handler Kirstin Johnson knows how to use every inch of the field, and her mob of scrappy cutters will hustle to eke out close points. Their deep game will be dangerous if Kali handlers get the chance to open the throttle.
California Seizing Their Chance
The #20 California Pie Queens have been playing the home game so far in 2016 with more than 10 wins against California opponents. They had the chance to challenge bigger fish like Oregon and Stanford at President's Day Invite, and they kept pace, keeping both games within three points.
In a bid-laden region, California isn't playing the same game of musical chairs that everyone else is. But there's still something at stake: California has been trying to break into the upper crust of SW teams for years, and in Marisa Rafter's final year, they have their chance. Jackelyne Nguyen and Lexi Hasan are athletic cutters who can make plays on either side of the disc, giving Rafter and Anjile An choices downfield.
Ohio State Between A Bid And A Hard Place 
Despite well-fought games at Stanford Invite, #15 Ohio State faces a long climb this weekend. Veterans Stevie Miller and Katie Backus, joined by big play machine Sadie Jezierski, will once more lead Fever unto the breach, and they will hold their own.
Last year the Ohio Valley enjoyed a two-bid post-season, but that luxury is looking less and less promising. Fever can't win a strength bid with more close games this weekend, and they'll have to break seed in order to play the bid-defining games. The pressure is on for the new generation of Fever stars.
Pool B
Texas Ready To Be Country Strong
#7 Texas Melee proved at Stanford Invite that they know how to compete with the upper crust of the division, winning against #8 Washington, Colorado, and UCLA.
This weekend they have plenty of reasons to feel confident: they're on their home turf, they already have wins this season against two teams in their pool, and they're developing a mental toughness that will pay dividends come post-season. Sophomore Domenica Sutherland feels like a breakout star for Melee, and she's the perfect complement for fellow gunslinger Shiru Liu.
Texas will contend with a vengeful UCLA who will be ready to tussle without pesky distractions like wind, rain, or mud.1 This will be their third matchup in 2016 alone, and it won't be one to miss.
UCLA Can Reclaim Their Throne
We've all had those Sundays. The ones where you figuratively and literally can't win. #9 UCLA suffered three losses on Sunday of Stanford Invite, to Texas, Washington, and Colorado. Their weekend yanked them out of the top 5 while it pulled Texas and Colorado into the top 10.
But judging UCLA BLU by that Sunday would be the biggest mistake a team could make this weekend. Everyone knows to watch out for Kristen Pojunis and Han Chen – even if they can't stop them. But channeling resources to stopping them means you leave the field open for equally dangerous players like D-line commander Melissa Kan and blazing Camille Wilson.
BLU is much deeper than their headliners, and they'll use their full roster this weekend. Count on a range of defensive looks from BLU, including the stretching zone that tripped up Oregon at Prez Day. UCLA likes to break fast and move the disc; they won't take every deep look, but their deep conversion rate is high.
Virginia Putting The Pieces Together
#13 Virginia Hydra has spent more than enough seasons with one name attached to their program, and without that name, they've had a chance to show their stripes in a post-Alika Johnston era. No matter who's holding the disc, Hydra is an elite program that can peak at the right times. They were slow to start at Queen City Tune Up, but a final appearance at Commonwealth Cup indicates they're putting the right pieces together.
Look to Rebecca Meeker, Janie Mockrish, Tess Warner, and Keila Strick to run the ball this weekend for Virginia. They've already kept at Michigan at bay once before; if they can break seed, Hydrawill earn the west coast tests they've yet to get this season.
Michigan's Coming To Dance
#14 Michigan Flywheel has quietly been killing it so far this season. They've reached the semifinals or better at every tournament they've been to in 2016. They haven't traveled for the brand name tournaments like Stanford Invite, but when you're a Great Lakes team, you don't always need to cut your teeth for bids. Just try to be the best when April comes.
Michigan wants to win everything this weekend: the tournament, the match ups, the dance off. Michigan executes a clean, classic ultimate that works because it's predictable. Cutters know where they need to be for Tracey Lo or Hannah Henkin to find them, and they score.
Flywheel has also spent much of their season so far showing straightforward defensive looks to their opponents; count on a few new tricks this time around, particularly against Virginia who bested them at Commonwealth Cup. Henkin's playing time is questionable going into the weekend due to a foot injury, but Lo, Emma Boyd, and Leah Bar-On Simmons will still present a challenge for Tier I teams.
Tier II/III
By now we all know the best and most dangerous place to be in late March is in Tier II of Centex. This year, 12 teams from six different regions have the chance to prove themselves. The South Central and Southwest teams have to defend their bids, while covetous teams from the North Central and New England be looking to nab a spot or two.
South Central
While Texas and Colorado defend their bids in Tier I, Colorado College and Kansas are protecting the ranks at the top of Pools C and E, respectively.
#21 Colorado College grows better with every game: while there are several big-margin flops behind them in 2016, their win over Colorado and their close game with Texas presage a team capable of holding its own in Tier II. Chloe Rowse is the brand name this year for Strata, but she's not alone: Corey Baron, Robin Fassett-Carman, Patricia Weicht, and Frances Gellert are each crucial parts of Strata's game.
#22 Kansas Betty is riding their high on their Midwest Throwdown win, but they'll have a rougher road at Centex: they will be without handler Caitlin Fitzgerald. Most teams aren't defined by a single player, and Kansas certainly has other playmakers who can and will step up. But all hedging aside, her absence means a much longer road for a team used to depending on her as an offensive catalyst and shutdown defender.
North Central
The #12 Minnesota Ninjas are the team to beat in the North. They've kept a low profile since Queen City Tune-Up, where they nearly stole #6 Pittsburgh's win on Saturday, coming up short, 11-12. They competed in an unsanctioned Iowa tournament where they took 2nd to an Iowa alumni team (you know, no-names like Robyn Wiseman, Liza Minor, and Jen Nowack).
Their lighter season is trouble for other Tier II teams: Minnesota is good, and there's no reason Sarah Anciaux and her fellow Ninjas can't ride a break train into the bracket.
Anciaux is the problem every team will have to solve. She's headed to London this summer with the USAU Women's team, she's won Club Championships with Drag 'n' Thrust, and also, she's damn good. She's assertive and forceful in the air, and she opens up the Ninjas game deep. They're abetted by a small army of experienced rookies, including Kayla Blanek, Hannah Cowan, and Jessica Kostecki. The Ninjas won't be radio silent for long.
#23 Wisconsin Bella Donna has the talent to crack into the next level of teams… they just need the record to show it. This is a young, athletic squad that grinds through person defense and makes in-game adjustments quickly. Lead by Anna Hrovat-Staedter and Lo Guerin, Wisconsin has a good chance at the bracket if they can keep the two bid-hungry NE teams in their pool at bay.
Teams To Watch
Iowa State Woman Scorned proved stronger than expected with their 3rd place finish at Midwest Throwdown. The team is young, but they're developing a system quickly between captain Britnee Grimshaw, Blair Holck, and freshman Megan Halverson. They have nothing to lose in Tier II.
While the only wins they have on the books are from Delaware Classic, Vermont Ruckus recently took care of Tufts, Dartmouth, and Middlebury at a local round robin tournament. These round robin tournaments always sport an asterisk, but that doesn't mean Vermont should be taken lightly. They are in contention for a bid if another Northeast team can join them above the threshold and have a lot to prove in their first elite tournament.
#18 USC has a lot to gain from rising out of Tier II, and they've shown they're capable of trimming big names down to size. They're competing in a tight region, and they will have a steep hill to climb in the post-season if they can't nab some wins over North Central and South Central teams. With a strong yet unsteady season so far – including a win over Colorado and a loss to Western – Centex will define their place in the Southwest.
Despite their loss to Iowa State in quarters, Texas State left an impression at Midwest Throwdown, and it won't be a surprise if they rally out of Tier III to win their crossover. The key for this Texan team will be patience and efficiency with the disc.
---
Knock on wood. ↩