Who are the frontrunners for the year-end awards?
With the regular season and first two rounds of the postseason now in the books, we check back in on the state of the Player of the Year and Rookie of the Year race. We include performance at the College Championships as a major piece of the award, so nothing is finalized.
Men's
Player Of The Year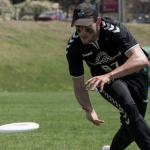 Jeff Babbitt (UMass) has been an unstoppable force so far this season. He alters the physics of the playing field with his defensive presence and has probably been even better this year than he was a year ago when he won Defensive Player of the Year. He is just as lethal on the offensive side of the disc. Most UMass breaks flow through Babbitt in some way.
Babbitt's dominant play is so effortless that it almost feels routine; his Callahan video feels somewhat ordinary despite the fact that he is bodying out Jack Williams and skying Ben Jagt. The real test for Babbitt, though, will come at Nationals. He has been able to sit out offensive points most of the year. When he is asked to do more — cross over onto the O-line, be the takeover player in a crunch time situation — will he deliver?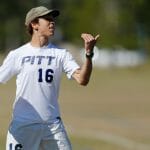 Trent Dillon (Pittsburgh) is often called the most complete player in college — and for good reason. His combination of speed, throws, and ultimate IQ (not to mention his relentless effort) is unmatched. His shutdown defensive skills are perhaps the best in college. But you get the sense that Trent does better as a role player, as he will be for the USA National Team this summer, than he does as a #1 option.
There have been times this year where he makes a badly-timed turnover or fails to make the big play. You can't kill one player for a team loss like Pitt's to Lehigh at Regionals, but it does raise some eyebrows. Dillon will need a tremendous Nationals — and he is very capable of delivering — to overtake Babbitt in the POTY race.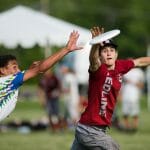 John Stubbs (Harvard), after a nice fall season, started off the spring a bit slow at Queen City. But he was tremendous at the Stanford Invite and beyond, carrying Harvard with his athleticism and precision throws. His late addition to the USA Men's National Team after Beau Kittredge got hurt only adds to the mystique.
Stubbs, alongside Mark Vandenberg, has to play a ton of points for a thin-benched Harvard team and does so with aplomb.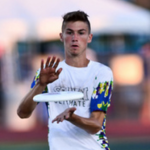 Jack Williams (UNC Wilmington) may have the highest ceiling of any of the players on this list. A truly gifted athlete, Williams is still learning the game in some ways, but has the raw tools — power, speed, and vision — to develop into an unbelievable player.
His rawness, especially with his throws, does lead him to the occasional off-game; he put up some rough performances at Easterns. But he has been lethal so far in the postseason and has shown a tendency to come roaring into Nationals.
Watchlist: Ben Jagt (Minnesota), Khalif El-Salaam (Washington), Adam Rees (Oregon), Dalton Smith (Texas A&M), Sam Little (Georgia)
Rookie Of The Year
Tannor Johnson (UMass) is way out in front of the ROTY race. As a freshman, he is UMass' most important offensive player, consistently finding open space and getting and delivering the disc in high value spots. He had six goals and three assists in the Easterns final. And it's not just his ability to fill up the stat sheet: he has an innate understanding of spacing and timing that eludes even some top club players. What's scary is that Johnson is still getting comfortable with his improved athleticism and bigger frame. He is going to be one of the great college players in the coming years.
Nick Hirning (Stanford) may not be at Nationals, but you have to imagine that he will be soon enough. Hirning, in many years, would be a lock for a ROTY title. He was a plug-and-play option for Stanford on the defensive line and brought both excellent deep defensive abilities and the team's most impactful D-line offensive skills in his first year with Bloodthirsty. Hirning will be a player to build around for Stanford as they regroup after a painful 2016 postseason.
Will Lohre (Oregon) had to be impressive enough to beat out some of the other rookies on a reloaded Oregon roster. His polish from a strong high school career in Colorado showed up right away for Ego, where he has been a goal-scoring machine.
Cole Wallin (Minnesota) has been a standout in a talented rookie class for Grey Duck. With elite quickness and strong handler defense, he has given trouble to some of the best in the game this season. Minnesota even named him their tournament MVP at Warm Up. He looks like he could be the next Chris Strub: tremendous athleticism and lockdown handler defense.
Watchlist: Mike Ing (Pittsbugh), Mac Hecht (Brown), Hugh Knapp (UBC), Joe Freund (Virginia Tech), Jake Marrapode (Colorado State), Xander Cuizon-Tice (Oregon), Tim Schoch (Carleton)
Women's
Player of the Year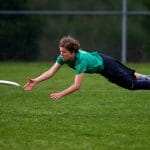 Bethany Kaylor (Oregon) is the most well rounded player in the college game. You don't really get a sense of how good Kaylor is until she goes toe to toe with another exceptional top-of-the-heap talent, because she makes everything look smooth and effortless. But once she's clashing with the other names on this list, you can see how her ability to force offenders out of their comfort zone and snipe defenses in their weak points makes her a gamechanger.
She claimed Runner-Up honors last year, but will have to compete with a crowded field that includes her own teammate.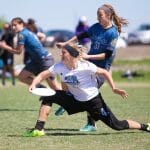 Kristen Pojunis (UCLA) has quickly risen up the ranks, really bursting onto the scene last year and now establishing herself as one of the college division's top threats. Her Callahan video is impressive, especially when considering it is just a sampling from a few games. While she excels most with her nose to the grindstone defending the best available cutter, the polish Pojunis has added to her offensive game has made her more than just a yardage gainer.
Now she can beat you with hucks and breaks, too. Her spirited play and endless motor make her a treat to watch. BLU has, as of late, struggled to win the big games and if she can lead her team to an upset or two, she opens up a lot of possibilities.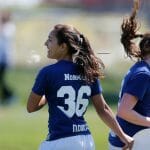 Carolyn Normile (Pittsburgh) has earned her way onto the list by being a player who can truly take over a game. She doesn't jump off the page by dominanting in one facet, but her hands are all over every game Pitt plays in. She's getting Ds against bigger players as a deep deep, bombing hucks, getting layout blocks on unders, sneaking through zones, or bailing her teammates out of bad situations.
If Pitt makes a strong showing in Raleigh, Normile could get on the podium and represents the best hope for the East coast.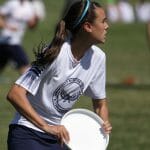 Mira Donaldson (British Columbia) is a very familiar name and she's only gotten better over the years. As her thrower's reel shows, there might not be a more dangerous threat with the disc in her hands in all of college ultimate, and UBC will make sure their opponents learn it quickly. Even familiar foes who know it is coming can't seem to take her away from the disc or from racking up assists.
Donaldson's abilities as a leader and game IQ have also developed to match her talent, making her formidable in more places and situations than ever before. After having to sit out the Thunderbirds elimination games at Nationals, she could solidify her career with so much more.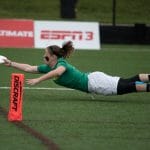 Jesse Shofner (Oregon) is the biggest name in the college women's game right now, and for good reason. She plays the game in a way nobody else is doing — the only real comparable is Opi Payne, and that speaks for itself — and that draws a lot of attention. That attention may be from fans "ooing" throughout her Callahan video, from coaches gameplanning on how to slow down the Fugue offense, or from defenders trying to help what is often a lopsided one on one battle once Shofner enters a lane in isolation.
There may not be a player more likely to take over in Raleigh.
Watchlist: Claire Revere (Whitman), Han Chen (UCLA), Anna Hrovat-Staedter (Wisconsin), Marisa Rafter (Cal), Janina Freystaetter (Central Florida)
Rookie of the Year
Hallie Dunham (Stanford) is poised as the award's frontrunner. Few rookies are so highly involved in the key workings of a semis contender the way Dunham is. She's slotted into the Stanford backfield very naturally and fileld some vital vacancies. Dunham looks the part with Monisha White and Anne Rempel and you'd be hard pressed to pick the freshman out of the trio as they carve up defenses.
Sophia Johansen (Washington) shares some similarities with Dunham, a Seattle youth handler thrown right into the mix of a top team. Johansen might lead Element in touches, one of the centerpeices of their offensive flow and asked to shoulder a large load for one of the foremost programs in the women's division. A high activity level and an array of sharp breaks are attributes few rookies apply to successfully in their debut campaign.
Frances Gellert (Colorado College) plays with a lot of intensity and intelligence for such a young player. Operating out of a central handling role for Strata, Gellert pairs well with the aggressive backfield cutting of Chloe Rowse and is great a turning small spaces in big advantages for her offense. She's particularly dangerous when finding a power position to fire off deep throws.
Anna Wysen (California) is one of the most "off the radar" rookies of this season, but now that the Pie Queens are returning to Nationals, she's got a chance to attract more attention. A tall handler who creates matchup problems, Wysen has instantly injected some new life into a Cal squad that is hoping to peak at just the right time.
Jaclyn Verzuh (Dartmouth) looked like an early season lock to win this award. Months later, much like her team, Verzuh will arrive at Nationals with a chance to win back her station as one of the best in the division. Injury sidelined the phenom throughout the regular season, but she was on the field for Regionals, and at some points, absolutely took uncontested control of points.
Watchlist: Samiya Ismail (Western Washington), Ellie Wood (Virginia), Abby Bomberger (Pittsburgh)