Will a banged-up Georgia open the door to the bracket for a lower seed?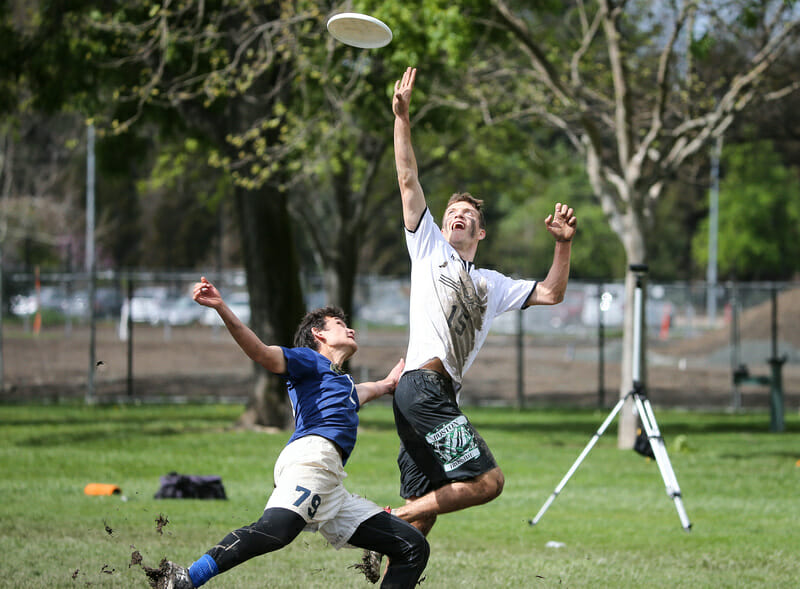 This article is presented by Spin Ultimate; all opinions are those of the author. Please support the brands that make Ultiworld possible and shop at Spin Ultimate!
Pool A is the home of the #1 overall seed — usually the consensus top-ranked team in the nation. So at first glance, it's simple to write this pool off and start scrutinizing the others. But looking back over the past five years, only one #1 seed has taken home the title and twice they've failed to win their pool. This tournament rarely ends in clear chalk.
With that said, 2016's version of Massachusetts's ZooDisc looks and feels a lot like 2014 Colorado, the last one seed to run the table on their way to a dominant College Championships victory. Immensely talented and athletic, with a Callahan Award-favorite at the helm, all signs point to UMass locking up a bye into quarterfinals.
Beyond that, however, things get interesting. A fearsome foursome of teams fill out this pool: Georgia looking to prove their depth without one of their stars, Texas A&M looking to outgun the competition, and two scrappy west coast competitors in Washington and Cal-Poly SLO. There might not be another semifinalist in the bunch, but it'll be a lot of fun to watch these teams try to take each other down.
Massachusetts ZooDisc
Seeding: A1, Overall #1
Overall Record: 25-2
Against the Nationals field: 8-2
Against the pool: 2-0 vs Georgia, 1-0 vs SLO
Key matchup: Georgia, 10:30 AM Friday
No doubt there's still some disbelief hanging around the UMass camp, where the title of top-seeded team in the division has rested since College Easterns in late March. Are they really the #1 seed, after all this talk about that title race being wide open?
Dig into the roster and it starts to make sense. Player of the Year and Rookie of the Year frontrunners Jeff Babbitt and Tannor Johnson, respectively, have stayed healthy, with Johnson recording some monstrous stats during the regular season. Babbitt has likely played fewer points this year than he did during the 2015 season, even when healthy — his appearances on the O-line have been more seldom than Steph Curry appearances in the fourth quarter. He's saved a lot of energy and only dealt with one high-profile injury, a concussion against Pittsburgh in the semifinals of Stanford Invite.
Johnson has led the downfield attack with his sizable frame and speed, possibly taking over as a favorite target for veteran thrower and captain Ben Sadok, who spent last year taking his pick between Babbitt and Conor Kline. The backfield fills out nicely with last year's ROTY Brett Gramann and Ben Tseytlin.
UMass' pace and system has only improved in 2016. The team's discipline in a variety of looks on offense and skillful resetting keeps the field wide open for cutters to work, and Sadok keeps a number of different upside down throws and hucks — deadly from almost any distance — in his back pocket to activate the deep space. On defense, Babbitt has booked a penthouse suite for himself on the wing of the team's 1-3-3 zone. Jeff Dreyfus has also become one of the best deep defenders in the division. Watching game tape won't cut it for prepping against this defense. The D-line has now built two seasons' of chemistry into this look, and it continues to frustrate offenses across the country. In person defense, ZooDisc has the legs and matchups necessary to contain top teams.
What's worth noting about Massachusetts is that this is their third-straight appearance at College Championships after a long drought. Since adding Tiina Booth as head coach late in the 2014 season, Babbitt, Sadok, Tseytlin, and those around them have finally found program consistency. Pre-2104, UMass had all the trappings of an elite program, with none of the success: a flagship state school in the heart of Amherst, MA (a historic ultimate town) and a giant talent pool, but a long list of Regionals losses.
The team that will take the field Friday morning has put that history to bed. They'll be more than a handful for just about everyone on both sides of the disc and, barring any weird hiccups, are the favorite to win it all in Raleigh. Lucky for ZooDisc, they get their 1v2 pool game first thing Friday against a very athletic Georgia who will be playing their first competitive game since losing star Parker Bray. If Babbitt and company come out firing on all cylinders immediately, they could set the tone for a romp through the pool.
UMass is ready to win it all — they'll be making themselves scarce on Friday and Saturday in between games to limit distractions and stay mentally focused on climbing this last and largest hill of the season.
Georgia Jojah
Seeding: A2, Overall #8
Overall Record: 24-6
Against the Nationals field: 7-4
Against the pool: 0-2 vs UMass
Key matchup: Texas A&M, 12:30 PM Saturday
Even without the talents of injured captain Sebastian Di Francesco, 2016 has been a much-improved season for Georgia. After a long absence from the Nationals stage, they return for the second year, having shored up the backfield and consistency issues that made them shaky last season.
That was the knock on Jojah in 2015 — marquee talent Elliott Erickson was a dynamite defender and cutter in his final college season, but Erickson earned his keep off the disc and downfield; Georgia struggled to marshall the type of fast-paced offense that would have made them a top-10 contender.
Still, Georgia made it to Milwaukee last year, a critical experience for Sam Little, Nathan Haskell, and Parker Bray. With a return trip on the brain this year, Haskell's already valuable throwing stock has continued to rise, Bray broke out as one of the biggest offensive threats in the region, and Little has been a defensive stalwart. By Easterns, Georgia had the kind of athleticism and talent necessary to take down Minnesota and climb into the elite conversation.1
That trio helped lead Georgia to a Southeast Regional title. Then this happened:
https://twitter.com/Ulti_world/status/729420350778441729
While the injury was not as bad as it could have been — Bray tore his PCL rather than ACL and will not require surgery — it will still be enough to keep him from cleating up in Raleigh, which is a major blow to the #8 seed. Bray's impact can't be understated for Jojah. Handling or cutting, he has paired well with Haskell and Sheryar Ali all season and been the definition of a threat, even crossing onto the D-line to gobble up key breaks. His absence this weekend leaves his team handicapped and unlikely to unseat UMass.
Without a star, Raleigh still presents an excellent opportunity for Georgia: show their improved consistency by holding seed in the pool and earning their spot in prequarters. They take on Texas A&M last on Saturday before the re-seed, and they'll need discipline on offense and the best version of their athletic defense to keep Dalton Smith under control.
Earlier that same day, they'll match up against another team that has run and jumped their way onto the national stage: Cal Poly-SLO. The Southwest winners are like a loose cannon version of Georgia, and while A&M should be the more challenging game, this Saturday morning match up should feature plenty of skying catches and big bids.
Quarterfinals was likely in the cards for this team before Bray went down, but all is not lost. Even without a big splash, Georgia can continue to build on its success in recent years with a strong performance in Raleigh — the experience this weekend will only improve their current talent for next year's run and draw in more high-profile rookies.
Texas A&M Dozen
Seeding: A3, Overall #12
Overall Record: 19-8
Against the Nationals field: 3-7
Against the pool: 0-1 v Cal Poly SLO
Key matchup: Washington, 10:30 AM Friday
It's going to be hot and sunny in Raleigh, and that's something that Texas A&M Dozen should be excited about. The most telling moment for Dalton Smith and his teammates this season wasn't a relatively strong start to the season at Warm Up — it was getting neutralized by bad weather on day one of the Stanford Invite.
A light, steady rain built into driving wind and harder participation by the last round of pool play on that Saturday in early March. Oregon took the field with a rotation of top players ready to frustrate Smith, the known fulcrum of Dozen's offense. At day's end, as the clouds darkened, the A&M leadership looked waterlogged and beaten. That wasn't exactly something that stood out at the time — just about every team in both divisions saw their play decline in the storm — but A&M knew the weather had completely taken them out of their game. Different looks on offense had stagnated against the Pacific Northwest-seasoned Ego and Dozen's defense hadn't worked well either.
Fast forward 13 games, through measurably better conditions, and Dozen is 10-3, only taking losses to Colorado, Texas, and Cal Poly-SLO during that span. This team was one point away from the South Central regional title, and that's with the entire division knowing that Smith is the focal point of the team.
For most opponents, playing A&M isn't about how you limit their savant thrower — it's about if you can limit him at all. That all changes at the College Championships, when every contender is bound to have at least an athlete or two, if not an elite defender or three, to frustrate Smith. But with the weather on tap to keep temperatures high and the wind calm, the stable of tall and tough Dozen cutters will have plenty of Smith bombs thrown their way.
A&M needs to hold seed for a shot at the bracket, which is as far as they pushed last year before losing to eventual semifinalists Florida State. To do that, they need to battle through a scrappy Washington team with a variety of looks on offense and defense to keep the pace shifting, and a very athletic Cal Poly-SLO with nothing to lose. Opposing coaches will have had a month to game plan for how to manage Smith.
This team has the height and the experience to return to prequarters, but they may need some lucky breaks in terms of conditions and wacky throws. The schedule certainly favors them, with a good deal of rest. Keep your eyes peeled for opponents bent on achieving the "how" when it comes to breaking down A&M.
Washington Sundodgers
Seeding: A4, Overall #13
Overall Record: 34-9
Against the Nationals field: 7-4
Against the pool: 3-0 v Cal Poly SLO
Key matchup: Texas A&M 10:30 AM Friday
If anyone in Pool A has badly needed the long break after Regionals, it's Washington.
The injury bug bit Washington hard this season, after a finals appearance at Presidents Day buoyed them in the rankings. The Sundodgers stayed strong and consistent as the season opened and left their mark in the bracket with a commanding semifinal win over Colorado in San Diego that weekend.
By Stanford, a few injuries left the team shorthanded and a bad mental start saw them miss the bracket entirely (even after securing a nice win over Pittsburgh) in an inconsistent weekend. By the final day of the Northwest Challenge, the team took the field against Victoria with just a couple subs more than two lines. The road to Raleigh had gotten tough.
Their position was far from safe at Regionals, but Washington rallied through the long backdoor bracket and reminded onlookers that they deserve to be in Raleigh and return to the National stage, with star Khalif El-Salaam leading the way. But it sure wasn't pretty.
The Sundodgers have notable young talent on the roster alongside El-Salaam in Steven Benaloh and Tomás Delgado. In the way that El-Salaam leads his team in the air and with long-bombing throws, Benaloh and Delgado have been vicious in flow, relentlessly attacking the break side. The team has also been without their other budding star Dongyang Chen all season.
Role players old and young surround the top end of Washington's roster, with the latter showing flashes of brilliance and promises at times, while also being a source of weakness, both with the disc and on defense in tough moments. Washington has sometimes leaned too heavily on El-Salaam in those moments, which made it hard for the Seattle native to pick his spots on the field.
But the rest is sure to have treated Washington well. While others may have returned or recovered, Benaloh debuted with AUDL's Seattle Cascades for extra reps. This team will arrive prepared, focused, and perhaps as dangerous as they have been all season.
To battle into prequarters, Washington will need to outplay and outsmart at least one team seeded above them, and that paints a big target on Dalton Smith's back. It's conceivable that an unstable Georgia could drop a game to Washington, but far more likely that their leadership will hone in on A&M's more predictable strategies and make a statement early in the tournament.
And to their credit, the Sundodgers are in no place to be shocked by a feisty Cal Poly-SLO. They've owned the matchup with their Southwest opponent in all three meetings this spring. Having already dealt with tough losses and confidence issues, count on Washington not to underestimate Slocore, and at the very least hold their seed.
Cal Poly-SLO Slocore
Seeding: A5, Overall #17
Overall Record: 33-17
Against the Nationals field: 1-7
Against the pool: 1-0 v A&M, 0-3 v Washington
Key matchup: Every game
A long and wild ride brings Cal Poly-SLO Slocore to Raleigh and their first Nationals appearance. They're a proper 5-seed: a driven group of high-flying, huck-happy, block-getting athletes that celebrate every point and love their team.
It's been a big year for this squad: winning the Stanford Open gave them the final, coveted spot at the Stanford Invite. The team got a windy gut-check on the long venture out to Huck Finn. They've taken a bunch of lumps from elite teams so far this season, but most recently SLO threw a haymaker and knocked Stanford flat on their backs at Southwest Regionals.
Joel Anton and Christopher Cogswell have stood out in big moments for Slocore, but an army of teammates ready to make big catches and lay out for blocks has kept team leaders pumped and focused when the team can smell a win. Whenever SLO has lacked discipline, they almost always kept themselves in the game with tough defense.
Their play style almost echoes Georgia — so at least the first half of that meeting at 8:30 AM Saturday morning should be exciting. Expect SLO to be charged up and eager come Friday — breaks set off a team-wide tidal wave of celebration, and nobody should be counting out Slocore when discs are in the air. An upset or two certainly aren't out of reach.
---
Doubt crept back in for a moment at Easterns. Jojah had a catastrophic tumble, giving up a 13-10 lead to lose 14-16 to Harvard, and then suffering a 10-point loss to UMass the next day. ↩