In a pool that rarely fails to provide drama and excitement, will three powerhouse programs prevail -- or is an upset in the cards?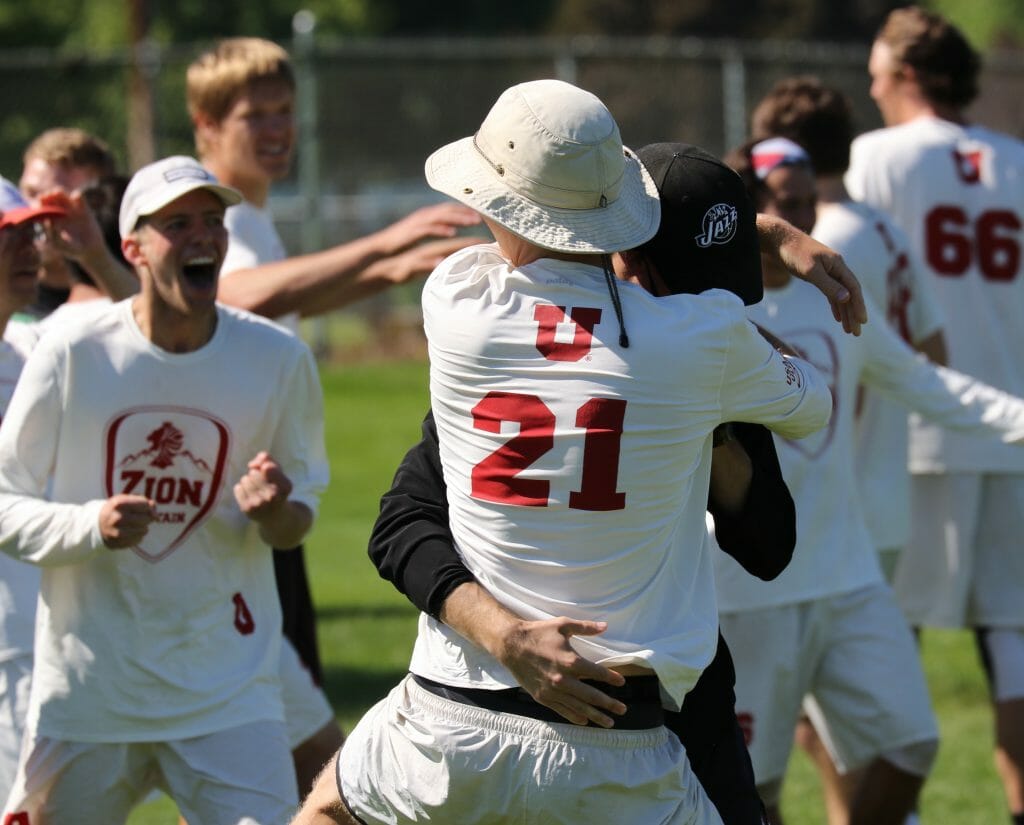 This article is presented by Spin Ultimate; all opinions are those of the author. Please support the brands that make Ultiworld possible and shop at Spin Ultimate!
Lay down your "pools of death" and take up the pool of hope!
Minnesota's had a great season but are far from infallible. This may be the last best chance for Pittsburgh to win a title before what will inevitably be a rebuilding year in 2017. After an inconsistent season, Carleton has returned to form and barnstormed the North Central. A gutsy performance in a dangerous Southeast region earned Auburn a second straight trip to Nationals. Then there's Utah, who is nearly unscoutable.
Pool D has favorites, but not an untouchable, prohibitive favorite. The seeds are nice and close together, and the potential for parity is high. Whatever your pleasure, this grouping should provide some entertaining games.
Minnesota Grey Duck
Seeding: D1, Overall #4
Overall Record: 33-4
Against Nationals Field: 8-3
Against Pool: 1-0 vs Pittsburgh, 1-0 vs Carleton
Key Matchup: Pittsburgh, 4:30 PM Friday
Though they faltered in the championship bracket at North Central Regionals, Minnesota did plenty in an impressive regular season campaign to earn their spot at the top of the pool. Grey Duck kicked off the spring with a convincing win at Warm Up, made the finals of Easterns, rolled through Huck Finn, and are 8-3 against the field at nationals. When they're hot — like they were before 30 mile per hour winds cooled them off at Regionals — they're hot.
Offensive efficiency: it's one thing to preach it and another thing altogether to actually have it. In the calm, dry conditions of Raleigh, the potential for Minnesota's side stack to operate with little influence from the elements should scare other teams in the division.
"When you look at our O-line, we've got a really strong handling crew that spans the generations," said Minnesota head coach Tallis Boyd. "Tony Poletto [junior], Wyatt Mekler [junior], and Sam Kaminsky [freshman]. Those guys have been really consistent all year long."
That handling core looks for cutters Ryan Osgar, Grey Duck's Callahan nominee, and Ben Jagt flying out of the stack into open space to get the offense started. From there, it's usually off to the races but their talented backfield resets the disc easily and is always a threat to score from handler motion near the endzone.
The thing that really jumps out at you about Minnesota is their overwhelming team speed — something that underscores their depth. Coach Boyd isn't hiding any players who can't run. These guys are all fast and in-shape — two things that translate well to creating steady pressure.
Freshmen defender Cole Wallin has shown the ability to take tough assignments against players that touch the disc a lot, like Texas A&M's Dalton Smith and Florida's Bobby Ley. Keep an eye out for Wallin to continue to draw the opponent's ace.
Fifth-year Soham Shah will bring experience and handling savvy to a D- line that should see it's fair share of break opportunities this weekend.
The conditions that neutralized Grey Duck's offensive attack at Regionals will be a distant memory in the 80-degree weather forecasted for Raleigh. If Nationals is a still-wind track meet, Minnesota has a great chance to do some damage.
Pittsburgh En Sabah Nur
Seeding: D2, Overall #5
Overall Record: 28-8
Against Nationals Field: 5-6
Against Pool: 0-1 vs Minnesota
Key Matchup: Minnesota, 4:30 PM Friday
To put in perspective just how successful this program has been in the regular season, this is the first time Pitt has not been a top seed in a Nationals pool since 2010. That's dominance.
The approach for this season Pittsburgh was markedly different than a year ago when they won three major tournaments — Warm Up, Stanford, and Easterns. Essentially, Pitt has sacrificed regular season hardware for balance. Unlike 2015, we saw lines that were more open and a team less concerned with tournament-to-tournament results; you could see more of an effort to give points to the full compliment of the roster. The stars still played, they just played less and younger guys got much needed in-game experience.
"We have 19 guys that can go hard at any given time this weekend," head coach Nick Kaczmarek said of his team's roster. "I think we have a lot of skill, a lot of energy, a lot of effort, and they all have the right mindset, which is the biggest thing on a deep team. Everyone's got to have the mindset to just go and get it when your number's called."
Some players who have been getting their numbers called to play hard defense on tournament Sundays — like freshmen Mike Ing and sophomore Kyle Hartley — are clearly the benefactors of quality reps against quality competition. Along with the infusion of young blood, puller and deep shooter Sam Van Dusen, Carl Morgenstern, and distributor Saul Graves will hold down a solid defensive unit that shouldn't require a ton of O-line crossover.
Very little should be surprising about Pitt's offense. Max Thorne will dominate in space, Pat Earles will throw left-handed break hucks against force flick marks, and Callahan finalist Trent Dillon will do it all — while being the first to head over to defense when his team needs a break.
An interesting note, fourth year handler Jack Slevin will be playing in his first Nationals since transferring to Pitt; Slevin's last game at Nationals was in 2014 when he was a member of Oregon playing Colorado in semifinals1.
What makes Pitt a little strange is that unlike a lot of college teams, they don't have one guy who throws all the assists and takes all the turnovers. Earles, Thorne, and Dillon are always going to have an impact on the stat sheet but they really spread the numbers around. And that may become an important question for Pitt. With that trio — three of the best dozen or so players in college ultimate — will someone be ready to fully take over a game if need be? Without having leaned so heavily on kill lines this year, will they be ready to handle the points? We should have an answer soon enough.
This is a moment of supreme opportunity for Pittsburgh. Rosters loaded with talent like this don't come around very often. Without a doubt, this will be their last, best chance for a title before they experience severe roster turnover. Dillon, Thorne, Earles, Christian Pitts, and Joe Bender — each with gold medals from the program's back-to-back titles in 2012 and '13 — will be playing the final college tournament of their careers.
The class of 2016 was an important part of Pitt's success in those title runs, but Tyler DeGirolamo and Alex Thorne were out front in those championships and did most of the heavy lifting. Now this group has the chance to win a title that is uniquely their own.
"I think ultimately the great blessing of having so many in your graduating class is, truthfully, we've just got a whole lot of 'want to,'" said Kaczmarek. "We've got a lot of guys who want it bad and are going to go get it."
Carleton College CUT
Seeding: D3, Overall #9
Overall Record: 22-12
Against Nationals Field: 7-7 
Against Pool: 0-1 vs Minnesota, 1-0 vs Auburn
Key Matchup: Minnesota, 8:30 AM Saturday
Seeing a proud program like CUT back at Nationals after a year hiatus restores a sense of normalcy to college ultimate — one that head coach Phil Bowen has been working hard to bring back to his team.
"It was a huge focus for me this year. To get back to Nationals and have a normal year of ultimate," Bowen said. "It's been two years in a row with the accident in 2014 and not making Nationals in 2015 — two years in a row where we didn't have a normal season. There's only three seniors on the team right now who have been part of what I would call a 'normal' CUT season."
Annual trips to Nationals and late season success is the norm for Carleton. So is peaking at the right time, which is exactly what CUT seems to be doing. After some spotty results and a poor performance at Stanford Invite, the boys from Northfield seemingly came out of nowhere to win the North Central region — hanging two losses on a Wisconsin team stacked with high caliber defenders.
Carleton's highly touted sophomore core with Sol Yanuck, Henry Fisher, Alex Olson, and Eric Taylor will get their first chance to measure themselves on the national stage. Captain Justin Lim, last season's Player of the Year in the North Central, and 2015 1st team All-Region player Jesse Bolton will look to create pressure and breaks.
The early part of the schedule favors CUT, who will have the chance to see Minnesota and Pitt square off at 4:30 on Friday before they play either team the following day. Minnesota and Carleton didn't get a chance to tango at Regionals. The amount of pride and in-state bragging rights at stake for both squads should be reason enough to check out their 8:30 matchup Saturday morning.
In a day and age where every team seems to have a Callahan nominee, here's Carleton, the only team in the pool not trumpeting someone for college ultimate's highest individual honor. Though not for lack of possible candidates. In fact, Carleton has never nominated a player for Callahan.2
"We want to be thought of as a full team and not necessarily have a collection of individuals or standouts," said Bowen, who played for CUT in the late 90s. "I think that's more or less become ingrained as culture and now no one even thinks about it, frankly. This is my seventh year coaching CUT… [I've] never heard anyone wonder why or ask 'Hey, shouldn't we do this?' As far as I can tell, no one even pays attention to that at this point."
Highlight videos are awesome, but it's also okay to be refreshed by this tradition.
Bowen's unit seems to be coming together and may well have the pieces to embrace another old tradition: being perennially involved in the contender conversation. The young stars are still rising. How they're able to ride this peak at Nationals will be a good indicator of things to come.
Auburn Aetos
Seeding: D4, Overall #16
Overall Record: 27-13
Against Nationals Field: 3-7
Against Pool: 0-1 vs Carleton
Key Matchup: Pittsburgh, 8:30 AM Friday
This will be Auburn's second straight appearance at Nationals, though they will be making the trek up to Raleigh from a much different head space than last spring. In 2015, the Aetos had already suffered the agony of defeat and decompression after being eliminated from Regionals before receiving a phone call from USAU inviting them to Nationals.
Now, this is a battle tested team. When Auburn takes the field on Friday, they will be playing their 41st game of the spring — good for third most in this tournament field. Forty games can do a lot for team chemistry and perspective.
After turning heads at Tally Classic with wins over UNC-Wilmington and North Carolina, the Aetos faced major adversity at Southeast Regionals. They lost two games-to-go, but were able to grind out a tough win against Florida in one of the crazier finishes of Super Sunday. Wins like that are important for a team with hopes of playing in the bracket.
With athletic defenders like Callahan nominee Blake Galloway and Martin Newman, as well as do-it-all handlers like Evan Boecking and Ryan Landry, Auburn has the top end talent to be challenge any team in their pool.
Auburn represented themselves well a year ago in Milwaukee, but, above all, gained a year of nationals experience — which cannot be overstated. There is simply no substitute.
"I think that's a big thing that we learned last year," senior captain Garris Bugg said. "Having time to prepare for [Nationals]."
With plenty of planning, this team should be better suited to hit the ground running in Raleigh and they'll need to. Aetos will be tested early and often, looking to get off on the right foot as they take on Pitt first thing Friday morning.
Utah Zion Curtain
Seeding: D5, Overall #20
Overall Record: 20-6
Against Nationals Field: 0-3
Against Pool: No games
Key Matchup: Auburn, 8:30 AM Saturday
What can you even say about these guys?
Zion Curtain was the #9 seed at Northwest Regionals a few weeks back. Teams have rolled the nine seed at Conferences into a Regionals berth in the past — but from Regionals to Nationals?! That's unheard of. Seeded that low and without many eyes on them before the Series, you have to wonder… did the Northwest see this coming?
"I don't think so," said Hunter Levis, Utah captain and defensive standout. "Especially coming out of the Big Sky [Conference], we're always one of the last three seeds. We don't really go to any big tournaments. We don't go to Stanford Invite. All the Cascadia [Conference] teams just see us and expect an easy W, I assume."
As the 20th and final seed at the tournament, one thing ZCU has going for them is their sheer anonymity. Intel on every other team in the field is much easier to come by. So what do we know about this team? Well, Utah has two All-Region players in program history — and neither were last year. They have a Junior Worlds player in Trey Taylor, a grad student from Puget Sound, and a dude who set the career rebounds record at Colorado College in 2011. And that's about the extent of what we know.
That anonymity certainly didn't hamper Utah at Regionals. ZCU earned the right to be in Raleigh and now they're playing with house money. Their first round game against Carleton should indicate whether or not this team has any chance to stay hot and muddy the waters of Pool D.
---
Slevin's stat-line in that game: 1G, 1A, & 1T ↩

Carleton players Alex Nord (2001) and Miranda Roth (2004) both won the Callahan but were nominated by the Regional Coordinator in both instances. ↩