Han "Heist" Chen and Kristen "Vendetta" Pojunis have learned about each other and how to be successful, and plan to use that to take it to the field at Nationals.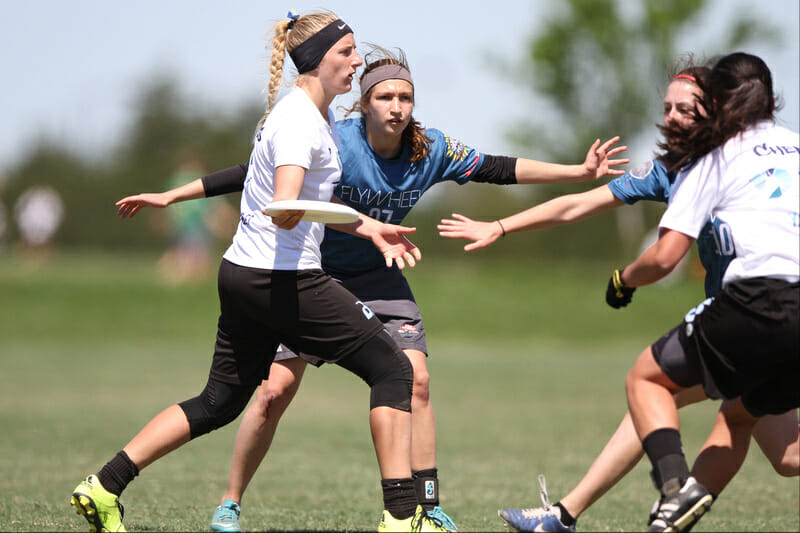 The fervor started back after the President's Day Invite Highlights came out. That was the point when Han Chen and Kristen Pojunis definitively became names to know in the women's college game. If a full field huck to a full extension layout for a goal1 wasn't enough, both Chen and Pojunis each add another highlight to the reel. Meanwhile, UCLA BLU was 13-1 with wins over Stanford and Oregon.
Of course, neither player was completely unknown. Chen was Ultiworld's 2015 Breakout Player of the Year as one of the stars of a BLU team that was a top seed at Nationals last season. Pojunis earned some buzz with an impressive showing at WUGC Team USA tryouts. Both were Southwest All-Region 1st team selections in 2015. Ultiworld's Women's College Primer heading into 2016 featured Chen as a Player to Watch, albeit not a headliner in that list.
Now they are considered stars in the college division, both capable of walking away from Raleigh as the 2016 Player of the Year. Pojunis is a finalist for the Callahan Award and UCLA is in the running for a National Championship. All of this grew from humble beginnings.
"The Best Rookie Class in BLU History"
Somebody knew something the rest of us didn't: Alex Korb. BLU's coach knew he had a wealth of talent in this class right away. Chen, Pojunis, speedster Camille Wilson, and Kathleen Lo are the four remaining from that class and all play significant roles for the team. While Korb saw their potential, the rookies were, as rookies are, clueless.
"In November [of 2014], Han, [Camille], and I were trying to figure out if there was enough room for BLU to take all of us that year based on grad students and who we thought would make it," remembers Pojunis.
The lone rookie who left little room for doubt was Chen, whose talent and athleticism were obvious in how quickly she grasped the game. A competitive swimmer and tennis player growing up, she discovered ultimate when her AP Bio teacher at San Leandro High School invited her out with some other students to play pickup.
"He just said to keep running to the end zone," recalls Chen with a laugh.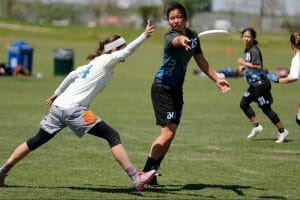 Per usual, a cast of characters pulled her along the path to her college team. Stanford's Hilary Vance, a former swimming teammate of hers, recommended she give the ultimate team a go in college. Once she was on board for tryouts, stalwart of Southwest women's Michelle "Chip" Chang pulled her aside one day to work on rapidly developing throws and found Chen to be a natural.
"Her throws were significantly better than any of us other rookies, and maybe better than some of the vets," says Pojunis. "Han had a freaking hammer coming into rookie tryouts! And not like a wobbly desperation throw rookie hammer — a 40-yard, precise hammer."
Pojunis, already a sophomore, hadn't even heard of ultimate until a few months prior. But she had been raised by competition. She was a soccer goalie for eight years, captained three varsity teams in high school, including the track team, where she ran in five different events. That's a tantalizing resume to see as a college captain spying out potential recruits.
The 2014 UCLA BLU team was one fighting to get back to the College Championships. The program had missed out on Nationals the year prior for just the second time in eight years. Veterans like Chang, Alexa Cohen, and Katie Swinnerton were all in their final seasons with one last chance. Chen, Pojunis, Wilson, Lo, and Vivian Griffey2 were brought on as rookies.
"The seniors talked about how badly they wanted to return to Nationals that year," says Pojunis. "Korb said he thought we could do it, particularly because we had what was probably the best rookie class in BLU history. I barely knew Korb at that point and thought he was just saying that to pump us up or something."
Those rookies were thrown into the fire with a lot on the line for BLU. They thrived, soaking up the responsibility and fortifying their abilities. By season's end, they were working their way into starting rotations as BLU won the final game-to-go at Southwest Regionals.
At the time, the rookies maybe only had an inkling that this was the start of something bigger, that they would help carry UCLA to two more consecutive appearances.
"Without Them, We Hurt"
This season, BLU started out at a blistering pace. After a strong fall, UCLA claimed the Santa Barbara Invite title with a double game point victory over reigning Southwest Champion and 2015 National runner-up, Stanford. With it, they held down the #4 ranking in the Ultiworld Power Rankings. They were widely considered contenders for the National Championship, and Chen and Pojunis were thrust into the spotlight.
But the team showed up to the Stanford Invite without their full roster, missing three starters. They leaned heavily on Chen and Pojunis, sending them out point after point in an effort to claim vital victories. It worked through the first round, when they defeated Ohio State on double game point. The following round, they were punished for their sloppy play by top ranked British Columbia. Matched up with wind, rain, and a merciless UBC zone, Chen and Pojunis combined for 19 turnovers while recording all three of the team's assists on the way to a humiliating 13-3 loss. After beating the tournament's bottom seed, Carleton, BLU went on to lose its final four games, including three close Sunday affairs in better conditions.
"Stanford was rough," admits Pojunis.
"Stanford Invite proved to me how much we need the other players on our team. Missing the three people that we did really hurt us, both mentally and physically," explains Chen. "Everyone on BLU contributes something so significant that without them, we hurt."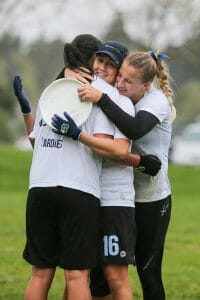 Star power wasn't enough against top flight competition to get UCLA the wins they hungered for. They fell to #9 in the Power Rankings and lost a lot of their contender shine as faults started to show.
Chen certainly felt like she was part of the problem and not the solution at the tournament. "My biggest mistake during [Stanford Invite] was letting the fact that we were missing people affect my playing with the people who were there," says Chen. "I took a lot of shots that weren't there and did a poor job, personally, of adapting to the situation."
From there, UCLA failed to record another upset win. At a now infamously windy Centex in Austin, they held seed with a 4-3 showing. In the Series, they started putting it back together, rolling through most of the their Southwest opposition on their way to meeting Stanford in the final. Superfly claimed the season series and the regional title.
"They broke us coming out of half and that really hurt us. Hard cap. Game," says Chen about the Southwest Regionals final, before adding, "Stanford played really well, as always, but they're for sure beatable and I hope we get another shot at it at Nationals."
2016 has had ups and downs for both the dynamic duo and their team. It has also taught valuable lessons. Even if Chen and Pojunis had arrived, they had more work to do to get their destination. And it would take their teammates to do it.
"I Feel Like She Knows"
Why is it so hard for opponents to deal with UCLA's top two players?
It starts with their versatility. Chen clocks in a 5'10" and Pojunis plays big even for 5'7″, and they both have exceptional hands and attack discs with tenacity. Pojunis has superior speed and Chen is armed with Jedi-like field sense. And both use their height well with the disc in their hands; Chen's deep shots are always a threat, as is her high release, while Pojunis has the ability to extend around her mark with eye-opening reach. Through two trips to the College Championships, Chen has a 14 goal and 28 assist line; Pojunis rang up 11 goals and 5 assists of her own.
"She's the type of player you can't shut down," states Pojunis of her junior teammate. "You just get to pick how she beats you."
"If there's an open space on the field, I'll go there. Korb tells me to defend someone, alright sounds good. I guess I'd describe myself as someone who looks to fill whatever needs to be done and do it," explains Chen.
Chen has one word to describe the give-it-all nature of Pojunis: "Resilient. There's no stopping her."
Perhaps even more dangerous, however, is their trust in one another. After three seasons together on BLU and another with the club mixed division's Los Angeles 7 Figures, they each firmly believe they are improved by the other's presence. Each is intensely competitive, driven to accept nothing less than 100% effort and to hold themselves accountable for results. They feed off each other. Pojunis thinks their chemistry allows them to be more impromptu together on the field.
"I feel like she knows what throw I'm looking for before I even do," glows Chen of her teammate, "I absolutely trust her to make sick plays and come down with everything."
"I'll be scanning upfield and just spot Han running somewhere with a goofy grin on her face, almost daring me to throw it to her," says Pojunis.
Their teammates saw it pretty quickly, too. They saw it off the field, where their intensity mirrored one another's. They saw it on the field, where they seemed to find each other frequently. At the end of their rookie season, it was no surprise when Chen was presented an award for "Most Likely to Throw a Stall Two Hammer." What did Pojunis win?
"I received Most Likely to Catch the Stall Two Hammer," she laughs3.
"I Want To Win"
As is particularly popular — though certainly not exclusive — on the west coast ultimate scene, everyone on UCLA BLU gets a nickname. Oftentimes, opponents won't even know the given names of the girls they match up against weekend after weekend, only figuring it out when it comes time to do All-Region nominations. Chen's nickname is Heist and Pojunis is more commonly known as Vendetta. While the origin stories for these nicknames remain a team secret4, they certainly sound like a match.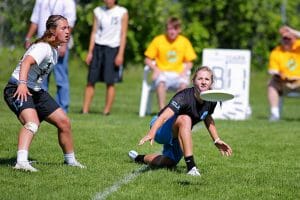 Heist & Vendetta have their team in a favorable position going into the College Championships. They are the 7th seeded team overall and a popular pick to advance far into the tournament. There's individual hardware available for each of them. Combined with their formidable team, they could do a lot of winning in Raleigh. But that was all true in 2015, when the team was the 3rd seed overall.
"We were way too complacent and did a bad job focusing on the games that we were supposed to be playing," remembers Chen. They began the weekend with a solid win over Carleton. But in the second round, they lost focus, and dropped a game to Texas, the last seed in Pool C5. BLU followed that up with a second straight upset, this time at the hands of 6th seeded UBC. After British Columbia was defeated by Carleton, UCLA wound up missing the prequarters bracket based on point differential. They were relegated to watching both Carleton and UBC win their quarterfinal games to make it to the semifinals of Nationals.
"It was painful watching the team we beat 15-11 in pool play play against Stanford in the semifinals," laments Chen.
In 2014, they were rookies, awed by the glamour of Nationals — the big show, as the UCLA seniors called it — on a team that fell in prequarters. In 2015, they were leaders on a team that took its eye off the ball and struck out. Now, in 2016, they are stars with something to prove. It hasn't been easy and it won't get any easier in Raleigh. Their pool pits them against the UBC team that contributed to their flop last year and embarrassed them earlier this season. But both Chen and Pojunis feel ready, motivated, and focused.
"Nationals is the thing I work for all season. I love the atmosphere, the length of the event, the number of teams and parents at the massive field complex, seeing east coast teams. Pretty much everything about Nationals I absolutely love," says Pojunis. "And as a senior, I'm glad I can end my last college season this way."
Both have learned to trust each other. More than that, they've learned to trust their team. The talent and the dedication has been there from the beginning, and their ascent to the top of the college division happened so quickly. As they have matured as players and leaders, their hunger to earn more for their team and for each other has grown. They arrived, but they haven't reached their destination yet. They haven't gotten what they want yet, not according to Chen.
"I want to win."
---