No surprises in the first round of the day.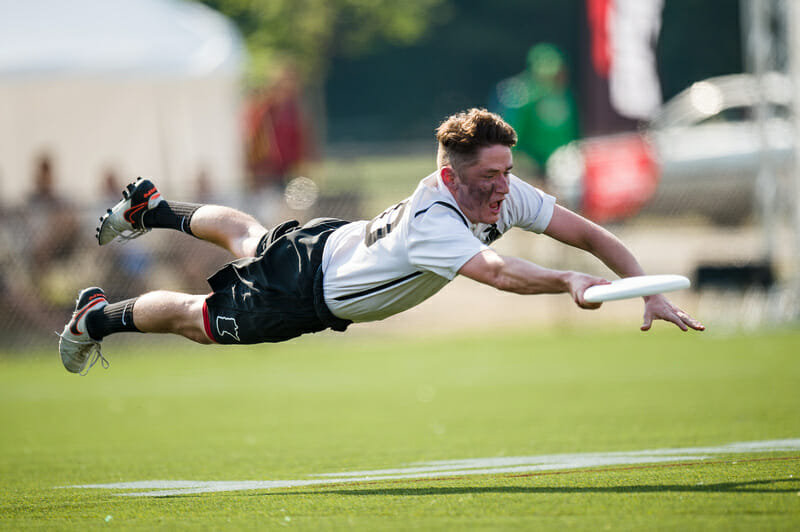 This article is presented by Spin Ultimate; all opinions are those of the author. Please support the brands that make Ultiworld possible and shop at Spin Ultimate!
Ultiworld is happy to provide all of our written and video coverage of the 2016 College Championships free of charge. However, if you are enjoying our work and want to contribute to our site, please consider making a donation to our completely optional tip jar.
Pool A
Massachusetts 15-9 Texas A&M
The score line doesn't reflect the intensity that seethed throughout this heated morning matchup. Though UMass gained a first half advantage at 8-4, Texas A&M sent out a tough zone defense to start the game that had the overall one-seed making the same offensive mistakes that led to their upset yesterday. Jeff Babbitt put on a six goal, one assist show that highlighted the game.
A&M broke to open the game, getting a hand on an impetuous flick blade from Tanner Johnson that turned into a one throw score from Dalton Smith to Ben Lewis. Dozen kept the pressure on, putting their three-man front out to slow UMass' deep looks and sitting the 6'2″ Lewis directly behind the wall to direct traffic.
Babbitt put his team back on-serve with a set of bookends that nearly shook the field. He ripped a beautiful opposite corner hammer from A&M out of the air from a height that no one else on the field could reach, then called his own number up the line for a goal on the other end. UMass took a 3-2 lead and never ceded ground, at least in the score line.
Tempers flared on and off between both sides on the warming turf — travels, fast counts, and picks kept arguments simmering as the game fell away from A&M.
Brett Gramann and Ben Tseytlin traded assignments on Dalton Smith, who was "limited" to five assists on the game. That may sound like a lot, but it's modest for the A&M distributor. Gramann rotated onto Smith in the second half, and the two exchanged words once or twice as the UMass lead ballooned to 11-6.
ZooDisc captain Ben Sadok, who is also the team's spirit captain, became argumentative early as well. When Sadok was loud and argumentative, his sideline and fans joined in, while Smith favored quiet smiles during most disagreements, and the Dozen sideline looked on mostly silent as well.
The game puts UMass at 2-1, with a match up this afternoon against a winless Washington. A&M meets Georgia later to try and stay alive in the pool.
Georgia 15-13 Cal Poly SLO
Cal Poly-SLO and Georgia faced off in an exciting contest with runs by both teams. SLOCORE started off the game hot, opening up a 5-3, two-break lead on the back of strong D-line offense. As we have come to expect for CORE, the D-line threw aggressive hucks downfield that their receivers attacked and ripped down. Their endzone offense often involved a precise 15-20 yard upline throw to space that receivers were trusted to run down, and, if necessary sky for. Cameron Wariner, Ian Sweeny, and Chris Cogswell drove the D-line offense, flowing in an out of the backfield.
Defensively, Cal Poly frequently threw their transition zone look to lock up Georgia's pull-play sets. Georgia's handlers were decidedly unperturbed by the zone set, casually hammering the disc back and forth amongst the handler and into the middle layer between the front wall and back wings. They were comfortable perhaps to a fault, firing off quick, ambitious high-release flicks and scoobers (under limited pressure) in continuation and near the end zone which led to turnovers. Nathan Haskell, Sam Little, and Sheryar Ali made the big throws for Georgia. Cal Poly got turns with their zone but didn't register blocks. However, once they transitioned to man they certainly began to earn the disc back with layout blocks and deep defense.
Georgia did a decent job shutting down upfield looks with their man defense and got Cal Poly to put up more than a handful of hospital passes, but receivers like Aaron Shi and Nate Pettyjohn kept pulling them down over the piles. Georgia got a break back off of a short field dump set turnover, as well as a layout grab that Pettyjohn couldn't quite hang on to, but for the most part the CORE deep game was connecting. The teams entered half with Cal Poly up one break.
The second half might be best explained by regression to the mean. Cal Poly continued to push the deep game, but couldn't maintain their high conversion percentage. In contrast, the Georgia zone offense stopped coughing up the disc, both a function of better decision-making and strong play from receivers. The teams battled back and forth, but the steady play of Sam Little and strong cutting from Nathan Haskell won out over the gunslinging hucks of SLO's Joel Anton and Tim Okita. Georgia moved like a rising tide, making up the deficit, gaining a one-break lead of their own, giving the break back, then opening up a two break lead that they would carry until the end of the game.
Sam Little (three goals, five assists) was clearly the best player on the field for either team. His hammers unlocked SLO's zone and punished the slightest poach in man defense. He consistently burned his man up line for resets, and when he was pushed downfield, he often found himself on the end of a feed from Haskell (two goals, six assists) for the goal. Little played nearly every point of the game for Georgia, with Haskell not far behind. A bold strategy this early, but they should have plenty of time to rest as Georgia has clinched the top spot in Pool A.
On the other side of things, sophomore Nate Pettyjohn (three goals, two assists) was once again a standout for SLO. His tireless cutting and athletic receiving were central to keeping the offense moving. SLO will look to punch their ticket to the bracket later this afternoon with a win over Washington.
Pool C
Michigan 12-9 Connecticut
Michigan's momentum from yesterday afternoon carried into Saturday morning, as they took care of business against Pool C's five seed, UConn Grind. What was pitched as a matchup between each team's studs — Sam Greenwood of Michigan and John Wodatch of UConn — the game was ultimately decided by Michigan's superior depth and conditioning. While Greenwood certainly got his, it was a team effort that got Michigan across the finish line and likely into prequarters.
It was UConn that started off on the front foot, connecting on virtually every deep ball they put up. Wodatch was his usual imperious self in the air, and his wingmates Mike Rice and Gavin Clemmey were able to consistently make big plays downfield against the shorter Michigan defenders. It was Connecticut's deep game that gave them the first break of the game, as Wally Esker sent a scything forehand into the endzone to give UConn the 4-3 lead.
It looked like they would get another break at 6-5, but after calling a timeout inches from the endzone, Grind turned an around backhand and Michigan worked it back downfield for the hold and a momentum swing that would turn the game around. Magnum would break on the next point to take a 7-6 lead, and would not trail again, taking half 8-7 on an assist from Greenwood.
While UConn had been making all the big plays in the first half, Michigan started to put up some highlight reel material in the second, with Parker Howard roofing his defender to give Magnum a 9-8 lead. After the break in the first half, Michigan's offense was near spotless the rest of the game, marshalled by Noah Backer, whose hucks and crafty handler cuts made life miserable for UConn's defenders.
While Michigan's offense picked up steam as the game went along, UConn's faltered. Once their hucks stopped connecting the offense stopped working, and Michigan was able to punch in two breaks in the second half that gave them the 12-9 win. UConn's legs and execution let them down as the game wore one, while Michigan's energy only built over the course of that game, and it proved to be decisive.
Pool D
Auburn 15-12 Utah
Auburn entered the first round of Saturday knowing they still had a chance at clinching the one seed in pool D, but Utah gave them a strong fight in an effort to win their first ever Nationals game. Auburn came out hot, scoring three straight to start things off, Garriss Bugg notching two assists and one block in that stretch. Utah fought hard for a break before halftime, but a Blake Galloway deep cut set up the easy dish and the 8-6 halftime lead.
In the second half, a goal line block from Auburn's Sam Murphree set up an easy break. At 12-8, the game was seemingly put away. But Utah took advantage of some forced downfield looks from Aetos, getting them within two at 13-11. Brady Ohlsen and Josh Zdrodowski combined for a potent attack of height. With Ohlsen at 6'5" and Zdrodowski at 6'7", a prayer huck worked for Utah more often than not. Auburn regrouped their offense to secure a hold and a three point lead late. The two teams would trade scores until an Evan Boecking assist sealed the 15-12 victory for Aetos.
The Auburn backfield was dominant. When a reset became necessary, the first look was almost always there. The Ryan Landry – Evan Boecking combination has become so important for this team, and will remain a huge factor in their elimination games this weekend. The duo combined for five assists and two goals.
Minnesota 15-11 Carleton
Well, there are no more unbeaten teams in Pool D as Minnesota bounces back in a decisive win over familiar foe Carleton.
CUT got some early opportunities to break while running force middle1 and cashed one in to lead 4-2. From there it was all Grey Duck, who would go on an 8-2 run. Two breaks in that stretch were created by 5'7" Connor Anderson, who made plays in the deep space with marauding Carleton players all around him.
The varied looks we saw from Carleton yesterday continued but Minnesota knew what to expect.
"CUT's a conference rival," said Minnesota captain Ryan Osgar after the game. "We see them a lot and we know a lot of dudes on their team so we felt pretty comfortable. Not because they're not a good team but because we know their matchups."
Like any rivalry game, there was pride on the line and Carleton battled. CUT had a chance to narrow the Minnesota lead to two but Osgar posterized his defender in the deep space after an uncharacteristic Sol Yanuck drop for a critical hold. There was a real sense of urgency from Minnesota to get back on track after yesterday's disappointing loss to second seed Pittsburgh. There was a focused energy about Grey Duck.
"We were actually kind of happy about that because we knew that we [could] improve," Osgar said. "We have the potential to be so much better if we just don't make those mistakes. So we weren't too negative after it. Five seconds of being disappointed then after that we were just on to the next game."
They will face one more test this afternoon as they play a 2-1 Auburn team who upset Pitt in round one of the tournament.
---
Which seems like a lost art in college ultimate thus far at Nationals. ↩