Texas puts themselves in pole position in Pool D.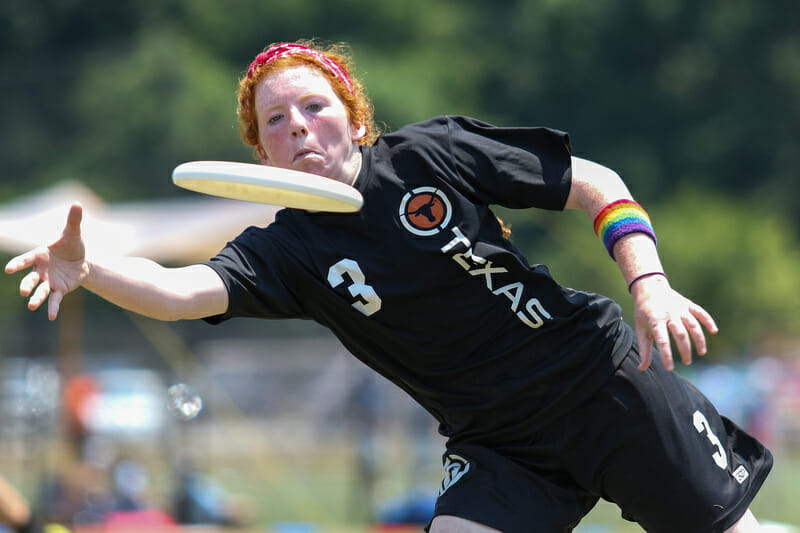 This article is presented by Spin Ultimate; all opinions are those of the author. Please support the brands that make Ultiworld possible and shop at Spin Ultimate!
Ultiworld is happy to provide all of our written and video coverage of the 2016 College Championships free of charge. However, if you are enjoying our work and want to contribute to our site, please consider making a donation to our completely optional tip jar.
Pool A
Oregon 15-10 California
Oregon Fugue was slow to start again on day two of Nationals, but they still cranked through enough breaks to beat California by five.
Oregon began the game doing what they do best: letting Jesse Shofner and Bartruff have their way with the endzone. But California wasn't going to let Fugue coast. They broke early to tie the game at 3-3, and they sealed their offensive opportunities. Oregon was testing their deeps, and they weren't always connecting early.
The morning echoed Oregon's performance yesterday morning: they knew they could win the game, but they weren't playing to actually do it. They cleaned up their offense after a California timeout to break twice before taking half 8-6, but they weren't playing takeover, 1-seed ultimate.
In the second half, Oregon applied more pressure to Cal's handlers and they carried the game away with three breaks in a row. It comes as no surprise that Shofner and Bartruff dominated the stats sheet: between them they had eight of Oregon's 15 goals (Bartruff with six, Shofner with two). Shofner also threw eight assists.
Colorado 14-13 Colorado College
These regional rivals went to battle once more, and Colorado barely pulled out the one-point victory. Beyond the fact that they're both Colorado teams, these two squads are remarkably similar. They both thrive on their sideline energy, they can play close, scrappy defense, and they aren't efficient offensively.
Both teams had misfires, miscues, and some turfs. Colorado would make an impressive defensive play only to throw the disc out of bounds. Colorado College's handling core, lead by Chloë Rowse and Robin Fassett-Carman, played cleaner throughout the game but their handler resets were flustered and their backfield was often crowded.
Kali broke twice in the first half to lead 6-4, but they let Strata back into the game because they couldn't play possession offense. Strata broke back into the game by setting a zone that forced Kali to throw way more passes than they wanted to. Strata took the wheel and closed out the half up 8-7.
The game seemed over in the second half. Strata's zone continued to exploit Colorado's impatience, and Strata built a healthy 10-7 lead. But Colorado wasn't done. This is their seed to lose, and they rallied. Using their rowdy sidelines and smarter downfield options, they broke back to 12s. Strata couldn't set their zone, and Nhi Nguyen turned on her speed in the endzone. The final point epitomized these Colorado teams' relationship and their similarities: they didn't always play clean, but Colorado eked out a double game point win with energy and grit.
Pool C
Ohio State 15-8 Southern California
Ohio State bagged their first win of the tournament over pool five seed Southern Cal in convincing fashion. Fever jumped out to an early 4-0 lead, breaking on each of their first three defensive points.
USC answered with a three point run to make it 4-3, and from there the teams traded points to an 8-6 half. Out of the break was when Fever really put the game away, breaking on the first two points of the second half to make it 10-6. Fever continued to pour it on, taking advantage of USC miscues but generating Ds on their own making as well. Ohio State finished the game on a 5-3 run to seal the victory.
Sadie Jezierski and Katie Backus led the way for Fever in the win. Jezierski racked up a goal and four assists; Backus added four goals and four assists. In defeat, the Hellions of Troy were led by Alyssa Perez, who continued her impressive individual tournament with an assist and two goals.
Pool D
Texas 13-9 Central Florida
In a stunning upset, Texas Melee leaped to the front of Pool D by defeating the overall four seed in fairly emphatic fashion. UCF came out looking a little flat, perhaps still a bit tired and definitely a bit banged up from Day 1. The Sirens' zone was not able to create much pressure early and the offense looked out of sorts. Texas took advantage by capturing an early break to go up 3-2 and then going on a huge run two points later to take half 8-3.
UCF came out fighting in the second half, instead of choosing to rest their starters, and the team did mount a small comeback effort a few points into the second half. But Central Florida was never able to get closer than 9-11, and a Texas hold and one final Texas break clinched the 13-9 Melee victory.
Texas' defense was especially impressive, for large stretches allowing absolutely nothing downfield. "Our defense is doing a really good job," said Texas coach Edith Teng. "We know that they like to huck and so we were eliminating the hucks not only with the mark, but downfield we were forcing them under."
The performance was an impressive turnaround from Melee, who in spite of going 2-0 yesterday, did not look all that impressive. "There's still ups and downs, but we were definitely better in the first half. We were much happier with the lack of execution errors," said Teng.
Julia Schmaltz and Meghan Rutledge impressed in the win. Schmaltz scored a game-high four goals while Rutledge added three points. Janina Freystaetter had a game-high five points in the losing effort for the Sirens.
Wisconsin 14-10 Ottawa
In a battle of the two winless teams of Pool D, Wisconsin emerged victorious to keep their hopes of advancing to prequarters alive with a 14-10 victory. Bella Donna steadily grabbed breaks through the first half to mount an 8-4 lead, which they turned into a 9-4 lead out of half.
Ottawa had a decent showing in the second half and were able to get as close as 8-10, but Wisconsin was able to right the ship and hold on for the win. Anna Hrovadt-Staedter continued her impressive tournament with four assists and two Ds. Maude Carrier-Laforte led Ottawa with four point, all assists.