Can Minnesota avenge their pool play loss?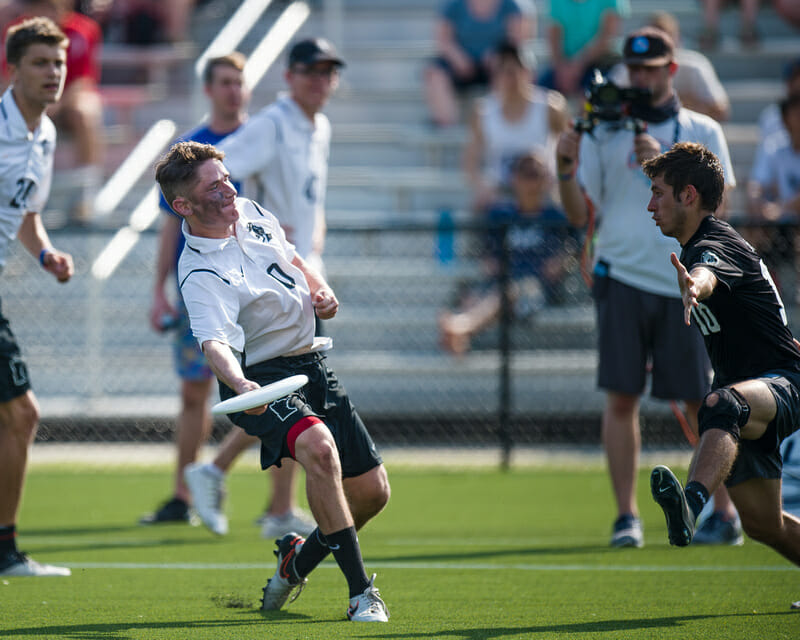 This article is presented by Spin Ultimate; all opinions are those of the author. Please support the brands that make Ultiworld possible and shop at Spin Ultimate!
The two highest remaining seeds in the tournament find themselves on the same side of the bracket and facing off in today's last semifinal.
Tonight's game is a rematch from Thursday, when Pittsburgh came back from a 13-11 deficit to knock off Minnesota and grab second place in Pool D over Grey Duck. With both teams finishing below surprise pool winners Auburn, it's been the long road through pre-quarters for both Pitt and Minnesota.
While Pittsburgh was able to comfortably vanquish Texas A&M yesterday evening, they were pushed to the brink by Wisconsin this morning in one of Sunday's most exciting games. Minnesota made their big splash yesterday, when they upset top ranked and prohibitive favorite UMass on the back of immaculate offensive execution.
Both teams have their stars, with Minnesota led by Callahan nominee Ryan Osgar and dominant cutter Ben Jagt, who have combined to tally 27 goals and 40 assists on the weekend. Pittsburgh is, of course, led by human swiss army knife (and 2016 Callahan Award winner) Trent Dillon, and got a great four goal/one assist performance from Max Thorne in the quarterfinals against Wisconsin.
If the stars cancel each other out, then the role players on each team will likely decide the contest. Pittsburgh's defense has been able to get breaks without crossing their big stars over for most of this weekend, and that will likely need to continue if En Sabah Nur hopes to make it to championship Monday.
One big tactical question will be how Pittsburgh comes at Minnesota defensively. Grey Duck is one of the fastest teams in the country, and when their offense gets into a rhythm the way it did yesterday against UMass, any team would be hard pressed to slow them down. Pitt trotted out a zone on only one possession when the two teams met on Friday, but perhaps after seeing Minnesota's offense first hand, the Pittsburgh coaching staff will have something special cooked up for this evening. "Seeing them on Friday was good," said Pitt assistant coach David Hogan. "We learned some things and we'll be ready."
For Minnesota, their focus is less on their opponent, and more on the wide view of the season as a whole. "We've been saying each and every tournament all year long 'we get better with each and every game,'" said Minnesota head coach Tallis Boyd. "And Nationals is no exception. I think we've gotten better every game this tournament. We've got another chance to do that tonight."
Have Minnesota gotten good enough to avenge their earlier defeat and take down Pittsburgh? We'll find out tonight.