The 14 best players from the 2016 college season.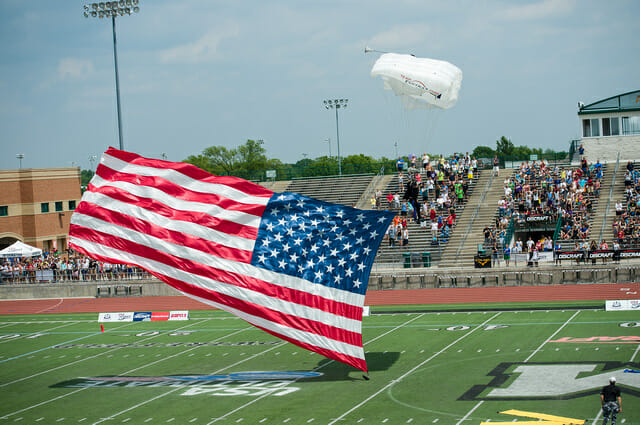 We are pleased to announce the 2016 All-America teams. These 14 players were selected for their performance in the 2016 college season, looking at both the regular season and the full college series, including Nationals. Please join us in honoring the best college players of this season.
Hear more about the selections in our live podcast from earlier today.
First Team
Jesse Shofner (Oregon)
I guess we can make this a tradition: you get Player of the Year, you get to lead off the All-America team. Shofner is a dynamic and complete playmaker, who uses her strengths deftly and aggressively. Whatever minor weaknesses she has, she covers up with intensity and effort. That makes her a ferocious defender and cutter, with the temerity to throw awe inspiring shots. Shofner has been recognized in each of the past two seasons1.
Kristen Pojunis (UCLA)
It's hard not to root for a player like Pojunis. While her skills have rapidly increased and her physical tools are top notch, the thing she does so well is work. She embodies the "workhorse" concept, a tireless cutter and relentless defender. Pojunis, or Vendetta as her teammates and local opponents know her, added great break throws and strong deep shots to make her a threat around the disc. But she was still at her best streaking deep or playing shut down defense as one of the country's best one-on-one downfield defenders.
Claire Revere (Whitman)
While she's been developing over the past few seasons, the main thing holding Revere back has been health. And while she had to take a few points off this season, she certainly still looked healthy when she got her run in. Revere offers a complementary combo of blazing speed and exceptional throwing, particularly deep. She's one of college ultimate's purest mids, able to come under and make game changing throws with tremendous touch. On top of that, the 2014 Rookie of the Year Runner-Up is a very strong individual defender and generates a lot of blocks downfield.
Mira Donaldson (British Columbia)
Not a surprising selection, after a 2015 First Team selection, 2014 Second Team selection, and Offensive Player of the Year runner-up selection both this year and last, but it is still well deserved. Donaldson has been one of the premier throwers in the women's division for three years now, a rich blend of power and control that allows her to loop throws through and around defenses, or just cannon past them. She's long, rangy, and athletic, enabling her to frequently win jump balls and create cutting space.
Bethany Kaylor (Oregon)
While Kaylor's final year didn't end with a third title, she was still the well-rounded tremendous five tool threat she's been throughout her career. There's no part of the game she can't dominate when she's playing well — demonstrated by her 2015 Player of the Year Runner-Up nod — and there is no game she plays where she doesn't make an impact. Kaylor settled into a thrower's role this season, and showed off trademark poise as an on-field general. Selected as a Runner-Up for the Defensive Player of the Year Award this year, she showed herself to be one college's elite defenders in space. This is her second straight First Team selection.
Angela Zhu (Dartmouth)
Over the past two years, Zhu has become a top five thrower in the women's division. She was selected as the Offensive Player of the Year this season, after a Second Team All-America selection last year, in recognition of her ability to rip apart defensive units with her full toolkit of throws. She's remarkably comfortable in situations with stifling pressure, allowing her to handle large throwing loads and lots of touches without fading. Zhu is a plus defender and a threat to score up the line from the backfield. Expect her to be a Player of the Year candidate in 2017.
Han Chen (UCLA)
Another long tall thrower, Chen's power and athleticism are aided by her fearlessness with the disc. The 2015 Breakout Player of the Year, she's only built on a strong sophomore campaign by becoming one of the most complete offensive threats in the division while also playing some of the most athletic downfield D, particularly in zone. Chen is capable of overpowering defenses with her hucks and breaks, and is monstrous in the air. As a 2016 Player of the Year Runner-Up, Chen is on track to be in the thick of next season's Player of the Year race.
Second Team
Carolyn Normile (Pittsburgh)
It was a breakout year for Normile last season as she gained a lot of notice for her toughness and throwing ability. Her profile rose from stints on the All Star Ultimate Tour and with the U23 team. But this year, the former Ohio Valley All-Freshman selection asserted herself as one of the division's elite. She was her team's best thrower, best defender, and sometimes even best cutter. Normile plays with passion and never quits on plays, and her leadership drives Pittsburgh to play with the same verve.
Shayna Brock (Central Florida)
The first thing you notice about Brock's game is her explosive first step and high-end top speed. Those attributes allow her to overcome a lack of size in the deep lanes or to generate tons of yardage underneath. But Brock's biggest strength is her ability to grind. Cut after cut, point after point, game after game, Brock was asked to win top matchups, and as they got slower, she kept going. A gritty defender and vastly improved thrower, Brock would be near the top of most players' list of "opponents I'd least want to guard."
Sarah Anciaux (Minnesota)
While the Ninjas fell just short of Nationals, Anciaux was one of the biggest reasons that was considered a disappointment. While you probably already know Anciaux as the only college woman selected to the WUGC Team USA team, and maybe you're aware of her multiple Mixed National Championships with Drag'N Thrust, you might not actually know her as a player. Anciaux is a monstrous downfield playmaker, a true posterizer in the air, and forceful cutter downfield. There were few players more terrifying in the deep space in 2016.
Hannah Henkin (Michigan)
While not always in the spotlight, Henkin has been racking up big time recognition lately. After joining Team USA U23, she added a Callahan top five finish to her resume this season. Hank, as she is often called, is a tough as nails defender by day and deft disc-moving handler by night. She has a tuned backfield motor, is one of the game's best break throwers (her offhand backhand is feared), and makes monster plays with alarming frequency.
Janina Freystaetter (Central Florida)
It's been unreal how fast Freystaetter has developed in one of the division's best talents. It was only last year she was a Rookie of the Year Runner-Up. Fast forward to 2016, where she was one of the most impactful players of the season. Her size is difficult for teams to defend, particularly since she uses it adeptly to mash marks. The thing is that she isn't the fastest cutter or biggest thrower, but she has a remarkable and uncoachable propensity to just make the necessary play. An insane block or improbable catch, whatever it is — it just seems like she wills it to happen with her sharp instincts.
Courtney Gegg (Stanford)
Speaking of development, Gegg is another second year player who has asserted herself as a uniquely dominant power on the field. Through two trips to Nationals, she has 38 goals — tied for 3rd in 2015 and tied for 2nd this year — as she uses her size, strength, speed, and great hands to wreck opposing defenders downfield. But you can see how her game has developed in her assists stat lines: a paltry pair of assists in 2015 blossomed to 11 in 2016. She was coming under, gaining 30 yards, and then stepping out to break the mark with her wide-pivoting backhand or turning to huck or go crossfield with her forehand.
Marisa Rafter (California)
The 2016 Callahan winner is one of the women's division's few complete players. There's no phase of the game where she isn't well above average. Rafter hits all the checkmarks, from mark-breaking to dynamic cutting to shut down defense to highlight reel layouts. Oh, and there's a rumor going around that she has a great mark, too. Her well-rounded play and her dangerous first step top the list of her impactful talents.
---
Second Team in 2014 and First Team and Offensive Player of the Year in 2015 ↩