An interesting trend from the 2016 college season.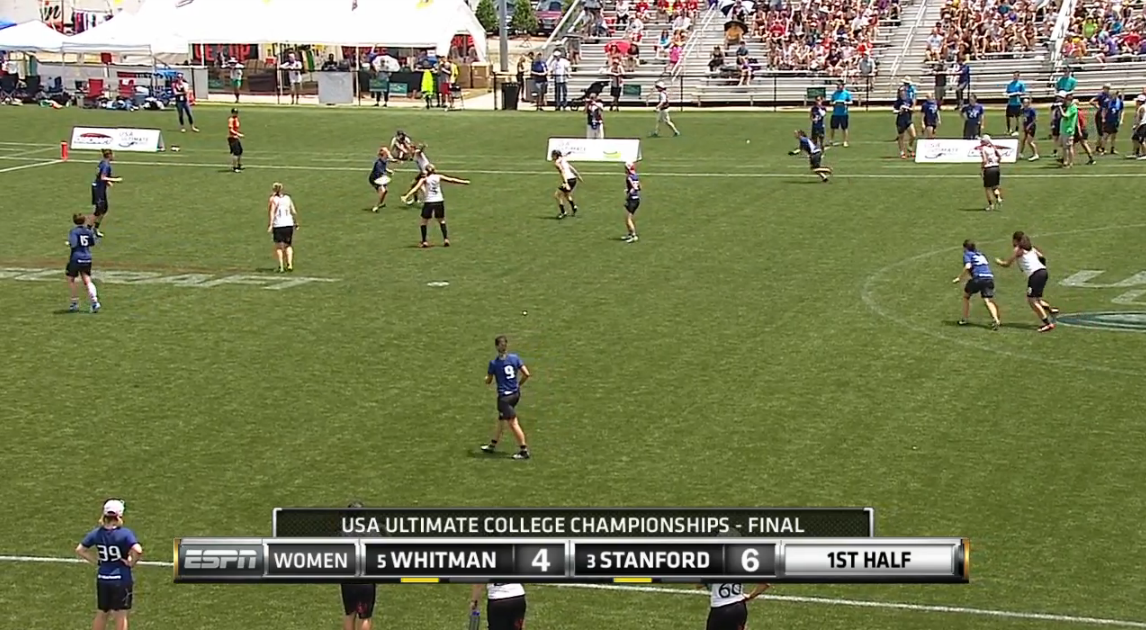 So, I watched a lot of college film this year. In watching that film, I noticed a few trends. I'll be breaking down a few of those trends over the next few weeks.
The first trend that jumped out to me was the proliferation of zones that don't transition. Early in the season, I spent a good amount of time watching the UMass men and UCF women who had started the season hot — with a good amount of credit going to their zone defenses. While UCF would sometimes fall into person (or simply not catch up) if the disc was moved to the redzone, ZooDisc almost never transitioned into person-to-person.
UMass 1-3-3 (Trapping both sides)
Broadly speaking, most teams across the sport hesitate to run zone defenses near their own endzone. This is part of a larger tendency toward utilizing more aggressive defensive tactics when the stakes feel higher1. Often teams run zones for a certain number of passes or up to a certain point on the field, like mid-field or inside the redzone. Or sometimes teams choose to transition out of zones after a big yardage-gaining pass or break throw.
In these cases, the implication is that zones are useful for taking teams out of their pull play or otherwise slowing down a team's offense, but may be assumed to not be as effective in keeping teams out of the endzone. Perhaps there's also a feeling that if your opponent has worked through the zone to the endzone, they've "solved" it.
But zone-to-person transitions can be risky. Those moments of transition, particularly if the transition isn't smooth, can provide an opportunity for the offense to exploit uncovered space. Even if a transition is smooth, the defense more often than not doesn't end up with perfect match-ups after the transition, allowing another opportunity for the offense.
Staying in a zone in the redzone can provide other benefits, too. First, many offenses can get impatient near the endzone, particularly if their possession has lasted a long time. That 20-yard open swing looks far less appealing when you are five yards out of the endzone and you might be able to sneak in a 10-yard blade or scoober for the goal. Heck, this might be your best opportunity to score; continuing to swing it may lead to an unforced error.
Washington 1-3-3 (Straight-up)
The other big benefit of the no-transition zone is that it secretly does transition in the redzone. As the length of the field shortens, so does the space the defense has to defend. The deep(s) in a zone D compress in, allowing any wing or short-deep type defenders to change their shape accordingly. Throws that were open earlier are no longer available.
In the clip below, watch the position of Ella Hansen (Oregon's deepest defender) relative to the thrower during the point. For most of the possession, Hansen is off-camera and at least 25 yards away from the disc. She ends up getting the redzone D only 15 yards downfield of the thrower.
Even when zones don't work to generate a turnover, zones in the redzone can slow an opponent down. Long defensive points can provide rest for an O-line or a top player or two who play nearly every point. The following two clips show the Michigan zone holding the Brown offense for nearly three minutes of live possession — about half of which is in the redzone. Despite failing to generate a turnover, this should be credited as a successful zone defensive point for the Michigan D-line.
Notably, the teams that relied heavily on their specific zone looks and did not transition did not seem to perform too well at nationals — particularly UMass and UCF. Whether that is correlation or causation is hard to know. It could simply be that having played against their zones so much early in the season, opponents were able to study them and devise ways to beat them. It will be interesting to see if this trend continues in 2017 or reverses itself.
---
e.g., more person-to-person late in the game, marks shift to take away arounds near the endzone ↩