An early look at the top college programs.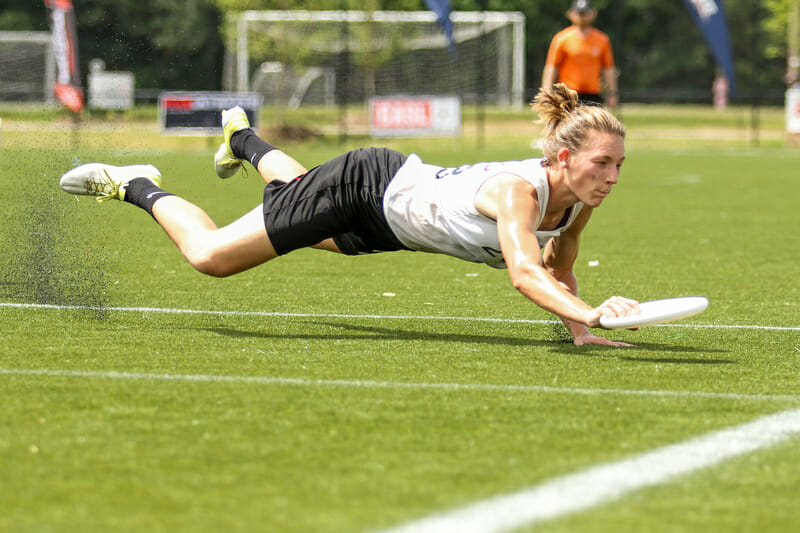 With Club Nationals right around the corner, eyes are firmly fixed on what will transpire in Rockford, Illinois, with a new format and some tantalizing matchups. But the 2017 college season is already here, as many teams have started tryouts, held practices, and even traveled to early fall tournaments.
We take a look at the top 2017 college programs to watch in this Too-Early College Preview.
Stanford Superfly
Notable Returners: Courtney Gegg, Monisha White, Hallie Dunham
Notable Losses: Anne Rempel
Two straight years have seen Stanford reach the final, and last season they returned to the top of the Division with a National title. Having returned to the stratosphere as a national power, there are no signs of Superfly slowing down. Only two players graduate from last year's championship roster: Callahan nominee Anne Rempel and Veronica Cruz. That means a rich core built around powerhouse cutter Courtney Gegg (22 goals and 12 assists at Nationals in 2016) and gutsy hucker Monisha White. Stanford's depth, experience, and talent are once again title-worthy.
Whitman Sweets
Notable Returners: Claire Revere, Nina Finley, Margo Heffron
Notable Losses: Ari Lozano, Brenna Bailey, Marlena Sloss
The path to the final has been simple to chart when watching Whitman. Their initial talented classes have matured into some of the division's brightest stars, headlined by Player of the Year frontrunner Claire Revere. Whitman returns nearly all of their primary offensive weapons, including a strong handler corps of Nina Finley, Margo Heffron, and Alex Hardesty. Some key freshmen, led by Team USA's Chloe Carothers-Liske, will not only make Whitman deeper, but add to their longevity.
Oregon Fugue
Notable Returners: Hayley Wahlroos, Ella Hansen, Lily Weaver
Notable Losses: Jesse Shofner, Bethany Kaylor, Alex Ode, Olivia Bartruff
Have you started writing your Oregon obituary? Not many programs can easily absorb the loss of two of the best five players in the division. But Oregon is a program unlike almost any other. Can they withstand the additional losses? There is no bigger question going into the season. Fortunately, Wahlroos, Hansen, Weaver, and Kaitlin Brunnik give them a great group of throwers. If Maggie Kennedy stays healthy and Morgan Caldwell picks up where she left off, plus some high profile rookies make an impact, expect to see more of Fugue in the winner's circle.
Virginia Hydra
Notable Returners: Keila Strick, Tess Warner, Rebecca Driver, Brogan Jones
Notable Losses: Rebecca Meeker, Janie Mockrish
The surprise of last year's Nationals was the impressive advancement of Virginia, who showed their system can produce results, almost regardless of personnel. They have to prove it again without Rebecca Meeker, Janie Mockrish, Amy Wedmore, and Emily Leivy. Their handlers are going to be strong again, but they need Jianna Torre, Laura Landis, and grad student Brandi Skanes to make an impact downfield next to Keila Strick. Trust that David Allison and Virginia will find a way to remain competitive with their faceless army identity.
Dartmouth Princess Layout
Notable Returners: Jaclyn Verzuh, Angela Zhu, Julianna Werffeli, Piper Curtis
Notable Losses: None
Is there a need to even write anything else? Do you even need to know how this team was as close to missing Nationals as they were to make the National semifinal? Or how this year, barring injury, they will have a year to work on the chemistry that they didn't have previously? No, there really isn't much to say except that this team has the best top end talent in the division and has good depth, albeit less so than the other title contenders. Everybody in the division will be scared of what they can do.
British Columbia Thunderbirds
Notable Returners: Ellen Au-Yeung, Victoria McCann, Naomi Morcilla
Notable Losses: Mira Donaldson, Kate Scarth
After years of Mira Donaldson's throwing prowess steering the rudder1, UBC will enter, ostensibly, a new era. Fortunately, they have a lot of holdovers from the previous one.
McCann, Au-Yeung, and Morcilla offer a lot of speed and plenty of experience, and the bench is deep. They didn't land the most prized Canadian recruits, the Mot sisters, but got some quality Team Canada U20 reps. The returns of Megan Leong and Judith Yeo will make them deeper in Coach Jeff Cruikshank's second year helming a strong UBC program.
UCLA BLU
Notable Returners: Han Chen, Camille Wilson, Maria Kazantsev
Notable Losses: Kristen Pojunis, Melissa Kan
The narrative surrounding UCLA last season revolved a great deal around their star duo, Han Chen and Kristen Pojunis. Perhaps that's unfair because this team had plenty of other talent. Then again, they were #1 and #2 in the team's goals and #1 and #3 in assists at Nationals last season, and were the only players to record double digit in either category. Well, half of that duo is gone, and now Chen – a legitimate Player of the Year threat – will need other teammates to fill the void.
Camille Wilson and Maria Kazantsev are in line to be bigger offensive focuses. UCLA doesn't have any marquee additions, but will benefit from some incoming YCC experience and D3 All-Region grad student Tahlia Hodes, who joins from Mount Holyoke.
Colorado Kali
Notable Returners: Kirstin Johnson, Nhi Nguyen, Megan Ives, Jean Russell
Notable Losses: Amy Leder
Kali has quietly built a consistent program in the South Central. They have three straight Nationals appearances, two straight quarterfinals appearances at Nationals and two straight South Central titles. They won't remain satisfied with surviving pool play for much longer. Their senior class–anchored by the speedy but oft-injured Nguyen, the gritty captain Ives, and the versatile Jean Russell–have been contributors for years. 5th year Kirstin Johnson2 is coming off a lot of missed time from a serious knee injury, but when healthy, is an elite collegiate thrower. Now is their chance to make a big statement for Colorado.
Pittsburgh Danger
Notable Returners: Carolyn Normile, Linda Morse, Sarah Russek
Notable Losses: Vaughan Skinker
Coming off the best season in Danger history, in which they won the Ohio Valley region, Pittsburgh will enter this year as one of the highest profile teams. Not only do they return Player of the Year candidate Carolyn Normile, a hard nosed defender and powerful thrower, but they also will have last year's Breakout Player of the Year Linda Morse back in the fold. There's plenty of incoming talent from the surrounding area, headlined by Team USA U20 member Jessie Sun. On top of that, they have a bevy of young role players who benefited from last year's advanced experience. Expectations are going to be high and with good reason.
Washington Element
Notable Returners: Sophie Johansen, Ellen Goldberg, Nicole Cramer
Notable Losses: Nora Landri, Grace Noah, Sarah Edwards
It was another strong season for one of the division's truly great programs, but another that didn't end how they would have hoped. They lost a lot of strong veteran presence from that team and will be hoping Cramer, a returning captain, can steward the team's new pieces. Johansen, one of the division's most electrifying freshmen last year, is a great player to build around, while grad students Ellen Goldberg and Kate Dusenbury give Element size and strength on both sides of the disc.
Texas Melee
Notable Returners: Domenica Sutherland, Julia Schmaltz, Marissa Land
Notable Losses: Andrea Esparza, Shiru Liu, Susan Gilbert
Coming off an impressive regular season with an underwhelming end, it is unclear how exactly this year's Melee team will shape up. They return enough major contributors to field an experienced top end, including the steady Domenica Sutherland and Marissa Land, and monster deep threat Julia Schmaltz. However, Texas will be moving forward minus some key handlers, and that means more will be asked of Laura Gerencser and others. Claiming the South Central crown will be challenging.
Western Washington Chaos
Notable Returners: Tiffany Phan, Maddie Gilbert, Jesse Thoreson
Notable Losses: Abbie Abramovich
There's been building excitement for Chaos3 but so far, they've failed to come together at the College Championships. As more talent enters their program and their formerly exceptional recruits become seasoned veterans, failing to advance out of the pool play is no longer going to be satisfactory. Chaos is getting a top recruit, U20 handler Ruby Cassidy, to add to two of the college division's top players in Tiffany Phan and Maddie Gilbert. There's depth here, too, so there's a lot to like, but a lot to prove.
Central Florida Sirens
Notable Returners: Alexa Wood, Mia Griner
Notable Losses: Shayna Brock, Steph "Eli" Williams, Janina Freystaetter
UCF may lead the division in percentage of production walking out the door among lead programs. The core of their team for the past two seasons–aside from speedy cutter Alexa Wood–is graduating, including rising junior Janina Freystaetter, who is leaving early. To the rest of the Southeast, this is a blinking vacancy sign in the number one position. While Wood is highly productive, she has shown very little versatility outside of her role. Mia Griner, Chloe Baldino, and Sarah Gifford are going to be asked to become go-to players while UCF develops new pieces, possibly with an eye on a run some years down the road.
Cal Pie Queens
Notable Returners: Jackelyne Nguyen, Anna Wysen, Ali Griffith
Notable Losses: Marisa Rafter
After returning to Nationals, but failing to make it out of pool play, it would be easy to write off the Pie Queens now that they'll be without Marisa Rafter, the 2016 Callahan winner. While Rafter was by far the most impactful Queen, their are plenty of eager young ladies ready to rule the court. Jackelyne Nguyen is a dynamic playmaker getting a year of experience with Nightlock. Anna Wysen was a revelation as a first year handler. Ali Griffith is a gutsy veteran and Alexa Hasan and Mackensie Smith should both be in better position to contribute. A return trip to Nationals is in play.
North Carolina Pleiades
Notable Returners: Jenny Wei, Elisabeth Parker, Vany Nguyen
Notable Losses: Jocelyn Keung
While Pleiades loses some primary handlers, they retain many more. Jenny Wei is an elite defender and has the all-around ability to handle at the collegiate level. Elisabeth Parker, after spending this fall abroad, will be a key piece in the backfield. Vany Nguyen, Joy Chen, and their young depth could develop to make them stronger nationally and potentially get the Atlantic Coast back to a two bid region. They were very close last year, but just couldn't close out in key games.
The Top 10
Stanford
Whitman
Dartmouth
British Columbia
Oregon
Pittsburgh
Western Washington
Colorado
UCLA
Virginia
---
she received awards nods in each of the past three seasons ↩

an earlier version of this preview listed Johnson as a notable loss ↩

who did not compete at Nationals under their school's banner last year ↩