Sockeye ekes out a win against Dig. Doublewide, Ring of Fire, and Furious George all advance with dominant upsets.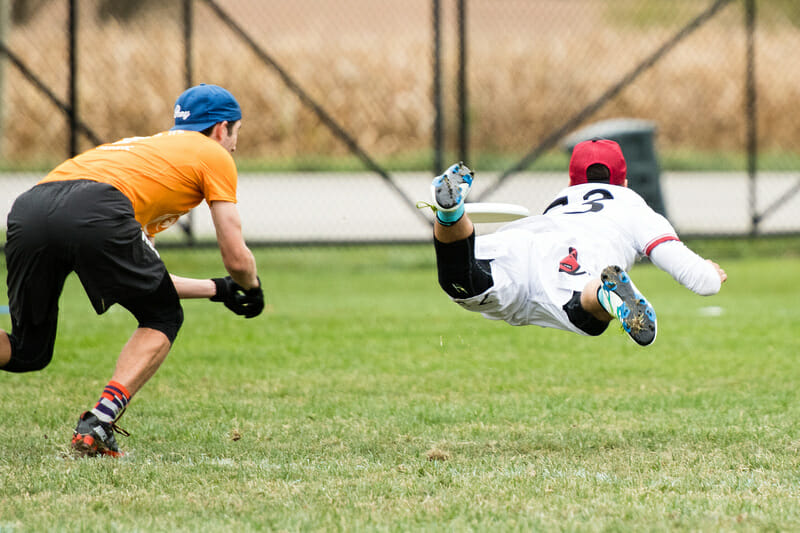 Ultiworld's coverage of the 2016 Club Championships is presented by Spin Ultimate; all opinions are those of the authors. Please support the brands that make Ultiworld possible and shop at Spin Ultimate!
Seattle Sockeye 14-13 Boston Dig
Seattle Sockeye (overall #7, finished B2) followed up their magnificent effort against San Francisco Revolver yesterday by barely surviving a surprise onslaught from Boston Dig (overall #15, finished C3) in prequarters, winning 14-13 on double game point.
The win required a massive effort from the Fish, who spent the entire game trailing the upstarts from the Northeast.
Dig's Jeff Babbitt unleashed an incredible performance that kept Sockeye shifting in schemes and matchups to contain him. He recorded seven goals, one assist, and one signature over the shoulder block in the losing effort.
The wind was less fierce than yesterday's gusty conditions and it blew a spitting rain across the field as Sockeye sent up the first pull. Dig centered to Ben Sadok (5 assists, 1 goal), a 5'5" lefty who's rapport with Babbitt has built over three seasons with UMass in the college division. Babbitt faked underneath while isolated in the middle of the field and then charged out looking for the long ball from Sadok, who put it nearly in the endzone. Babbitt hit Spencer Diamond with an easy backhand and the first quick hold for a 1-0 lead.
Seattle sent out its offense, prepared to answer in the conditions that felt much more Northwestern in the light rain. Looking for a continuation shot towards the end zone, Nick Stuart sent a pass too far and gave the Dig D-line a look at a first break, which lefty Frederik Brasz converted, firing a monster inside out backhand that hit Victor Luo in stride going the other way. 2-0, Dig.
Justin Lim finally found Zane Rankin for the first Sockeye hold on the next point, restoring some calm after the O-line worked it through through a 1-3-3 zone from Dig. Lim has made himself useful on both offense and defense so far this weekend, using his super quick movements to guide the disc from both the backfield and as a cutter.
While Dig picked up speed, Sockeye looked flat and a little lost in the early morning round. Matt Rehder drop an easy catch on a perfect huck that found him all alone behind the Boston defense. Babbitt eventually converted that uncharacteristic turnover both his second goal and the second break of the game for a 5-3 lead.
Sockeye's offense returned to field the first pull from half, with a few expectant Seattle fans on the sideline prepared for a return to form. Then a Justin Lim turnover on a throw into space that no one filled turned into a Dig break, with Luo finding Diamond for 9-6. Trent Dillon gave up a turnover on the next point, overthrowing Rehder in space. Sadok and Babbitt made that their third connection for assist and goal, and pushed the game to its largest lead at 10-6.
"They did a really good job attacking the deep space to start and really punished us with a few great lefty backhand hucks. I was really impressed with Ben Sadok and [Frederik] Brasz. They both had some unreal shots that led to quick breaks and caught us off guard," said Dillon later.
Dig's D-line was particularly stingy until the game's closing moments, and the quick-fire offense continued to outsmart Sockeye's defensive adjustments. Sockeye found some composure after again being caught off guard in the second half, and the teams traded to 11-8.
Seattle committed on the next point to a full on adjustment, bringing Rehder and Montague over to the next D-line and flashing into a four-person trap zone that forced a turnover from Diamond. Sockeye captain Reid Koss hit Sam Harkness with a backhand on the other side of the field for a break that brought them within two, at 11-9. They broke again minutes later, when Dillon scored on pass from Simon Montague (3 assists, 1 block). 11-10.
The shift in focus for Sockeye was complete on the next break, when Rehder read a Sadok huck the whole way and knocked it to the ground. Harkness got on the end of another Koss pass for his second goal of the game to tie it at 12-12, and soft cap was added to set the point cap at 14.
Both teams combined for three turnovers on the next point, but Montague put in a sneaky pass over the break side front cone for Joe Sefton that gave Seattle their first lead of the game at 13-12. Babbitt engineered a hold moments later on a clean, one possession point for dig, catching a pass from Thomas Cooper that had the star receiver collide with defenders and stay down after catching the goal.
On double game point, all hell broke loose.
A crowd had gathered, and it the decibel level jumped an order of magnitude louder when Babbitt went careening over Stuart's shoulder on an in-cut and tipped the disc away for a Dig chance to break. Stuart called foul, but was overruled by the observing crew.
Mario O'Brien, who had played only sparingly so far, got a block in transition to regain possession for Seattle, but turned it over soon after. Chasing after his mark on the next possession, O'Brien pressured another turnover that and his team worked the disc into the hands of Karlinsky, who dialed up a flick that seemed to sail unaffected by the conditions to a streaking Mark Burton. It was Karlinsky's fourth assist of the game.
"Danny," Dillon, said when asked about who deserved an MVP nod for the game. "Danny was like…I told him halfway through the game that he was playing as if there was a bubble around him with no wind. He was just playing like he was throwing indoors, it was nasty. It's so great to see a leader and a captain have that type of performance in a game like this and it's inspiring and it makes me want to go out and crush in quarters.
While Karlinsky led with throwing, the Sockeye tactical shift to zone helped create the necessary turnovers for the comeback win, something that this team hasn't had much of so far in 2016. Falling behind by leads larger than a point hasn't spelled success, and the victory was an encouraging sign that the team was more mentally prepared to handle adversity than they had been earlier in the season.
And in spite of giving up the lead, the performance cemented Dig's team effort as one of the better performances in the division so far in this tournament. The entire team was careful, patient in their end zone sets, and took the shots they knew they could hit, even if they looked crazy to Sockeye defenders.
"I think we took them by surprise a little bit, but you know, we're a team that believes that we can compete with anybody in the country when we play our best and so, we knew had to rise to the occasion, they were a fantastic team, and I think what gave us the edge was our ability to rise to teams," said Dig captain Denis "Odie" Maguire after the game. "We did it against GOAT and High Five and we did a pretty good job here, too."
Upcoming Quarterfinal Matchup: Boston Ironside v. Seattle Sockeye
Austin Doublewide 15-10 Madison Club
After a trying regular season–and a tough start at Nationals–Austin's Doublewide (overall #14, finished B3) turned in a complete performance to topple a daunting Madison Club (overall #6, finished C2) with a final score of 15-10.
Steady and relaxed offense ruled the day for Doublewide and played nearly perfect in the first half. Madison's defense could do nothing to slow a Texas attack led by Chase Cunningham and Jeff Loskorn – something Mad Club was not used to.
In Thursday's pool play games Madison's D-line was getting break opportunities in droves. For context, in a round three game against High Five, Club's defense converted after punching in Michigan's 10th turnover.
In this elimination game Doublewide's O-line only gave the disc up four times.
"We played like it was yesterday and we played like it was today," Madison coach Tim DeByl said after the loss. "It was weird for us. We're used to being able to generate pressure and we tried everything. It just seemed like they were going to be really calm. They didn't want to shoot it."
Doublewide was not afraid to play the short game. Their handlers cut up line with ease and stepped out to deliver crisp, confident around throws when needed. Unlike some other teams in the field they had a game plan for Madison's trapping zone.
"We did watch film last night," said Austin head coach Terry Jungman about his team's preparation. "Primarily, it's just keeping the disc on the middle third of the field. That keeps it away from the sideline. They really want that sideline trapped."
DeByl's team mixed up the defenses in an effort to throw Austin off balance but Cunningham, Loskorn, and Ryan Purcell chipped away to gain yards regardless of the set.
Doublewide hucker Brandon "Muffin" Malacek only played when his D-line was going in the upwind direction and completed three of four deeps shots to help earn necessary breaks. Shooting 75 percent in these conditions is effective. But only shooting four times seems surprisingly selective for the notorious gunslinger.
"Muffin's kind of been through some ups and downs this season but he's really turned it around at Nationals," Jungman said. "He really committed himself to being mindful of cutter's advantage and seeing spaces."
The game really broke open when Dan Emmons caught an upwind goal at the front cone from Chase Cunningham for the upwind break. At 12-8 and pulling downwind, Doublewide was on cruise control.
Cunningham had a monster game. The big lefty tallied seven assists and a goal. Oddly enough, only three of Doublewide's 15 goals were thrown by a righty (with Loskorn and Purcell also involved in the assist column). That many Southpaws getting that many touches can catch defenders off guard. Cunningham and Loskorn tortured Madison with lifter lefty backhands.
After almost being eliminated at South Central Regionals, Doublewide has survived back-to-back elimination games here in Rockford. Now, they take their young roster to quarterfinals for the next challenge.
"We learned some lessons – some really hard lessons – at Regionals," Jungman said. "I think the team now has a mindset where they really cherish every point of every game."
Upcoming Quarterfinal Matchup: Denver Johnny Bravo v. Austin Doublewide
Raleigh Ring of Fire 15-11 Chicago Machine
At last year's national championship, Machine finally defeated Ring of Fire, one of their long-time rivals, on double game point to advance to the semifinals. Machine followed that up in 2016 with two more wins over Ring of Fire in the regular season, giving them the mental edge coming into today's matchup. However, Ring was ready to remind them of this historically one-sided matchup.
Machine (overall #5, finished D2) was plagued by mental mistakes. In the first point, the Chicago offense turned the disc on the second throw. With less wind than yesterday, Ring of Fire (overall #13, finished A3) was able to open things up and bring their more downfield-minded guys onto the field. Hunter Taylor hammered across the field to Tim McAllister for the 1-0 lead.
Raleigh made sure they always had at least some of their throwing personnel on the field. This crew usually includes Jon Nethercutt, Noah Saul, and Matt Gouchoe-Hanas, but an injury to Gouchoe-Hanas in the second game yesterday had him out for their prequarters matchup. Enter Sol Yanuck, who at just 20 years old became a focal point of the Ring offense. On defense, they called on veteran Tristan Green to carry more of the throwing weight.
Raleigh also picked up Jacob Fairfax, the 20-year-old who flew in last night after missing day one. He took tough defensive matchups. Both Jonathan "Goose" Helton and AJ Nelson were dealing with the youngster for most of the game. Another youngster, JD Hastings (22 years old), neutralized Bob Liu for the entire game.
Raleigh was getting contributions from every player on their roster.
Machine tried switching to a zone look to slow down the Ring offense early in the first half. After Raleigh broke from their set, Chicago transitioned into high-pressure man. But Ring's ability to throw it deep in both directions, something that was out of the question yesterday, allowed them to run their practiced offense. They came down with almost every questionable shot in the first half, gaining momentum with each goal.
Green made his first contribution on an upwind break, finding Tim McAllister on a speedy flick to the endzone. On the ensuing point, Machine missed a three-yard dump pass for their third unforced turn on offense. Noah Saul utilized the short field with a quick upline cut, and Ring was suddenly up 5-3.
Machine got one of the breaks back when Michael Schwenk laid out in the back of the endzone for a stellar goal. A play that should have sparked Machine ran head first into a Ring of Fire team that was unwavering in energy. The constant cheers and goofy behavior made it impossible for Chicago to steal any of the emotional momentum in the first half. Even after an improbable layout from Von Alanguilan,
Machine failed to convert the break chance. A Nethercutt scoober found Justin Allen in the endzone, and Raleigh maintained their lead.
The Machine offense was consistently having trouble finding downfield looks. So much so that both Brett Matzuka and Goose Helton had to run from the handler spot to the back of the stack, only to gain 15 yards on an ensuing under. At times, it felt like the Machine offense was playing a man down to the Ring of Fire defense.
Raleigh's Jacob Fairfax scored the offensive hold to take a 7-6 lead. On the next point, he skied his defender on a Justin Allen huck and dished to the wide-open teammate to take half 8-6.
Everything was going Ring's way.
The second half resembled the first, with Patient Ring offense cutting through the Chicago zone. A hold after halftime had Machine down three. Enter panic mode. Beyond this point, Goose Helton rarely left the field. But Ring of Fire was closing the door with every opportunity.
Tristan Green made the throw of the game when from his own endzone, an around backhand traveled the length of the field to find McAllister for the break and the 10-6 lead. Another dagger came when Ring of Fire worked upwind through the Chicago zone in an uncharacteristically long possession. Machine's time was running out.
Down 2, Alex Evangelides tried to ignite his team with a huge layout block on their own sideline. But another inexplicable drop from Chicago gave it right back, and Nethercutt found Yanuck to swing the game back in Raleigh's favor.
Machine managed to turn it one more time, on an unbalanced flick that fell into the ground. Ring broke for the 14-10 lead, and then traded for the win. Machine fell victim to their nightmare opponent, losing 15-11 in prequarters.
After the game, Chicago coach Andy Nielsen was understandably disappointed with his offense. "We got broken six times," Nielsen said in frustration. "Our offense was not able to execute."
Raleigh head coach Mike Denardis was of course in much better spirits after the game. "If you have a mental edge, it's probably more on their end rather than anyone else's," Denardis said after the win. "We prepare for everyone the same, so if we have an edge there its more on their end."
On whether or not this upset surprised him, Denardis had a strong message. "By now I think people should learn the trend of what we do. We're building a team to prepare for the biggest tournaments of the year: Regionals and Nationals."
Upcoming Quarterfinal Matchup: Washington DC Truck Stop v. Raleigh Ring of Fire
Vancouver Furious George 13-9 New York PoNY
Furious George (overall #16, finished D3) continued to defy expectations as they knocked off New York PoNY (overall #8, finished A2) in the prequarters.
With Vancouver's contributions coming from both battle-hardened veterans and spry youngsters, Furious has found a formula that is working for them as the push deeper into the post-season.
The winds on Friday morning were mild in comparison to the maelstrom of Thursday, and Vancouver was sharp right from the get-go. The same cannot be said of their opposition, as New York shot themselves in the foot almost immediately.
After centering the disc, PoNY turned it on the next throw when a disc slipped out of the grasp of speedy cutter Markian "Muk" Kuzmowycz. With only a few yards to paydirt, Furious capitalized on the opportunity in the form of a quick Morgan Hibbert goal that set the tone for the day.
It was the story all game, PoNY giving Furious an opportunity and Vancouver obliging.
A few points later, the normally reliable Billy Katz didn't pivot out on an around flick and was emphatically handblocked by Ty Barbieri. Two throws later, Ed Guo found Ben Burelle in the endzone to give Furious the 3-1 lead.
While PoNY's offense was struggling to get their feet underneath them, New York's defense was similarly vexed. Able to generate a few blocks with their impressive athleticism, PoNY was largely unable to hold the force side in the first half, with Kevin Underhill and Tim Tsang moving the disc at-will for Furious.
When PoNY started to lock down in the dump set, Furious was happy to eject their handlers downfield which often created space for easy 20 yard gains and when the PoNY D fell asleep easy scores, such as the huck Gagan Chatha sent to Underhill to give Furious a 6-3 lead.
New York was able to gain some purchase at both sides of half, dialing up a defensive intensity that was lacking in the early stages of the game. After a nice mark forced an airmailed backhand from Tsang, Jack Marsh hit Mike Drost for PoNY's first break at 7-6. PoNY broke again out of half on an impressive toe drag by Drost on a scoober from Matt Lamar to make the count 8-7, but that would be as close as they would get.
On the next point, Nick Wright put a scything forehand over the top of some nice pressure from PoNY to open the lead to 9-7, and Vancouver broke on the next point.
PoNY's offense could never make things easy for themselves in the second half, trying to score with thirty-plus throw possessions. While their crafty handlers were usually able to run the dominator, a couple high stall turns gave Vancouver all the chances they needed on a day when they were hitting all their shots.
Leading 12-9, Furious broke to win after another unforced error from PoNY gave them a short field. Miles Sinclair slipped an around flick to Kevin Underhill, and the 16th seed's Cinderella story continued into the quarterfinals.
Upcoming Quarterfinal Matchup: San Francisco Revolver v. Vancouver Furious George