Take a ride with Pat Stegemoeller through the seven questions burning holes in his brain as he prepares for Queen City Tune-Up.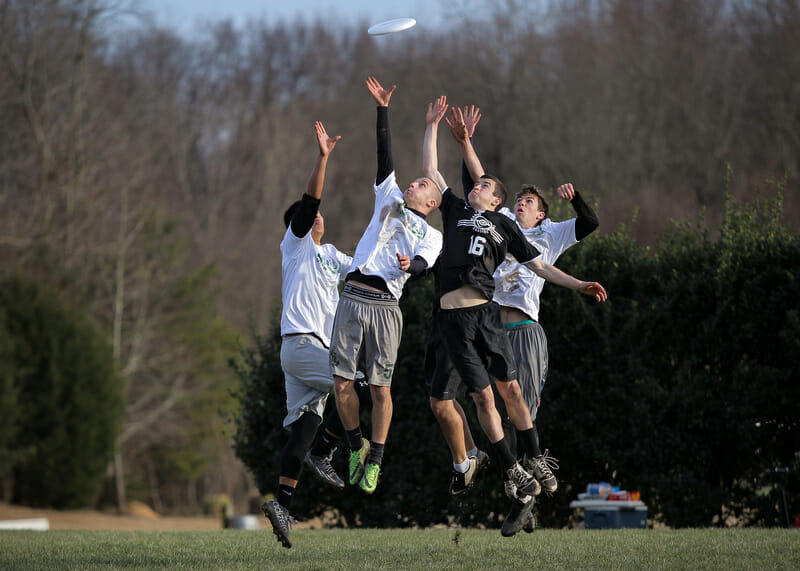 Each season it seems that high quality ultimate gets played at tournaments earlier and earlier on the calendar. In recent seasons, the quality of play at Queen City Tune Up has repudiated the name, showcasing some of the best ultimate of the season. Last year's final between UMass and UNC Wilmington has to be included on any list of the best games of 2016. Hopefully this season will yield more of the same.
Many teams are starting their season this weekend in Charlotte. They'll arrive with expectations only and a blank record. Every team can still be the protagonist. After Queen City, however, narratives start to take shape.
For the moment, all we have are questions. Which favorites will falter? Which underdogs will shine? Which Player of the Year candidates will plant a flag? Which teams will forfeit their consolation games so that they can get home in time for the Super Bowl?
For answers, you'll have to tune in this weekend. But for more questions, you've come to the right place.
Tournament Profile
Date: February 4-5

Location: Charlotte, NC

Weather: Highs of upper 40s to lower 50s, 7-10 mph winds

Top 25 teams: 8
Patrick Asks Seven Big Questions
1. What Will The UNC Wilmington Shakeup Look Like?
#3 UNC Wilmington will enter the tournament as the top overall seed, but with some serious questions facing them. Wilmington is a program that has a flair for the dramatic. The team never seems far from controversy and turbulence has already begun to buffet the defending Atlantic Coast champions. They were forced to drop their slated season debut at Carolina Kickoff following an issue with their club sports department and lost their coach Greg Vassar in the offseason after many years at the helm of the program.
In addition to Vassar, Wilmington said goodbye to two other faces of their program in Xavier Maxstadt and Charlie Lian. Those two emotional gun slinging handlers were responsible for shaping much of the team's culture over the past few years in addition to all they contributed on the field.
With Brian Casey stepping in to fill Vassar's shoes and a new generation of Seamen taking the reins from Lian and Maxstadt, what will Wilmington look like? Will this changing of the guard have an effect on the way the team plays? They were one of the most aggressive teams in the county the past few seasons, but under new leadership that could change. After crashing out of Nationals earlier than expected the past two seasons when their high wire act fell apart, the team may be taking a more conservative approach in 2017.
2. Is Tannor Johnson Ready To Take the Leap?
In 2016, Queen City was the stage for the first act of Tannor Johnson's breathtaking rookie season with #4 UMass Zoodisc. Showcasing his full set of skills and imposing physique, he grabbed the ROTY race by the scruff of the neck in Charlotte and never let go.
As a rookie Johnson was arguably the best player on UMass's offense and maybe the most well rounded player on the entire roster. But all of his talent and potential were cushioned by the host of veterans that the team was built around. Johnson often excelled, but when he faltered the team was still in the hands of Zoodisc mainstays like Ben Tseytlin, Conor Kline, and Jeff Babbitt. This year they are all gone, along with Johnson's safety net. Not yet twenty years old, Johnson has the fate of a title contender squarely on his shoulders.
What are the signs of a leap in progress?
Lack of confidence was never a problem for Johnson last season, but consistency was. Too often he would launch an early stall huck that needed to be perfect to succeed, or demand the disc in the backfield instead of stretching deep with his legs. As the driving force of the offense he'll need to master his pacing after a season in which he sometimes lost track of the tempo. Knowing when to pull the trigger on big plays and when to grind down opponents is a big part of turning talent into results, and it's something Johnson needs to demonstrate he can do on a regular basis.
Defensively, Johnson showed that his fundamentals are solid but lacked the aggression needed to be a complete defensive player. He often seemed hesitant to make plays that could have resulted in blocks for fear of compromising his defensive positioning. The patience to avoid over-pursuing in search of blocks is a good trait for a young player, but if Johnson wants to a truly elite defender he'll need to learn when to be conservative and when to leave his feet.
Can he fulfill all of his prodigious promise? Can he take the next step and go from best rookie in the country to best player in the country? We could get an indication this weekend, as tantalizing match ups against POTY front runners John Stubbs and Jack Williams await in bracket play.
3.What Hymn That is Profoundly Optimistic In The Face Of An Evil World Will Notre Dame Sing Before the First Pull This Year?
#tbt to when Notre Dame kicked off QCTU on some Andrea Bocelli shit pic.twitter.com/eEYdL4YkCa

— SinTheFields (@SinTheFields) February 2, 2017
They also took a painting from their hotel room and paraded it around as a mascot. God bless those boys.
4.Will Any Team Decide That Good Pulls Might Be Valuable This Season?
Little known but shocking fact: During the 2016 college season, not a single pull from any team in the men's division landed in bounds. Astonishing I know, but the numbers don't lie.1
So, will it be different this year? Will any team decide to maybe pull it in the field of play? Downfield? In a manner could be advantageous to their defense? The signs from Santa Barbara were reportedly good and maybe that'll translate.
Pulls are important! Last year, at this tournament and others, teams really seemed to neglect what is a crucial part of any defensive possession. This should be a big concern for UMass, who are famous for their stifling zone, but last season couldn't seem to find a puller who could consistently pin offenses back and let the zone set up. We'll see this weekend if Zoodisc has found someone to handle pulling duties, or if they are still searching.
Halftime: Things to Look For in the Scheduled Filmed Games
Maryland v. Georgetown – Two more brave souls racing for a third bid in the Atlantic Coast region behind Wilmington and UNC. Maryland is just a season removed from actually wrangling a third bid and making it to Nationals, but Georgetown got the best of the Space Bastards last season in the championship game at sectionals. Maryland versus Georgetown is a fun beltway rivalry, and both of these teams are looking to leap into the bid picture with a strong start to the season.
Clemson v. Davidson – Last year at QCTU, Davidson came in seeded last and almost snuck into quarterfinals by manhandling UW-Milwaukee and Virginia before barely losing to Ohio State in what was essentially prequarters. Getting to play against big D-I teams is like the Superbowl for D-III squads, and it's always fun to see top heavy, but talented squads like Davidson square off against deeper rosters with nothing but hero ball in their quiver and belief in their hearts.
VCU v. High Point – VCU has not been consistent enough to make Nationals, but they are always one of the most entertaining teams to watch on the circuit each year. Last season at QCTU they came out hot and bulldozed their way into the quarterfinals before getting put down by UMass. VCU should handle High Point comfortably, but it will almost certainly come via a flurry of insane skies and high releases that you won't want to miss.
NC State v. Case Western – This will likely be an elimination game, as only the top two seeds in each pool make it into bracket play. Case Western were unlikely champions of the Ohio Valley last season, and they'll be trying to prove this season that 2016 was no fluke.
Virginia Tech v. Georgia – The big game of the day, pitting Nationals hopeful Virginia Tech against Southeast power Georgia. The Joe Freund v. Nathan Haskell matchup alone is worth the price of admission, but since Freund is not going to be playing, it's a good thing admission is free. The likelihood that the winner will get to avoid UMass in quarters should give both teams plenty to play for.
5. Is Virginia Tech For Real?
The hype machine took a big spin on the ol' "which Atlantic Coast team might get a third bid this year" wheel, and it stopped on #12 Virginia Tech. Will Burn live up to the hype?
The squad from Blacksburg made some noise last season, flirting with a strength bid after a strong performance at Florida Warm-Up, but collapsed at Easterns and finished outside of the bid picture. At Regionals Burn was unceremoniously ushered out by South Carolina, and the young talented team was left to lick their wounds all summer.
After lighting up the preseason, Tech is now in a position to launch a campaign for that coveted third bid, and it all starts this weekend.
For teams that project to be near the cutoff line in the rankings, every game counts during the regular season. While perennial Atlantic Coast powers North Carolina and Wilmington will likely be looking to get their younger players some reps and save legs for bigger games later in the weekend, Virginia Tech are incentivized to hit the ground running and pile up as many rankings points as they can get.
A big win over one of the top teams at the tournament could do wonders for Tech's standing. They'll get their first opportunity on Saturday, when they tangle with Southeast champs Georgia. Unfortunately, any progress made this weekend will have to be done without young star Joe Freund, who is reportedly sidelined temporarily with a knee injury.
6. Who Takes the Reins for Georgia: Haskell or Bray?
Speaking of #17 Georgia, the presumptive favorite in the Southeast region enters Queen City with some questions of their own.
A big one is how they will replace 1st Team All-American Sam Little. That doesn't just mean the handler's production, but also his presence on the team. Georgia was somewhat volatile last year, and in desperate times Little was the rock they clung to. He offered stability, both with his commanding play and his demeanor. In other words, he was The Guy for Jojah when they needed it.
This year Georgia is left with a lot of talent and high expectations, but not necessarily a clear The Guy. The two candidates to replace Little in this regard are fifth-year Parker Bray and junior Nathan Haskell. Bray is your typical veteran leader, with tons of big experience at the college, pro, and club level. An explosive and daring thrower, Bray gives Georgia some juice with the disc that other teams just don't have. What Haskell lacks in experience he makes up for with raw ability. A terror downfield since his freshman year, he has been steadily improving as a thrower and played around the disc for much of Nationals last year after Bray's ACL tear.
Both Haskell and Bray are great players, but when push comes to shove in crunch time, which one will be "the guy" the team looks to? Who has the keys to run the show? Last year the answer was clearly Little, but in 2017 Bray or Haskell will need to take on the role.
7. Which State Will Win the Super Bowl Preview Degenerate Gambler Win Pool?
With Massachusetts and Georgia each sending two representatives to QCTU on Super Bowl weekend, there is a nice Patriots vs. Falcons preview brewing. Coming from The Bay State we have UMass and Harvard, while Georgia and Georgia Tech represent their namesake state. Using overall wins on the weekend as the metric, I think I'm setting the line at Massachusetts – 1.5. Anyone want to take some action on that?2
Filming Schedule
Ultiworld will be filming nine Men's Division games at QCTU this year! Access will be available to subscribers. Teams can get a Team Pack at an Early Bird price through Sunday.
Saturday (subject to change)
9:30 AM – Maryland v. Georgetown
11:00 AM – Clemson v. Davidson (#14 – D-III)
12:30 PM – VCU v. High Point (#22 – DIII)
2:00 PM – #22 NC State v. Case Western // Notre Dame v. Richmond (#4 – DIII)
3:30 PM – #12 Virginia Tech v. #17 Georgia
Sunday (subject to change)
9:30 AM – Quarterfinal
11:30 AM – Semifinal
1:30 PM – Final
---
Editors Note: This might… need citation. ↩

Speaking of action, as much as it pains me, I'm taking the Patriots at -3 in the big game. My heart is with ATL, but my head tells me that line should be at least 4.5 points. ↩