Taking a look at which teams are leaving QCTU feeling hot -- and which are not.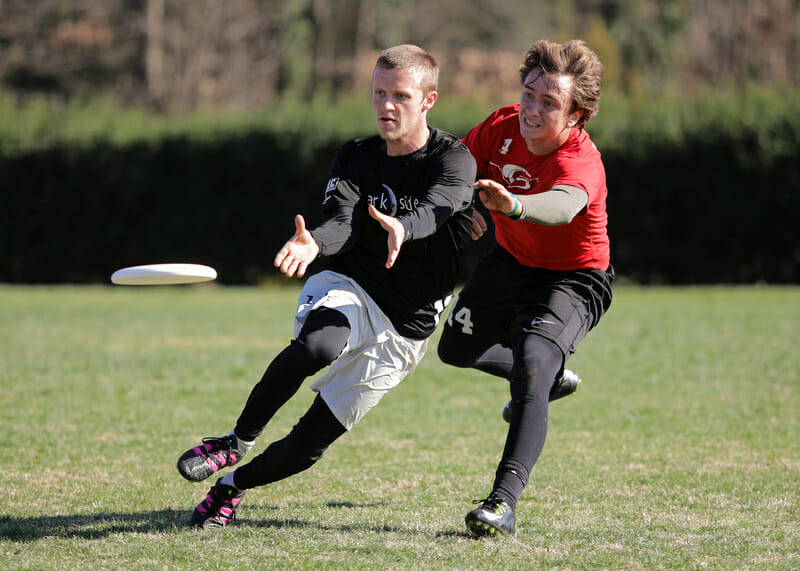 Queen City Tune Up in Charlotte is the biggest tournament before March for many East Coast teams and marked the first salvo of 2017 for several title contenders. Riding the momentum from their win at Carolina Kickoff, #2 North Carolina Darkside emerged victorious from a field that featured eight teams in the Ultiworld D-I Power Rankings, including three of the top five.
At first look, it appears that the outcomes of the tournament were fairly predictable. All of the top seeds won their respective pools and made the semifinals, and only one of the top eight teams failed to reach the quarterfinals. In some respects, Queen City reinforced what we already knew going into the weekend. However, some unpredictable elements manifested themselves, as both the one and two seed failed to reach the final, hyped bracket busters flopped, and multiple D-III teams came out of nowhere to upstage more prestigious completion. The narrative of the season wasn't turned on its head this weekend, but some interesting twists in tale developed.
It's going to be a long season. What transpired in Charlotte only gives us a glimpse at what these teams will be by the end of the spring. Looking down the road, we can see which teams are leaving QCTU feeling hot — and which are not.
HOT
The Finalists: UNC And Georgia
You can review all the details of their title bout in the final recap, but it suffices to say that both North Carolina and #8 Georgia will be walking away from QCTU happy, albeit with some reservations.
UNC is now 14-0 on the season and have won two tournaments without any real trepidation. This marks something of a departure from their past two seasons, in which Darkside started slow before accelerating to the finish at the College Championships, including with a national title in 2015. The last time UNC made a run through the regular season was 2014, a year in which they also made the national final.
However, the change in results doesn't necessarily indicate a change of emphasis. UNC weren't stacking their lines during bracket play, and at no point did it seem like the team was really pressing. Rather, their entire roster played well and the systems they were implementing looked to be in midseason form already. Perhaps this is a result of how long most of these players have been together; much of the roster came into college with an understanding of Carolina's system and built-in chemistry following their time on the Triangle YCC powerhouse, Triforce.1
That notion should scare teams, because if UNC looks this good early in the season, they are only going to be better in May under the tutelage of Mike DeNardis and Nethercutt. Darkside has made the semifinals in each of the last three years, and Queen City gave no indication that we should expect anything different in 2017.
Before we coronate UNC as automatic title favorites, it is worth pointing out that they showed some signs of trouble on offense, particularly against Georgia in the final. The offense wasn't a catastrophe by any means, but didn't look like it belonged to a no-doubt-about-it title favorite. It's not a matter of execution or system, but given the personnel on the team, it's hard to envision exactly how this offense could become truly elite.
In other words, UNC don't seem to have an incredibly high ceiling on offense. Matt Gouchoe-Hanas is very good, and is probably the best defender after a turn of any center handler in the country, but his hucks are limited compared to some of his peers and he still hasn't demonstrated that he can completely take over a game. In fact, it doesn't seem that anyone on the Carolina offense has the ability to totally dominate a game yet.
The most explosive player on offense for UNC, and a Breakout Player Of The Year candidate, is Walker Matthews. A junior who started to come into his own at the end of last season, Matthews was a crucial offensive piece for North Carolina all weekend. He has the size and athleticism to be a real deep threat and a throwing range that makes him a perfect distributor of continuation hucks. But like Gouchoe-Hanas, it's unclear if he could put the team on his back if the situation called for it. He isn't as elusive with his cuts as a Nathan Haskell or as imperious in the air as Jack Williams, and there were occasions on the weekend when he mucked up the offense by being aggressive when the situation called for patience and vice-versa.
You can go down the list and find players on the Carolina offense, like Norman Archer, who are very good, but not quite elite. Because of how well UNC has functioned as a team, it may not matter that their players don't seem to be individually more than very good, but its certainly possible that they may eventually run into a team where very good just isn't good enough.
Georgia has the opposite problem, in that they have two players in Parker Bray and Nathan Haskell who are unquestionably elite, but a team that needs to put the rest of the pieces together. That's not necessarily an indictment of the roster's talent, but rather the way the team chooses to play. There were several points at QCTU where Bray went literally every-other throw for an entire possession, and it seemed that several players on Georgia were scared to throw downfield — choosing instead to defer to Bray at every opportunity.
On many levels it makes sense, as Bray was the standout player of the weekend. His assist totals dwarfed everyone else in Charlotte and he gave a real gutsy performance on Sunday playing both offense and defense most of the way against Wilmington and UNC. But ultimately when one player controls a team's fortune, it leads to imbalance.2 When Bray started to slow down against Darkside in the final, there wasn't much Georgia could do to stop UNC, refocus, and get back into the game.
Getting the disc into the hands of your best players isn't a bad thing, and from a numbers perspective, you want your best throwers making as many throws as possible. If taken to an extreme, however, it can be problematic. It's clear that the team seems somewhat paralyzed by their dependence on Bray's brilliance with the disc. Even Haskell, who was simply unstoppable at times over the weekend, clearly looked to Bray to set the pace for the team. Entering the tournament we asked who "the guy" on Georgia was going to be this year, and if this weekend was as an indication, it is clearly Bray. Haskell is a great weapon, but Bray is the one wielding him — along with the rest of the team. If Georgia plays like this the rest of the season, they will only get as far as Bray can throw them.
HOT
Wilmington's Reboot
Entering the tournament as the top-ranked team in attendance, #9 UNC Wilmington failed to hold seed, falling to a hot Georgia team in the semifinals. The tournament wasn't a failure for them, though, as they painted a picture for what their team will look like in a post-Greg Vassar and Xavier Maxstadt era.
Jack Williams is far and away the Seamen's best player, and while the team never totally let him off the leash this weekend, he made a significant impact in a limited role. With Wilmington trailing Georgia in the second half of their semifinal showdown, Williams baited a hammer and then made a jaw dropping, chase down over-the-shoulder block on Haskell — perhaps the only time all weekend someone got the better of Haskell in the air — en route to a crucial break.
It seems as though Williams may have truly put it all together this season. He established his dominance as a cutter in 2015, showed he was a more than capable thrower in 2016, and in 2017, it seems that he is grasping when to shape the game with his cuts and when to take over with his throws. Williams possesses a staggering amount of talent for one person, and it's pretty clear that he is going to be a capable leader on the field for Wilmington this season.
The other big test case that passed muster for Wilmington this weekend was Willie Stewart taking on the mantle of center handler.
The junior, who popped up in spots last season, will garner a lot more attention now as the driving force of Wilmington's offensive line. Stewart was never going to be able to replicate the paradigm-shifting throwing range of the Maxstadt, Charlie Lian, and Luke Hancock generation that proceeded him, but he was just as effective at driving the offense with a strong ground game and an array of clever break throws. Stewart wasn't perfect — he missed on a couple of throws that could have changed Wilmington's fortunes against Georgia — but he showed enough confidence and ability to instill belief that Wilmington's offense will be potent moving forward.
NOT
NewMass
Well, if anyone needed a lesson on the importance of Tannor Johnson to #6 UMass, this weekend should do the trick.
After breezing through most of Saturday, UMass hit a big bump in the final round of the day against NC State, when they lost Johnson for the rest of the weekend to a shoulder injury. The superstar sophomore was tracking a cross field huck to the back cone and in the process of trying to simultaneously toe the sideline after coming out of a dead sprint and extend his frame enough to catch the disc, he landed awkwardly on his right shoulder.
Apparently the injury looked worse than it was. Coach Tiina Booth intimated that the injury was not a long term problem, but Johnson's absence was certainly a problem for Massachusetts. Without Johnson, UMass lost some serious oomph and lacked a go-to option when the pressure dialed up. What was already a new look team because of the losses of Jeff Babbitt, Conor Kline, and others now had to cope without their best returning player.
The team staggered to the finish line against NC State, winning but surrendering four breaks in the second half after Johnson's injury. On Sunday, they got off to a slow start against Virginia Tech, going down two breaks within the first four points. UMass's cutters weren't able to create separation on in cuts and, with Tech poaching off the back of the stack, the offense sputtered. Ben Sadok and Brett Gramman did what they could to keep the disc moving, but without Johnson the offense didn't have its usual punch, and on several occasions the only thing that bailed out a stagnant attack was Sadok's crazy throws.
The defense rallied UMass in the quarterfinals against Virginia Tech, as the team's patented zone flustered Tech's handlers and gave the offense the cushion it needed to close out the game and advance to semis. There, Zoodisc was soundly beaten by a UNC team that executed better in just about every facet of the game, ending Massachusetts' hopes of returning to the title game at QCTU for the third straight year.
Disappointing results aside, it's not time to hit the panic button in Amherst quite yet. Johnson will be back to shore up the offense and the open lines the team ran with this weekend will tighten as the season progresses. But after a season in which the team had so much depth up and down their roster, Queen City was a reminder that this year's UMass squad has a lot of weight on a select few shoulders.
NOT
Virginia Tech's Nationals Aspirations
It's hard to give #20 Virginia Tech Burn — another team with a lot of weight on a couple players — a grade this weekend considering that they were without their best player, Joe Freund. They are clearly a different team in his absence, certainly different than the team we saw tear up CCC in the fall. Entering the weekend with the hopes of upsetting one of the top four seeds, they instead found themselves fending off competition from below.
A fair grade for Tech may be "incomplete" because of their likely position on the edge of the bid bubble, but this weekend could also be considered an "L." With the way UNC and Wilmington looked, it's difficult to see Tech or anyone else in the Atlantic Coast knocking one of them off at Regionals. This makes earning a strength bid of utmost importance to Burn's Nationals aspirations. The results from Queen City aren't going to help Tech's chances much in the algorithm, as they were manhandled by Georgia, fell off the pace against UMass, were obliterated by Michigan in consolation, and barely beat Georgia Tech and Richmond.
There is definitely something brewing in Blacksburg, and the team showed real flashes of excellence, particularly in the first half against UMass. But if the goal for Burn is to earn a trip to Cincinnati, they didn't do themselves any favors this weekend.
HOT
D-III As A Legitimate Enterprise
Playing against big D-I schools is like the Super Bowl for D-III programs. It's not often that these smaller, lesser-known schools have the opportunity to test themselves against their larger, more renowned counterparts. Four of the top D-III teams in the country got that opportunity this past weekend, and for the most part acquitted themselves well.
The University of Richmond Spidermonkeys arrived in Charlotte ranked 4th in our D-III power rankings and seeded 17th in the tournament. Richmond had never played in a tournament of this level before and their expectations for QCTU were realistic. "We expected to be challenged more than we ever had before, and coming in, our goal was to step up to that challenge and compete at the highest level we were capable of," said senior captain Henry Babcock. That's just what Richmond did, seizing the moment to make a statement.
The Spidermonkeys opened their weekend with a double-game-point win over defending D-I national runners-up Harvard Red Line, then rattled off two more pool play victories over Notre Dame and UNC Charlotte. While they sputtered a little in bracket play, Richmond was able to put up respectable scores against top programs like UNC Wilmington, Virginia Tech, and NC State — enough to earn them a nod in our latest D-I Power Rankings. With their performance in Charlotte, Richmond has planted their flag as an early favorite for the D-III national championship.
#18 (D-III) High Point Bagheera and #12 (D-III) UNC Asheville also proved they belonged with the big boys. Bagheera, a relative unknown to most of their opponents, completed the second largest break in seed at the tournament, finishing 12th after a pair of upset wins over VCU and Case Western. High Point won with contributions from their entire roster, highlighted with standout performances from sophomore O-line cutter Jake Heins and defensive playmaker Luis Royo. "I can honestly say that this weekend has helped our team more than anything else in my time here," said sophomore captain Michael Sellers.
While UNC Asheville may have only notched a single win on the weekend (over Georgetown),3 don't let their 1-5 record on the weekend fool you — the Bulldogs were competitive in almost all of their games. Outside of a blowout loss to Michigan and a respectable 12-8 loss to Darkside, their other three losses were by a combined five points. The Bulldogs were understandably frustrated to be so close to having a very different weekend, however their experience in Charlotte has given them a solid platform to build off of for the rest of the season as they try to book a return to D-III Nationals.
On the other end of the spectrum, Davidson was the lone D-III program to appear completely overmatched, going 0-7 on the weekend with their lone competitive game coming in the last place game against Georgia Tech. A 2015 D-III Nationals qualifier, DUFF showed there's still plenty of work to be done if they're to return to that level again this season.
-Mike Ball
HOT
Michigan – Nationals Attendee
Just like last season, #16 Michigan beat all the of teams they were supposed to beat and lost to the ones they weren't. That's a good recipe for a team that will hold its nerve at Regionals, so if you're a fan of MagnUM you can feel pretty confident about booking your travel plans to Cincinnati in advance.
NOT
Michigan – More Than Nationals Attendee
Simply put, it's hard to see a high ceiling for Michigan this season. The team is a B+ across the board. Good handlers, good cutters, good athleticism, good defensive concepts, but nothing that serves to elevate them above their lack of elite talent. UNC's elite speed on defense totally flummoxed them in pool play, and Wilmington's blood-and-thunder athleticism beat them at every turn in quarters.
Michigan play good ultimate, but it's hard to see them being great this year.
HOT
NC State Finally (Maybe, Sort Of) Getting It Together
Of potential contenders for another bid in the Atlantic Coast, it was #22 NC State who rose to the occasion this past weekend, not Virginia Tech. In pool play, State hung with UMass and notched a gritty double game point win against Case Western. Their quarterfinal game against Georgia was one of the best of Sunday. State took half 8-6 and maintained a two-point lead through the first leg of a chippy second half, but Georgia eventually took control of the game, tearing off four straight breaks to ultimately take the game 15-12.
While NC State's rookie talent (dubbed "The Breakfast Club" by coach Garrett Dyer) continues to play a key role for State, their core of veterans shouldered a substantial load this weekend. Bailey Laberteaux, Davis Mossman, Jeff Witigen, and David Jones all showed up at big moments against in the exciting win over Case Western and quarterfinal loss to Georgia. Laberteaux was particularly exciting to watch in State's universe victory against Case Western, showcasing his throws and powering the offense down the break side of the field.
NC State, yet again, appear to be talented enough to earn an additional bid for the Atlantic Coast. Though they have yet to score a marquee win against an elite program, their offense looked polished and the rookie chemistry was palpable. They are still streaky and susceptible to mistakes in high pressure games, though they have demonstrated that they can generate breaks against Nationals contenders and appear to be headed in the right direction. Achieving consistency will be critical for the Wolfpack down the road.
-Hugo Sowder
NOT
Harvard Keeping The 2016 Magic Alive
An undefeated Sunday in the 9th place bracket does little to bolster the hopes for Harvard this season after a dismal 1-3 performance on Saturday. While the team wasn't loaded with talent up and down the roster last season, many of those players were at least replacement level guys for a nationally competitive team. This year, it's hard to find more than a handful of players on Red Line's roster who appear capable of competing, let alone excelling, at an elite level.
Losses to D-III darling Richmond and a mediocre Notre Dame team kept Harvard from meaningful games in the bracket and damaged their campaign to win a second bid for the Northeast Region. It's not just how the losses look on paper that is discouraging, the team utterly failed the eye test. John Stubbs is as good as advertised, but the rest of the offense lurches when he isn't around the disc. The defense is even more of a problem. Harvard's D-line had trouble staying within touching distance of their marks all weekend long and didn't seem to know what to do with the disc if they managed to get a hold of it.
Saturday at Queen City could perhaps just be the team's nadir, the low point before a new team emerges from the ashes of an improbable 2016 finalist. There was already improvement on Sunday, as the team turned up their intensity of defense and cut out some of the debilitating physical errors that plagued them on Saturday. You'd have to expect this team will improve over the course of the season, because there is nowhere to go but up from here.
NOT
The State of Pulls in the College Men's Game
Just dreadful.
---
The two-time YCC champions have been coached by Jonathan Nethercutt and JD Hastings in recent years. ↩

Editor's note: see Texas A&M under Bennett, Matt and Smith, Dalton. ↩

Georgetown elected to hit the road early rather than play a rematch of their pool play game in consolation. ↩