Four teams remain undefeated.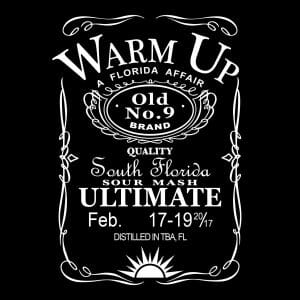 Ultiworld's reporting on Florida Warm Up 2017 is presented by Spin Ultimate; all opinions are those of the author. Please support the brands that make Ultiworld possible and shop at Spin Ultimate!
TAMPA — With bright sunshine beaming down on the University of South Florida field complex, Warm Up seemed an appropriate name for the bellwether tournament that kicked off today.
Here's a look back at the first day of action.
Standings
Pittsburgh (4-0)
Northwestern (4-0)
Texas (3-0)
Florida (3-0)
Carleton (3-1)
Minnesota (3-1)
——
BYU (3-1)1
Wisconsin (2-2)
Central Florida (2-2)
Cornell (2-2)
Texas A&M (1-2)
Auburn (1-2)
South Florida (1-2)
Arizona State (1-3)
Florida State (1-3)
Brown (0-3)
Villanova (0-3)
South Carolina (0-3)
Arkansas (0-4)
Bracket Format
The top six teams, based on overall record after Saturday's play, will advance to the bracket. If more than six teams qualify by record, here are the tiebreakers, in order:
Head-to-head
Record in pool play2
Record among common opponents
Win percentage of opponents
Total point differential
Coin flip
News & Notes
– There were no "kill" lines in the game plan and none were needed as #13 Pittsburgh was perfect through four games with a +22 point differential. A veteran heavy offensive backfield and a compliment of two full D-lines helped Pittsburgh notch convincing wins over Carleton and Wisconsin.
– Northwestern flashed perhaps the most intense team defensive effort of any team on Friday. They admittedly had a pretty soft schedule and will continue to have one on Saturday, but their pressure defense was impressive nonetheless. NUT would have to fall apart to not make the bracket, where they'll face some much stiffer competition.
– #11 Texas TUFF came here to see if their D-line could compete without key offensive players going both ways. So far, so good. Dillon Larberg and Joel Clutton watched from the sideline as Texas' defense earned three second half breaks in a 13-12 win over Central Florida. Saturday's slate–with games against Wisconsin and BYU–should provide a better sample.
– Despite their undefeated record, Florida had an up and down first day at Warm Up. They needed late comebacks against Villanova and Brown, although they did finish with a nice win over #4 Wisconsin. Critics would point out that Wisconsin was far from full strength and never truly impressed, but it was still Florida's best performance on the day. Three very winnable games are followed by a showdown with Carleton tomorrow night. Will Florida continue to play to the level of their competition?
– It looked like Carleton was rounding into form after taking down North Central rival and reigning national champion Minnesota 13-10, yet one round later they turned in an uninspired performance in a loss to Pittsburgh. Perhaps Pitt is that good, or maybe that was an emotional letdown after a big win. Either way, the process continues for CUT.
– It was not a perfect day for #7 Minnesota, who lost to #3 Carleton in their first meeting of the season. Still, there were a lot of promising takeaways, like an 11-3 surge to defeat #17 Central Florida and the stifling defense of fifth year transfer Charlie McCutcheon (Delaware).
– BYU had one of the most impressive Fridays at the tournament. They followed up a double game point loss to #7 Minnesota with wins over Texas A&M, Auburn, and Florida State. CHI's defense struggled to create break chances at times, but the offense was as smooth as any at the tournament for long stretches. BYU's tournament ends on Saturday, but they'll have two more big chances against Texas and Wisconsin. If BYU wins even just one of those games, they'll exit the tournament as one of the biggest victors on the weekend, not just Friday.
– It was a long day for a Wisconsin Hodag squad that was snakebitten with injuries: there were without Avery Johnson and Eric von Kampen, and several players went down throughout the day. Wisconsin handled lesser competition but had trouble getting into any consistent offensive flow.
– Central Florida head coach Andrew Roca is not afraid to play a short bench, even with what might be the hardest schedule of the tournament: Michael Fairley and Kyle Reedy dominated the Dogs' stats columns. UCF let one slip away against Texas, but won't have much time for reflection with Carleton and Pittsburgh on the docket Saturday.
– After a strong fall season, Texas A&M disappointed to start their spring. After a close win over a pesky Villanova in round one, A&M dropped games to Pittsburgh and BYU. It does seem plausible, though, that those losses will look better after the weekend if the two teams keep winning.
---
BYU will not compete on Sunday, regardless of their performance on Saturday. ↩

There are six three-team "pools," in which each of the teams play against the other two in their pool. ↩