7 things we like and don't like.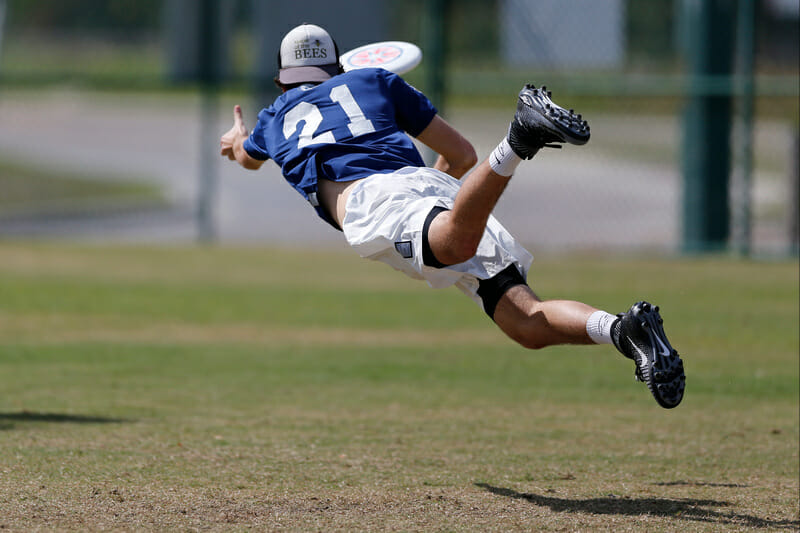 FREMONT, Cal. — Let's kick the tires and light the fires, it's Stanford Invite weekend! 13 teams in the field of 16 field reside in the Ultiworld Top 25. While the weather won't quite be the stuff of California lore1, the competition will be hot.
Since many of the contenders have shown both promise and weakness, we're taking a page out of the Zach Lowe playbook, bringing you a starting lineup of storylines and factoids that caught our eyes heading into the weekend.
Tournament Profile
Date: March 4-5
Location: Fremont, CA
Weather: High 50s, some rain Saturday afternoon and Sunday, breezy
Top 25 teams: 13
Seven Things We Like And Don't Like
Pittsburgh's Excellent Defense Emerging From Shadow Of Stellar Offense
Pittsburgh En Sabah Nur beat teams by an average margin of +5 points in their eight victories so far this season. Of those wins, six of them have come against teams in the Ultiworld Top 25.
That score advantage is the sign of an experienced D-line. The break-heavy performance at Warm Up earned them their one-seed this weekend.
"Defensively, we have a lot of players with a lot of experience with one another, so they're focused on starting to push the boundaries of what they're able to do as a team defense," said assistant coach David Hogan.
The era of Pittsburgh past was built on the foundation of a powerful lefty handler, his virtuoso cutter and teammate of more than a decade, and a workhorse Callahan Award winner.2 While those three (and their other talented teammates in the class of 2016) left their mark with beautiful sweeping plays and furious fitness, this budding group has already left their mark by hitting the dirt and getting the blocks.
Hogan admitted that many of the players stepping into roles on the O-line are handling new responsibilities. His defenders know their game, and they play it well. It's exciting to watch this team bid for blocks on in-cuts and catch backfield defenders switching to guard up line give-and-gos seamlessly. Let the offense keep figuring themselves out – watching this version of Pittsburgh is gritty fun.
At Warm Up, Pittsburgh avoided a Dillon Larberg-powered Texas offense. This weekend, due to a gnarly injury, they'll get a round two matchup with TUFF without their star who was – according to our reporters – at times the best player at the tournament. That absence will let Pitt shift their matchups and put Callahan nominee Carl Morgenstern (or another ace defender) elsewhere.
Pitt will get their first look at a West Coast contender, Cal Poly-SLO, in round four. The defending Southwest champs took two beatings at the hands of another stiff defense, belonging to Colorado Mamabird, at Presidents' Day two weekends ago, but they learn quickly and have their own set of freak athletes to throw at a still-developing Pittsburgh O-line. If SLO learned anything from constantly getting bumped off their cutting angles by Mamabird, they might be able to put Pitt's offense through their paces.
Nonetheless, it's already been a entertaining ride watching Pittsburgh launch themselves from a underrated 13-seed at Warm Up right back into the national spotlight. Buckle up to watch this process-focused team be well prepared for their opponents this weekend and to go down fighting, if they go down at all.
Seeing What Colorado Can Do When Their Mistakes Cost More
During their season debut at Presidents' Day Invite, Colorado Mamabird found themselves in two double-game point situations and often fighting to get the disc back. Though their offense is stocked with five players from Johnny Bravo and the D-line was getting blocks seemingly at will, there were streaks in-game when Mamabird gave out turnovers like candy at Halloween.
Luckily, Colorado cleaned it up for bracket play. When semis and the final rolled around, Mamabird's vertical stack was nigh-untouchable, and the defense kept forcing turns and converting. They won the two elimination games by a combined 12 points.
Still, the team knows they showed their gaps. The cross-field inside-out hucks and quick-release flicks were not always the best looks. There's clear room for improvement.
"Turnovers are turnovers. We don't have any excuses," said coach Michael Lun. "Throwaways and drops are throwaways and drops. Whenever we are careless it's because we've lost focus."
Losing focus at your first tournament of the year should be expected. Heck, the winter in Colorado has been rough enough that Mamabird — much like teams across the Northeast and Midwest — has spent most of 2017 practicing in a bubble with no wind. There's a grace period for tuning your throws to the competition and whatever conditions the weather offers up.
But this weekend's order is taller than Colorado's last trip westward.
The entirety of Pool B resides in the Ultiworld Top 25. Stanford picked up a big win over Mamabird last year at this tournament. Oregon State has quietly put together a strong record of beating many of the Southwest and Northwest perennial regional contenders. Tufts hasn't played on a full field yet (let alone outdoors), but the younger roster is promising.
Losing focus against Stanford in particular won't end well. The tournament hosts have their pull plays dialed in. Elliott Chartock, Nolan Walsh, and Gabe Hernandez are a strong top three. Blown assignments on Bloodthirsty's side stack won't end well, and Chartock has the patience to take every other pass for minutes on end in order to score.
"Stanford is a good team," said Lun. "They beat us at this tournament last year and really put us in a slump. We might try to disguise a few looks, but more than likely we'll just keep it simple and try to make them work hard. Defense is a grind, and that's the way we like it."
On the other hand, Colorado could clean up their play and serve every team in their path a double-helping of defense, while Mark Rauls speeds all over the field for the O-line. Those two scrapes with UC San Diego and Western Washington might've already sent the message that Mamabird needed to hear. Valuing the disc and sticking to their defensive plans could bring Colorado their second tournament win of the season.
Sneaky Talented Southwest Contenders: Stanford, SLO, And Rooting For Upsets
The two Californian teams in attendance this weekend both hold the second seeds in Pools A and B and both are itching for upsets and they ride improved showings in 2017.
Stanford Bloodthirsty are 7-0, have their second Santa Barbara Invite title in as many years under their belts, and have some excellent experience on hand at the top of their roster. Their side stack spacing and hucking accuracy in late January were superb. One or two of the top guys cross over to help spur the D-line offense after the turn to score breaks.They've had all of February off from sanctioned play. And they have a nice win over Colorado from 2016 that's about to celebrate its first birthday this weekend.
It's not entirely clear if Stanford has a full line of defenders that can slow down a team like Colorado for an entire game3, but they certainly have the offensive talent to exploit a lack of focus when it crops up. And if anyone in the pool was primed to wait out a defense and let them run themselves ragged, it's Elliott Chartock. Good offense might occasionally be boring, but when Bloodthirsty is clicking, it's fun to watch.
Cal Poly-SLO are 12-34, but steadily gaining momentum. SLOCORE lost important pieces in 2016, but have filled in the gaps nicely. Nate Pettyjohn and Cameron "Wheaties" Wariner have continued to impress by jumping through the roof and owning tough matchups, respectively, while Caleb Meriam and Ian Sweeney have stepped up nicely into throwing roles on the O and D-lines.
A system is emerging for SLO. Experience at a high level is earned for this team, and they have watched closely after games when they're outplayed. This team isn't all acrobatics – they learn.
That's what makes at least this reporter excited to stop by the final round of Pool A play on Saturday, when they try to build on all of their experience as a nationals-level team and give Pittsburgh their best shot.
A good weekend here should help buoy both teams' position in the USA Ultimate Rankings, pushing the region ever closer to two bids.
The Curious Case of Carleton CUT
After a preseason full of buzz, highlighted by an MLC tournament championship, Carleton CUT entered Warm Up for their first test of the season. The takeaway from the weekend, though, was mixed. CUT went 6-3 but missed the bracket. They defeated their rival (and reigning national champion) Minnesota Grey Duck, but dropped games to good-but-not-great squads UCF and Florida. They showed a high ceiling but also a leak in the floor.
For those of you on the fence because of their mercurial performance, it's time to get off and plant yourself on the CUT side before it gets mainstream — Carleton has all kinds of upside.
Their level of throwing talent from top to bottom is top-four in the country; they're on a level that only Colorado, Pitt, and Minnesota can realistically match. In the past, this has actually been a double-edge sword for CUT– everybody was too confident in their ability to win with high-difficulty throws, rather than a system, and it led to turnovers. This year they look much more disciplined. Their breaks are still smooth and their hucks are still strong, but this year they come in the rhythm of a system. The only real way to get turns on them is to bait them into an early-count, static huck, or a late count break when they eschew a reset. That is to say, if CUT plays with their mind right, they are extremely difficult to stop on offense.
The real question mark for CUT is their defense, both on a (rare) offensive turn and D-points. They lack a true ace defender who can lock down an opposing superstar — though Sol Yanuck is on the right track — and they rarely get winning-the-matchup blocks. They have athletes, so you can't just huck on them5 but they're not going to fill the highlight reel with takeaways.
However, what they might lack in assertive, overpowering defense they make up for in ultimate IQ. Despite their relative youth, CUT is one of the smartest defensive teams in college ultimate; they excel at help defense. They're all on the same page and it makes their handler switches, brackets6, and last-back help look natural. They have an outstanding sense for when their mark has become unthreatening and good intuition on how to best exploit it.
"I want to see a continuing upward trajectory of being a high-IQ team rather than just putting our heads down and working…We're a really young team but there's a ton of experience and I want to use that to our advantage," said coach Phil Bowen.
Sold yet? While there are still some question marks on the defensive side, as long as they can continue to find ways to manufacture turns, they have the talent to compete with anyone. As their D-line looks gains sophistication and their mental discipline on offense rises, we should expect CUT to be a force all spring. They might not be polished enough to win it all this weekend, but it could be a different story in May.
A List Of Matchups That We're Excited About
All times Pacific.
– Georgia vs. Washington: ft. UGA's Parker Bray vs UW's DY Chen, Round 1, 8:00 AM. Tremendous thrower trying to outgun a turbo-charged speedy defender.
– Cal Poly-SLO vs Texas: Round 3, 11:30 AM. Newest nationals hype team takes on storied program fighting their way back towards Cincinnati. Special grudge: this was SLO's only win at Stanford Invite 2016!
– Oregon vs Wisconsin: Round 4, 1:15 PM. Lightning fast offense takes on big-time defense! Watch it live on Ultiworld!
– Colorado's Mark Rauls vs. The Field: all weekend. Can anyone stop him? Here's hoping he draws Stanford's Gabe Hernandez in the 1:15 PM round or Parker Bray at some point in the weekend. It's a shame Dillon Larberg is hurt 🙁
– Indoor Teams vs The Weather: Tufts hasn't played outside yet in 2017. Besides sunny Warm Up, neither has Wisco or Carleton. With rain and wind in the forecast, how will the teams handle the transition from their practice bubbles to the wild?
– Cal Poly & Stanford vs The USAU Algorithm: Honestly, it looks like the Southwest region might finally be in the clear for earning two bids and avoiding their perennial last-one-out finish: Stanford sits at #9 with seven games in hand and Cal Poly is at #11 with 15 games. Still, things feels tenuous.
The Chemistry Of Washington's Top End
There's no science to this7, but it feels like Washington's top five players — Khalif El-Salaam, Dongyang Chen, Steven Benaloh, Tomás Delgado, and Copper Schumacher — should pack enough firepower to beat pretty much anyone in the division in a given half. Stick a hungry defender like Galen Kornowske in there with a budding thrower like Tian Yuan Chen, and that line can do it all: break the mark both ways, grind unders, sky the pants off a pile, run give and gos, put hucks from anywhere, and play lockdown defense all over the field.
Shouldn't this team have won a tournament by now?8 What gives?
Well, injuries for one. All seven of the players mentioned above were on the roster in 2016, but they barely managed to get onto the field together before the College Championships. El-Salaam, Delgado, and Schumacher are still working their way back to full health this year.
For two, Washington's been good for at least one head-scratching or hair-pulling moment per tournament in 2017. At Santa Barbara, their offense ran out of gas and drifted ever-closer to the force sideline, crowding throwers and creating turns late in bracket play. At Presidents' Day, they coughed up early breaks against SLO, earned them back, and then gave another one up late thanks to a turnover in the end zone to cede the lead.
At least now, nearly at full strength, UW has shored up their defensive positioning and strategy while riding high on some truly brilliant play from DY Chen on both sides of the disc. With Delgado and El-Salaam healing up on schedule, the Sundodgers look ready to play the role of most dangerous three seed at the 2017 Stanford Invite.
Georgia might not be deep enough to fend off hungry Washington defenders from all sides while Parker Bray continues to work his magic in the backfield. Connecticut could be in trouble, since Washington has decisively put away lower seeds so far this season. And — it depends on which CUT team shows up — a solid game plan and some discipline from Washington could put them in a fight for a bye to quarters. It's not out of the question.
The Question Marks on Oregon's Defense
Before the season began, we knew that Oregon Ego's talented young roster from last year would enter 2017 with a year more of experience and a high ceiling, particularly with the influx of another strong freshmen class9. This remains true, but the Ego team we saw at Presidents' Day, at least on Saturday and Sunday, looked like a group of players who, while certainly young and talented, were raw. The step up in polish that had been projected has yet to materialize. This was particularly true of their defensive line, which was unable to bring them back into the game in their upset loss to UCSB, and failed to put away UCSD with the authority their prestige would suggest.
So, what's going wrong? It's not a lack of talent: Ego can hang with the best on 50-50 shots and occasionally grab a highlight reel layout block. But the team struggles to defend 1 through 7 and apply pressure all over the field. UCSD flustered them with quick handler dishes off of in cuts, exploiting small breaks in focus by handler defenders. UCSB capitalized on inactive, passive marks and aggressively attacked the break side.
Downfield, Ego wasn't exactly in their marks' pockets. Though their defenders are athletic, they don't appear to be setting themselves up with a plan for success: there's a lot of chasing going on, as opposed to the dictation normally preached to defenders. Consistent with the chasing imagery, Ego defenders bit hard on set up cuts and got turned quite early, losing position. Captain Tim McGinn noted that Ego has been putting work into their man defense in their brief break between tournaments.
Despite these struggles in man defense, Oregon never changed their looks. There was no junk, or second option. There was a time (circa 2013) when Ego ran an effective clam look, and it may behoove them to cultivate a change of pace option to generate a few more turns.
Perhaps the biggest question mark for the Ego D-line is what they do after they get the turn. The D-line offense had moments of chaos at Pres Day, with dumps setting up in ineffective positions and downfield cutters not clearing space. Tim McGinn, Zach Meyer (questionable for the weekend with a back injury), and Leandro Marx do a serviceable job of running handler motion, but the downfield initiation, flow, and organization isn't quite there, stifling Ego's ability to convert turns to breaks. Chuck has a great deal of potential to help drive, but is still finding his role. To their credit, there were moments in San Diego where it all came together but Oregon was plagued by an inordinate number of ill-timed drops, which one would expect to see cleaned up in the future.
All that said, it's tough to write off a team as gifted as Ego after a few lackluster games at their first real tournament. This weekend they will have the opportunity to answer the questions their Pres Day performance left hanging.
---