15 of the 16 teams at Stanford are in the Top 25.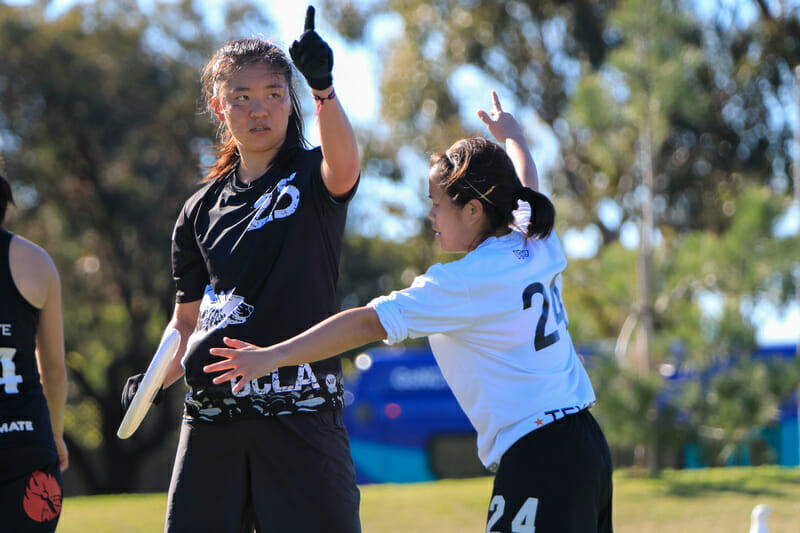 Picture that scene from The Avengers where Thor, Iron Man, and Captain America all fight each other. Picture when Alien fights Predator, or when Freddie faces off against Jason.
That's the level that Stanford Invite is swinging at. 15 of the 16 teams attending are in Ultiworld's Top 25 Power Rankings, including nine of the top 10 teams and each of the top five. The tournament has too much talent for its own good. And with bids on the line, this weekend will be a melee.
Last year there were seven upsets in pool play alone; this year, the pools are even more dangerous. Oregon is ready for revenge as the 2-seed in Texas' pool, while UBC is breathing down Dartmouth's neck in Pool D. Whitman may be dangerously underseeded in Pool A, and even they're not safe from Michigan as the 4-seed.
Let the slugfest begin.
Tournament Profile
Date: March 4-5
Location: Fremont, CA
Weather: High 50s, some rain Saturday afternoon and Sunday, breezy
Top 25 teams: 15
The Big Three Are Becoming Gambling Risks
Stanford Superfly, Whitman Sweets, and Dartmouth Princess Layout were easy bets entering the 2017 season. The first two were in the 2016 College Championship finals, and Dartmouth's roster listed some of the country's most talented players. They were obvious choices.
How the world has turned in just a few months. Stanford had their 27 game winning streak snapped when they fell to Texas at Presidents' Day, Whitman disappointed early at Santa Barbara Invite, and Dartmouth hasn't played since mid-January, when they narrowly won Florida Winter Classic against a weak field. Stanford is the only banker left, and even they have high stakes this weekend. Stanford Invite will answer a lot of questions about these three powerhouses.
Buy: Stanford Superfly (#1)'s confused loss to Texas proved that there was one skill these women couldn't hone: losing. How Superfly bounces back will show the team's elite caliber. The mental errors can be grist for the mill, or they can settle into patterns. No doubt these are the conversations happening in the Superfly huddles at practice since Presidents' Day.
Yet as much as we love the drama, Superfly will still be the most talented program this weekend. The names on their roster are household by now: Monisha White, Michelle McGhee, Courtney Gegg, Hallie Dunham, Caitlin Go. Their system at its best has outmatched every team in the division thus far, and now they get to test big fish like UBC, Dartmouth, and Whitman, all of whom they will likely see in Cincinnati.
Hold: Dartmouth Princess Layout (#4) hasn't been seen on the national stage since their tournament win at Florida Winter Classic. Their wins in early January didn't inspire a lot of hype, and the height of this team's ceiling is the biggest question of the tournament. Can Dartmouth dominate during the regular season the way they did at last year's Nationals?
Their success relies on the performance of their own Big Three – Angela Zhu, Jaclyn Verzuh, and Julianna Werffeli. Their talent is a double-edged sword: teams can't beat Dartmouth unless they shut these three down, but the trio also carries a lot of responsibility on both sides of the disc, which means heavy minutes throughout the weekend.
Sell: The Whitman Sweets (#15) referred to Santa Barbara Invite as their "first date." They were working with a new coach, Gwen Ambler, and they had seven players returning from abroad or injury in the Fall. Their results mirrored the results of many first dates – confusion, lessons learned, and not enough scoring. But if these early results are an aberration, then the Sweets are the most dangerously under-seeded team in Fremont.
Whitman is expanding their range of defensive and offensive options this year, and we can expect to see more mixed lines and experimentation this weekend. Rookies like Lian Gamble, Sarah Schweibert, and Chloe Carothers-Liske will spend time downfield as Whitman rebuilds their cutting depth.
Whitman could rally back into national conversations this weekend…or they could continue rebuilding and focusing internally instead of on the scoreboard. But it's officially no longer the early season, and bids are on the line for the Northwest this year in a way they haven't been in years. Whitman can only roll the dice so many times.
Presidents' Day Teams Get a Sequel
Six of the top eight teams at Stanford Invite saw each other only two weeks ago at the rainy and creatively formatted Presidents' Day Invite, and most of these teams departed La Jolla with something left to prove.
Playing for Redemption
It's been a long time since Oregon Fugue (#6) left a tournament with a 2-5 record. This season's Fugue feels young despite their combined ten seniors, 5th years, and graduate students. The new Fugue's play style is still forming, even when their elite mentality helps them break back into games. Fugue shifted star Hayley Wahlroos downfield late during Prez Day with good results, and they may send her deep again at Stanford Invite if their other cutters can't generate movement. Gabby Aufderheide and Sarafina Angstadt-Leto are also stepping into bigger roles for Oregon as Fugue finds their footing.
The California Pie Queens (#8) and Colorado Kali (#7) were both knocked out in the quarterfinals of Presidents' Day, and both teams felt like they had more to give. These teams have been ready to break through for several seasons, and quarterfinal finishes aren't the breakfast of champions. The Pie Queens are smart and skilled, while Kali is aggressive and energetic. Stanford Invite gives them another round against the division's best – and these contenders are hungry for more big wins.
Playing for Keeps
UCLA BLU (#2) is the divisional darling of the moment. They went undefeated at Presidents' Day Invite – including a finals victory over Texas Melee – with handsome offense and a range of well-executed defenses. Han Chen is one of the most entertaining and talented players in the division, but she doesn't have to play hero ball for BLU. Instead she can go where she's needed, and the whole team benefits.
But UCLA has followed this trajectory before. Last year they were undefeated entering Stanford Invite, and they left with a 2-5 record against the field. The overall caliber of talent at Stanford Invite is higher, and BLU's top ten players will have to play more minutes than they're accustomed to. They should be able to hold down their pool, but elite-level bracket play will be their bigger test.
Texas Melee (#3) returns to California to go another round against the country's best teams. Melee had already put together a tidy weekend at Presidents' Day before they upset Stanford, but that win thrust them into the spotlight.
Texas' returning core knows how to churn through defenses and earn their breaks, and with Julia Schmaltz returning downfield, Texas should also have and easier Saturday. They've already played and beat the 2-seed Oregon this season, and they can lock down on Western Washington and UC Davis. Like UCLA, Texas' potential will shine through once they're dancing with behemoths like Dartmouth or UBC.
Untested UBC Makes a Debut
The UBC Thunderbirds (#5) are typically quiet before Stanford Invite. Last year they came out hot to take third, beating Oregon in the 3rd place game. So far this season, they won the early Bellingham Invite over their Northwest brethren, but they're largely untested. Dartmouth and USC will be a strong dose of reality on Saturday.
Luckily, UBC's top players are far from rookies: Ellen Au-Yeung, Victoria McCann, and Naomi Morcilla lead UBC's fast-paced offense, and together they'll navigate UBC's first post-Donaldson season. UBC's cutters all have excellent break throws in their back pockets, and the team's speed create run-through block chances that generate most of their turns. 6'0″ rookie Kaitlyn Harper made a big impact for UBC at Bellingham Invite, and her defensive instincts will be needed against taller teams like Dartmouth or Stanford.
A lot rides on this weekend for the Thunderbirds: Stanford Invite and Northwest Challenge are UBC's only platforms to compete against the rest of the division, and they're currently unranked.
The Rest of the Field
– Michigan Flywheel (#18) struggled to exert themselves at Queen City Tune Up, where they went 4-3 with only one strong win, 15-10 over North Carolina. The rain and light wind this weekend could play in Flywheel's favor, especially if Hannah Henkin and Tracey Lo take control.
– Offensive efficiency was Ohio State Fever's (#11) homework from Queen City Tune Up, and Pool B opponents UCLA, California, and Washington will offer them plenty of practice. Sadie Jezierski has been instrumental in Fever's zone, and in this weekend's conditions, her disc skills will be put to the test.
– Western Washington (#10) improved their game throughout President's Day Invite, particularly when they downshifted their pace on Monday. But WWU will need a whole new gear if they want to out-hustle Texas and Oregon in pool play. Maddie Gilbert remains one of the Northwest region's best five-tool players, and Tiffany Phan is the team's offensive heartbeat.
– The USC Hellions of Troy (#12) have had a promising early season, propelled by the talents of Julia Johnson, Alyssa Perez, and Connie Chan. The Hellions often let themselves play into close games, but they'll have thinner margins for error against teams like Dartmouth and UBC.
– If Colorado College Strata (unranked) came west again for more elite experience, they hit the jackpot. Strata went 2-4 at Presidents' Day Invite against a weaker slate of teams, and they'll face three of the tournament's bigger defensive forces in pool play alone.
– Washington Element (#20)'s early season makes them hard to predict. They beat Victoria 15-6 at Bellingham Invite, but lost to UBC and WWU by 7+ points. At Presidents' Day Invite they opted to drop into the consolation bracket, where they beat most teams but lost to Colorado College. Element could upset Ohio State, or they could stay under the radar once more.
Let's Talk About Rankings
According to Ultiworld's recent approximation of the current bid snapshot and the first official USAU rankings, this is what the women's division faces:
Atlantic Coast: 2 bids
Great Lakes: 1 bid
Metro East: 1 bid
New England: 2 bids
North Central: 1 bid
Northwest: 2 bids
Ohio Valley: 2 bids
South Central: 3 bids
Southeast: 1 bid
Southwest: 5 bids
This is still an early bid picture — and there's very little east-west connectivity so far — but for the first time in several years, the Northwest has to work themselves out of a deficit. Strong performances from UBC (currently unranked) and Whitman in particular could reshuffle the equation after the weekend, but the upper left isn't playing in the lap of luxury anymore.
Southwest teams (beyond Stanford) earned early wins over the Northwest, and they weren't flukes. A deep Southwest has been several seasons in the making, and contenders like California and USC are ready to see their region get its due.