The division's top teams battled it out in a messy weekend in California.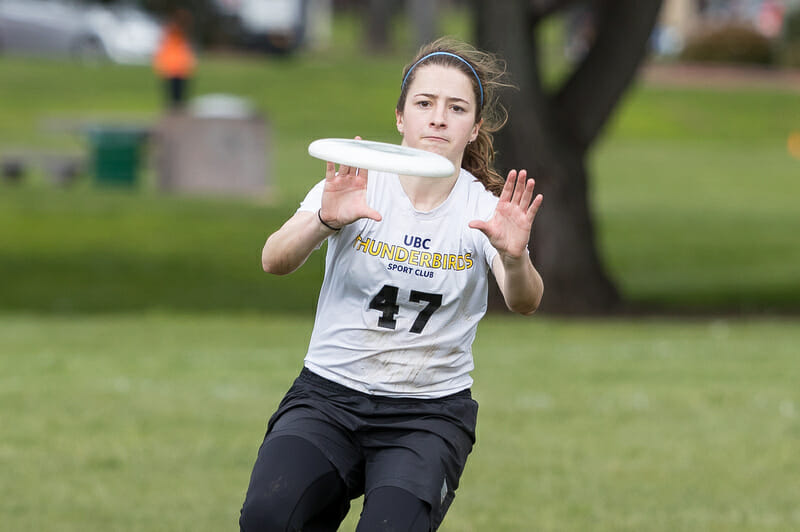 FREMONT, Cal. — After the dust has settled and the hail has ended, a new picture of the top of the Women's Division is emerging from Stanford Invite 2017. Stanford is no longer the best team in the division; they may not even be the second best team. Dartmouth stormed in from the east to win the Stanford Invite final 13-11 and to close out a dominating weekend.
Texas, Oregon, and UBC all rose to the occasion on Sunday, while underdog favorites Whitman and USC failed to make bracket play.
It's true that Nationals isn't won on the first weekend of March, and certainly last year's Central Florida team proved the adage. But competitive weekends like Stanford Invite are helpful guideposts for teams with big ambitions, and cross-region games matter a lot to teams who are watching their strength bids evaporate.
What We Saw
Dartmouth Is A Serious Contender
Last year, #4 Dartmouth Princess Layout spent their regular season hobbled by injuries and struggling to win. They were missing sophomore Jaclyn Verzuh for all of the regular season, and Angela Zhu was on-and-off the field as she battled injuries. Dartmouth couldn't unleash the fury that was their full potential until Nationals where they jumped from the 18-seed to a tie for 5th.
Injuries still affected this Dartmouth team at Stanford Invite, but their top eight were strong. That core rocketed Dartmouth through the tournament, past a flustered UBC 13-5 in pool play and a shocked Stanford 13-5 in the semifinal. The Big Three — Verzuh, Zhu, and Julianna Werfelli — lived up to the hype, but it was the rest of Dartmouth's starting line that made the engine hum. Sophomore Caitlyn Lee submitted a stellar defensive weekend, Lily Eisner was a much-needed hub in the handler space, and Piper Curtis returned as a smart cutter with throws to match.
"This tournament was trying out our Regionals/Nationals rotation, with the mentality of 'We'll see how far we can get,'" said head coach Eugune Yum after their final win. "Maybe [in] Seattle we'll try to go back and redevelop [the role players] so that they're Regionals ready, Nationals ready… Our whole goal from here on out is to develop everyone so that they can contribute."
Dartmouth accomplished what they set out to do at Stanford Invite. With no need to fret over bids, they can afford to play deeper into their bench at Northwest Challenge. They leave California unchallenged and hungry for more and will surely jump to #1 in the Power Rankings this week.
Texas' Mental Strength Carries Them To Another Final
#3 Texas Melee's playbook is just one word, scrawled on the inside flap of a Trudy's menu: grind. Texas gritted out a lot of tough wins to get to the final, and the challenges and long points only seemed to make them stronger. Texas proved this weekend that the equation for a semis-caliber team is simple: chemistry, effort on defense, a few hucks, and a very talented deep threat. They're not the most technical or the most disciplined team in the division, but they might be something better. They might be the toughest.
"We came to these tournaments wanting to play well, but we never really had finals in our minds…," said Texas captain Julia Schmaltz. "This year to be in the finals back-to-back in very elite tournaments has been great."
Schmaltz was the difference maker for Melee this weekend, especially when compared with their performance in the Presidents' Day final. Her deep attacks opened the field for Texas, and Shiru Liu, Dre Esparza, and Domenica Sutherland could throw into space knowing that Schmaltz would track the disc down. She scored five goals in the final and had three blocks, all while trying to limit Dartmouth's Jaclyn Verzuh.
Texas' penchant for close games could get them in trouble in the longer Nationals format, particularly since many of their top players cross between O- and D-lines. They plan to work on their efficiency in two weeks when they host their hometown tournament, Centex.
"We think we set the bar at President's Day, and we pushed it up again now," said Schmaltz after the final. "This is all fuel to the fire, for sure. Sometimes it's nice leaving a tournament with a bitter taste in your mouth."
Stanford Trips Again
Mental mistakes interrupted #1 Stanford Superfly's run once more at Stanford Invite. While they handled Michigan and Whitman with relative ease, Colorado took them to task in the final round of pool play, and Stanford had to fight to get through the game 13-10. Colorado plays a very similar style of defense to Texas, the first team to beat Stanford, and the tight pressure forced enough mistakes for a close game.
Their troubles continued on Sunday when they faced Oregon Fugue in the quarterfinal. Instead of another blowout, Stanford had to fight tooth-and-nail to beat Oregon 11-10, all for the pleasure of facing Dartmouth in the semifinals. Rain, wind, and mud made that semifinal a true test of will, and Superfly couldn't build momentum early. Dartmouth broke three times in the first five points, and Stanford never even had a chance to claw back into the game.
"I think we struggled with the conditions, we had a lot of bad throws, I don't know," said Stanford's head coach Robin Knowler Davis after the semifinal loss. "I feel like we had a lot of unforced errors. [Dartmouth] played inspired — they were fired up and ran with the momentum that they got."
Stanford's small roster frequently benefits them because the tighter rotation of women has more playing time together, and it's easier to develop a high level of skills in a core of players. But small numbers on your sideline also mean when Courtney Gegg has a bad point, she doesn't get two points off to compose herself and rally. Superfly already knows how to win, but before they reach Nationals, they're going to need to learn how to deal with adversity.
"Scores in March really don't matter," Knowler Davis said. "It's all about getting better, and now we have a lot of things to work on."
UBC's Strong Debut
#5 UBC Thunderbirds came to Stanford Invite to compete in their first sanctioned tournament of the regular season. There was certainly rust on Saturday as UBC had two double game point wins; they had to break to squeak out of prequarters vs. Colorado. But UBC played the top three teams in the country in UCLA, Texas, and Stanford on Sunday, and they came away with a 2-1 record.
UBC's offensive spacing improved tremendously on Sunday, as they would often record easy holds in just a few throws. "[Sunday's goal] was execution and making ourselves accountable on offense," UBC coach Candice Chan said. "Our offense was, like, ten times better than yesterday. The offensive execution and calmness is what made a difference today."
Ellen Au-Yeung is a star, getting open underneath often and showcasing an impressive array of continuation throws. Victoria McCann was often on the receiving end of goals both as a deep cutter and in endzone offense, and Traffic's Naomi Morcilla impressed defensively. With talented players and depth, UBC has certainly adjusted well in the post-Mira Donaldson era and have set themselves up with room to improve at Northwest Challenge.
Cal Turns In Excellent Weekend
Like UBC, the #8 California Pie Queens also went 5-2. However, all five of Cal's wins were by a dominant 5+ goals. Cal is led by a very deep, fast-paced defensive line that can record breaks in a hurry. Jackelyne Nguyen and Kim Long are great players, but Cal's depth is what carried them in all of their blowout wins. Cal struggled against the star power and size of UCLA's Han Chen and Dartmouth's Jaclyn Verzuh, so if they can make adjustments in that regard, they could be a scary team going forward.
UCLA Falters With Too Many Turnovers
#2 UCLA BLU wasn't able to repeat their strong run through the bracket this weekend, falling in the quarterfinal to UBC and dropping to seventh place overall. They weren't able to shut out teams in pool play, playing long points with a lot of turnovers. BLU knows how to generate turns, particularly in their zone defense, but their D-lines couldn't convert efficiently. Perhaps when you have the most efficient solution at your disposal — Han Chen hucking to an open cutter to score — then the 50-pass points are tougher to work through.
Chen, Wilson, and Liang still played excellently this weekend, and Chen's unreal throws and playmaking instinct make her a frontrunner for Player of the Year this season. But execution and efficiency will have to be the name of the game going forward if UCLA wants a run in the bracket in May.
Oregon Starting To Peak
#6 Oregon Fugue went toe-to-toe in pool play against Texas on Saturday in a rematch of their close loss at Presidents' Day Invite. They gave Texas a tough game and they played even better in their quarterfinal game against Stanford on Sunday, holding a 10-9 lead before Stanford came back.
Oregon's isolation open field offense was a thing of beauty, led by some of the best throwers in the women's division with Hayley Wahlroos, Ella Hansen, and Kaitlin Brunik. Downfield, Lillian Weaver was particularly impressive. Oregon has to work on consistency in zone looks, but the potential is there, and they'll have another chance to test these looks at Northwest Challenge in a few weeks.
Notes From The (Very Impressive) Field
#18 Michigan Flywheel surprised everyone by upsetting Colorado in pool play 12-9 and nearly upsetting Whitman as well. They worked past Colorado College in the prequarters and then almost shocked Texas in the quarterfinal. This performance is a marked improvement on their mixed results from Queen City Tune Up. Hannah Henkin and Tracey Lo were still staples in the backfield, but less familiar faces like juniors Brittany Wright and Amy Stoddard were crucial elements in their downfield.
#7 Colorado Kali played great games against some of the tournament's top teams. Their zone offense improved since Presidents' Day and they didn't lose momentum in close games if they were down a few points. They were one agonizing point away from the quarterfinals, losing to UBC on double game point. Kirstin Johnson played on both the O- and D-lines throughout the weekend, and she remains the core of their game.
#11 Ohio State Fever played their best game of the tournament in pool play against UCLA, leading 7-5 at halftime and possessing the disc on double game point. They did an incredible job neutralizing Han Chen. All weekend, Sadie Jezierski displayed great throws and patrolled the deep space defensively, while Mary Turner played lockdown defense. Ohio State definitely had peaks and valleys this past weekend — they got destroyed by Oregon — and will likely try to improve their consistency at Centex.
#12 USC Hellions of Troy (#12) came out so hard on Saturday. They narrowly lost to UBC 13-12 in their first game, and then they rallied back into their matchup with Dartmouth, who still won 13-11. Two games of all-out play took their toll: in their final pool play game, the Hellions were upset by Colorado College. USC has proved that they can contend with big swingers in the division, but they haven't been able to do so for a full weekend yet.
WWU, Whitman and Washington all dropped into consolation play this weekend. WWU Chaos was winless this weekend, while Washington's only victory was over WWU. Whitman fared better and only missed the bracket by one point, but their 3-3 record (with two of the wins over WWU and Washington) doesn't promise a high ceiling for the Sweets this season.