Centex and Tally Classic made it a big weekend for the men's division, both D-I and D-III.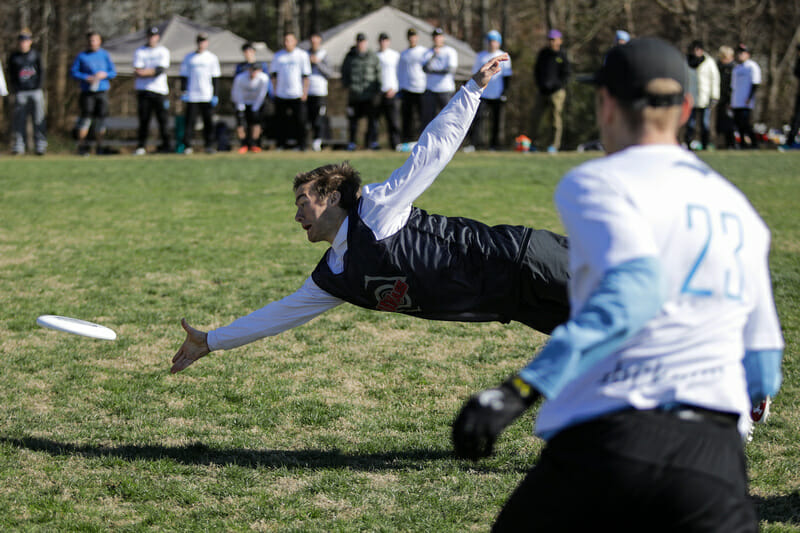 During the spring season, we will publish a bite-sized weekly recap of the action across the College Division. This will serve as a supplement to our standard tournament reporting and will offer a high-level look at the latest happenings and the biggest stories of the week.
Want your tournament listed here? Submit a recap of what happened right here.
Men's
UMass Deals North Carolina 1st Loss To Win Centex
#5 Massachusetts Zoodisc claimed the crown at a hyper-competitive Centex, defeating #1 North Carolina on double game point in the final, 15-14. Ben Sadok led an effective UMass squad, who played their best on Sunday in bracket play. They did enough to earn the early advantage in the final and held off a UNC comeback to deal the #1 ranked team their first loss of the season. While UMass did take losses to #3 Minnesota — who they got back in semifinals — and #11 BYU, they leave Texas as the Centex champs and reinvigorate their season trajectory.
For more on Centex, check out our tournament recap, final recap, and scores.
UNC Wilmington Holds Top Spot To Win Tally Classic
#9 UNC Wilmington Seamen came into Tallahassee as the top ranked team and delivered, in the end, the expected performance by defeating #18 Central Florida Dogs of War 15-10 in the final. Willie Stewart, Jack Williams, and Austin McGrayne championed Seamen's effort; for the majority of the weekend, they were clearly the most talented team at the tournament. The lone exception is a jarring surprise loss to Emory in pool play, but otherwise, few teams ever threatened the Seamen.
For more coverage of Tally Classic, check out our tournament recap and scores!
D-III Update: Centex, Tally Classic, And Looking Ahead To A Huge Weekend
John Brown Ironfist With Program-Defining Win At Centex
Coming into Centex as the top seed of a pool in the Silver Division, #6 John Brown Ironfist had to run the table on Saturday to earn their spot in the championship bracket. JBU did just that, picking up impressive wins against Oklahoma and Iowa along the way. This set Ironfist up for a clash against traditional D-I powerhouse #21 Texas TUFF in prequarters.
On the Centex recap episode of Deep Look, Charlie told the story about how Texas's program has served as the example John Brown aspires to; on this day, the student surpassed the master, as Ironfist upset TUFF 14-12. More impressive than the win itself was how JBU pulled off the upset, breaking on the last two points to win in cap. Ironfist finished out the weekend with a spirited 15-9 loss to defending national champions Minnesota and a closely contested 15-13 loss to Colorado State, proving that their high level of play in the Texas game was no fluke. John Brown's performance this weekend will see the leap up our power rankings this week.
Alabama-Huntsville And Union Hold Steady At Tally Classic
The outlook on Tally Classic was simple: a few top-tier teams would dominate, and the rest of the field was comprised of regional-level teams duking it for positioning and hoping for an upset against the top seed in their pool. #8 Alabama-Huntsville Nightmares and #25 Union Jaxx were the lone D-III representatives in that melee and they both showed that they could hang with the rest of the pack.
The Nightmares finished the tournament with a 3-4 record and 12th place finish, but to simply look at their record sells their performance short. They let a 10-7 lead against South Florida slip away to a 12-11 loss, and they battled back from an 8-5 halftime deficit against Kennesaw State to come up just short and lose 13-12. These kind of tough losses are the ones good teams learn from, and UAH will be better for it come Southeast Regionals.
Coming into the tournament seeded 16th, Union finished right around where they were seeded, with a 3-5 record good enough for 15th. Jaxx came into the weekend seeking some big wins on which to hang their hats, and they got those wins with a solid 11-7 win over Emory in pool play and a 13-9 win over UT-Chattanooga in the 15th place game. Union's 14-10 loss to Alabama-Huntsville should provide plenty of fuel to their fire going into the Series, but Jaxx proved this weekend that the Southeast D-III region has some quality depth and will be a much more fascinating Regionals than in years past.
Looking Ahead
This weekend is the biggest of the season so far in D-III, with 13 of our top 25 teams in action. If you missed it last week, be sure to check out our D-III midseason Power Rankings check-in.
Seven of those teams will clash at DIII Midwestern Invite, where #3 Air Force and #6 Colorado College will test themselves against quality D-III competition from east of the Mississippi. This tournament will also serve as the first of the season to several teams in attendance, including #9 Wheaton, #19 Brandeis, and #22 Oberlin. Four more ranked teams will be at Oak Creek Invite, highlighted by a pool play matchup between #10 Williams and #23 Davidson. Finally, #7 Carleton GoP and #18 Georgia College will be in action at Southerns, where the defending national champions will look to right the ship after a rough start to their season.
These three tournaments are going to begin connecting D-III teams from both coasts, and we should have a much more informed idea of the bid picture next week.
Women's
Notre Dame Scores Big Win At Tally Classic
If there are any lingering hopes for a two-bid Great Lakes Regionals this season, Notre Dame Womb has gathered them up to start galvanizing them. The unranked team went undefeated on the weekend, upsetting #17 Florida in the semifinals to the tune of 15-10 and outscored Kennesaw State in the final — two teams were both ahead of Notre Dame in USAU's rankings. It is likely both Notre Dame and Michigan, the top ranked teams in the Great Lakes, will be just outside of the bid earning spots, so their final events will be their last gasp.
Vermont Mashes Mash-Up Competition
#24 Vermont Ruckus came home from Mash-Up with a clean sheet and a tournament crown in an impressive performance. Vermont blew out their first five opponents before their biggest test, a semifinal matchup with No. 2 seed Liberty. They narrowly fought off Liberty, winning 13-12, and earning a spot in the final versus Columbia, who they topped 12-9. Vermont certainly has all the makings of a classic New England spoiler.
D-III Update: Elon & Swarthmore At Mash-Up, Georgia College Undefeated At Rip Tide
Three ranked teams took the field in D-III Women's this past weekend: #21 Elon, #23 Swarthmore, and #25 Georgia College.
At Mash-Up, both Elon Wild Rumpus and Swarthmore Warmothers struggled to get it going. After both teams held their spot in pool play, Elon was able to hold seed on Sunday, finishing seventh with a win over Masschusetts. Swarthmore could not complete the same feat, falling to a Wisconsin-La Crosse team they beat on Saturday. The teams finished a combined 5-6, a fairly middling performance.
Meanwhile, Georgia College Lynx Rufus ventured to their second event of the season and found notable success at Rip Tide. Despite their No. 3 seed, Lynx Rufus went undefeated at what became a one-day round robin. It was valuable out-of-region competition for Georgia College.
Lynx Rufus' most likely competition in the Southeast is North Georgia, who went 2-5 at Tally Classic. It looks unlikely North Georgia will gain ground on Georgia College in the USAU rankings, which could be a big determining factor in who takes the region's bid to Nationals.
Quick Hits
Cornell won their second straight tournament, improving their record to a sterling 13-0 by winning Atlantic City. They mostly crushed the competition and are one of three undefeated teams in all of college ultimate that have played 10 or more games.1
The non-tournamnt related big news this week was the season-ending suspension for #21 Western Washinton Chaos.
Looking Ahead
The annual bid battlefield that is Women's College Centex (W) is on the horizon, pitting six teams from Ultiworld's Top 25 in a deep field, headlined by #2 Texas. Even with a weaker crop than the past few years, seven teams in the thick of the bid race are in attendance, too.
D-III Midwestern Invite (M) is exactly what it sounds like: an awesome collection of D-III's top teams. It's a major part of the biggest weekend this D-III regular season.
Indy Invite (M) shouldn't be overlooked, as top Great Lakes teams, #14 Michigan and Northwestern, are atop power pools. Will we get a preview of the Great Lakes final?
Other Events: College Southerns (M/W), Cool Down: A Binghamton Affair (M/W)2
---
The others: Dartmouth women's and Montana State men's. ↩

If the weather lets them ↩