The deepest women's field of the season gave us a sneak preview of where Nationals contenders currently stand.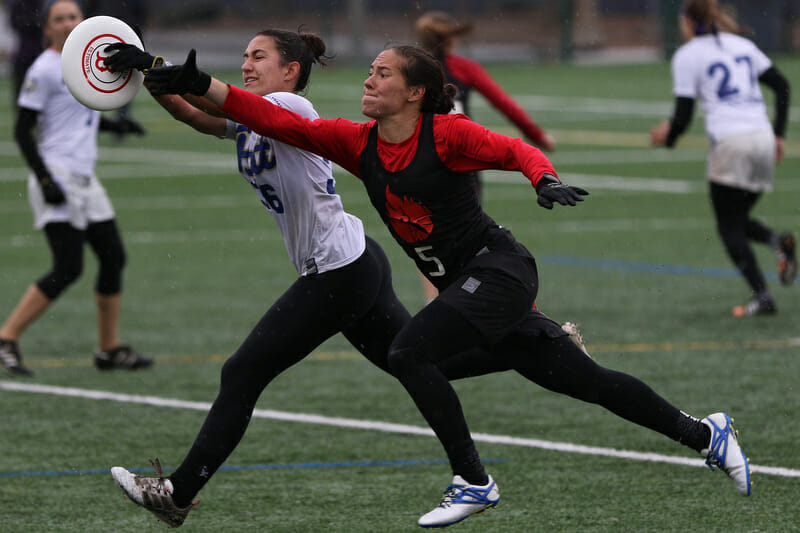 Ultiworld's reporting on the women's division of Northwest Challenge 2017 is presented by VC Ultimate as part of their season-long support of our women's coverage; all opinions are those of the author. Please support the brands that make Ultiworld possible and shop at VC Ultimate!
SEATTLE, WA – Northwest Challenge managed to bottle every ounce of competition, upsets, wildcard weather, and format drama from this women's college season into a three-day weekend.
There were nine upsets in the books before most games were cancelled three rounds into Saturday, which totals out to more than a quarter of the total games played. Pool C was the only pool without upsets, and yet it still sent the 2-seed California into the bracket based on point differential.
While heavy rains in Burlington shut down the fields, it didn't dampen the level of play among the division's top teams. Most teams brought their best and, as a result, the picture of what Nationals could be has never been clearer.dart
There were a lot of storylines this weekend, so buckle in.
Where Did Notre Dame Come From?
#25 Notre Dame Womb made a strong impression in their first trip west by destroying all four Northwest teams in their pool, including #3 UBC and #7 Oregon. They nearly rallied to upset Stanford in the semifinal before taking out #6 California 13-11 to win third place. Their blazing path through the tournament left the division and spectators asking: where did this team come from?
How short the collective memory can be. Notre Dame took the lone Great Lakes bid to Nationals in 2015 with a loose play style, big throws, and physical defense. This year's iteration of Womb retains the same key components and many of the same players. Captain Julia Butterfield is a force on field who can huck over the arms of a team's best mark one point before skying the team's best deep defender on the next.
"[Butterfield] had a phenomenal game," said California's coach Manisha Daryani after their third place matchup with Womb. "Like, she roofed the crap out of a couple of our players."
Junior Sarah Lipscomb continues to punish the deep space for Womb, MK Andersen is tireless downfield, and lesser known players like Mary Hermann and Dina Vu anchor Notre Dame's offense.
The Notre Dame of 2017 is more skilled and polished than their 2015 team, too. They handled Oregon's zone with ease on Friday and they take higher percentage shots deep. But Womb continues to play unlike any other team in the division. Their style is inimitable, and it's working.
Stanford Returns To The Top
#4 Stanford Superfly returned to the winner's circle after two tough wins in the bracket on Sunday. They kept Notre Dame at bay in the semifinal 13-11, and smart defensive adjustments helped them fight from behind to win their final against Pittsburgh Danger. Each game presented mental challenges, and Stanford didn't blink.
Northwest Challenge presented another obstacle as well: Courtney Gegg was sidelined on Sunday after Saturday play aggravated a nagging foot injury, and it's unclear now whether she'll be able to play at Regionals. Her absence could have a big impact on Stanford's postseason, but this weekend it meant Stanford could flaunt their other cutters' talents without her downfield.
While Monisha White, Michelle McGhee, and Hallie Dunham are mainstays behind the disc, downfield Superfly successfully cycles through a deep rotation of cutters. Beyond Harris, Go, and Gordon, lesser-known players like Sesha McMinn, Elise Bruguera, Deanna Abrams, and Carly Eckstrom held their own this weekend.
Stanford's system is adaptable and their roster is deep. With the regular season's mental errors behind them, Superfly enters the postseason even stronger.
New Semifinal Contenders In The House: Pittsburgh, California, And Virginia
Pittsburgh Danger, the California Pie Queens, and Virginia Hydra emerged from the cream of the crop this weekend as three truly elite teams who each could battle their way into a semifinal game in Cincinnati.
Virginia Hydra
#12 Virginia Hydra was the only team besides Stanford to go undefeated this weekend. They handled Saturday pool play with all the composure and grace that their system creates, and on Sunday they edged out Oregon and upset UCLA to win the fifth place bracket.1
The Hydra formula looked familiar. Virginia holds their space on the field better than any team in the country and they'll throw a thousand swings and easy under passes before attempting a riskier huck. Keila Strick and Tess Warner were still crucial on Hydra's big points, but Emma Price, Ellie Woods, and grad student Brandi Skanes each played heavy minutes and made an impact for Hydra. Virginia is the easy favorite for the Atlantic Coast, so the only question is: can they make another semifinal run this year at Nationals?
Pittsburgh Danger
#16 Pittsburgh earned their second place finish the old fashioned way — through deep fundamentals and smart defense. They began Northwest Challenge by upsetting Dartmouth 14-12 in the only game Jaclyn Verzuh played this weekend, and their wins over Michigan and Washington would secure them the pool on Saturday. Their semifinal game with California was a Nationals-caliber battle, one they won 12-11 before facing Stanford in the final.
Danger's downfield pushed Pitt's pace to a faster gear because cutters didn't hesitate to advance the disc. Carolyn Normile could and did command her offense's movements, but she didn't have to be involved in every yard gained. Teams couldn't count on Pitt to gift them break chances or easy turns; Danger's offensive efficiency stemmed from excellent timing downfield and pinpoint throws instead of from conservative decisions.
"We didn't have a lot of expectations coming into the weekend," said Pitt captain Sarah Russek after the final. "We just wanted to work hard and have fun… we didn't get the win, but we're still very happy with the weekend."
California Pie Queens
While NW Challenge didn't result in a fifth strength bid for the Southwest, the #6 California Pie Queens played the best ultimate of their season this weekend. They shut down their pool on Saturday with a +31 point differential, and their two losses in the bracket were within two points. They agreed not to play UCLA on Saturday, but come Regionals, California may be the favorite in that matchup.
The Pie Queens play a fast, versatile offense that demands a lot of hustle and coordination from their downfield. Those pieces weren't always clicking in January, but this weekend the offense founds its groove. Jessalyn Siu, Kimberley Long, Allison Griffith, and Hannah Ellis worked hard for Cal in the lanes so that handlers always saw two to three options before stall seven.
California's strategic agility and athleticism have boosted them into quarterfinal and semifinal conversations in the latter half of the season, but for now, the Pie Queens are focused on one thing: surviving Regionals.
"The real season starts today," said Daryani after Cal's final game. "It starts now, because now it's a dogfight to get out of the Southwest [region]."
Dartmouth Opens Lines & Suffers Losses
It wasn't a secret that the No. 1 team at the tournament would be opening their lines for NW Challenge, and indeed Dartmouth determinedly kept an open rotation, no matter the score or consequences. Veterans Angela Zhu, Julianna Werffeli, Caitlyn Lee, and Lily Eisner provided stability in the backfield, but the chemistry gap between the handlers and Dartmouth's downfield was evident at times.
Jaclyn Verzuh only cleated up for Dartmouth's second game against Pittsburgh, but for the rest of the tournament she was a vocal sideline presence, helping her teammates downfield. The decision to keep her off the field was in part to give other cutters reps, and in part to give Verzuh a chance to rest.
Dartmouth went 3-3 at NW Challenge, losing to Pittsburgh, Michigan, and North Carolina. The wins mean more to these teams and their rankings than the losses do to Dartmouth — they're still the division's No. 4 team — but Dartmouth's depth issues are still an obstacle the team is grappling with as the regular season ends.
"We were able to develop our depth and identify new things to work on as we head into the Series," said Dartmouth captain Julianna Werffeli after the tournament. "You can never get enough reps… [and] the record was not the criteria we are using to evaluate our development for the tournament."
The Northwest Region in Trouble with Three Bids
It was another disappointing weekend for the Northwest region — and at their namesake tournament no less. The five Northwest teams went a combined 5-11 against out-of-region teams, and four of them were annihilated by Notre Dame in Pool B.
#7 Oregon and #3 British Columbia are the first two in line for the region's sparse bids. Oregon stumbled against Notre Dame on Friday, but the rest of their wins — and even their losses — signal that Fugue is finally finding their footing, despite injuries. Sarafina Angstadt-Leto was sidelined midway through the weekend due to an injury and Lillian Weaver was out for the full tournament.
While they were physically outmatched by Notre Dame, British Columbia remained consistent and skilled throughout their three day format. Their loss to Oregon could be foreshadowing for Regionals or simply Round One between two rebuilding Northwest powerhouse programs. Ellen Au-Yeung and Naomi Morcilla lead the young squad to high-margin wins against Colorado and UNC on Sunday to handily win the ninth place bracket.
Whitman Sweets and Washington Element had even tougher weekends. #17 Whitman won their pool play game against BYU and they finished strong on a 13-4 victory over Carleton, but they lost close battles to Oregon and Vermont. Whitman's rookies, particularly handler Akane Kleinkopf, are coming into their own on the field, which the Sweets will need in the postseason since Claire Revere could only play light minutes on Friday due to preexisting injuries.
#19 Washington Element went 1-5 at NW Challenge, with a late win over Georgia Tech to end the weekend. Element began their Friday night showcase game with a generous helping of crowd-fueled energy, but Carleton rallied back with an incredible seven point run out of half to take the lead and win the game. The crystal ball for Washington's national hopes is looking dimmer by the week.
The Fate Of The Southwest's Bids
Beyond Stanford and California, three other SW teams traveled north to NW Challenge with hopes for gaining a fifth bid for their stacked region. But such luxury wasn't in the cards for these Golden State teams.
#5 UCLA BLU only played four games through the weekend due to the schedule change, which pushed them into the fifth place bracket. BLU looked sloppier in the rain on Saturday, but their efficiency improved on Sunday. BLU head coach Alex Korb couldn't attend NW Challenge, but his absence only showed in UCLA's decreased defensive creativity — they made fewer defensive adjustments than they usually do. BLU used the same zone to force Michigan and Virginia to play agonizingly patient offense in order to score on Sunday.
The #11 USC Hellions of Troy played and lost an all-out battle with North Carolina 15-13 in their first round on Saturday, only to get blown out by California in the next round. They won their bracket games against Vermont and Carleton, but these weren't the big wins USC was hoping for out of the weekend.
#20 UC San Diego Psycho needed to win big on Saturday in their predominantly out-of-region pool, but they were unable to take control in the muddy conditions and without one of their best players, Dena Elimelech, who missed her flight. UC San Diego's success this season didn't come from just one player, as Leanne Go, Kelli Iwamoto, and Christina Huynh kept the Psycho engine running. But big playmakers can make a difference in close games, and an extra weapon would have helped against Vermont. Elimelech joined UCSD for Sunday, when they went 2-0 over Georgia Tech and Washington.
The Insanely Talented Field
#8 Colorado Kali 

didn't have the weekend they hoped for. They left Seattle with only one win, over UC San Diego, and a swath of losses to top tier teams like Virginia, UBC, and Stanford.

#13 Michigan Flywheel fought through a lot of tough games this weekend. They were 3-3, but they still managed to be +4 on the weekend with most games ending with a sub-2 point differential. They struggled against teams with big deep games, which could spell trouble for their inevitable matchup against Notre Dame at Regionals.
#14 North Carolina Pleiades 

won a close battle over USC in their first round on Saturday, but elite teams like California and UBC challenged their depth and efficiency. Lindsay Soo is the truth. 

#15 Carleton Syzygy 

won under the big lights over UW Element, but they were missing Claire Thallon for the full weekend, which hobbled their offense. A win over Pitt during pool play would be their only other win for the weekend, a win hedged by the fact that Pitt had already secured the pool. Despite Thallon's absence on-field, Syzygy still looked like the best team in the North Central. 

#23 Vermont Ruckus broke seed from 18th to finish 14th overall, with nice upsets over UC San Diego and Whitman. The trip west to take on top competition was a valuable experience for New England's third team who may need to upset Tufts or Dartmouth to qualify for Nationals.
Georgia Tech 

was without their anchor Julia Ting due to injury, so the onus fell to Taylor Hartman and freshman Ollie Peterson to command the offense for Wreck. Hartman and Peterson submitted elite performances, but Wreck was still winless on the weekend.

BYU CHI 

went winless on Friday and Saturday, but their fundamentals are strong, and they put up 11 points on Oregon before Fugue could close out the game. Kaylie Bartholomew was one of the most exciting players to watch on Friday.
---
They were moved into the fifth place bracket in part to accommodate other teams who needed to leave earlier and in part so everyone could maximize regional diversity. ↩