A boatload of title contenders and POTY short-listers clash this weekend in Myrtle Beach.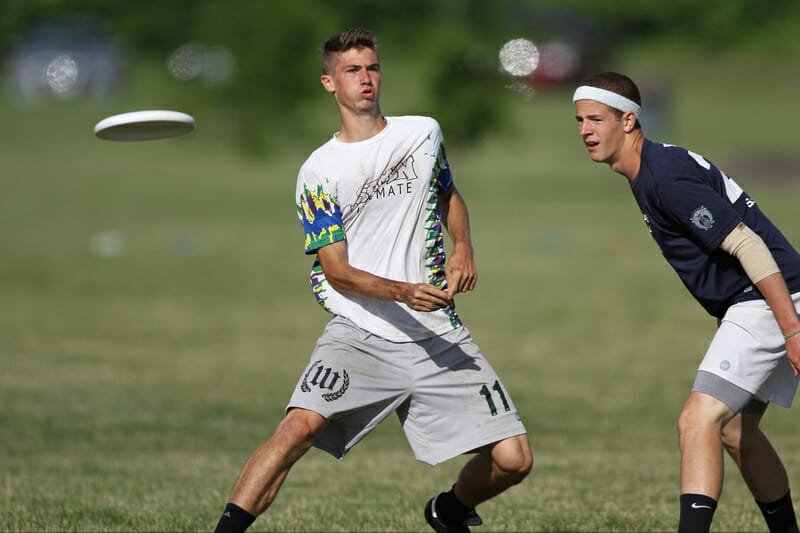 Ultiworld's reporting on the men's division of Easterns 2017 is presented by Spin Ultimate; all opinions are those of the author. Please support the brands that make Ultiworld possible and shop at Spin Ultimate!
We're one sleep away from Easterns 2017, where 17 of the teams in the Ultiworld Top 25 will compete in Myrtle Beach in search of wins that'll put a bow on their regular seasons, keep strength bids in their region, and ramp up the speed of their play in prep for the postseason.
There's action all weekend in both the marquee matchups and down in the nooks and crannies of these massive six-team pools. Eight of the top ten teams in the country lead the way, but plenty more will be fighting to try and make the top two in their pool and sneak into the quarterfinals on Sunday.
With so much to watch, we put on our ultimate nerd hats1 and broke down what's on our minds heading into the weekend.
Tournament Profile
Date: April 1-2
Location: Little River, SC
Weather: Sunny and mid 70s on Saturday, sunny and high 60s on Sunday
Top 25 teams: 17
If We Picked Our Final
It may not be the most imaginative choice, given that they are the top two seeds at the tournament, but a clash between #1 Pittsburgh and #3 North Carolina in the final would be entertaining and illuminating.
Pittsburgh comes to Easterns with two tournament titles already under their belts this spring; the lone blemish on their record was avenged when they soaked Minnesota in the final of Warm Up. Similarly, North Carolina enters the weekend with two titles and only one loss, and until they stumbled against UMass in the final of Centex they were the title frontrunners.
If these two powerhouse programs reach the final, either outcome provides an intriguing narrative. Pittsburgh completing the regular season triple crown of Warm Up, Stanford, and Easterns would put them in rarified territory. North Carolina proving that their Centex loss was just a blip would indicate that they are ready to finish the season just as strongly as they started it.
But narrative aside, the aesthetics of this game are off the chart. Both teams have suffocating defenses and offenses that thrive on pace-and-space flow. Carolina's poachy, "man and a half" defensive schemes eat up a lot of real estate on the field, but Pittsburgh's disciplined offense is among the best at manufacturing open windows with stack discipline and by aggressively attacking the break space. Seeing Andrew Lehmburg try to poke holes in UNC's coverage and Jack Slevin or Thomas Edmonds attempt to solve the Rubik's Cube that is UNC's handler sag would make every point a chess match.
On the other side of the disc, Pittsburgh's physical defense has out-hustled, out-muscled, and out-performed their opponents all season, winning the battle at the point of attack and dictating to offenses the space that they are allowed to operate in. Of course, North Carolina is no stranger to physicality themselves. Matt Gouchoe-Hanas sets the tone for the offense, and he is more than willing to turn the dump space into an octagon. A Gooch v. Carl Morgenstern matchup would be a fifteen round bout that demands a front row seat.
– Patrick
Wisconsin Hodags, The Most Dangerous No. 3 Seed
There's no glory in holding onto the third spot in a six-team pool this weekend in Myrtle Beach. With pools of six setting the tone for the competition, the only spots available in the bracket on Sunday will go to the top two finishers. That means three-seeds need upsets, and the #11 Wisconsin Hodags are poised to get one. They have the most firepower of any team sitting in their position, and they'll need it all to take down Pittsburgh or #7 UNC Wilmington.
Counterfactuals aren't that useful, so it's not worth putting that much stock in a what-if scenario that imagines what this team would be like if they had been practicing regularly this season. But one has to wonder, right?
At Stanford Invite, two different versions of the Hodags were on display: one featured a defense that was scary-efficient after the turn against Oregon. The other took a thumping loss to Georgia in quarterfinals and couldn't function on the muddy fields. The injuries that had hampered them at Florida Warm Up were slowly going away, but the team left goals on the field.
With a month between them their less-than-stellar performance in California, Wisconsin returns to the field in Myrtle Beach with another shot to get the big breaks they're capable of against a slew of good teams. The team is still fast and physical, and they've got a real D-line leader in lefty David Yu.
Neither team seeded above Wisconsin is perfect on offense yet, but both are deadly and deserve their rankings. Pittsburgh's offense grew leaps and bounds at Stanford, but as dialed-in as they were on defense and getting the disc back, putting together clean holds could still be a problem. That's where Wisco can strike. They'll need to use their size and speed to stay in step with the Pittsburgh O-line and then put more of their efficient work in. Against Wilmington, a team that has a history of giving the license to huck out to numerous players, Wisco needs to challenge players in the air to make sure that turns continue to be available.
Playing tough defense isn't the biggest challenge for the Hodags this weekend, though. It's offense. Pitt and Wilmington both have their own talented D-lines that can out-muscle most teams in the division, so the real test will be holding against two teams that know how to get turns and convert breaks.
The odds of beating both teams aren't great, but Wisconsin certainly has the talent and firepower to pull off a big win against one of these teams. They just need to show the consistency that only comes with practice to do it.
– Simon
Can Cal-Poly Save The Southwest?
The Southwest's quest for a second bid stands upon the edge of a knife. Stray but a little, and it will fail, to the ruin of all. Or at least to whoever loses the Stanford v. Cal Poly SLO game at Regionals.
Right now, the Southwest has two bids, although recent history suggests that through some unfortunate series of events, the second bid will slip through their hands when everything is said and done. #18 Cal Poly SLO comes to Easterns with the chance to prevent that from happening (again) and prevent the Southwest from approaching Metro East status as a perpetual one bid region.2
As Ultiworld's Nate Silver facsimile Cody Mills detailed earlier this week, SLO needs to keep it close against Oregon and UMass and then take care of business against the rest of their pool to stay in a good position for a bid. How they manage their legs for that challenge will be interesting, because they need to play their studs against Ego and Zoodisc in order to stay within touching distance, but can't afford to slip against one of the lower seeds. Easterns is a notoriously grueling tournament, and even after the schedule was adjusted so that teams wouldn't have to play five games on Saturday with no byes, four straight against stiff competition is no picnic either.
Easterns often becomes a burial ground for bubble teams who don't have the depth to keep the pace with truly elite teams. Last season Virginia Tech and Missouri both came to North Myrtle Beach with aspirations of securing a bid for their respective regions, and after promising starts to their tournaments, ran out of steam in a hurry. SLO will need to be thinking about the long game this weekend if their main concern is to hold onto their place in the rankings.
Of course, Caly Poly has the potential to do more than just scrape out a second bid this year — we've seen flashes from them that hint at a top ten team hiding amidst some disappointing performances. As a team that looked like a potential Nationals quarterfinalist at the start of the year, the team's season thus far has to be a bit of a disappointment. Arguably, the team's best win came in their first game of the season against BYU at the Santa Barbara Invite. Since then, they have yet to land a knockout blow on any top tier teams.
SLO's defense has shown the ability to be one of the best in the country, with athletic players that are unafraid to throw their bodies around and the best handler defender in the country in Cameron Wariner. On offense, it's a different story, and inconsistency has plagued the team all season. Other targets will need to step up  for Nathan Pettyjohn, an undeniable talent downfield, who is out with a broken arm. But the handler core hasn't been able to move the disc at an elite level, hesitant to pull the trigger on breakside continuation and resorting to tough hucks from the force side of the field.
This offensive inconsistency has made it hard for the team to hang onto leads against elite opposition, most notably when they took half on Pitt at Stanford but bled out in the second half. Playing a complete game against a top team has eluded SLO so far in 2017, but this weekend gives them the chance to change that narrative and secure the Southwest a second bid in the process.
– Patrick
The Game We Wish We Had Time To Stream
It's foolish to say ahead of the weekend that the 1:30 PM game on Saturday between #22 NC State and Cal Poly-SLO is for all of the marbles, but many of them will be on the table for both teams in this matchup. That's what makes this game, between a three and four-seed, so compelling: both need to win for tournament and bid-related reasons.
SLO, as Patrick and Cody have outlined before, are fighting to keep a bid in the Southwest. They need a strong weekend in Myrtle Beach to do it, and holding seed at fourth in the pool isn't necessarily going to do it. SLO's also a team committed to getting better each tournament and improving themselves in preparation for the postseason. Since Stanford was a bit of a step back, bet that the team has a lot to prove.
NC State have stood in line waiting for another strength bid to come back to the Atlantic Coast in recent years. The last time they could've sniffed a trip beyond Regionals was in 2015, but a turbo-charged Maryland was in full control that year and the Wolfpack struggled to put a complete game together when it mattered. That's been the modus operandi for NC State since star Jake McGoogan has been with the team: stacked with talent that can hang with anyone, but unable to close out games.
This year, we're told (like in many recent years), is different. Word from the AC is that this year's Wolfpack recruiting class is packed with the most talent the team has had in years, and so far they've looked the part of a team that is finally ready to level up.
While behind SLOCORE in the Power Rankings, NC State are actually a few spots ahead of SLO in the USAU rankings, currently earning that third strength bid for the AC. They don't need a win over SLO to hang onto their position, but they do need it to push into the bracket this weekend.
Both teams will throw a bunch of young talent at each other to try and win this game, and while NC State tries to deal with the lockdown handler defense that SLO is capable of, the West Coasters will need to match up well downfield to limit the impact of Wolfpack's depth. Though SLO has been working hard to trust the system on offense, they're still a team that was born in the glory of bringing down big hucks — just the stuff that NC State's force middle likes to coax out. While SLO should be able to get turns and breaks, they'll need to commit to breaking the mark.
Sure, there are bigger games to be streamed, especially some of the other top-of-the-pool matchups, but watching two up-and-coming teams duke it out with each other while trying to make the bracket — with strength bids possibly on the line — is what makes Easterns so much fun.
– Simon
Which Players Can Make A POTY Push This Weekend
Through three months of the regular season, no one has really pulled away from the pack in the Player of the Year conversation. A recent straw poll of Ultiworld staffers failed to produce a consensus favorite for the award, and the list of credible contenders was much deeper than it was at this point last season. The state of the POTY race reflects the season as a whole: a couple favorites at the top that no one seems entirely convinced by and some big names lurking further down that haven't produced as expected yet. With Easterns representing the last chance before the Series for teams to make their pitch as viable title contenders, the same holds true for POTY hopefuls. Luckily, almost every player on our late-season POTY watch list other than Ben Jagt will be at Easterns this weekend.
Two guys who could really help themselves out over the weekend are Matt Gouchoe-Hanas and Sam VanDusen. VanDusen has been the most notable cog in Pittsburgh's defense, maybe the best unit in the country, but he hasn't shown he can completely dominate a game yet. He has gigantic throws and some preposterous layout blocks, but watching Pitt play, you don't look at VanDusen and think "that guy is the reason they won" or "he was unquestionably the most important player on the field." If Pitt continues their winning ways at Easterns and VanDusen's role grows from what it was at Warm Up and Stanford, that could change.
Similarly for Gouchoe-Hanas, he needs to show that he carry the North Carolina offense when their systems break down. The UNC offense is predicated on intelligent cutter spacing and clearing, and when run properly, it makes almost every decision and throw that the players have to make fairly simple. That's the point of an offensive system — it's what good teams do and UNC is a very good team. But they aren't perfect. When the offense stagnates because of a defensive wrinkle, it is still to be seen if Gouchoe-Hanas has the goods to take over and carry Carolina to a win in spite of what is happening with the other thirteen players on the field and not because of it.
Waiting in the wings of this conversation is the UMass duo of Tannor Johnson and Ben Sadok. Johnson's injury at Queen City Tune Up put a damper on the early part of his season, but he showed how important he is to UMass at Centex, when his return brought them a tournament title. Of course, the most dominant player in Austin that weekend was Sadok, who slapped up a five goal, four assist masterpiece in the final against UNC. Do Johnson and Sadok cancel each other out? Will one take the reigns as "the guy" this weekend?
We asked a similar question about Georgia's top two of Nathan Haskell and Parker Bray coming into the season, but that query was put to rest around the same time Bray blew the doors off of Queen City. A few weeks later at Stanford, he picked up where he left off, hurling Georgia into the semifinals. At this point you know what you're going to get from Bray: sky high assist totals and turnover numbers to match. We'll need to see Georgia put some more wins on the board to bolster his candidacy, and a rematch of the QCTU final with UNC in pool play on Saturday would be a good place to start.
The other name worth keeping track of is Jack Williams from UNC-Wilmington. He's taken a bit of a back seat early in the season as Wilmington's younger offensive talent has been given the spotlight, but we know he has the ability to be as good as anyone in the country.
Obligatory mention here of how sad it is to see John Stubbs's POTY defense withering on the vine. There is just no way he repeats as POTY without making Nationals, and with a bare cupboard for a supporting cast, that looks extremely unlikely.
– Patrick
---
Unclear if we ever take them off. ↩

Although the Metro East did have a team make semis at Nationals more recently, so… ↩