The regular season ended with a bang, with plenty of top ten teams losing in most divisions.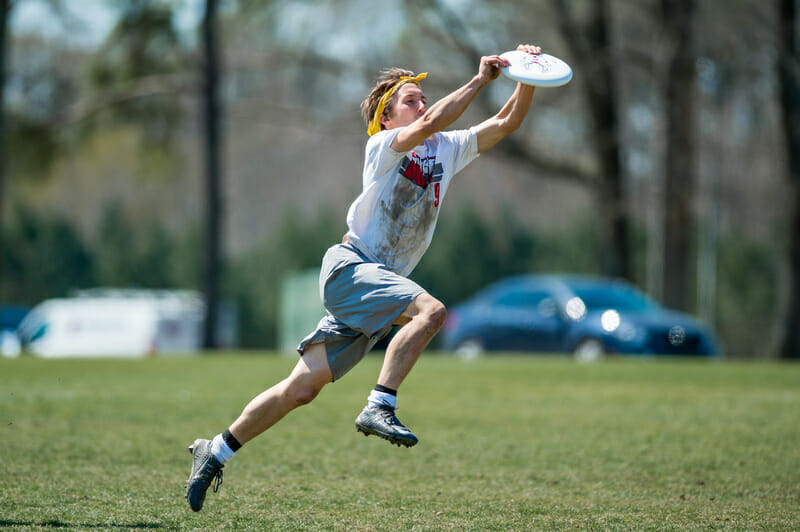 During the spring season, we will publish a bite-sized weekly recap of the action across the College Division. This will serve as a supplement to our standard tournament reporting and will offer a high-level look at the latest happenings and the biggest stories of the week.
Want your tournament listed here? Submit a recap of what happened right here.
Women's
Bidwatch: Liberty Falters, Boston College Comes Up Just Short
Somewhere, the Northwest is rejoicing.1 Three regions had realistic hopes of taking the final spot in the bid picture: the Northwest (via inactive Whitman), the Atlantic Coast (via active Liberty or surprise team or inactive Georgetown), or the New England Region (via active Boston College).
At Easterns, Liberty needed to play very well, either winning the tournament or reaching the final and with great results along the way. That dream died after the Saturday lunch break in Myrtle Beach, when Liberty lost back to back double game point matchups against NC State and Duke. Those two teams ranked 70th and 47th, respectively, in USAU's algorithm coming into the weekend, sinking Liberty, and thus Georgetown, and the Atlantic Coast. Liberty added two more losses before the end of the tournament.
Meanwhile, Boston College made things very dramatic. With little margin for error, BC needed to regulate at Garden State. And they did! They crushed every team they faced, even shutting out one opponent, on the way to the final against West Chester, the only team they played that they could just beat without a blowout score and still be ok. But Boston College could not fend off West Chester, who defeated them 10-9 to win the tournament and squash the NE's third bid hopes.
Now, all that's left is to wait for scores to be finalized and games to be ruled out to make it all official.
D-III Update: New England Open, Illinois Invite
Elite New England Competition at Titular Open
Despite New England Open's weather cancellation, the talented ladies of New England D-III ultimate got together for a one-day round robin. #12 Bowdoin Chaos Theory has clearly been working hard since their loss to Amherst at Bring the Huckus six weeks ago. Bowdoin emerged as the top team winning every game with a final point tally of 35-17. #11 Mount Holyoke Daisy Chain just barely lost to Bates and Amherst and then, tuckered out, fell harder to Bowdoin in their last match. Thus the closest competition emerged between #5 Bates Cold Front and #8 Amherst Sparkle Motion in a 6-5 match, which resulted in Amherst finishing second overall. It is hard to tell how indicative this round robin is of future Regionals results. Regardless, you will be hard pressed to find a more competitive region in any Division.
Valparaiso Takes Down Shorthanded TSU
Illinois Invite brought nine womens teams together, with two D-III teams from the top ten. #9 Valparaiso CHD dominated in pool play, going undefeated with their closest match up against University of Denver. The Chicks Hucking Discs had a personal record 21 players in attendance–11 of whom are rookies!–making for great sideline energy. Valpo would continued their winning streak, trouncing Truman State 15-4 and then lose out of first place to Denver, 14-13.
#3 Truman State TSUnami came in seeded first yet finished fifth, with a final win over Loyola. They split their games in pool play, with two very close losses. Half the team was missing due to senior tests and the flu, explaining their underwhelming end to the regular season. Truman State's captains say their proud of all the hardwork and growth their rookies put in this past weekend.
Elsewhere…
Quick Hits
Men's
UMass Takes Top Spot At Telling Easterns
Led by the bountiful playmaking of handler Ben Sadok, a resilient #2 Massachusetts Zoodisc won Easterns, walloping #1 Pittsburgh in the final, 15-8. The emphatic victory vaults UMass into the pole position heading into the Series. It's the second straight time they've won Easterns and will likely be the second straight year they enter Nationals as the No. 1 seed. They narrowly survived a double game point win against Wisconsin that required a second half comeback and played some close matches, but were clearly the best team on the fields in Mytrle Beach, SC.
With a very strong field and plenty of intrigue, there's a lot to review from Easterns.
For more coverage of the men's division at Easterns, check out our Saturday Stock Picks, Tournament Recap, and scores.
No Surprise As Minnesota Wins Huck Finn
#5 Minnesta Grey Duck was one of two ranked teams in attendance at Huck Finn and was the major favorite coming into the weekend. Despite some challenges in the bracket, Minnesota did win all seven games to hold steady going into the series. While the final against Cincinnati was in Grey Duck's control after a run in the back of the first half, they had to fend off a hungry Auburn team with lots to play for. It was as close as 12-11 in a game to 14, but Minnesota pulled it out, 14-12, and never trailed. Similarly, they were tied 10-10 in prequarters with Iowa State and let Northwestern get as close as 10-8 in their quarterfinal.
It wasn't a dominant performance by any means, but expectations remain very high for a deep, talented, and experienced Minnesota team.
Worthy of note, Cincinnati went 0-3 on pool play, only to win the rest of their games to make it the final! Purdue, Auburn, and Colorado State certainly demonstrated they could be troublesome opponents at their respective regional events and CSU did what was necessary to protect their bid in the South Central.
D-III Update: Franciscan Crushes, D-III EastUR, Layout Pigout
Franciscan Fatal Finish Flawless Regular Season at CWRUL
Two years ago, #4 Franciscan Fatal rode momentum from an undefeated regular season all the way to a D-III National Championship. With an undefeated performance at CWRUL this past weekend, Fatal finished the regular season a perfect 20-0; will history repeat itself?
Franciscan dominated their power pool on Saturday, including a 13-9 win over #15 High Point Bagheera, and won their crossover game 13-6 against OV regional foe Shippensburg. After a surprisingly close 15-12 win in prequarters over Miami (OH), Fatal rolled through the bracket, capping things off with an impressive 15-9 win in the final over Ohio that didn't even feel that close. 2015 Ultiworld D-III Rookie of the Year Dominic Schuster was particularly impressive all weekend, showing an incredible array of throws that picked apart every type of defense thrown at Fatal. His weekend was capped off with a 12 assist performance in the final. With elite level athletes like Jay Ratajczak and Stephen Babcock surrounding Schuster, Fatal look primed for another run at a D-III national championship.
#15 High Point Bagheera turned in a performance that exceeded their 4-4 record on the weekend. Two losses to Franciscan and a bad loss to Shippensburg in the 4th place game are offset by a dominant 13-6 win over Carnegie Mellon and a thrilling 15-14 win over Michigan State in quarters. The Shippensburg Scapegoats had a strong weekend, finishing 3rd with a 6-2 record. A tough overtime loss in the semifinal robbed the Goats of a chance to avenge their earlier loss to Franciscan, but they took it to High Point and won that third place game 11-4. In their first year of D-III competition, Shippensburg will come up just short of earning a second bid for the Ohio Valley, but they will make a leap in our power rankings and should challenge Franciscan for the region's only bid.
Davidson Emerge Victorious From Wild D-III EastUR
In an effort to replace the connectivity provided in previous years by D-III Easterns, #8 Richmond Spidermonkey's home tournament played host to teams from four different regions, and upsets were aplenty with no team finishing the weekend undefeated. The weekend began with Navy Poseidon upsetting the host Spidermonkeys 11-10 in the first round of pool play. The rest of pool play saw more victories for the underdogs, including Mary Washington Mother of George over #17 Davidson DUFF and Connecticut College Dasein over the Messiah Falcons. Even the games that went to chalk yielded surprising results, with Richmond blowing out #7 Williams 13-7 and the #10 Middlebury Pranksters coming back from a three point deficit to beat Davidson in cap 11-10.
Bracket play saw the wild results continue, with Mary Washington Mother of George beating Williams 13-10. Williams would go on to lose again in consolation play to Elon, likely costing the New England region a fourth bid. The other three semifinals went to chalk, setting up a regional clash between MoG and Richmond on one side and a rematch between Davidson and Middlebury on the other. Despite taking half 8-7, Mary Washington couldn't hold on, and Richmond would surge to a 15-11 victory. In the other semi, a fired up DUFF took it to the Pranksters in emphatic fashion, avenging their pool play loss with a 15-7 victory.
"We got angry," said Davidson's senior captain Chris Johnson. "We realized how important a big win would be for our region, and we came out with fire and didn't let up."
The final was a rematch from consolation play at Oak Creek Invite just a couple of weeks ago between Davidson and Richmond. DUFF got the better of their Atlantic Coast rival in that game, winning 11-9, but seeding indicated they were still the underdog in this final. Davidson came out strong again, taking a three-break lead into the half. The deficit would prove to be too much for the Spidermonkeys to overcome. An early second half break would pull Richmond to within two at 9-7, but they couldn't complete the comeback and Davidson would go on to win 15-11.
"They're a really tough team to slow down because they don't run through 3 or 4 main guys like most D-III teams," said Richmond's Henry Babcock when asked about what makes Davidson so tough to beat. "You really have to earn each and every turn against them."
DUFF's impressive run through the bracket on Sunday should not only make them the favorite going into Regionals, but also puts them in position to earn a crucial third bid for the Atlantic Coast.
Brandeis Falls, Amherst Rises at Layout Pigout
With a much weaker field (on paper) than years past, it looked like this year's Layout Pigout would come down to a NE clash between #11 Brandeis Tron and #21 Bentley Icehouse. Pool play revealed this to only be partially true. Brandeis sleep-walked through a weak pool, going 4-0 and earning their bye into quarters. However, Icehouse was upset in the second round of pool play by #11 Amherst Army of Darkness, sending them to prequarters and putting them on Tron's side of the bracket.
The bottom half of the bracket went to chalk, with no upsets and Amherst rolling to the final with blowout wins in both the quarters and semis. In the top half of the bracket, all three prequarters went to seed. However, in a stunning result, Brandeis would lose 13-12 to hosts Haverford Big Donkey, sending them into consolation play where they would eek out a 14-13 win over Swarthmore. Bentley would take care of business in their quarterfinal before taking down Haverford 13-11 in the semifinals. Although not the expected two teams, the final would still be an all-New England affair.
A windy, back-and-forth first half saw both teams holding all the way until 7-7. However, Amherst would score the first break of the game to take half 8-7, giving them a huge wave of momentum in a game where breaks would be hard to come by. Two more holds out of half put the game at 9-8 in favor of Amherst, but a throwaway would lead to an upwind break to give Army of Darkness a two goal advantage. They punched in the downwind break as well, giving them an advantage that Bentley just wouldn't be able to overcome. Amherst would go on to finish their undefeated weekend with a 14-9 victory. While Brandeis's performance in bracket play will likely pull them out of earning a bid, Amherst's powerful weekend should see them shoot up the bracket and likely maintain that third bid for the NE.
Quick Hits
No. 1 seed American University may have started out 2-2 in Garden State pool play, but they bounced back to win four straight Sunday, including beating Stevens Tech 11-9 in the final. They made this alum proud!
D-III EastUR's title went to D-III #17 Davidson, who bounced back from going 2-2 in pool play to upset regional foe D-III #8 Richmond in the final. D-III Atlantic Coast Regionals is going be crazy!
SUNY-Geneseo went 6-1 – all their wins were by large margins – to take the crown at Uprising. Their only slip up was an 8-7 loss to Colgate.
No. 1 seed Marquette and No. 2 seed Knox fought their way to the final of Illinois Invite, where the top seed notched the victory, 9-6.
D-III #11 Brandeis was upset in quarterfinals by Haverford, and Amherst went on to get the tournament victory over D-III #21 Bentley at Layout Pigout.
The top four seeds made it to semifinals of Atlantic Coast Open, but the top two were each upset. Instead of No. 1 seed James Madison meeting No. 2 seed George Washington, it was No. 3 seed Maryland facing No. 4 seed William & Mary. The final went to double game point, and William & Mary broke to win the tournament, 14-13.
Villanova, the No. 3 seed at West Chester Classic, upset the top seeded host team, beating them in pool play and again in the final.
In a bit of a D-III regional shocker, North Georgia upset reigning national champion D-III #20 Georgia College to win Hundred Acre Wood.
D-III #14 Wheaton went undefeated to win the round robin at Stonehill Get Skyy'd. Why the heck is it spelled like that?
Alabama similarly won a round robin undefeated down at creatively-named April Fool's Fest.
The Olivet Nazarene alums beat the current squad in the all-Black Penguin final of the Black Penguin Classic. Go old guys!
Looking Ahead
This week, there's nothing but preparation for the Series: practices, alumni games, and score updates as people nervously watch final bid numbers come in. Get ready for Conferences in two weeks and what is going to be a thrilling pair of Regionals weekends.
---
Also, those who believe the algorithm unjustly weights big wins over low ranked teams higher than results against high ranked competition ↩