The final regular season test was a thriller.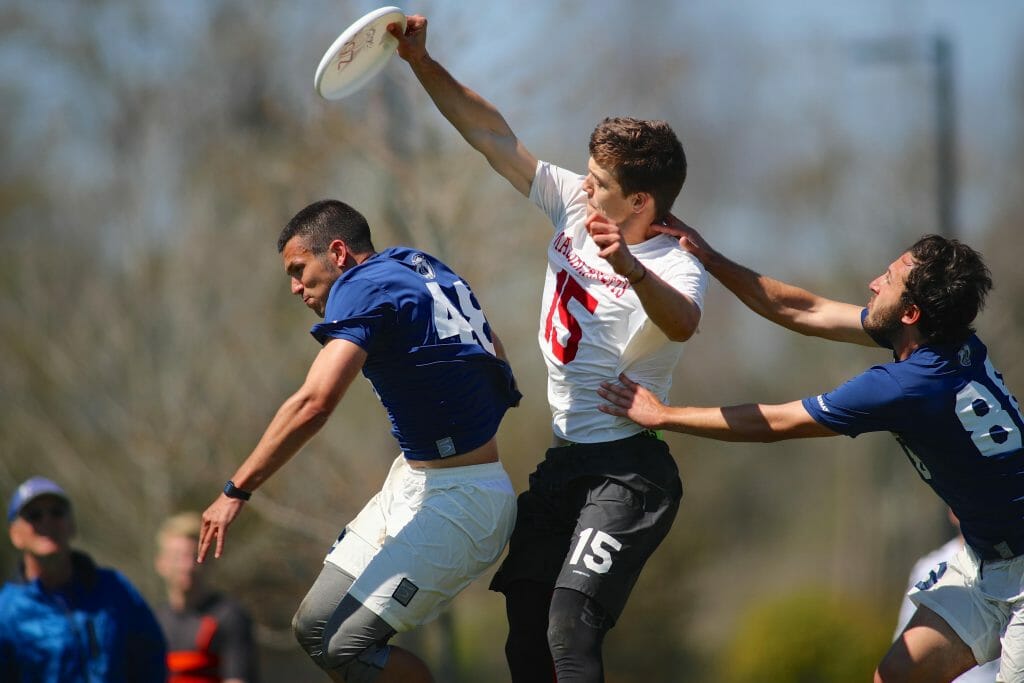 Ultiworld's reporting on the Men's Division of Easterns 2017 is presented by Spin Ultimate; all opinions are those of the author. Please support the brands that make Ultiworld possible and shop at Spin Ultimate!
Looking back at it, this year's Easterns gave us pretty much all we could ask for. We got an impressive field of nearly all Nationals-quality competition. There were surprising upsets. There were edge of your seat thrillers. We were treated to some potential semifinals matchups. Even the weather cooperated, aside from some rising gusts, providing sunshine and clear skies for the biggest men's tournament of the season.
It was a climactic close to the regular season. Here's what we learned about teams vying to get to Regional and National titles now that the postseason is upon us.
Massachusetts Conquers #1
For the second year in a row, #2 Massachusetts Zoodisc conquered the field at North Myrtle Beach and emerged as Easterns champions. It's the first time in the modern era that a team has successfully defended an Easterns title. Behind a bravura performance from Ben Sadok and his wingmates, UMass knocked #1 Pittsburgh off their perch in the final with a resounding 15-8 victory that left little doubt as to who the current top team in the nation should be.
For a tournament that produced so many great games, the final was anticlimactic: Pittsburgh never put up much of a fight against their opponents from New England. The final score was indicative of the gulf between the two team's performances. UMass won virtually every little battle over the course of the game, resulting in their big win at the end.
Pushing the pace early and connecting on huck after huck, UMass jumped all over Pittsburgh in the first half and staked themselves an 8-3 lead. Brett Gramann, who was missing from action on Saturday with an illness and flew down to Myrtle Beach on Saturday night to join the team, made his presence felt in a big way with four assists and a goal in the final. The numbers by themselves are impressive, but the way he got there is just as important. Strong winds buffeted the fields for much of Sunday, especially in the final, but Gramann made difficult throws look routine. Pittsburgh struggled mightily to get the disc off of the low side of the field and failed to connect on hucks from the force sideline. Gramann pounced on Pittsburgh's miscues to engineer several of UMass's first half breaks, which turned out to be the difference on the scoreboard.
While Gramann's return gave UMass a boost, the engine that drove their success all weekend long was Sadok. In the final against Pittsburgh he posted a cool three goals and four assists with a block for good measure, and his numbers looked like that all weekend. He went for four goals, five assists, and five blocks against Oregon in pool play on Saturday, setting the standard for his play. Sadok's rise to POTY frontrunner status comes as UMass is peaking: that's no coincidence. He's become Zoodisc's go-to player, and, over the past few tournaments, he has delivered.
"It's just about putting in work and buying into the team atmosphere," said Sadok after the final. "Sometimes it can be tough to do that when you're a strong player, but I really feel like I'm bought into the team atmosphere. The buy-in from this team this year is insane, and it makes it so much easier."
While Pittsburgh was able to stabilize in the second half and fight UMass close to a draw in the second frame, Sadok and the rest of UMass never let off the gas pedal and kept playing aggressively down to the final point. While they had surrendered some leads earlier in the weekend, UMass played their best game in the championship and never gave Pitt a chance to get back in.
Getting to the final may have been more challenging for UMass than winning it, as they needed to break on double game point against Carleton in the quarterfinals to stay alive, and needed another late break to get past Wisconsin in the semifinals. After leading Wisconsin 5-1, Zoodisc gave away a couple easy breaks with uncontested drops and poor transition defense. Wisconsin eventually took the lead at 9-8 after a Callahan on a floaty swing pass.
While giving away a sizable lead (particularly on a play like a Callahan) may have broken another team, UMass found another level and got back to doing what they do best. Causing trouble for Wisconsin with their zone, they managed to force a couple key turnovers and break twice in a row after soft cap to win 13-11.
A big piece of that victory was the last minute addition of Nico Mueller, a member of the German national team who came to America to complete his master's degree. Mueller was in talks with the Ironside leadership and coaching staff about potentially playing club with the Boston based team this summer, and through that connection got turned onto UMass, where he enrolled and was made roster eligible just before the deadline.
This weekend was Mueller's first time playing with the team, as he had only just arrived in the States on Wednesday, but by the end of the weekend, he was an integral part of Zoodisc's performance.
While his addition to the team's roster went under most people's radar, after his performance this weekend, he is going to be more than a mere blip. A key figure on their defense after a turn, Mueller grew in status over the course of the weekend, cresting in a sensational performance against Wisconsin in the semifinals which saw him throwing a picture perfect upwind flick huck to give UMass a 12-11 lead and then win the game on the next point by corralling a high release from Sadok.
There are still some doubts about UMass's title credentials, and winning Easterns doesn't guarantee any postseason success. Zoodisc has a clear example to look to, as they are defending an Easterns title this season but not a National one. UMass was dominant last year at Easterns, capping off the tournament with a dismantling of Minnesota in the final. That proved to be the peak for Zoodisc, however, as they labored at Nationals, ultimately falling to the same Minnesota team in prequarters that they had so emphatically dispatched a month early.
The win this weekend puts Massachusetts atop the USAU rankings and barring an act of God (and/or John Stubbs) at Regionals, they will be the top seed at Nationals for the second year in a row.
Zoodisc coach Tiina Booth expressed minor dismay over this after her team broke from their post tournament huddle on Sunday afternoon. "Oh, this is going to make us the number one seed again, isn't it?" Booth remarked. She acknowledged the pressure of being the top seed, and that it affected the team last year, but believed that the team would be better prepared to handle it after their experience last season. "I had been through it before, but they hadn't." said Booth. "Now, they know."
It's an open field this year and the victory this weekend makes UMass a favorite, but still a tentative one given the parity in the division. Of course, if they are able to play the way they played against Pittsburgh for an entire tournament at Nationals, then maybe next year they won't only be defending an Easterns title.
Pittsburgh Shows Off Strengths & Reveals Weaknesses
The team that UMass replaced atop the rankings is #1 Pittsburgh En Sabah Nur, who came a game short of completing a regular season treble after tournament wins at Warm Up and Stanford Invite. Of course, given their unceremonious end to their regular season, the taste in their mouth may not reflect their impressive 20-3 record. The 15-8 final drubbing masks a good weekend for Pittsburgh, who may not have solidified their status as title favorites but certainly showed that their early season wins were not flukes.
The defense that propelled the team's success all year is the real deal, and they managed to hang breaks on elite offenses all weekend. A Stanford team that had upset North Carolina and outgunned Georgia had no answer for the intense pressure Pittsburgh's defense conjured.
In the semifinals against Michigan, Pitt needed their defense to step up and that propel them to the final after Magnum jumped out to a surprising early lead. Playing without Callahan nominee Carl Morgenstern, who injured his shoulder on Saturday, Pittsburgh's defense remained resolute. Sam VanDusen and Kevin Tang rose to the occasion, generating turnovers and combining for a goal and five assists in the semifinal.
After trailing Michigan 5-3, Pitt's defense took them back into the lead at 6-5. The ball was now in the offense's hands, and they were able to close out the game behind a three goal, two assist showing from O-line cutter Dylan Best and three assists tacked on by Jack Slevin.
However, the bottom fell out for Pittsburgh in the final, with their defense looking listless and their offense impotent. Certainly some of that can be chalked up to the quality of the opposition, as there is only so much you can do when Ben Sadok is tossing dimes from all over the field. But UMass found success in large part off of Pittsburgh's failure to execute in the wind, with a number of unforced reset turnovers that lead to quick scores for UMass. The thousand yard stare of many En Sabah Nur players during halftime, facing a five goal deficit, indicated that the final outcome was no longer in doubt.
The drubbing they took in the final doesn't expose Pittsburgh as a fraudulent contender, but it certainly highlighted some problems they need to address before Nationals.
Wind was clearly an issue for them as Sunday wore on, and the personnel on their offensive line may have something to do with that. Jack Slevin, Thomas Edmonds, and Jonah Wisch all have their virtues, but a lot of their strengths are redundant. The handler core thrives on slick give-and-goes and manipulating the shape of the defense with technically difficult throws that sit in space. None of them have particularly massive hucks, and no one on that unit is the kind of player that can flip the switch and dominate the game by going every other throw for a handful of points.
In the high wind of Sunday afternoon, quick handler movement was nullified by zone and strong gusts took away most of Pittsburgh's arsenal of throws into space. VanDusen, who up until the second half of the final had essentially been a D-line only player, was brought over to offense because he was one of the only Pittsburgh players that could muscle throws into the wind. It was too little, too late, however, as Pittsburgh's offense just looked drained and overwhelmed by the conditions, and there didn't seem to be a viable plan B.
Another issue Pittsburgh had was with the size of their opponents, as the big bodies on UMass and Wisconsin played a role in both of their defeats. Pittsburgh's offense lacks an elite big man, particularly after Noah Robinson went down with an apparent hamstring pull early in the final. But even with Robinson, who is still unpolished, their offense relies a lot on speed and space to get the job done. Against Wisconsin, a team that is just as fast as Pittsburgh but taller up and down the line, Pitt has trouble generating separation on in-cuts with the large Hodag defenders fronting Pitt's cutters and daring them to go deep. This is only exacerbated by the lack of a handler equipped with field-spacing deep throws.
Reaching the final of the regular season's most competitive tournament shouldn't be a warning bell for any team, and it isn't for Pittsburgh. But their run of tournament victories is over, and they'll have things to tinker with over the next few weeks as the series approaches.
Wisconsin Developing Into Balanced & Cohesive Threat
Speaking of the #11 Wisconsin Hodags, their performance this weekend belied their status as the third seed in Pool A and gives them a legitimate claim to being the best team in the North Central heading into Regionals. Before falling valiantly to UMass, they dismantled North Carolina in the quarterfinals, staged a comeback victory over UNC Wilmington on Saturday afternoon, and kicked off the weekend by beating Pittsburgh in the first round of play on Saturday morning. That equates to victories over the #1, #3, and #7 ranked teams in the country. The Hodags came to play.
What's notable is not just Wisconsin's performance, but how it compares to their results from earlier in the year. They looked rusty at Warm Up, with the offense still recovering from the loss of Craig Cox and Aaron Speiss (and missing some key players). Outside of a nice win over Oregon at Stanford, the rest of their season had not been particularly notable. Easterns changes that as they were one of the most complete teams at the tournament, with the kind of defense we've come to expect from Wisconsin and an offense–finally healthy–that took care of business.
A tactical change that benefited Wisconsin was moving Avery Johnson from the handler set downfield into a cutter role. After two years as the Hodag's center handler, Johnson was expected to carry the load in the backfield for Wisconsin again this season. But with Graeme Kernick and Thomas Gallagher developing into capable handlers, Johnson has been able to push downfield and provide excellent continuation throws that the team had lacked following the graduation of Craig Cox.
At Easterns, Johnson lined up with speedster Ross Barker, deep threat Chris Wilen, and blossoming goal machine Nick Vogt to form one of the best cutting cores in the country. The line was so effective in part because every player brought something unique to the table, and if teams focused on one option they found themselves at the mercy of another.
The pieces are coming together for Wisconin, and they certainly passed the eye test at Easterns. The defense is typical Hodag tough, with uber-athletes Nick Ladas and Jeff Maskalunas prowling the cutting lanes and David Yu leading the charge from the handler space after a turn. The offense was impressive, although like everyone else they had some trouble with Massachusetts's zone. If they can continue to improve at the rate they have so far this season, then perhaps this is the year Wisconsin ends their title drought and brings the trophy back to Madison.
Michigan's Grit Overcomes Weaknesses
While Wisconsin beat three top seven teams en route to the semifinals, #13 Michigan MagnUM had an easier path. Magnum's best win was a double game point upset of Carleton in the last round of pool play, a sloppy defensive battle in which neither team could seem to grab the upper hand until Michigan wore down their opponents with sheer grit. It is emblematic of this Magnum team that they both managed to reach the semifinals of a major tournament but still leave us scratching our heads about how good they really are.
So what do we know about Michigan? For starters, they are tough. The won a war of attrition with Carleton and went blow for blow with a physical Central Florida team before pulling away at the end. They didn't just show physical toughness but mental fortitude as well. After falling behind to a surprisingly frisky Connecticut in the last round of pool play, a game Michigan needed to win to make it into the quarterfinals, Magnum buckled down and scratched out multiple upwind breaks with the game on the line.
But toughness can only go so far, and we still haven't seen Michigan display the kind of offensive firepower that their fellow semifinalists brought to bear. There just doesn't seem to be a critical mass of skills necessary to beat an elite team that is playing well. Their vert stack is clinical, but without much in the way of improvisation or individual brilliance. Defensively, the team will play physical and has the ability to throw out some interesting wrinkles in the form of a 2-3-2 zone, but no one on their D-line looks like they are going to go lock up Ben Sadok or Ben Jagt anytime soon.
That's not to say the team is bereft of talent: Noah Backer impressed with smooth play from the handler position and Bobby Moyer held it down on the D-line. Daniel Lee displayed versatility and playmaking. Michigan blew Cal Poly SLO out of the water in the quarterfinals, physically overpowering the defending Southwest regional champs. But, ultimately, that result wasn't really that surprising when you look at how Michigan has performed all year. They beat everyone that they are supposed to and lose to the teams they are supposed to.
That likely projects out to something like a prequarters team at Nationals, which isn't too shabby. They have good depth and looked fairly experienced, which could aid them in building on this weekend's success heading into the Series. But unless they can catch someone on a bad day or cook up something on the defensive end to make a bad day happen, it's hard to envision Michigan repeating their semifinal appearance at Easterns in Cincinnati.
Regional Pictures
A look at some of the notable non-semifinalists teams this weekend and how things are shaping up for them heading into their respective Regional postseasons.
Southwest
Has Stanford Already Played Their Best?
The fear about #12 Stanford Bloodthirsty has been that they would return to the narrative of peaking too early. It's the same story that climaxed in an early exit at Southwest Regionals last year at the hands of Cal Poly SLO. It has infected the team's recent history. While SLO's Sunday heroics have locked up a second bid and drastically increased Stanford's odds of returning to Nationals, the same problems persist. They looked great on both sides of the disc earlier this season, but have failed to recapture the same spark at their most recent ventures.
Sure, Easterns and the Stanford Invite are much tougher tournaments than Santa Barbara Invite. Stanford played three ranked teams in their first seven games, before playing 13 of their next 15 matches against top 25 teams. Over those 15 games at Stanford Invite and Easterns, the team is hitting under .500.
Along the way, it seemed like another key percentage has dropped: their completion rate on deep throws. The combination of Elliott Chartock and Gabe Hernandez bombing to Cyrus Ready-Campbell and Nolan Walsh (and sometimes Hernandez on the receiving end, as well) was lethal earlier this year, but better defenses have been able to disrupt that game. Their defense, which looked stocked with athletic grinders that could apply pressure downfield, has not risen to the occasion with the step up in competition. For example, Hernandez and Chartock went a combined 4-for-12 on hucks against Georgia in pool play, not exactly a defensive juggernaut.
Yet, it's worth noting Stanford got their two biggest wins of the season this past weekend. They got the better of North Carolina in round one, winning 11-10. They added a comeback win over Georgia, 14-12, later in the day. They did it by making some adjustments on defense and by playing the short field. Sam Kunz, John Kadavy, Max Pearham, and Drew Mathieson operate well near the end zone, and their red zone offense will be bolstered by the break-throwing of Nick Hirning when he returns from this weekend's absence. Hirning also will deepen the defense. Stanford's got a couple of different defensive looks and they benefited from changing the pace and the space over the course of the weekend.
Everyone knows Southwest Regionals is filled with competitors who have enough in the tank to steal a game or two when it's all on the line. But this Stanford team is talented and certainly has what it takes to rewrite the narrative if they can apply some tweaks over the next few weeks of practice.
Cal Poly SLO – Results That They Needed
One of the biggest surprises of Sunday was the performance of #18 Cal Poly SLO, who finished in fifth place at Easterns after a thrilling double game point victory against Oregon that landed them in the championship bracket, and then some big wins in consolation over North Carolina and Stanford that solidified their hold on a second strength bid for the Southwest.
While a fifth place finish looks great on paper, in context, SLO's weekend is less impressive. They lost some big games on Saturday, most notably to North Carolina State, that could have endangered their place in the rankings. Their big win over Oregon coupled with NC State's shock loss to Georgia Tech saved their tournament, and maybe their season, but it doesn't erase their sluggish Saturday in which the O-line looked out of sync and the D-line failed to do much with the turnovers they manufactured.
On Sunday, they played the wind game better than Oregon, which isn't nothing, as the chance that they will play another important game at some point this in serious wind is high. But the win was a victory of perseverance, athleticism, and a flair for the moment. It's worth noting that without Cameron Wariner's game saving goal line hand block on Adam Rees, we could be having an entirely different conversation about SLOcore.
But at the end of the day, Wariner did make that block, Cal Poly did make it to the quarterfinals, and they did secure a second bid for the Southwest, all without the services of their best offensive player Nate Pettyjohn who was out with an injury this weekend. The concerns about SLO's offense haven't abated, but by locking up a second bid, they have given themselves a much bigger margin for error, especially in a thin Southwest region.
North Central
When Will "Now" Come for Carleton?
It must be frustrating to be a Carleton fan. For years now, the team offers glimpses about once a tournament of their sterling potential, but don't seem to string a complete tournament together. The question arises: is this all some sort of a master plan or is #8 Carleton CUT just not capable of playing to their potential consistently?
Their results at Easterns mirror what we have seen from CUT the past several years. The good (solid wins over Colorado and Stanford while manhandling Harvard, Central Florida, and UConn in pool play), the bad (unable to close the door against Michigan), and the puzzling (took a 6-3 lead on UMass and looked incredible doing so, then surrendered six of the following seven points and looked complacent doing so) were all on display.
Throughout all these ups and downs, the team's spirits never wavered, with energy seemingly never affected by results. All of that sounds straight out of a coaching clinic, but it belies the real lack of urgency that Carleton demonstrated. Tournament wins in March and April don't equate to wins at Nationals, but Carleton hasn't been winning National titles recently, either.
The reason CUT's results are frustrating to fans is that they clearly have the potential to be something special. Alex Olson is a top five handler in college, Henry Fisher has emerged as a premier deep threat after his time with Ring of Fire, and Eric Taylor gives Carleton a dynamic threat downfield that is capable of beating teams with his throws or his legs. Defensively, Sol Yanuck went toe-to-toe with Ben Sadok in their quarterfinal against Massachusetts and came off looking like the type of incredible two-way player he showed flashes of as a freshman. After all of that, they have plenty of depth along both lines.
But despite all that talent, the results just haven't been there. The lack of urgency is real, and when push came to shove in the bracket, UMass just simply wanted to win that game more. Making each regular season game a life or death event can stunt a team's growth, but so too can engendering a nonplussed attitude in which winning doesn't matter. Carleton will need to flip the switch at some point if they hope for their results to match their talent, and the results of the past few seasons indicate it might be too late.
South Central 
Reality Check for Mamabird
After making some big noise at Stanford invite, #4 Colorado Mamabird went down quietly at Easterns, failing to make the bracket. Saturday saw them drop two games, a not-so-shocking loss to Carleton in the morning and a surprising loss to Connecticut in the afternoon that was enough to usher them into consolation play.
The defense was culpable in both defeats, unable to convert opportunities for breaks against Carleton and unable to even force turnovers against Connecticut. The loss to UConn was particularly telling, as Connecticut took half 8-7 and everyone watching felt that Mamabird had another gear to reach in the second half that would put their opponents away. If they did, they never got there, as UConn's offense converted quickly on almost every point lead by a heroic performance from Mike Rice, and Colorado couldn't apply enough pressure to slow them down.
So is it panic time for Colorado? Yes and no.
On the one hand, their performance has some asterisks. Wesley Chow, their 5th year rock handler, was out of cleats with a minor knock and sorely missed. His return for the series will stabilize the backfield for Colorado and make the defense's task a bit easier. Additionally, you can chalk their loss against UConn up to exhaustion as much as anything else. The team looked worn-down after four straight rounds in the hot Carolina sun, with no sense of urgency. This is especially odd for a Colorado team that looked fit and efficient in their earlier appearances this season.
But being too tired to play good defense isn't an excuse that will go over well at Nationals. Colorado needs to figure out how to get their defense to an elite level in a hurry if they want to be taken seriously as a National title contender.
Atlantic Coast
North Carolina Plays Incomplete Tournament with Incomplete Roster
The story of #3 North Carolina Darkside's Easterns is a story of absences. On the one hand, that's the absence of some key personnel, like D-line handler Elijah Long and O-line playmaker Walker Matthews. On the other hand, that's the absence of the ruthlessly efficient identity they cultivated over the span of their 20-game win streak to begin the season.
Earlier this season, the UNC offense looked deadly and nearly unstoppable. Matt Gouchoe-Hanas was a maestro, Norman Archer ruled the deep lanes, and Matthews, Andrew Cohen, Nick McLeod, and Mark Rovner were versatile and vicious. It was a cohesive, fast, and disciplined offense that could kill you in space, reset intelligently, and expose the weak side of defenses. Defenses couldn't hide a soft defender anywhere and couldn't make mistakes without being punished. This let their athletic D-line play loose and aggressive, allowing players like Nathan Kwon and freshman highlight reel Kai Marcus to shine.
That just wasn't the case at Easterns. A cluster of factors probably contributed to UNC's offensive struggles: the steady winds made their spacious offensive attack weaker and took them away from opening up the field deep, teams utilized more zones and poaches to deny that space with the help of the gusts, and the missing pieces forced the coaching staff into relying on tight lines to handle a much higher volume.
Their losses to Stanford in pool play and Wisconsin in quarterfinals – the latter a game that may have been more lopsided than even the 14-11 score indicates – highlighted these areas for improvement. UNC looked, for lack of a better word, ordinary.
It's a far cry from the whirring and humming machine that showed up to Carolina Kickoff and Queen City Tune-Up. A wealth of bids in the Atlantic Coast provides plenty of cushion for Darkside and their exceptional coaching staff has time to make adjustments and get their full roster back to health, although the status of Matthews is still up in the air. Their opposition, however, will be studying much of the same film and trying a lot of the same tactics in the Series, so let the chess match continue.
UNC Wilmington Hampered By Lack Of Elite Throws
Looking back at #7 UNC Wilmington Seamen's Easterns makes the weekend feel full of wasted opportunities. They faced off with Pittsburgh and couldn't close. A scorching Wisconsin team also got them late in their game. In consolation play1, they got thumped by Oregon and beat Georgia by a pair of goals. Their potential is obvious, but so are their flaws.
UNCW needs more throwing power. The program was blessed with a series of exceptional throwers, and they were fortunate to add JD Hastings from UNC this year. Willie Stewart has inherited the central throwing role and does an admirable job, but might not be a consistent enough bomber to connect effectively with the team's solid cutting corps. But the team has shoved Jack Williams into the backfield, which is like buying a new iPhone to use only as an alarm clock. Sure, it can be functional, but why not use it to its full extent? Certainly, we've all missed Williams' highlight skies and catches, and with his increased throwing prowess, perhaps getting him in space would open up the offense for the other cutters.
Perhaps it took getting in these elite quality reps to learn about the team's strengths and weaknesses. There's plenty to like here: Austin McGrayne is a handful downfield, Kevin Mateer plays signature Wilmington defense, Hastings is a rock, there's some cutter depth with Daniel Mercer, Grayson Sanner, Dalton Vestal, etc. Tally Classic may just not have given them enough of a test to figure out who needs to be where and when they need to be there. Considering Atlantic Coast Regionals will probably be a three-bid tournament with a field that goes 5-6 teams deep with worthy suitors, they should get another quiz before the final exam.
Northwest
Oregon Comes Up Just Short
When #6 Oregon Ego came out of their timeout a couple yards away from defeating Cal Poly SLO on double game point, they had a chance to get into the end zone and get into the bracket. Commensurate with their seed, it would earn them potential shots at semifinals-caliber competition, which they were hungry for after a narrow loss against UMass the day prior. Moments later, star Adam Rees was handblocked on the goal line. After SLO threw away a huck, they again approached the game winning score, only to have some disorganized reset cutting and fierce SLO defense generate another turn. SLO cashed in and sent Ego to consolation.2
It's not too dissimilar from yielding three straight goals to UMass, erasing their 12-10 lead to eventually giving up the win to UMass on double game point 14-13.
In both games, the same problem seemed to plague the Oregon offense: they couldn't get away from the sideline. They colloquially "crammed it up the cramhole" and, especially in the weekend's gusting crosswinds, often ran out of room. Since the book on Ego's O was a pretty quick read, soon it seemed like the whole tournament knew it, and on more than one occasion, an onlooking player from another team would remark on their tendency to play whole possessions within 10 yards of the force sideline.
Fortunately for Oregon, they return home to a very favorable picture in the Northwest. They are the unquestionable favorite in a region with what looks like four bids and their top challenger not likely to opt into Regionals.3 But their outlook for Nationals isn't quite as comfortable.
Related: BYU Will Play In Conference Champs, Keep 4th Bid in Northwest
So far this season, Oregon hasn't dealt well with discomfort. If they can become a little more adaptable and resilient, they can let their talent shine. Adam Rees is an exceptional player, and if there was a draft of college men's players, he'd be a no-doubt first round pick. It's also the second straight year Oregon has one of the best freshmen classes in the division. This year's team is the deepest since Eli Friedman and Cody Bjorklund were donning their Ego jerseys. There's still a high ceiling on this team, but first, they have to figure out how to play 4,400 square yards of field, rather than just portions of it.
Southeast
Georgia Is Who We Thought They Were
#9 Georgia Jojah is not tricky. They won't surprise you with complex schemes or outwit you with tactics. For the most part, the 'Dawgs are doing the same things now that they were doing back at Queen City Tune-Up in February. Sure, the names of those stepping up – especially without Nathan Haskell – might have been different; Vasia Mishin and Jason Jones both were making themselves stand out downfield. But the ingredients in this recipe, and the resulting dish, are all too familiar.
Parker Bray is going to pick up nearly every dead disc. He will throw nearly every significant yardage gaining throw. John Langstaff will be his tried and true backfield companion, with some assistance from Gino Mattace. They don't apply a ton of pressure on defense, even in their zone looks, and will try to punish teams for mistakes. They are good for one unsustainable excellent performance – usually led by Bray catching fire –  and one clunker in a tournament.
Of course, this also means their floor and ceiling look not only established, but fairly close to one another. Easterns may have actually been their worst performance of 2017 to date, which is understandable considering Haskell spent almost the whole weekend sidelined. Choking away their Stanford game changed the color of the weekend, combined with frighteningly close wins over Florida State4 and Brown. They have a couple of months to try to find the execution level necessary to be routed towards more than a four or five goal loss in quarterfinals at Nationals. But first, they'll need to survive the Ninja Warrior course that will be Southeast Regionals with a single bid at the end.
Metro East
Connecticut, Beating Teams Seeded Third Since 2015
Honestly, I'm as surprised as you are.
All Tournament Line
H: Ben Sadok (Massachusetts)
H: Parker Bray (Georgia)
H: JD Hastings (UNC Wilmington)
H: Elliott Chartock (Stanford)
C: Ross Barker (Wisconsin)
C: Eric Taylor (Carleton)
C: Mike Ing (Pittsburgh)
Additional reporting from Keith Raynor.
---