Four regional champions and a former national title winner makes Pool A appear to be the "pool of death" -- and there's only three spots in the bracket available.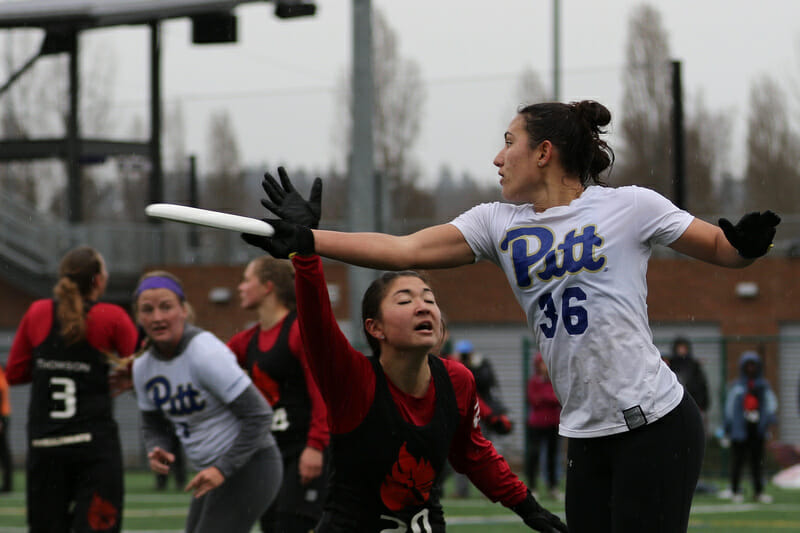 Ultiworld's reporting on the Women's 2017 D-I College Championships is presented by VC Ultimate as part of their season-long support of our women's coverage. All opinions are those of the author. Please support the brands that make Ultiworld possible and shop at VC Ultimate!
Given the structure of a standard A pool — with the No. 1 overall seed, then the tightly packed 8-12-13 cluster, along with the highest bottom seed — it is perhaps expected that the top seed would waltz away with a comfortable victory while the four others battle it out for the remaining spots in the bracket. But, Pool A at the women's College Championships has a growing reputation for playing host to plenty of early-tournament surprises. No pool in either gender division has featured more upsets since 20101 and the top seed has only won this pool four of the past seven years.
That trend perhaps look set to continue this weekend, as Pool A might be the strongest in this year's Nationals field. Four of the division's ten regional champions land in Pool A this season. Perhaps best of all, every team in the pool has played two or more of their Pool A opponents already this spring.
With all that history behind us, let's look at what's in front of us in this often dramatic pool.
Stanford Superfly
Seeding: A1, Overall #1
Power Ranking: #2
Overall Record: 28-3
Against the Nationals Field: 12-3
Against the Pool: 2-0 vs. Colorado, 1-0 vs. Carleton, 1-0 vs. Pittsburgh
Key Matchup: Colorado, 10:30 AM Friday
The number one has followed around Stanford Superfly this year. They began the year as the #1 ranked team coming into the season, having won a national championship one year ago. During the regular season, they battled all but one of the teams in their pool, and are undefeated against each of those past and present foes. Now, they are the #1 seed, the one team that is the favorite to be left standing when the dust settles in Cincinnati.
Of course, there was a time earlier this spring when many thought Superfly were going to go undefeated. At one point back in mid-February, they were 10-0 and had only given up double digit goals in a single game — all of which came against quality competition, including three teams attending Nationals this weekend and multiple teams that went on to lose in the their respective games-to-go. A roster flush with returning talent from last year's national championship run was steamrolling their opposition and carving a path to this year's title.
Shockingly, the team dropped three of their next eight games. An initial slip-up against Texas at Presidents' Day became more concerning when they were dominated 13-5 by Dartmouth in the semifinals of the Stanford Invite. In consolation that weekend, they picked up another loss to British Columbia. Those losses all came to teams seeded in the top five going into this weekend. More importantly, Superfly is 13-0 since then.
While the ship has been righted, it is clear that its structure is not impenetrable. And this year's #1 seed didn't come with a cushy pool — it could be argued Pool A is the strongest overall pool in the tournament. Stanford has had no trouble so far this season dispatching the teams that populate their pool, but that doesn't mean their opponents shouldn't be considered threats. While Superfly are 2-0 this season against seconded-seeded Colorado, that Kali team did just fell Texas at Regionals — the same squad who handed Stanford their first loss of 2017.
The talent level, experience, and leadership inspire so much belief in this team, from within and externally. While Monisha White, Courtney Gegg, Hallie Dunham, and defensive dynamo Shayla Harris have become more well known, there's plenty more to like. Michelle McGhee's development has put her right into the mix with Caitlin Go, Anne Gordon, and Rosemary Sandino has reliable role players who know how to do their job with tenacity. Their brilliant coaching staff figures into the awards conversation year after year, and their veteran leadership has built a culture of intelligent, hard working, and spirited play.
"At our best, we play with relentless, athletic intensity on defense and calmly on offense. We look for what's open, and use our legs to make throws easy," said the Superfly captains.
They make ultimate sound simple, but have a lot of depth and complexity to their play. Superfly is a total package team. They might also be a repeat champion.
Colorado Kali
Seeding: A2, Overall #8
Power Ranking: #14
Overall Record: 17-10
Against the Nationals Field: 4-10
Against the Pool: 0-2 vs. Stanford, 1-0 vs. Ohio State
Key Matchup: Pittsburgh, 12:30 PM Saturday
We've grown accustomed to what Colorado brings to the table. They're good enough to get a top three seed in a pool, finish second or third, play in prequarters, and probably win to make quarterfinals, only to be overwhelmed by a more powerful foe. That's been the way of it for the past two seasons. And so far, the team has followed the same script, with a solid but unspectacular regular season that netted them the No. 8 seed.
However, there's been a few rewrites this time around. It wasn't winning South Central Regionals — that's a feat they've managed for three straight years. It was playing their best in the Series and taking down a vaunted championship contender — rival Texas — on their way into Nationals. And it's the intentions they have when they arrive.
"Back in January, we set the goal of wanting to win Nationals," said Kali fifth year Kirstin Johnson. "In years past, we've always made our goal winning Regionals. This was still a goal this year, but we had our sights set farther than that."
The first couple months of 2017 didn't make that goal appear very realistic. Colorado went a combined 7-10 over their next three tournaments, all elite events. And while their next nine wins were over weaker competition during the Series, a matchup in the final against Texas would be one of the toughest tests of their season. Despite facing a 10-9 deficit, Colorado went on a 3-1 run to win 12-11.
"Beating Texas proved that we can beat the top teams and we can come back from a deficit against those teams as well," said Johnson. "The win instilled some much needed confidence in our team going into Nationals."
This change of fortune is well-timed and Kali will need to make it a pattern to accomplish their lofty goal. They are 0-2 against No. 1 seed Stanford and 4-10 against the Nationals field. That record won't cut it in a pool of this caliber. Close losses to top teams dot their record and it's likely they'll be in some more tight spots down to stretch of their games.
There's been years of preparation for this weekend. More than half of the team are upperclassmen who have been soaking in the Colorado systems for three or more years. That familiarity breeds comfort and trust when they take the field.
"Our biggest on-field strength is our system," admits Johnson. "We have been working in a vert stack for three seasons now and with a core group of leaders who know how to run the system we can open up the field on either side."
Colorado has a defined identity that instills belief from the team. Johnson praises the O-line's ability to approach each point "calm, cool, and collected," while the D-line has a different tactic. After generating a turn, the defensive unit is aggressive and pushes the pace. That two lines are able to manipulate the tempo of the game and played with a unified attack, centered around the vertical stack sets they've honed.
They'll need it all to survive Pool A. And that's just step one to checking off their goal.
Carleton Syzygy
Seeding: A3, Overall #12
Power Ranking: #17
Overall Record: 23-9
Against the Nationals Field: 5-5
Against the Pool: 0-1 vs. Stanford, 2-0 vs. Pittsburgh
Key Matchup: Pittsburgh, 10:30 AM Friday
Carleton is back at Nationals, coming off a dominating performance at North Central Regionals. Last year's absence ended an impressive three year run that included three quarterfinal appearances, two semifinal appearances, and one trip to the championship game. Syzygy's 2017 season includes some impressive victories that demonstrate that they are capable of adding to that impressive resume, but also some losses that reveal that they could fall short.
For most of the season, every tournament featured each of those two disparate results. They began this season with a decisive loss to Tufts at Queen City Tune Up, but they turned around in the next round and handed Pittsburgh a season-opening loss of their own. At Presidents' Day, they knocked off #7 Cal, only to lose to the Pie Queens in-region rivals, USC. That same Southern Cal team got them again at Northwest Challenge, as did Michigan, but Carleton flashed their strength again with another victory against Pittsburgh. Even the West North Central Conference Championships featured both a dominant win and disappointing loss against Iowa State.
"In the games we've faltered, it's been because our energy plummeted and we didn't actively try to change that," said captain Katie Ciaglo about the team's letdowns. "At other times, like our game against Washington at NWC, we turned on the intensity and decided to fight, going on a 7-0 run out of half to take control of the game. It's all about loving the battle and choosing to tough out every point, regardless of what the score is."
The exception is Regionals. Carleton ripped through the competition with relentless efficiency to claim the region's lone bid.
"In a one-bid region, we really have no choice but to peak at the right time," said Ciaglo. "…I think we peaked at the right time, and now the challenge is to push that peak higher and keep building towards Nationals."
There's plenty to build on for this deep and talented team. While they aren't laden with stars — although, knowing Carleton, it wouldn't be surprising if someone made a name for themselves at Nationals — veterans like Ciaglo, Claire Thallon, Madeleine Preiss, and Naomi Price-Lazarus can go toe-to-toe with more well-known opponents. Maya Powell and Emma Gauthier are impressive rookies, and Powell can play her way into award consideration. When they are executing, the balance and cohesiveness of their attack can be menacing.
"We returned 16 out of 18 players from last year and it shows in the trust we display on the field," said Ciaglo. "We know our systems and our teammates and love nothing more than playing with each other."
Pittsburgh has found that out the hard way, facing off with Carleton at two different tournaments, and coming out with losses for their troubles. Considering that game is between the teams lined up around the prequarter cutoff — and it leads off both team's respective schedules — it will have huge implications about Carleton's fortunes. In a pool this strong, there isn't much margin for error.
Pittsburgh Danger
Seeding: A4, Overall #13
Power Ranking: #5
Overall Record: 23-7
Against the Nationals Field: 8-6
Against the Pool: 0-1 vs. Stanford, 0-2 vs. Carleton, 1-2 vs. Ohio State
Key Matchup: Carleton, 10:30 AM Friday
Pittsburgh Danger opted to invest in a long-term strategy this season. In Cincinnati, they hope to cash in and reap the benefits. It's a strategy not without risk, but with big rewards if it pays off.
After entering the season with all-time high expectations placed on them, Pitt spent most of the season creating room for doubt in their body of work. Their season began with a surprising loss to Carleton — who they face first Friday morning — at Queen City Tune-Up. It was Ohio State — who they last in pool play — that ended their bid to win that tournament. A few weeks later, they were unimpressive at Commonwealth Cup, playing with fire in close losses to regional competition and losing to North Carolina in semifinals.
"Throughout the season, we have had different goals for each tournament but our main focus throughout the season was improvement," said captain Carolyn Normile.
Perhaps that focused shifted just a tad at the Northwest Challenge, Pittsburgh's last chance to really flex their muscles against elite competition. They notched their best win of the season, 14-12 over Dartmouth, and added victories versus Michigan and California. It provided a glimpse of who Danger could be.
While they added some more concerning losses in the Series — West Chester at their Conference Championships, Ohio State at Regionals — the main knock on Pittsburgh is their history against the denizens of Pool A. They are 1-5 against the teams they'll need to beat to make the bracket for the first time in three appearances at Nationals. The team seeded above them, Carleton, is theoretically the most important opponent for them to beat, but they are 0-2 against them this season. Regional rival Ohio State, their most familiar foe, knows how to beat Pitt.
If the team can find the belief they are the team that felled Dartmouth and Cal at the Northwest Challenge, they can break seed and make it the bracket for the first time.
"The team is more confident this year," said Normile. "We also know, more than last year, that everyone on the team is a contributor and it's less about the star players."
Past versions of Pitt have been centered around their top-end players, but the team has endeavored to spread the work load more evenly. While Normile and Linda Morse are the team's brightest stars, there's a long list of potential contributors. They are handlers like Hannah Blizzard, cutters like Abby Bomberger, and defenders like Sarah Russek.
That's the gamble. They took some extra losses, got fewer reps for their top-end players together, have a tough road from a lower seed, and challenged themselves to stay confident and bought-in. But the payout? It's a chance to advance at Nationals for the first time in program history with a deeper and more well-rounded team.
Ohio State Fever
Seeding: A5, Overall #17
Power Ranking: #11
Overall Record: 24-11
Against the Nationals Field: 5-10
Against the Pool; 0-1 vs. Colorado, 2-1 vs. Pittsburgh
Key Matchup: Carleton, 2:30 PM Friday
It's going to be a very hard road for Ohio State. Their pool is full of heavy hitters and they are going to have to beat one or more of these tough customers to see their season survive beyond pool play. But Ohio State has seen difficult obstacles before. The 2015 team was the No. 14 seed, the fourth team in Pool B. Yet that team made prequarters, on the back of a single win. That gritty victory came in the last round of pool play, when they took an 8-7 halftime lead over Middlebury and pushed it out far enough to win the tiebreaker by one goal.
Perhaps they can engineer the same situation this year. OSU is 2-1 against the team seeded above them, Pittsburgh. That makes a juicy target, and Pittsburgh has the chops to upset Carleton or Colorado. For their own part, Ohio State came within two of Colorado in their lone meeting this season. They've beaten multiple teams that have gotten the better of Carleton, like Pittsburgh and Tufts.
But overall, they haven't fared that well against the level of competition they'll need to best at Nationals. When things click for Sadie Jezierski, Alaine Wetli, Mary Turner, Stevie Miller, and company, they are a deep enough and athletic enough to make even strong teams wither. In particular, Jezieski's ability to take over the game as a thrower is invaluable for their offense. Unfortunately, they often have to lean on her when things don't line up, and that over-reliance could be their downfall.
The path is there for Fever. That road will be hard. Nothing good comes easy.
---
Women's Pool A is tied with women's Pool B with 22 upsets in the past seven seasons. ↩