Two regional champions clash to start Ultiworld's live broadcast schedule from Nationals!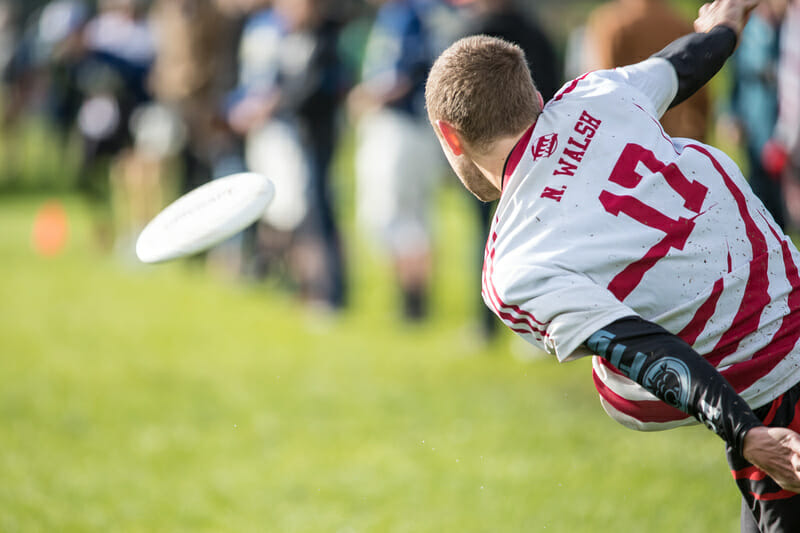 Ultiworld's reporting on the Men's division of the 2017 D-I College Championships is presented by Spin Ultimate; all opinions are those of the author. Please support the brands that make Ultiworld possible and shop at Spin Ultimate!
When Stanford Bloodthirsty takes on Colorado State Hibida, two programs will clash that have taken very different historical paths to Cincinnati. Despite a five-year drought, Stanford has qualified for nationals over 20 times and captured two titles. Colorado State, by contrast, makes its inaugural trip to the big dance in 2017. But don't focus too much on the past. The present pits two red-hot teams, both regional champions, against each other in a match that could determine which of them makes it to the bracket out of Pool A.
The Stanford offense, led by star handler Elliott Chartock and dynamic cutter Nolan Walsh, has spent most of the year crushing some of the nation's best person defense with their polished side stack attack. However, Hibida may be a bit of a curveball for them.
Game: #12 Stanford v. #13 Colorado State
Line: Stanford -2.5
Time: 5/26, 10:30 AM
Video: Ultiworld Live
Colorado State is one of the few college teams to frequently employ force-middle, and their defenders are savvy about poaching the lanes and making throwers take the second and third options. Based on past performance, CSU is likely to heavily poach the lanes to get the disc out of Chartock's hands and make Bloodthirsty's second handler beat them. Hibida also sports a bonafide ace defender in Cody Spicer whose versatile skill set allows him to neutralize almost any matchup in the country. A big tactical decision for Hibida coach Tim Kefalas will be whether to deploy Spicer on the Walsh or Chartock assignment. CSU may also opt for a junkier look, perhaps the 2-3-2 zone they showed during the series, as Stanford has occasionally tripped up in the face of zone defense this year.
When Colorado State has the disc, they run primarily through slippery handler Jake Servaty. He and Spicer (who also plays offense) excel at driving the offense from the handler set, methodically grinding out yards on the upline, and resetting the pattern on a break side dump swing. Hibida also relies on a surprising amount of young throwing talent, a result of an influx of strong high school players into the program.
Expect Stanford to start with their signature backhand force that focuses on stopping huck on the mark. From there, they'll try to earn takeaway blocks through the speedy Max Perham and uber-athlete Gabe Hernandez. They may also throw their new 1-3-3 zone if they have trouble containing CSU with person. If they manage a block, the factor that lets Stanford pull away from teams is their incredibly strong D-line offense. The potent handling of Hernandez and sophomore standout Nick Hirning is quite effective. The pair possesses comfortably and aggressively drives the offense from the handler set.
All in all, this looks to be a great matchup of teams with realistic aspirations of spots in the bracket. Colorado State has a hot hand after a great day two of South Central regionals, but the injury-free Bloodthirsty that took home the Southwest tournament title looked formidable.
Stanford has the edge in terms of raw talent, but Colorado State may be able to overcome them with a clever strategic twist.
Watch the livestream of this game on the Ultiworld Live page Friday morning at 10:30 AM Eastern/7:30 AM Pacific.