Sockeye-Revolver redux?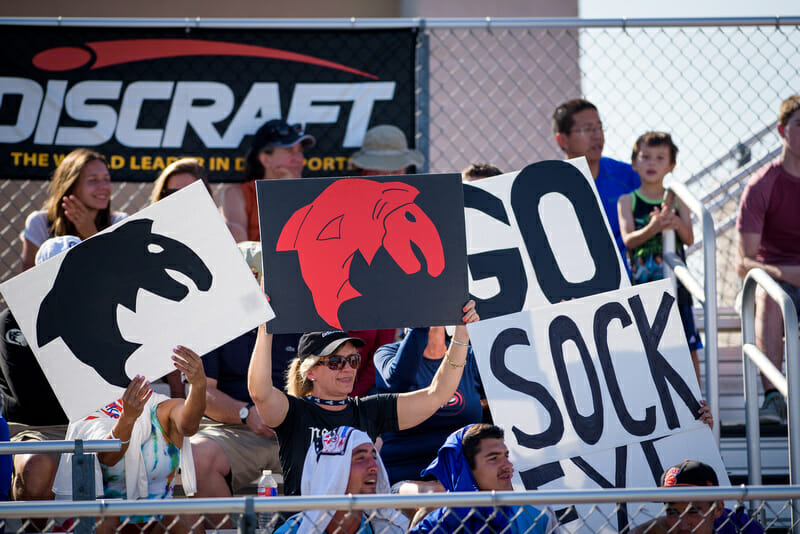 Men's Division coverage of the Pro Championships is presented by BE Ultimate. Please support the brands that make Ultiworld possible and shop at BE Ultimate!
BURLINGTON, Wash. – The Triple Crown Tour puts a three-day wrap on the regular season this weekend at the newly rebranded Pro Championships (formerly Pro Flight Finale, formerly Labor Day, formerly…). While the Mixed and Women's Division will feature something much closer to true Pro Flight play, only four of the top 10 teams on the USAU Men's Rankings table will be out to compete just 60 miles north of Seattle. A host of the others will be in action at NY Invite.
Can Sockeye Repeat? What It Will Take To Win Two Major Tournaments (And If That's Worth It)
If you win one major competitive Triple Crown Tour event, in the height of the regular season, what's the value in winning another one? This is more likely the kind of question a writer asks because, duh, prestige and the thrill of victory. But with the US Open returning to form in easily its most competitive year yet, and with the Pro Championships lacking in the same kind of big-time team draw, what's in it for Seattle Sockeye this weekend?
The team-speak answer is, proving it to themselves and growing together as a team.
Internally, it'd be plausible to think that they want to improve on last year's performance at this tournament, when in spite of all their talent, the team missed the bracket and just looked off.
Then again, this weekend presents a longer, more leisurely schedule than the usual two-day affair. Three games on Saturday, two on Sunday, and—if they make the final—one game on Monday on ESPN3. And Sockeye—fresh off not playing at AUDL championship weekend with most of their roster—has already looked like the most locked-in elite team in the division. Add in the fact that half of the division's top end will be at NY Invite this weekend, and a second tournament title starts to look even more achievable, especially if chief rival San Francisco Revolver is still struggling with their offensive execution.
Sockeye has a favorable run set up for themselves on Saturday already. Minneapolis Sub Zero had a nice weekend at Elite-Select and SoCal Condors won Select Flight Invite, but ramping up to take down Seattle's top-notch talent and speed will be a tall order. Vancouver's Furious George, who'll likely see Seattle again at Regionals in September, might have cause to not show much of their playbook to the Northwest favorites, so an upset from Pool A's bottom seed at this point seems unlikely.
Can Revolver Improve On The D In IHD?
Intensity. Humility. Discipline. That's San Francisco Revolver's motus operandi, but based on their performance down the stretch in their title game against Seattle Sockeye at the US Open, they appeared to be lacking in that third category. Turnovers on deep looks became breaks for Seattle (a credit to the No. 1 seed's defensive efficiency as well), and the mistakes looked wildly out of character a team that has become synonymous with freakish dedication to team strategy.
Discipline can also be (and is often) the first thing to slip from the mind when fatigue sets in. More than a refocusing effort on the team's motto, it'll be worth watching for signs of fatigue this weekend, since a good chunk of the San Francisco roster will arrive in Seattle fresh off a winning weekend in Montreal, where the Flamethrowers took home their first AUDL championship.
Recovery for Revolver will be apparent when the team can lock into its isolation system on offense, with cutters churning out big yards on unders and throwers opening the break space with effective fakes – whether it's the inside or the around space will depend on opponent and gameplan. Grant Lindsley back on the field should help the offense look smoother this weekend.
And defense? Let's not worry about that. Revolver still goes almost two and a half lines deep when pulling, and most of their top D-line players could start on offense (and would on many other teams).
What's at stake for anyone beyond the top three teams this weekend?
Instead of the pure top eight in the men's division converging on Burlington, Wash., this weekend, competition amongst the pro flight contenders is split between coasts. From a pessimistic perspective, that could make for a watered down version of the Triple Crown Tour's regular season culmination.
On the other hand, the three-day tournament is back again on Labor Day, giving teams less of a demanding weekend and presenting interesting opportunities for contenders not named Sockeye or Revolver.
We'll kick it over to Ultiworld's own Cody Mills1 for a look at the bid picture heading into the final weekend of the regular season.
Sockeye and Revolver are both safe this weekend and remain favorites to win their region. While it'd be a terrible look for either one of these teams to cough up a bunch of losses, it wouldn't tank the season by any stretch.
Denver Johnny Bravo sit at No. 5 in the Ultiworld Men's Division Rankings, and No. 10 for USA Ultimate Rankings. Staying safe means avoiding losing every single game. For those keeping track of the numbers at home: they need 1625 points to finish the weekend earning a bid for the South Central. (More on what they might need to do to mark this weekend a success in a moment.)
SoCal Condors are looking good to keep the Southwest interesting come Regionals, although, according to Mills, ~50% of their ranking will be determined this weekend. Holding seed would do them just fine, but expect this crew to come out firing. After all, beyond postseason glory in 2017, there's Worlds to think about in 2018.
Minneapolis Sub Zero find themselves in a similar position to Bravo. Sub are No. 9 in both sets of rankings and will have a chance to continue ratcheting up their play. Sub aren't in much danger of losing their footing in the rankings unless they cough up all their games.
Chicago Machine are in control of their bid fate. They sit in a precarious position at No. 20 in the Ultiworld Rankings and a dicey No. 16 in USAU's table. They need to scratch out a win against a rising Oakland Guerrilla, must keep it close with Bravo (~2 point loss would be okay), and avoid a blowout from Revolver. That's certainly doable for a team that, despite their roster turnover this season, has won this tournament before in stunning fashion.
Vancouver Furious George would do well to focus on what they can control this weekend. With the postseason charging full speed into the picture and only three wins on the board, they're far outside the bid cutoff at No. 26 on the USAU rankings. In Mills' algorithm speak, they need to average about 2300 points a game. That means sneaking within one point of regional rival Sockeye, and managing upset wins everywhere else. That's a tall order.
Oakland Guerrilla and Furious are in similar boats. The Southwest challengers need big upsets to close the gap between No. 19 and the bid cutoff on the USAU rankings, but they've made enough of a statement so far this season that they are nearly into the top teams on the Ultiworld list.
What Changes In Bravo's Game Will Show Improvement? And Do They Even Need To At This Point?
Denver's premier men's squad took a 15-9 beating at the hands of Revolver the last time they took the TCT stage. As Charlie Enders noted in his recap of that semifinal, Bravo star Jimmy Mickle was all over the field, but taking hits and not playing to his full potential.2
What Bravo needs is consistency. Even if defenses are sitting on Mickle's throws and forcing him to make plays downfield, there is a heap of Colorado-bred talent on their roster that can shoulder some of the offensive production and defensive load. It's long been Mickle's job to break the mark and get the disc to the rails in the offensive attack with his signature looping throws.
Ultiworld Rankings Guru Cody Mills contributed reporting to this preview. 
---
He maths so good. Check out his side project for a quick look at the bid picture: http://frisbee-rankings.com ↩

We do need to remember that tagging Mickle for a poor performance in this case should be taking with a heaping serving of salt. Since winning College Championships, the Callahan Award, and Club Championships in 2014, the man has, if anything, increased both his skill level and frequency of play. It's been a long haul and —in the world of made-up eyeball frisbee statistics— we should've seen a dip in production a long time ago. He'll bounce back. ↩