Our stock picks after pool play.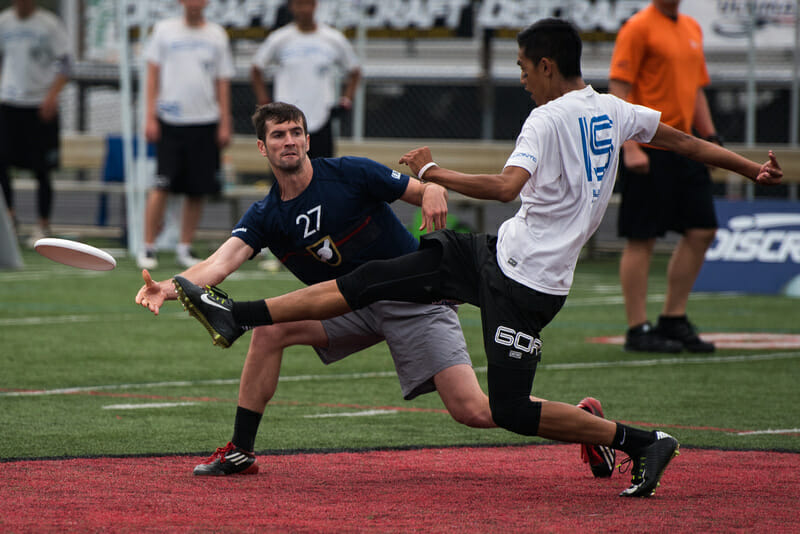 Ultiworld's coverage of the Men's Division at the 2017 Club Championships is presented by Spin Ultimate; all opinions are those of the authors. Please support the brands that make Ultiworld possible and shop at Spin Ultimate!
Here are the things we would buy, sell, and hold after the first day of play at Nationals.
Buy
Mischa Freystaetter (Florida United)
Time to mortgage your house and buy any of the Mischa Freystaetter stock you have left. As has been well-documented, Florida United spent the entire regular season avoiding the traditional circuit, so they entered Nationals as a relative wildcard. Freystaetter, for his part, had been great in the AUDL for the Jacksonville Cannons, but would it carry over to Club Nationals? Early returns point to a resounding yes. Freystaetter leads the men's division in goals (9) and assists (9) and blocks (4)1. He has more goals than Joel Schlachet, more assists than Kurt Gibson, and more recorded blocks than Jeff Babbitt. Yup.
Ashlin Joye (Revolver)
Much has been made about Revolver's offense and their less-than-stellar zone offense. As the main handler for the Revolver O-line, Joye is at the center of the discussion by the nature of his role. Today, the San Francisco O-line and Joye in particular showed a newfound level of confidence and poise against junk defense. He and the rest of the Revolver handler core navigated the sets comfortably— breaking the mark, running their dominator set, and, most encouragingly, taking defenses apart with hammers; they were broken just once against zone. Joye is arguably the best handler in the world and helped silence the critics today.
Harper Garvey (PoNY)
If you don't know, ask somebody. Preferably somebody playing elite club or AUDL this season who has seen Garvey become the driving force behind the PoNY offense. Garvey has been an ace for several years (he made Sub Zero back in 2012 when he was still in high school) but, because he didn't play big-time college ultimate, he's just beginning to break out on the national stage. Now that he's here, it's a joy to watch him go to work. He has every throw, regardless of conditions, and has been huge in opening up PoNY's offense, even in the gusty conditions and against the fierce zones of Sarasota Club Nationals.
Jay Clark (Ironside)
Clark was a cog in the Ironside machine today, going wherever coach Josh McCarthy needed. In their game against Ring of Fire, Clark registered three goals and one assist, playing scattered offensive and defensive points. He can take away an important cutter, or fill in for an offensive staple that needs a rest. Clark won't wow in the stat sheet very often, but his versatility is rare even at this level.
Jeff Babbitt (Dig)
The only reason there is any Babbitt stock left to buy is because he took the regular season off to coach Bent, but Dig's colossus hasn't missed a beat from his dominating performance at Nationals last season. The catalyst behind Dig's three comebacks today, he single-handedly saved their season against The Condors with two goals and two blocks in the last four points. He may not have the highest usage rate, but when Babbitt decides to take over a game, there doesn't seem to be anyone who can stop him.
Tyler Monroe (Truck Stop)
No Prial, no Doi, no problem for Truck Stop, as Tyler Monroe has taken over the initiating cutter responsibilities for Truck this season. He was the first look on virtually every possession for Truck's handlers, and his combination of speed and size got him an automatic ten yards on the force side. Selected to the All East team in the AUDL this season, Monroe still has some room to grow —particularly with the touch on his deep throws— but he's already proved himself to be capable of being the primary cutter on a championship contender.
Hold
Jonathan "Goose" Helton (Ring of Fire)
Helton played well for Ring of Fire in pool play, completing his passes and working within the offense. But most teams are locking in one of their top two defenders on the Raleigh newcomer, pushing him slightly out of the spotlight. Rather than force Helton to prove himself, Ring is content to utilize a cutter that has been given the sixth or seventh best defender on the opposing line. But if needed, the capability to take over is still lurking.
High Five
It's still hard to pin down an opinion of High Five. There's no questioning their top end talent, particularly Paul Arters and Johnny Bansfield, and they flashed surprising depth toward the bottom of their lines (though the bench remains a question mark). They were middling against Sub Zero and Doublewide, but played Revolver tight (15-12), only giving up two breaks the whole game against — but also never managing a break of their own. Good offense and tame defense seem to be the M.O. for this squad, but a team can go surprisingly far with that formula. Their pre quarter against Truck Stop this morning will be telling.
Doublewide New Imports
Austin has worked in a lot of new faces this year, and many of them have taken featured roles on the O-line. Abe Coffin, Dalton Smith, Jay Froude, Mitchell Bennett, and Kai Marshall are all O-line starters that are new to the team this year. It's an impressively talented (and young!) group, that speaks to Doublewide's bright future— but is the future now? Sure, Doublewide struggled against Revolver's tight person defense, turning over more resets than they would have liked, but they looked comfortable and smooth against High Five and Sub Zero. Their young core continues to improve, and it a day of nationals-level play has helped them find their stride against elite defense DW could steal a win against regional rival Johnny Bravo in pre quarters.
Sell
The Readiness of the New Sockeye
It's clear that in the last two years Sockeye has tried to move on to a new generation of players. Several older players left the team, and the reins were handed over to rising— bonafide— stars like Simon Montague, Dylan Freechild, and Trent Dillon. An influx of recently-graduated college talent filled out the ranks and Sockeye legend Roger Crafts stayed at the helm to lead the way. Early returns were brilliant— Sockeye was an unqualified buzz saw at the U.S. Open and, aside from a nightmare against Machine at Pro Championships, was generally the most polished team in the division. But Sarasota showed us that there's still a hole in their armor: mental toughness. Seattle got punked by Florida United in Round 1, and never truly regained their composure. They blew their next game against PoNY and by the time the Machine game rolled around they were flat-out beating themselves with unforced errors. The New Sockeye unquestionably has the on-field talent to beat anybody, but until they can learn to pull their mental game together, they're a tough buy.
Machine Hype
People might be overly tempted to double down on a run into the bracket for Machine, but they might want to think twice about that. Recall that Machine was 0-2 today before they beat Sockeye. On another day that might be a saving grace, but Sockeye lost to everybody. Chicago certainly does a few things well —they play strong defense, they are mentally tough, they start strong, and they definitely know how to huck & sky— but that's about it. It was the Pro Championships game all over again as far as Sockeye, and Chicago can't count on that happening again in the bracket. All that said: if they can get past Ring in prequarters, the Dig quarter matchup is clearly the easiest quarter.
Ben Sadok As A POTY Candidate
It wasn't that Sadok had a bad day for Boston Dig. In fact, he made some of the team's most important and spectacular plays, but some of his limitations became clear. The 2017 college POTY made some questionable decisions and didn't show the patience you would expect from an elite club handler. He had particular trouble against Johnny Bravo once Joe Anderson started marking him, with the ace defender's length and speed making Sadok visibly uncomfortable. With Dig winning Pool D, Sadok will have a chance to prove himself in bracket play, but after one day it seems that any POTY hype for Sadok was premature.
---
tied with Ben Jagt and Nate Castine, and subject to the less-than-ideal block stat-keeping consistency ↩