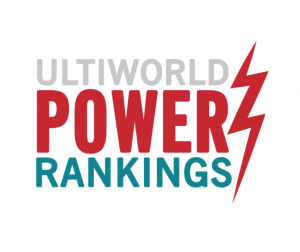 We are excited to present the 2018 preseason College Power Rankings! These rankings are based holistically on a number of factors: last year's performance, roster changes, conversations with coaches and captains, fall results, and assorted other factors.
For this years's rankings, we'll be publishing five teams a day until we hit the top five teams in each division continuing today with teams #20-16; see teams #25-21 here and come back tomorrow for teams #15-11!
Men's Division I
20. Washington Sundodgers (2017 finish: 1st in Northwest, T-5th at Nationals)
It's a new era in Seattle, as the Sundodgers lose some cornerstone players including Khalif El-Salaam and DY Chen this season. They'll have some shoes to fill, especially in the assist department, as Tian Chuan Yen also departs. But Steven Benaloh is ready for primetime and the team's fantastic 2017 rookie class is ready to step into bigger roles. Watch for big things from Lucas Chen and Derek Mourad.
19. UBC Thunderbirds (2017 finish: 3rd in Northwest, T-13th at Nationals)
There is so much potential for this year's UBC team. With Hugh Knapp (Canada U24, Furious George) back in 2018 alongside Connor McFadyen (led the team in assists at 2017 Nationals) and Victor Cheng, the Thunderbirds have tons of firepower. After making Nationals for the first time in years last May, UBC started 0-2 and then won three straight against Virginia Tech, Minnesota, and Colorado State. With that experience and their talent, we could see UBC shooting up the Power Rankings later this season.
18. NC State Wolfpack (2017 finish: 4th in Atlantic Coast)
Last season, NC State earned a bid for the Atlantic Coast…and then failed to claim it at Regionals, losing a heartbreaking game to Virginia Tech that would have put them on a clear path to Nationals. It's felt like the same old tune for the Wolfpack — strong team, weak mentality. Perhaps the sting of last season can get them over the hump. Rhys Gretsch and a superb sophomore class will look to lead the way in a deep AC region.
17. UConn Grind (2017 finish: 1st in Metro East, T-13th at Nationals)
Connecticut is once again easily the favorite in the Metro East and got off to a strong start this fall with wins over NC State, UCF, Florida, and Tulane at CCC to finish fifth. Their only losses came to UNC and UMass. Despite graduating most of their offensive line, UConn was resilient and is clearly benefitting from the coaching consistency of Bryan Jones, now in his third season with the team. Wally Esker and John Friedman are key players stepping into larger roles. With 15 seniors on the team, it's the team's big chance for a deep run at Nationals.
16. Texas A&M Dozen (2017 finish: 3rd in South Central, T-13th at Nationals)
Remember when Texas A&M was just trying to break through to Nationals? And then how everyone wrote them off when they graduated Matt Bennett and Dalton Smith? Well, don't look now, but A&M's got a program built in College Station: the team has now been to Nationals in four straight seasons. Connor Ughetta is back to lead Dozen this year, and they got off to a solid if unspectacular start at MLC.
Women's Division I
20. Michigan Flywheel (2017 results: 2nd in Great Lakes, T-9th at Nationals)
It's a big transition year for Flywheel, bringing their ceiling way down, but the floor in this legacy program is still national relevance. Brittany Wright, Nina Janjic, and Phoebe Hopp headline a team that looks marked by their depth and discipline. It's unclear if they can force teams to make mistakes, but they certainly will make teams pay for their miscues.
19. Whitman Sweets (2017 results: 3rd in Northwest)
There was no more shocking development in the 2017 season than the performance of Whitman, who followed up an appearance in the 2016 national final by missing the Championships altogether, despite a heap of talent and returners. Much has changed since then. There's something of a changing of the guard, meaning lots of opportunity for Livia Amorosi and Chloe Carothers-Liske, and plenty of highlights from the Soo twins. Perhaps they can thrive with less pressure.
18. Washington Element (2017 results: 4th in Northwest)
If the Northwest region is going to return to its reputation of overwhelming the rest of the country, it'll likely be due to Washington's return to form. Sophie Johansen is ready to be one of the best handlers in the division, and Nicole Cramer is reliable and versatile. In classic Element fashion, they've added an impactful grad student: this time Maggie Meshnick, a former captain at Brown. They'll have to make the pieces fit to add to their program's legacy of success.
17. UCLA BLU (2017 results: 2nd in Southwest, T-5th at Nationals)
After four straight years of qualifying for the College Championships, UCLA may see their streak in jeopardy. Jane Gunnar and Catherine Paulson have big shoes to fill with Han Chen headlining a large crop of outgoing graduates. UCLA returns less than 10% of last year's assists at Nationals, so someone is going to get a big jump up in usage. BLU has proven they can develop rookies effectively, so don't be surprised if some news names start filling up their stat sheets.
16. Florida FUEL (2017 results: 1st in Southeast, T-17th at Nationals)
The reigning Southeast champions lose some of last year's talent, retain some top contributors, and add some new kindling for their fire. A little bit of everything means you can expect FUEL to remain a solid squad. If Janina Freystaetter's health doesn't get in her way, it's doubtful defenses will be able to stop the former Central Florida star. Lucy Berman and Courtney Testa will be critical vets to help keep things in Gainesville headed in the right direction.
Men's Division III
20. St. John's Ultimate (2017 results: 1st in North Central, 9th at Nationals)
Our first draft of the rankings had St. John's much higher; however, upon learning that star handler Charlie Schuweiler is actually graduating this winter and not playing in the spring, SJU dropped significantly.  A strong senior class, led by Colton Motschenbacher and Alec McFarlane, should keep SJU competitive, but there will be growing pains as they replace Schuweiler's tremendous production.
19. Whitman Sweets (2017 results: 8th at D-I Regionals)
It seems as if every year we have another traditional D-I program choose the D-III path; this year's team is the Whitman Sweets. A program with a history of producing top level talent, the Sweets finished second at Northwest D-III Conferences last year before taking the D-I path to Regionals. Expect Whitman to push for the NW championship this year.
18. Portland Uprise (2017 results: 1st in Northwest, 14th at Nationals)
The team who Whitman will have to beat in order to claim the NW crown is Portland Uprise.  Despite a disappointing performance at Nationals in 2017, Portland only graduated four players from last year's team and return key contributers in Daniel Pham and Jack Padon.  Uprise will be looking to not just make it back to Nationals, but to make some noise there in 2018.
17. Franciscan Fatal (2017 results: 1st in Ohio Valley, T-5th at Nationals)
There's no denying that it's a brutal year of turnover for Fatal.  The trio of Dom Schuster, Stephen Babcock, and Jay Ratajczak was one of, if not the, best in the division last year. However, this Franciscan program knows how to win, and coaches Alex Renn and Ian Gill should have Fatal in contention for a Nationals bid once again in 2018.  Look for James Downs and Louis Heisler to take on bigger workloads this season.
16. Georgia College Disconnected (2017 results: 3rd in Southeast)
Two years ago, Georgia College Disconnected shocked the country by winning Nationals as the no. 9 seed at the tournament. Last year, they shocked us again by not even making the game-to-go in the Southeast, missing Nationals for the first time since the creation of the division. 5th year player Nathan Vickroy might be the best player in the country, but will Disconnected have enough around him to make a return to the Championships?
Women's Division III
20. Haverford and Bryn Mawr Sneetches (2017 finish: 13th at Nationals)
13th place was definitely not the finish they wanted at Nationals, but the Sneetches can be proud of entering the 2018 reigning at the top of an Ohio Valley region that keeps getting better and better. Without Zoe Lewis, the Sneetches' top player in assists and second in goals at Nationals, it'll be up to this year's large senior class and returning sophomores to make their mark in the region and keep the Haverford and Bryn Mawr program relevant in the conversation leading back to Nationals.
19. Catholic Nun Betta (2017 finish: 14th at Nationals)
While Catholic's first trip to Nationals may appear as their greatest achievement in 2017, returning players might claim that it was the growth of their team and a commitment to a supportive culture that stood out last year even more so than a Nationals berth. In the upcoming season, Nun Betta looks to continue its trajectory by combining a boundless spirit with growth under leadership from returning 2017 D-III Second Team player and captain Grace Castro, and incoming captain Christine "Gram" Tomasic.
18. Amherst Sparkle Motion (2017 finish: 5th in New England)
New England is arguably one of the (if not the absolute) deepest regions in the division, and Amherst has seen the worst of heartbreak within this tradition, coming in 5th in a region that sent four teams to Nationals last season. Expect to see this squad go up against perennial title contenders Williams, Bates, Bowdoin and the rest of the region with the collective goal of racking up as many bids as they can to get themselves to Rockford in 2018.
17. Lehigh Gravity (2017 finish: 15th at Nationals)
While they didn't perform at Nationals as well as their fellow Ohio Valley rivals Haverford, Lehigh's program will benefit from the sheer number of returning sophomores alongside talented veterans like Juliet Chung to keep the team competitive this spring. While their wins this fall haven't been too notable against very weak D-I teams, they've been putting in the effort to travel and play other teams outside the OV that will reap benefits later in the season.
16. Grinnell Sticky Tongue Frogs (2017 finish: 3rd in North Central)
Another team left behind as they missed a berth to Nationals by a single spot, Grinnell hasn't been able to clinch a bid to Nationals since 2015. 2018 could be the year for this consistent Midwest program to help return a third bid to the North Central, and if they can time it right, win games against Carleton and St. Olaf when it really matters at Regionals, and not just in pool play.
Five more teams will be revealed each day this week!