With 11 top 25 teams in the field, the Presidents' Day Invitational is a critical table-setting tournament in the women's division calendar. Dive in to our preview to find what you need to know for the three day event!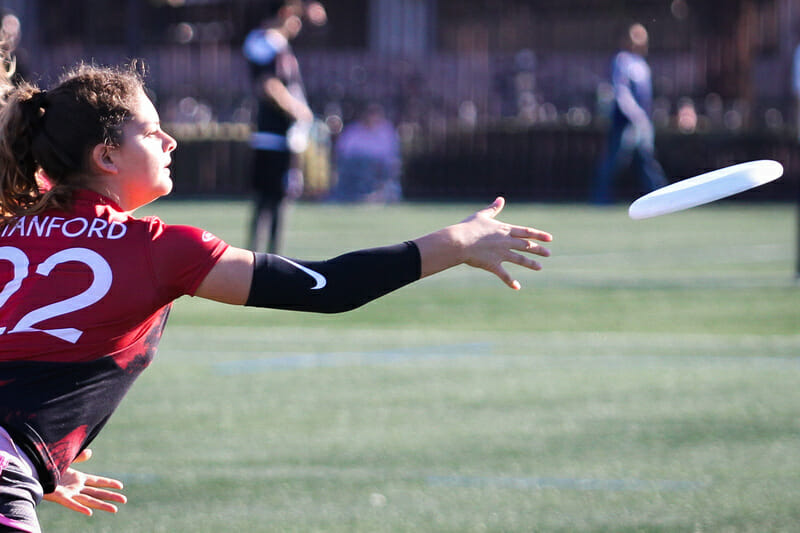 Coverage of the Women's Division at the Presidents' Day Invitational is presented by VC Ultimate as part of their season-long support of our women's coverage. All opinions are those of the authors. Please support the brands that make Ultiworld possible and shop at VC Ultimate!
With sunnier skies in the forecast, this year's tournament returns to its power pool format. Teams will compete in pool play on Saturday to qualify for power pools on Sunday, and then the best of the best advance into the bracket on Monday.
Last year's tournament had all the tempests, theatrics, and foreshadowing of a Shakespearean drama. The first glimpses of Texas' glory appeared, the cracks began to show in the Northwest's season, and Southwest regions began collecting their chips. This year's top seeds are the same as last year's, in a slightly different order: Stanford still reigns, but this year Texas takes the no. 2 spot, with Colorado yet again in the third seed spot and Oregon rounding out the top four. This tournament is a reliable teaser trailer for the season to come, so we can only hope for more drama and intrigue.
Tournament Profile:
Date: February 17-19
Location: La Jolla, CA
Weather: Mid-60s and sunny, with light wind
Top 25 Teams: 11
Storylines to Watch
What Will the Elite Picture Look Like in 2018?
Kiss those warm-up tournaments goodbye: the big leagues are here, and elite teams will face their toughest competition yet. Five of last year's National quarterfinalists will be in La Jolla, and four of them have a pool no. 1 spot of their very own. The games played at Presidents' Day Invitational are often played again in May on a much bigger stage. This weekend's task is sorting the pile.
Buy: Stanford
At a glance, #3 Stanford Superfly is repeating history. They'll roll into the tournament no. 1 seed for the second year in a row off a strong Santa Barbara tournament win, with a deep roster and a daunting deep threat. Beyond the deep threat being Julia Butterfield instead of Courtney Gegg, many of Stanford's pieces look the same this season, and so do their prospects.
Stanford's talent could help them storm into the final, but their mental game could create the same problems they faced last year in La Jolla. They fell to Texas on double game point in the semifinals at this tournament last year1, after back to back appearances in the final in 2015 and 2016, including a win in the latter.
Hold: Texas, Colorado
Despite winning Missouri Loves Company this fall, #7 Texas Melee brings even more questions to California. Melee graduated a healthy portion of their defensive physicality and their offensive fire. Not every team lives and dies by their stars, but Texas ran a tight starting line during their run to the final, and now they have to count on women who saw less playing time in big games last year. Powerful cutters like Gabriella Cuina, Marissa Land, and Domenica Sutherland will be back for Melee, and keep an eye out for Laura Gerenscer and sophomore Caroline O'Connell in the backfield. There are many doubters and skeptics right now. But this team's 2018 identity is still undefined, as is their ceiling this season.
#4 Colorado Kali's off-season has followed similar patterns to those of Texas, from the tournaments they attended (MLC) to the graduation of their biggest playmakers and their ceiling this year. Kali, however, has more depth into their roster, and their strategy doesn't rely on any one star. Nhi Nguyen, Jean Russell, and Kelsey Bennett are effective pieces in coach Claire Chastain's defensive system, and when their vertical stack is disciplined this team is truly the fourth best in the division. Last year the team succeeded on ruthlessly efficient offense, and with their strong returning class, it does not look like much will change. They'd certainly like to build on 2017's 5th place finish at this event despite coming in as the no. 3 seed that year.
Buy: Oregon
Of the top four teams at Presidents' Day Invitational, #5 Oregon Fugue kicks off the season with the strongest hand. They have most of their contributors back again this season, and their small crop of rookies is athletic and already comfortable with the disc. This season's Fugue proved early at Bellingham Invite that they can play loose and skilled ultimate, and they're not likely to display the same kinks in their system that they worked through last year. A very similar roster nearly cracked the semifinals last year; count on Fugue to hit the ground sprinting this weekend.
How UCSD Could Win It All
While home field advantage is rarely a factor in ultimate, this year the #8 UCSD Psychos especially won't have to rely on their supporters or surroundings to rally past their competition. This UCSD team is one of the stronger contenders in the Southwest this weekend, and the Psychos' best chance at winning this tournament is through patient offense and perfecting their zone defense. UCSD has already shown how threatening their defense can be, especially with Dena Elimelech commanding the zone from the deep space. There are very few players that can beat Elimelech in the air, and the Psychos love to bait teams into taking shots. The question is not whether UCSD can cause turns but whether they can convert afterwards.
Their path to a tournament victory would be considerably easier if they won their pool, a daunting task with Fugue seeded above them. Yet they would give a tough game to Texas in power pools if they hold seed, giving UCSD two feasible paths to the bracket. UCSD plays well against top-heavy rosters: their role players have shown themselves to be of a remarkably high caliber this season, and their depth could overwhelm teams unprepared to match them on every point.
Midwest Team Voted Most Likely to Make Their Mark
Once more, a crop of Midwestern teams will flee the wintry weather to visit La Jolla and try to grab some good games and a bid or two. #24 Iowa State Woman Scorned, #22 Minnesota Ninja, University of Chicago Supersnatch, and Northwestern Gungho will all cut their teeth against their west coast counterparts. Who could make the biggest splash, a la Vermont several weeks ago at Santa Barbara Invite?
Easy money goes to one of the two North Central teams. While Iowa State is in the tougher Saturday pool, they could survive in a power pool against Colorado and Northwestern to advance2. Megan Halverson is the marquee name on their roster, but their roster was deeper than one handler this fall when they upset Texas at Missouri Loves Company.
The Minnesota Ninjas got stomped at Regionals by Carleton last year, but they've continued to build a solid pipeline of talent, and a strong weekend could get them closer to a much-needed second North Central bid. They could steal a game from their pool's no. 2 seed Western Washington, and from there they'd have to battle it out in a presumed power pool with Oregon and Washington. Nothing is set in stone, of course. But the Ninjas show a lot of promise behind Makella Daley, and the continuous flow of talented young players, and it's bid-hunting season.
Your Go-To Guide to the Countless Southwest Teams
It's okay, you can admit if you're confused by the flood of UC-named schools popping up on your livestream or your Twitter feed. We brought in our local Southwest expert to break it down for you, so you can keep your Psychos and your Pie Queens straight this weekend:
Stanford Superfly
The one team on this list that needs no introduction. Stanford's been winning college titles well before most of their current roster was old enough to know that Stanford was a school. This current iteration of the team staked their claim early at SBI with dominant wins over all their competition. Julia Butterfield is an early POTY candidate, but she may be challenged from players within her own team. Caitlin Go and Michelle McGhee looked equally impressive in Santa Barbara, not to mention cutter Shayla Harris and power handler Hallie Dunham. Expect pull plays, zone, and an aggressive deep game from Superfly.
UCSD Psychos
If you played against UC San Diego last year, these are likely the Psychos you know. The team has returned nearly the same contingent that brought them to Nationals in 2017, and they have only improved since. The Psychos run their offense through Kelli Iwamoto, Leanne Go, and Dena Elimelech, but their role players have had major contributions already this season. UCSD runs an efficient vertical stack that's content to swing the disc around defenders until they tire, and has some killer break-throwers to power the offense.
California Pie Queens
The #15 California Pie Queens have emerged as a Southwest powerhouse over the past three years. However, their 2018 squad looks different from the Pie Queens of old. Gone are the likes of Alexandra Hasan, Alison Griffith, or Marisa Rafter. Instead, Cal relies on Jackelyne Nguyen, Anna Wysen, Allegra Mayer, and a baker's dozen worth of athletic rookies. At Santa Barbara Invite the Pie Queens relied on their handlers to keep the offense from stagnating, but as their rookies develop the offensive balance should shift downfield once more. While this weekend will be a good watermark for Cal's progress, it probably won't reveal every trick that the Pie Queens and coach Manisha Daryani are plotting for this season.
UCLA BLU
Despite an impressive quarters run in 2017, no. 13 seed UCLA hasn't yet found their tempo this season. The team still boasts a high caliber defense and are an athletic team, but they have a Han Chen-sized hole in their offense. If UCLA can decide who's going to marshal their offense, it will help their stock rise drastically. Players like Caroline McKee, Tahlia Hodes, and Malia Smith will likely be the ones to shoulder that load. It helps that they have one of the best coaches on the west coast in Alex Korb, PHD. UCLA may not have had the most successful start to their season, but it's too early to write them off.
USC Hellions of Troy
The Hellions took a giant step back from the team that earned the SW a bid last season. No. 14 seed Southern California almost graduated their full O line, and it's shown in their games so far this season. Alana Archer and Alyssa Perez have returned to run things for the Hellions, but they've struggled with offensive chemistry, despite recruiting a strong rookie class. USC is unlikely to make the same push that they did last year, but they're no strangers to being underdogs.
UC Davis Rogue
No. 15 seed UC Davis Rogue started 2018 with a disappointing Santa Barbara Invite, but they are currently riding the high of an undefeated Stanford Open run. UCD had flashes of brilliance in Santa Barbara and had the chance to hone their skills at the Open. It remains to be seen whether they can really challenge elite competition but they have a strong offensive line: Bryn Levitan, Iris Chan, and Allyson Tsuji all have got off to a great start. Rogue needs to prove that they have greater roster depth before they'll be considered a threat to the larger teams, but they aren't a pushover and will head to La Jolla with something to prove.
UCSB Burning Skirts
Buy #19 UC Santa Barbara stock. You heard it here first. They're the team most likely to beat seeding by a wide margin. Predicting upsets is easy when they are seeded last3, but UCSB has quietly put together an impressive season so far. Stanford and UCSD were both predicted to finish strong in Santa Barbara, but the Skirts came from nowhere to finish 5th. UCSB currently has 12 wins and 2 losses, and both losses came from teams that made Nationals in 2017. Nicole Sun, Kaitlyn Weaver, and Hani Pajela are a large part of the team's success, but Julia Kwasnick has been responsible for most of their goals or assists in close games. Presidents' Day will be the real test for the up-and-coming squad and they are in a very tough pool. Saturday will be a strong indicator of their potential for the rest of the season.
Chico State Chicas
The Chicas struggled in their only other tournament of 2018 and have yet to fully gel as a team. No. 17 seed Chico State does return many of their talented players from their 2017 squad, but have yet to play any of the competition they'll face at Presidents' Day and unfortunately didn't post confident wins over their competition at the Stanford Open. Their penchant for close games does not bode well for the Chicas, but they are still very much a wild card and may surprise other teams in their pool if not respected fully.
Moments We Hope to See
Dena Elimelech and Ella Hansen going head to head. Somehow, somewhere on the field, this matchup should happen. Call it Best of the West. Call it a pre-made highlight reel. Just make it happen——for the fans.
Perfectly executed pull plays. There's nothing quite like seeing a well-structured plan turn into a perfectly executed play. It's still early, but many teams have already shown that they can run a disciplined, spirit-crushing pull play to change the momentum of a game or set the tone early on. With 11 teams from our Ultiworld Power Rankings attending Presidents' Day, we're hoping to see more displays of offensive wizardry throughout the weekend.
Stanford earns their sweet, sweet revenge against Texas. Last year, Texas upset Stanford in the semifinal to advance to the final. The game was one of the most shocking moments of the season, and while these teams are unlikely to face off unless they're in the final this year, we can still hope.
New flavors of zone being tested. Between Oregon, Northwestern, and UCLA in Pool D alone, chances are high that the field will see some zone this weekend, even with mild winds. After Vermont brought the east coast 2-3-2 zone to Santa Barbara Invite earlier this year, we can only hope to see more inventive defenses this weekend. Giant clam? Snake in the grass? Junk with a bracket, and also somehow a force middle? Yes, please. Let's get creative, folks.
Fireworks from in-region rivalries. Most of the teams that have traveled from outside the Southwest have come to California to play teams outside of their region, but as fans it's always fun to get a little taste of Regionals a few months before they occur. Even with only a little tweaking, it'd be easy to see some teams play their in-region rivals in the power pools. Western Washington vs. Washington, Colorado vs. Colorado College, and Cal vs. Stanford are all potential matchups. It may not be their favorite game of the season, but pride will keep these games competitive. After all, bragging rights are on the line here.
---
This fate has befallen the past two no. 1 seeds, as it happened to Oregon in 2016, at the hands of UCLA ↩

This assumes all other seeds hold, of course ↩

as is tradition with the Presidents' Day Open winner ↩