Three teams go undefeated on day one.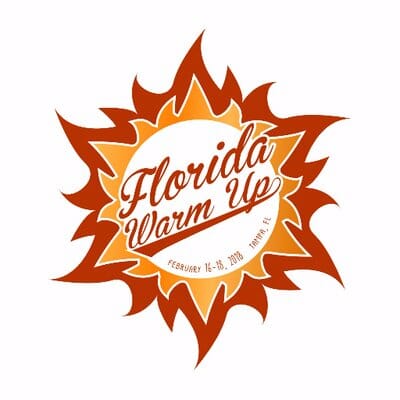 Ultiworld's reporting on Florida Warm Up 2018 is presented by Spin Ultimate; all opinions are those of the author. Please support the brands that make Ultiworld possible and shop at Spin Ultimate!
TAMPA — It was a wild first day of action at the Florida Warm Up, with hot, breezy conditions throughout most of the day making for plenty of upset opportunities.
Here's a look at what happened on Friday.
Standings
The top 10 teams after six-game match play advance to the bracket.
Virginia Tech (4-0)
Minnesota (4-0)
Brown (4-0)
Carleton (3-1)
Northeastern (3-1)
BYU (3-1)1
Florida (3-1)
Central Florida (3-1)
Wisconsin (2-2)
Northwestern (2-2)
Texas A&M (2-2)
—
Auburn (2-2)
LSU (2-2)
Harvard (2-2)
Michigan (1-3)
Connecticut (1-3)
Illinois State (1-3)
Texas (1-3)
Arizona State (1-3)
Cincinnati (1-3)
Oklahoma (1-3)
South Florida (0-4)
Florida State (0-4)
News & Notes
Brown Drops #1 Carleton In Undefeated Day
Brown may have been the biggest story of the day on Friday. After opening the tournament by cruising past LSU, a win that only increased in impressiveness as the tournament wore on, they knocked off the number one team in the country, defending National champion Carleton.
In the game against CUT, Brown never looked out of place. The most impressive sequence was Brown's three break run to take half 7-5. Mac Hecht and freshman John Randolph were huge in that run and throughout the game, but Brown didn't succeed just because of a few players. The team was solid up and down their lines. Players like Ken Noh and Adeez Adeymi showed that Brown has a nice depth of reliable players, who can make a few big plays when called upon.
After the Carleton game, Brown closed out with wins over Texas and Illinois State that weren't as close as the scores indicated.
It's hard to do much more to convince the Division that you're ready for primetime.
Virginia Tech In 1st Place After Strong Day One
Virginia Tech lands in first place at the end of Friday's competition thanks to a 4-0 record and a +24 point differential, five points better than Minnesota. They capped off their day with a 13-3 beatdown of Northeastern, who entered the game, like Tech, at 3-0. That game was emblematic of how Burn wins games: with relentless defense.
Tech is the tallest team at the tournament, and they fill up the D-line with a ton of height. Joe Freund is the name you'll know, but Colum Bergeron is another big who had an impact on both defense and offense after the turn. They do a great job of disrupting pull plays and forcing teams into uncomfortable choices.
The only legitimate knock on Virginia Tech's day was their soft schedule. Northeastern was their toughest test; they also faced LSU, Oklahoma, and Florida State. Tomorrow morning, they'll play their first ranked team of the weekend: Michigan.
Minnesota Is Dominant
There was no shortage of parity on day one of Warm Up, but Minnesota Grey Duck was able to avoid the traps, donut games, and letdowns that happen to teams playing in their first tournament of the spring. Minnesota finished 4-0 and +19 on what was probably the toughest Friday schedule: #17 BYU, #9 Auburn, Harvard, and #10 Michigan.
Minnesota ruled the day with hard person defense and offensive chemistry, particularly with their handling corps. Wyatt Mekler, Sam Kaminsky, and Tristan van de Moortele commanded the backfield for Grey Duck against a variety of looks. They can attack up line against person-to-person defense or downshift and play patiently until they find the soft spot in a zone. When nothing's open downfield, they reset. They cycle the handlers. They do all the boring stuff that makes offense work in the light, occasionally gusty wind of Tampa.
It's been a pretty simple defensive formula for Grey Duck: strict person-to-person defense (which is becoming a bit of a tradition at this tournament) and jumping on opponents early. They have led every game at halftime, allowing them to open up subbing and work in young players. Fifth year grad student Codi Wood has contributed heavily in those fast starts. Wood is making life miserable for the opposition's best handler, then picking up dead discs and running the show after the turn.
Minnesota is not the only unbeaten thus far, but they're winning with sound fundamentals and disciplined offensive motion. They put themselves in a great position to make a third straight appearance in the Warm Up final.
#18 Connecticut Falls Apart Late
UConn had one of the most disappointing days of the field. After fighting their way to an opening win over a scrappy Illinois State team, they were dismantled by Central Florida and Carleton by eight and seven, respectively. They then ended their day by dropping a game to Texas, who was otherwise winless on the day.
Connecticut seemed to really struggle with the weather. The team had players dealing with overheating shortly into their first game and seemed low on energy as the day progressed.
The team is also absent a true go-to player right now. Top to bottom, their roster doesn't have a lot of obvious, exploitable weaknesses. But when they went through rough stretches, they didn't have a player they could rely on to carry them out of it.
It isn't likely that Connecticut's weekend will improve much on Saturday, either. They face Brown and Wisconsin to conclude pool play. They'll have to better handle the Florida heat and find a more consistent energy. But even that may not be enough against the teams they face tomorrow.
Full results are posted here.
---
BYU is not eligible for a spot in the bracket ↩