This year Presidents' Day Invitational left us with some real questions. What to make of Texas's semifinal appearance? How good is undefeated Stanford? Is UC San Diego for real? Katie Raynolds and Graham Gerhart have the answers.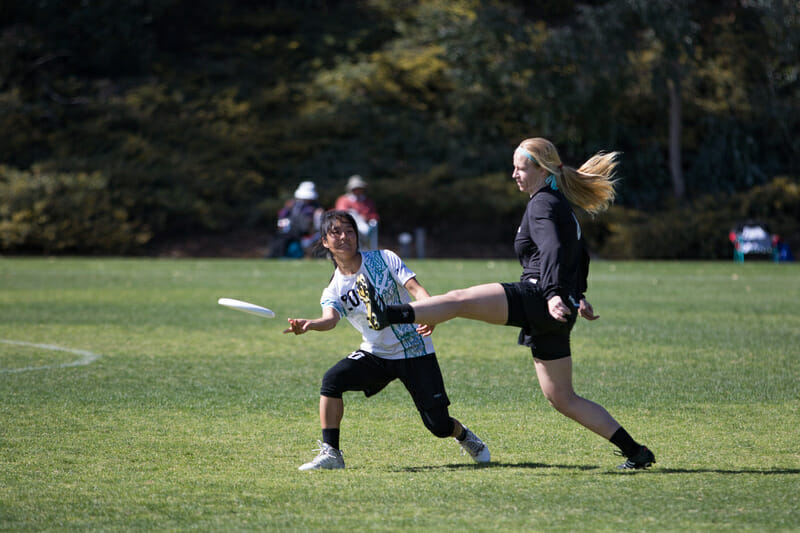 Coverage of the Women's Division at Presidents' Day Invitational is presented by VC Ultimate as part of their season-long support of our women's coverage. All opinions are those of the authors. Please support the brands that make Ultiworld possible and shop at VC Ultimate!
LA JOLLA – While Saturday and Sunday delivered their fair share of bumps and plot twists, the bracket of Presidents' Day Invite went primarily to chalk: four of the tournament's top five seeds were in the semifinal bracket, and the tournament no. 1 seed Stanford Superfly won the final against Colorado handily.
Stanford Superfly Flies Through Final 9-5 Over Colorado
#3 Stanford used several defensive looks to confuse teams throughout the weekend, and it was their tried-and-true 3-person cup zone that earned them their win in the tournament final, where they beat #4 Colorado 9-5.
On offensive and defensive points, Stanford set their zone to contain Colorado's handlers. The zone forced a high volume of passes and hopeful shots over the top. Stanford's offense off the turn wasn't always pretty, but it was enough to construct a 5-1 lead. Colorado's veteran handler core—particularly Jean Russell and Kelsey Bennett—made the cup work hard across the full width of the field, but the Colorado cutters didn't do the offense any favors hanging just behind the cup and moving little.
"Kali hasn't actually learned zone offense yet," laughed Kali coach Christina Mickle after the game. "So this was a good learning opportunity for us, and especially changing the strategy based on the wind."
Stanford survived a very windy Sunday without the talents of star handler Hallie Dunham, who incurred a foot injury on Sunday during power pool play.
"Hallie is so good in the wind, she's such a great thrower and zone destroyer, so it was definitely a problem for us [on Monday]," said Stanford assistant coach Jamie Nuwer, "but our girls stepped up."
In Dunham's place, Julia Butterfield played a big handler role, while Caitlin Go and Carly Eckstrom continued to execute. Stanford's offense wasn't efficient through the weekend, which Stanford coach Jamie Nuwer attributed to their open roster early in the season. Nevertheless, Stanford will have to tighten their game play ahead of their hometown tournament, Stanford Invite.
Same Colorado, Higher Ceiling
#4 Colorado Kali reached the tournament final against Stanford after a consistent weekend of smart defense and well-timed offensive movement. At a passing glance, the 2018 version of Colorado Kali looks quite similar to the 2017 version seen at Nationals: they play close and smart person defense. They run a vert stack which they use to switch their point of attack. And they are better at zone offense than the Colorado program has been in years.
Colorado only had two true "blowout" wins this weekend (11-4 vs. UCLA, 14-6 vs. Colorado College), but they kept a grip in all their games and were able to go undefeated until the final. Colorado has several players who switch between their O- and D-lines, but this team competes with the expectation that every woman can make plays no matter who has possession of the disc. Players like captain Emma Capra, Katiana Hutchinson, Katherine McCormick, and Nhi Nguyen1 excelled in both roles this weekend. Colorado's senior Meg Henderson had a breakout weekend on offense, finding the end zone at will.
Emma Capra in particular stood out for her well-rounded play and her hard work. Colorado coach Christina Mickle said of Capra, "She has stepped into the shoes left open by Megan Ives and [Kirstin Johnson] from last year."
Colorado begins the season at a higher level than they did last year. The high winds and the absence of Nhi Nguyen due to injury each add asterisks to Colorado's performance in the final against Stanford. They'll get another go at Stanford and the rest of the division's elite in a few weeks at Stanford Invite.
Texas Stumbles in First Season Showing
#7 Texas Melee only dropped two places from their no. 2 seed to end the weekend in 4th place, but the long weekend was nevertheless a cold shower on their season ambitions. They played four double game point games this weekend, and these games outline the narrative of their struggles and their recovery. Texas lost their first game 10-9 to no. 18 UCSB, and they lost again in pool play 10-9 to no. 10 Minnesota.
"Frustrated," responded captain Laura Gerencser on Saturday when asked to describe how she felt. "I feel like we're doing this to ourselves. It's just execution, we're having more drops [in these games] than we've had in any practice this year… we do not look as in shape as we should."
Indeed Texas' downfield was slow to initiate or react to the quick give-and-go passes between handlers Gerencser and Caroline O'Connell. The offensive sluggishness put more pressure on the backfield to generate momentum, which got trickier when the wind picked up over the course of the weekend.
Texas' defense remained aggressive and smart despite their losses, and this defense—along with much more enthusiastic offense—kickstarted their rally to win on double game point over Oregon in the quarterfinal. Texas capitalized on Oregon's unforced errors and generated a few blocks of their own to build a lead they held until they won 12-11.
Not a lot of stunning insight can be gleaned from Texas' semifinal battle with Colorado in 25 mph wind, but Texas played with more focus and energy than they did during pool play. Texas Melee has a lot of homework to cover before they return to the west coast in a few weeks to compete at Stanford Invite. This year's roster has strong pieces, but Melee faces a much longer road to the National final than they did this time last year.
UCSD Builds an Elite Season
For the second tournament in a row, #9 UC San Diego blew by their competition only to get stumped by Stanford in the semifinal. No. 5 seed UCSD Psychos started the weekend with comfortable wins over UCLA and Northwestern in pool play before they upset no. 4 seed Oregon Fugue on double game point. "This was the game we knew we had to win, to prove it to ourselves. We had been preparing for it since the pools came out," said UCSD captain Stacey Tran. UCSD stepped up to the challenge to close out as the first seed in their pool. They played longer and messier games on Sunday, but they never took their foot off the pedal or lost control of games.
This set up their rematch with Stanford. UCSD had previously lost 13-8 to the reigning regional champs and were eager to test themselves. For offensive handler Samantha Wool, this was what their tournament had been building towards. "We've been working on being smarter with our person marking, switching to take the right Stanford player. We'll probably play a lot of zone and work to contain Julia Butterfield," said Wool before the semifinal.
The Psychos played plenty of zone, but Superfly's Julia Butterfield was a problem for their defense the entire game. She frequently hucked Stanford out of difficult situations and looked the most confident in Monday's wind.
UCSD earned the first break of the game, but they quickly fell behind Stanford and struggled to recover. Stanford could not pull away, either. Instead, the two teams traded downwind points and the Psychos drew back to even with a break on a 35+ pass upwind point, led by Wool, Kelli Iwamoto, and Dena Elimelech. But Stanford tallied the next two goals, the final scores of the game, ending it at 9-7.
Their score at Presidents' Day Invitational was much closer than it had been in the past, and they can claim a legitimate rivalry with the elite women's program, a feat not many other teams have achieved.
"What was most important for us this weekend was that we proved to ourselves we could hang with the best women's teams, " said Iwamoto, the team's center handler. "Stanford didn't dominate us. We were matching them closely the entire game."
There's a lot to like with UCSD's weekend, and if they continue to improve at this rate, it may be Stanford getting nervous at their next meeting.
UCSB is the Real Deal
#19 UC Santa Barbara began their Presidents' Day Invitational by upsetting no. 2 seed and #7 ranked Texas 10-9. They ended their tournament with an 11-4 win over UCLA (in Monday's wind, no less) and a windy 11-6 loss to Oregon, placing 6th overall and breaking seed by 12 places.
Hype began to build after UCSB impressed at Santa Barbara Invite, but this weekend cements the Burning Skirts in the regional and perhaps national conversation. UCSB's top line can steal breaks from elite teams, and they can close out games confidently against weaker teams. Their depth came into question this weekend when fatigue showed late on Saturday, but for now, the Burning Skirts are still basking in the afterglow of a whole lot of upsets.
"A lot of pressure was off our backs," said UCSB handler Kaitlyn Weaver at the end of Sunday play, "coming in at [seed] 18. We're just coming in having fun, knowing that we have potential to do really well at this tournament… and that a lot of teams are going to underestimate us."
UCSB destroyed zones by fearlessly throwing hammers over the cup and relying on quick handler movement from Weaver and graduate student Hani Pajela, who came to Santa Barbara from University of Chicago. According to her team, Pajela threw 46 assists across their nine games. Cutter Julia Kwasnick dominated the deep lanes, and she never hesitated to bid or jump to make the play.
The Burning Skirts won't get to flex against the division's best again until Northwest Challenge, but they made a big statement this weekend. They're back in the Southwest, and they won't make the season easy for anyone.
Oregon Misses the Semifinals by One Point
#5 Oregon Fugue may have dropped seed and missed the semifinals, but their first weekend of competition was promising nonetheless. Oregon only lost two games this weekend, and both were on double game point. They lost to UCSD 13-12 during pool play in an entertaining and gritty game, and they lost the quarterfinal game 12-11 to Texas Melee.
Oregon faced the same learning curve at this time last season—calibrating handlers' deep shots with cutter timing, and possessing once they earn a block. This year's Oregon looks deeper, however. They return the best of last season's Fugue, and they've added a batch of experienced rookies who are already contributing.
The team still generated their fair share of turnovers, particularly in their quarterfinal loss.  "We've got some mental toughness to work on, that's our biggest piece," said coach Katie Weatherhead after the game. "We're talented, we're athletic, we throw turnovers. So one of those is way easier to fix than all the other ones."
Ella Hansen was a vision on the field for Oregon, and her ability to generate turns and play possession offense made her invaluable at key moments for Oregon. When Fugue was struggling to break in the 5th place final against UCSB, it was the addition of Hansen to the line that made the difference. Beyond Hansen, Sarafina Angstadt-Leto, Hayley Wahlroos, Maddie Boyle, and Kaiyana Petrus were effective pieces of the Oregon system this weekend. Oregon is playing deeper lines at this stage in the season, but their performance in a few weeks at Stanford Invite could give the first real hint at how far this former dynasty can go this season.
Notes on the Rest of the Field
California Pie Queens 
#15 California didn't have an impressive weekend considering their preseason hype. Yet the Pie Queens still made bracket play because, as coach Manisha Daryani noted, "We won the games that mattered." Their best performances were their two losses to Colorado, where they pushed the eventual finalists with their quick tempo offense.
Cal's rookie development may not earn them a bid for Nationals, but if the team continues playing deep lines, they have the potential to make Regionals a challenge for their opponents. Apart from Anna Wysen, no one player is relied on too heavily, and first year players get significant minutes in big games. Strong performances from players like Cidney Weng, Ali Mathews, and Sydney Horanic show great promise for Cal later this season.
UCLA BLU
Even though UCLA BLU only placed 8th overall, PDI was a return to form for the Southwest team. While they were far from perfect, UCLA's offense looked much better than it did at Santa Barbara Invite. UCLA only earned two victories at Presidents' Day Invitational, but they also had arguably the toughest schedule at the tournament.2 They broke seed by five spots, all without a coach present.
It's too early to guess at how far they'll be able to go by the season's end. UCLA could make a late season push for a bid, but it's more likely that they'll have to fight it out at Regionals. Players like Caroline McKee, Tahlia Hodes, and Katherine Jordak have stepped up this season, and Malia Smith could really help the team if she returns to full health.
Minnesota Ninjas
The #22 Minnesota Ninjas broke seed by one place this weekend despite an uneven performance from pool play to power pools and beyond. Their double game point wins against WWU and Texas in pool play began to generate hype around the North Central team, but their ensuing loss to UC Davis – part of four consecutive losses to Southwest teams – dampened the buzz. Minnesota has a strong roster of playmakers in the backfield and downfield, but they weren't able to exert control in tougher games.
Western Washington Chaos
#14 WWU Chaos is deeper than they were last year, and it shows on the field: despite their new side stack, Chaos still follows the "shooter gotta shoot" philosophy. This season, Riley Tauer and Eleanor Joselyn are taking on bigger roles, and the team can reel in Samiya Ismail's frequent deep shots. Chaos was without star Maddie Gilbert for most of the weekend due to a knee injury and then a concussion. With or without her, Chaos looked solid this weekend.
USC Hellions of Troy
Southern California's tournament was a roller coaster, with extreme highs and worrying lows. The Hellions improved over the weekend and were a better team by their third day, an evolution apparent in their two games against Washington. On Saturday, USC lost 14-5 to Washington. On Sunday, they won 9-6.
The Hellion handlers often held the disc too long and struggled to get open on resets, and while they may not be a Nationals contender this season, they're on the right road of development for their program.
Iowa State Woman Scorned
#24 Iowa State stepped on the field as the no. 8 seed in the tournament, but their 3-6 weekend dropped them to place 12th. Their only wins were against University of Chicago and Chico State, and many of their losses were by 7+ point margins. Iowa State played up in their game against Stanford at the end of pool play, and their defense proved capable of getting blocks. But this North Central team couldn't win the big games needed to make an impact this weekend.
Washington Element
Beyond their confusing loss to USC on Sunday, #17 Washington Element played to expectations this weekend. The structure of their offense looks good, but the mistakes this weekend usually came from execution, not strategy. Kate Dusenbury showed up for Washington in big moments during pool play, and beyond Dusenbury this team has the pieces to give elite teams closer games.
Colorado College Strata
By the eye test, Colorado College was one of the most intimidating teams competing in La Jolla. The team's average height must be at least 5'10", and they put their height advantage to use this weekend to land deep shots from Frances Gellert again and again. Kiera Connelly was an imposing presence downfield and a popular target for Gellert. Colorado College lost close games to strong teams throughout the weekend, and they're an easy third pick in the South Central.
All-Tournament Team
Michelle McGhee (Stanford)
McGhee was the most consistent player for Stanford this weekend, playing wherever the team needed her. She was a facilitator, a distributor, and an excellent defender on every point she played.
Meg Henderson (Colorado)
Henderson stood out this weekend for her ubiquity in the endzone for Colorado. Henderson's excellent timing and her speed did the work to keep her open no matter who guarded her.
Dena Elimelech (UCSD)
From her big hucks to her astonishing vertical, Elimelech plays like the camera is always running. Elimelech isn't the entire engine for her team's game, but she's absolutely the carburetor.
Ella Hansen (Oregon)
Ella Hansen played on another level from the rest of the field this weekend. She casually threw some of the best touch hucks, she had the best pulls, and her defense was smart and strategic. She's in the POTY fast lane this year, no matter how Oregon performs.
Laura Gerencser (Texas)
When Texas needed composure and leadership on the field this weekend, they looked to captain Laura Gerencser. Gerencser's throws aren't the flashiest, but her accuracy and her decision-making made her invaluable this weekend. On the turn, Gerencser's wide and agile mark thwarted opponents' best throwers. Teams change their defenses to stop her strike cuts and movement, yet few succeeded in stopping Gerencser this weekend.
Julia Kwasnick (UCSB)
Kwasnick is a playmaker by nature. She'll get the layout block, throw the high arcing hammer, or she'll sprint to give a deep option. Her speed and persistence won her many elite matchups this weekend, even late on Monday. Kwasnick played a lot of points for UCSB this weekend, and if she was tired, it didn't show.
Caitlin Go (Stanford)
Sometimes it seemed like Go was playing a different sport than the rest of the women on the field. Her grace, speed, and craftiness on the field kept her open often. Role player is not the right term for the position Go has taken on for Stanford this year, but she's usually the player a throw or two behind the big, flashy play. Go is reliably excellent every time she steps on the field
---
who only played part of the tournament ↩

They had games against UCSD, Oregon, Colorado, UCSB, and Cal, all of whom were quarterfinalists. ↩