Find out what happened in the final weekend of the regular season!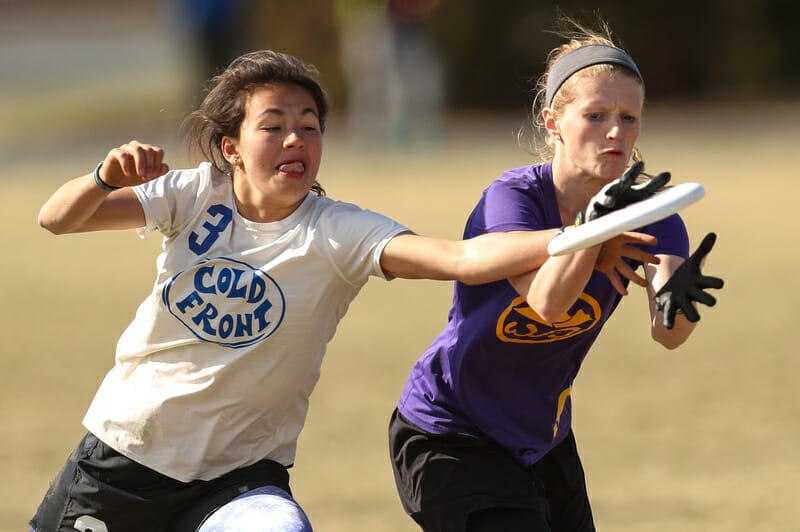 College Update is presented by VC & Spin Ultimate; all opinions are those of the author. Please support the brands that make Ultiworld possible and shop at VC Ultimate and Spin Ultimate!
During the spring season, we will publish a bite-sized weekly recap of the action across the College Division. This will serve as a supplement to our standard tournament reporting and will offer a high-level look at the latest happenings and the biggest stories of the week.
Want your tournament listed here? Submit a recap of what happened right here.
Men's
Carleton Closes Season With Emphatic Easterns Crown
It was #2 Carleton's world in North Myrtle Beach, SC at Easterns, where they trounced everyone in a magnificent performance that demonstrated how deep and talented the reigning National Champions are this season. They were strides ahead of every opponent, including #15 Massachusetts in the final, who they beat 15-8.
Unfortunately, we didn't get the marquee matchup between Carleton and #1 North Carolina after UNC was stunned in quarterfinals by #10 Pittsburgh. It was North Carolina's first and only loss of the regular season. Meanwhile, #3 Minnesota opened the tournament with a truly shocking blowout loss to unranked Connecticut, and added losses to Massachusetts and Florida during the rest of the weekend's play.
With such an impressive field, there's plenty to break down, so check out our Saturday Recap and Tournament Recap for more.
Emory Claims Bid With Huck Finn Win
The team without a strength bid with the most bid-earning potential going into the weekend was Emory, the no. 1 seed at Huck Finn. They needed to thrash most opponents, and thrash they did. Their 44-20 combined score in pool play is just what Dr. Southeast ordered. Things were tighter in the bracket, when the team missed points from star Anders Olsen and the windy conditions kept games close. They barely survived Vermont in quarterfinals, beat Washington University 10-6 in semifinals, and got a second win over Harvard in the final, a close 11-10 affair. Emory accomplished their mission with plenty of room to spare.
Quick Hits
D-III Update: DIII EastUR, New England Open
Eight teams gathered, including four Top 25 teams, to get in D-III action before the season closed. It was an exceptional weekend for #5 Middlebury, who powered through the field with a 6-0 performance that ended with a thorough 15-9 victory over #3 Mary Washington in the final. It moved their record to 15-1 and fully ensured a bid for New England, although the rest of the bids didn't work out so well for the region.
Of the other teams, Mary Washington and #8 Richmond came away with the best results, in line with their rankings. Mary Washington beat both Richmond and #21 Shippensburg on the way to the final, while Richmond's only losses were to the finalists, and their 15-12 loss to MoG was a competitive result. They also worked over Shippensburg. Unfortunately for them, it will likely keep them just short of a strength bid for the Atlantic Coast.
Not much more #6 Bryant could have asked for beyond going 7-0, effectively thumping teams until they reached the semifinals. In that round, they faced #23 Bowdoin, who gave them a full plate before Bryant scored on double game point. Their matchup in the final against no. 8 seed Penn was a rematch of a 13-5 beating from pool play, but was closer this time around, with Bryant taking it 11-9.
Bowdoin and Bates both went 6-1, with Bowdoin's lone loss the aforementioned semifinal thriller against Bryant. Bates suffered a surprise loss to Penn in quarterfinals, but otherwise took care of business. In addition, RPI and Wesleyan each turned in 4-3 weekends, although RPI got the head to head in that matchup.
Quick Hits
#15 John Brown attended Huck Finn and managed a 5-2 record, with both losses coming by a combined three points to Chicago and Harvard, both solid teams with the capacity to get far into the bracket at their respective D-I Regional Championships. All in all, it was a notable effort for Ironfist.
#11 Michigan Tech played a pair of one-off games against Northern Michigan and Michigan State. They trounced the former and defeated the latter on double game point.
At Illinois Invite, Missouri S&T went undefeated, and while their win over Minnesota-B might not have seemed impressive at the time, Minnesota-B went on to win the event.
Women's
Easterns
#18 NC State entered Easterns as a heavy favorite, but the question was could they blow past their opponents with enough force to bring home an Atlantic Coast bid. They answered that and then some, rattling off long runs to bury every team they faced.
Most notably, they played UNC Wilmington in the final. They had beaten UNCW by a healthy margin in crossover play, but Seaweed gave them a good game in a previous matchup earlier in this season. NC State piled up the mistakes while Wilmington came out scorching with great catches and difficult connections, leading to a 6-1 UNCW lead. NC State roared back to life, anchored by the backfield work of Ashley Powell, and blanked UNCW for the rest of the final. Their 14 point run in the final was the coup de grâce on their bid-winning tournament.
For more on NC State's performance at Easterns, check out "NC State Uncontested at Women's Easterns."
Quick Hits
D-III Update: NEO, Illinois Invite, Garden State
With the regular season wrapped up, it's time to see which teams were able to make their marks and get in those last games before the Series ramps up.
NEO tournament gave the New England region a chance to establish which of their teams is the strongest, as well as getting a good chunk of those teams to their 10 games to count for bid allocation. #1 Williams and #2 Bates dominated their pools with perfect Saturdays of 3-0 records with each team winning by margins of four points or larger in each game. The two teams met in the final where Bates took the game over Williams 8-7.
#7 Wesleyan topped the third pool, also going 3-0, but lost in quarters to surprise team #19 Middlebury. #8 Amherst and #9 Bowdoin both came in second in their pools, and finished the tournament third and seventh after bracket play losses, each to Bates in semis and quarters, respectively. Middlebury took fourth with a surprising run to lose to Williams in semis, after going 1-2 in the pool with Williams and Amherst. Overall, Williams and Bates established themselves at the top of the region, with Bowdoin, Amherst, and Middlebury still in the mix in a few weekends to come at Regionals.
Illinois Invite
Teams from the Great Lakes and South Central clashed in the winds at Illinois Invite in the Midwest as well this weekend. #11 Truman State found themselves in a pool play tie-breaker with Valparaiso, each winning 2 games and dropping 4 on the weekend–Truman state won with a point differential of +5 to Valparaiso's 0. Truman ended the weekend with a 4th place weekend, Valparaiso in 5th and Knox in 7th after a 1-5 pool play and loss in 5th place semis.
Garden State
A bit south of New England Open a number of D-III Women's teams played at Garden State in New Jersey, showing off the talents and abilities of the Metro East, Ohio Valley, and New England regions.
Haverford struggled, losing their three pool play games in Pool D and losing in prequarters to drop to the 9th place bracket where they lost in the 9th place game. SUNY-Oneonta and Colgate also lost in prequarters, ending up in the 13th and additional consolation brackets. SUNY-Geneseo matched up against Swarthmore in prequarters and took the match 9-6, before falling in quarters after a productive 2-1 pool play day on Saturday. Colby fell in quarterfinals to Lehigh and mirrored SUNY-Geneseo with a fifth place semifinals loss as well. Swarthmore notched a tight 7-6 win over Haverford in pool play, but was unable to win their ninth place semis match to face off against Haverford again during the tournament.
The D-III teams with the most success were Rensselaer Polytech and Lehigh; Lehigh in particular defended their tournament three seed: they won their pool 3-0 including a universe point win over Rensselaer Tech and made it to the finals match where they lost to Connecticut. Rensselaer also performed well, coming in second in their pool below Lehigh and pushing through the bracket until their semifinals matchup against Connecticut with a roster reduced by injuries.
Quick Hits
Rice went 3-1 in the round robin against several South Central D-I teams at a rescheduled Big D in Lil d.
Trinity and Wooster made a pair together; each took home two wins at Camino Real and Indy Invite, respectively.
#4 Mount Holyoke was perfect on the weekend at Vermont Open, ending 4-0 with a head-to-head win against WPI along the way.
Looking Ahead
With the season over, the next time teams will be in action will be Conference Championships. The first, and far larger round, is 4/14 & 4/15, while the second set are scheduled 4/21 & 4/22. Knowing this year's weather, those could change.