The men's division closed the season with a wild tournament that changed the projections of many top teams.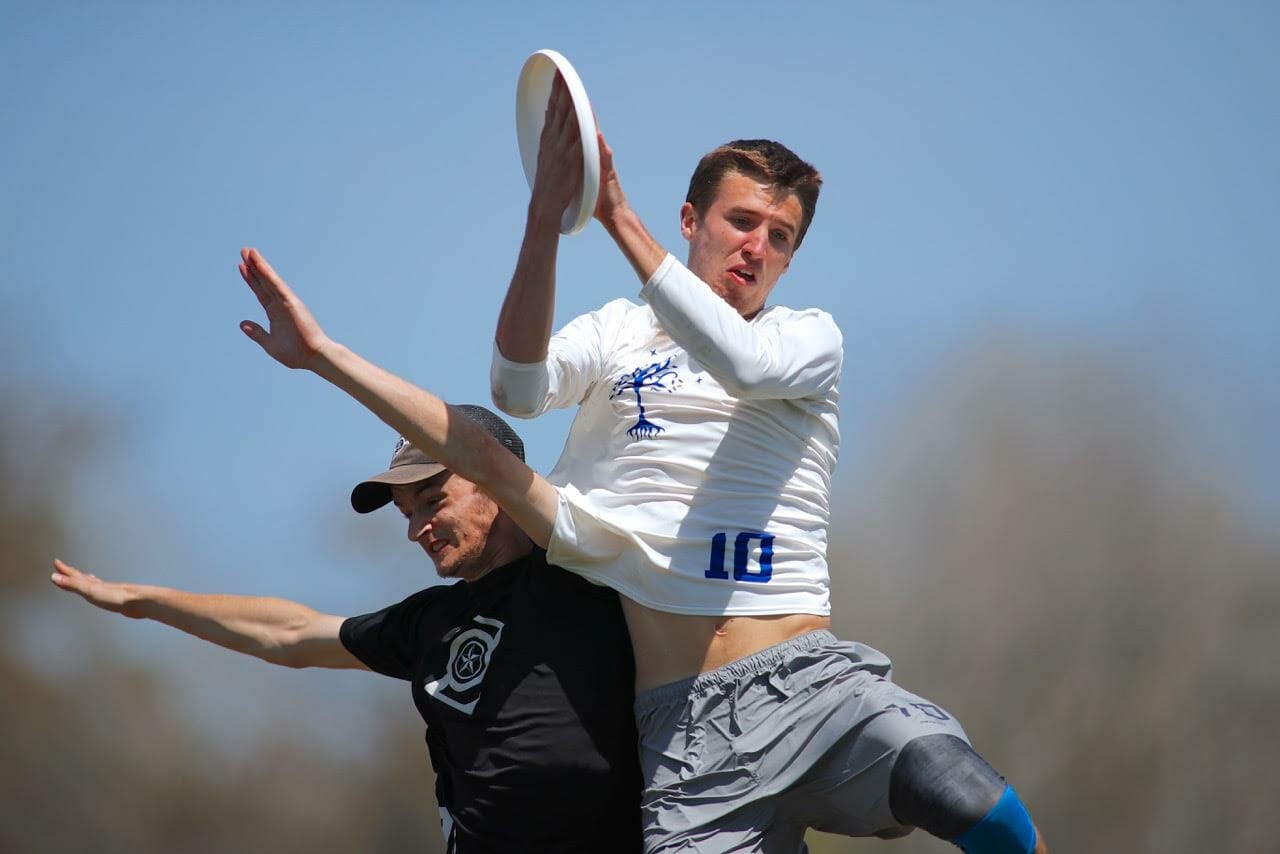 Coverage of the Men's Division at Easterns is presented by Spin Ultimate; all opinions are those of the authors. Please support the brands that make Ultiworld possible and shop at Spin Ultimate!
NORTH MYRTLE BEACH, SC — It's been said before that Easterns is a bit of "Nationals Lite," a chance for Championship contenders and Nationals hopefuls to hone their game against those of similar caliber. That certainly rang true at this year's tournament. Some title contenders, like North Carolina and Minnesota, hit unexpected sour notes, while others crested into crescendos. Many teams rewrote the narrative of their season, all against the backdrop of bid battles.
Carleton Displays Championship Form
It was truly a banner weekend for #2 Carleton CUT and it concluded with an exclamation point win over #15 Massachusetts in the final. Let their tournament trophy, their undefeated record, and their 105-54 aggregate score be submitted as evidence that whatever weaknesses they've shown this season, this is a championship caliber club. There was nothing fluky about the gap between them and the rest of the teams at Easterns. And without close games, they still found ways to prepare for the final part of the season.
"We have to gauge after each game or each half, our focus," said Carleton coach Phil Bowen. "If we just cruise through a season 15-5, it wouldn't do us any good once we got to a game that was 13-13. When you don't have those 13-13 situations in real life, you have to find something to work on and succeed or fail at."
CUT was brutally efficient for the duration of the tournament, allowing them to consistently dictate the pace and style of games. The offense was equally adept at both striking deep quickly with shots from Dillon Lanier to Henry Fisher and working the field with well-timed short gainers and break throws. Their D-line was relentless and swarming, harassing the opposition until they conceded a mistake; that line also converted at a high clip. Their junk set to open points neutralized opposing initiation playbooks. When they did turn the disc over, it was usually on early deep shots, which never gave their foes strong field position.
Through this display of talent and understanding, Carleton was an unmatched force in Myrtle Beach. There are so many good players on this team that they basically don't have any stars, only a bunch of incredibly talented role players, most of whom can take on multiple roles. Henry Fisher had his way with whatever defenses threw at him and was the closest thing to a star that Carleton offered. But it was a team effort. And not even a complete team: they were without Joe White and Alex Olson, both starters, at Easterns.
"We've been talking all weekend about how this is not our peak," said Bowen. "We get the job done, but there's a lot of inefficiency."
If this is inefficient for them, then their potential is frightening. This was the Carleton team we thought we were getting. It's the squad we've seen glimpses of. It's one that could win a second straight National Championship.
A Dent in the Armor: UNC Takes First Loss
For the first time this year, the titan that is #1 North Carolina Darkside showed that it can be beaten. In the first round of the bracket on Sunday morning, #10 Pittsburgh came out ready to pounce on a UNC team that began the game flustered and disorganized.
Pitt began with a break, after a Matt Gouchoe-Hanas huck sailed too long for the receiver. Pitt was excellent at utilizing the break chances they were given, and UNC failed to adjust to a stifling matchup defense led by Mike Ing and Leo Warren. A few hucks from Kai Marcus missed their targets, and Pitt went up 4-1.
Darkside had been punched in the mouth the day before against #6 Wisconsin, but the Wisconsin offense allowed the Nathan Kwon led D-line to will UNC to a huge break run. The Pitt offense remained calm, cool, and collected, in part due to a pure separation in their lines. Once UNC finally broke through the stout Pitt defense, they were now trying to stop Noah Robinson, Jonah Wisch, and Hafeez Shams. It was a completely different group that had been plotting their next offensive possession as the defense continued to roll.
Despite their early struggles, Darkside managed to wake up in time to fight back. Down 12-10, Darkside scored twice to force double game point. UNC came down in a zone to force Pitt out of a set play, like they had several times that game. The En Sabah Nur offense was too good, and they were willing to throw it as many times as necessary to take the game from the heavy favorites. Robinson hit Ing for the game winner and Pitt dealt North Carolina their first loss of the season.
"It shows us that our floor isn't good enough to win Nationals," North Carolina coach David Allison said after the game. "If we didn't already know that, we certainly learned it right now. It can be beneficial, but we already sort of knew that if we don't bring our best game we're going to get beat, especially by teams that were well coached."
With Minnesota's lackluster performance this weekend, Pittburgh's candidacy as a semifinalist is that much stronger. If they end up seeing UNC around then, the chess battle between the two enormously talented coaching staffs will continue.
A Lack of Quack: Minnesota Misses Bracket
Before Easterns, #3 Minnesota Grey Duck was a top three team in the country and a leading candidate to join Carleton and North Carolina in the top tier of the division. Instead, they showed some glaring weaknesses that cause concern about how far they'll be able to make it at Nationals.
Minnesota started their weekend by getting smacked by a UConn team that went on to lose the rest of their pool play games. They sleep walked their way to a 15-8 loss in that opening round game, struggling through execution errors and a lack of defensive intensity. But that loss didn't feel like their most damning of the weekend, especially when they won comfortably over #19 North Carolina State and and #18 LSU.
Against Massachusetts in their final game of pool play, Minnesota was exposed by Tannor Johnson and Pat Barron. While Tristan Van De Moortele, Wyatt Mekler, and Sam Kaminsky all had strong performances in the Minnesota backfield, Minnesota simply could not match UMass' athletes downfield. Grey Duck's handlers had to grind their way to holds for nearly every point outside of a few successful pull plays. In the second half that caught up with them, as they gave UMass a handful of break chances that cost them the game.  Minnesota's lack of elite downfield playmakers has been a concern all season.
Against UMass, in a must-win game, it became clear that the problem might be big enough to keep them from hanging with the very top teams of the division. Defensively, they also didn't have anyone who could slow down Johnson or Barron, and when they offense stopped playing perfect, UMass ran away with the game.
Minnesota also suffered another big loss to #13 Florida in the 9th place game to cap their concerning weekend. Easterns wasn't a death knell for Minnesota; they still have one of the most loaded handler cores in the division's recent history. But the team's weekend has to be a big worry for a team that has grown used to being National title contenders over the last few seasons.
UMass & Pittsburgh Show Signs of Life
For the first time all season Massachusetts looks like a team that could make the semifinals at Nationals. They showed that they can also still play a confounding game over the course of the weekend, as evidenced by their 15-9 loss to NC State. But overall UMass looked much more like the team they were expected to be before the season began.
"It's always easier to get their attention when they lose," UMass coach Tiina Booth said after the final, their only other loss at Easterns. "The narrative you tell yourself as a coach versus the one you tell yourself as a player; it's all different. There were a couple red flags as we left the LSU game — we got too happy. Once you get too happy or too down, you can't recover."
They were especially impressive in the second half against Minnesota, when they turned the disc over just two times.1 Tannor Johnson was unstoppable against everyone but Carleton, Pat Barron and Jake Radack were consistent playmakers in support, and the return of Brett Gramann was a huge boost to the D-line.
UMass has struggled to find consistency this season, and have, at times, looked like they were just going through the motions. But at Easterns, they finally looked like one of the top teams in the division, knocking off Minnesota, #8 Brown2, and Pittsburgh in three straight games.
"In many ways this feels like our first legitimate tournament," Booth said. "I wanted them to get bumped up from Tally [Classic]. I knew that their confidence was shaking. We've had great practices after Tally and the fact that they managed to bring those here was a big deal for us."
The fact that they did so without Chris Bartoli should be even more assuring for them. At their previous tournament, UMass looked on the verge of being in real trouble. But with their performance at Easterns, they now look like a team that can get back to where they're used to being come Nationals.
***
While eliminating North Carolina was the biggest accomplishment for Pittsburgh this weekend, it was hardly the only game in which they demonstrated their improvement this season. On Saturday, they earned a quality win over #7 UNC Wilmington, recovering from a 7-3 deficit to win receiving on double game point, 13-12. Their loss to UMass was narrow and competitive, and they added a consolation victory against Auburn.
Contributions from both veteran captain Jonah Wisch and from their strong rookie class were key to their heightened level of play. Wisch looked very comfortable offensively, striking a nice balance of playmaking and preserving possession, exactly what Pitt needs from their center handler. Meanwhile, the 2021 class isn't loaded with heralded rookies, but, as a whole, they can compete with any crop in the division. Will Hoffenkamp and Kevin Tsui led the way for the group in O-line handling roles, but Will Helenski also shows a lot of promise with his size downfield. At least five rookies were getting run in important spots.
With their win over North Carolina, Pitt took a huge victory away from Easterns heading into the Series. They have a history of peaking in the postseason, and with the way their young contributors are developing, they should be even better a month from now. But taking down one of the best teams of the season is beyond what many expected from this club.
"This is definitely the best we've performed all season," Wisch said after the game. "We know that we can ball with the best teams out here when we're playing our best, we just have to get everyone locked in."
Quick Hits
NC State played their way to a Pool C win, thanks in large part to a 15-9 win over UMass. The team was without top player David Jones on Sunday due to the aggravation of a rib injury, and they faltered against Auburn in his absence, but with him on Saturday they impressed. Jones is an impactful and fearless player, able to make plays at every position on the field. The surrounding cast, including Trevor Lynch and Archer Gordon, proved capable of matching up with bigger names from more prominent programs. NC State will need Jones back healthy for the series, but when he does return, NC State may be a team that could end a season or two at Nationals.
Auburn needed a bounce-back weekend in a big way and they got it. Close wins over Cal Poly SLO, #9 Virginia Tech, and Cincinnati in pool play were enough to clinch their quarterfinals berth. After falling behind to NC State, they they reeled off a massive run of breaks to flip a 7-5 deficit into a 12-7 lead. Auburn was no match for Carleton in semis or Pittsburgh in consolation, but with the return of Eric Sjostrom and an effective zone defense, they looked like Nationals contenders again.
Wisconsin went 4-3, with all three losses coming to Carleton and North Carolina, hardly results to be upset with. The return of Nick Vogt offered an offensive jolt for the Hodags, but they still lack some punch on that side of the disc, despite good form from Thomas Gallagher and rookie Ted Schewe. They play a smart brand of ultimate, but aren't dictating against strong teams the way we've seen them do in years past.
Florida had a chance to break Wisconsin on double game point in their pool play game and couldn't take advantage. But Florida might have been thankful for that in the long run. Wisconsin, who took second place in Pool B because of the win, got run over by Carleton in quarters, while Florida went on to win out in consolation play and take ninth. Billy O'Bryan had another stellar individual tournament and Florida continued to look like the best team in the Southeast.
#12 Cal Poly SLOCORE came to South Carolina with hopes of a Southwest strength bid, but by the end of Saturday, it had evaporated after they were felled by Auburn and Virginia Tech, while Emory was pounding the life out of teams at Huck Finn. They are still struggling with injury and were without Nate Pettyjohn, as well. Now, it's win the Southwest or bust.
It was great to see Hank Womble back in action leading the Auburn sideline. They went Dale Earnhardt themed this week, with a big black #3 flag. They even adapted their "Crab People" cheer into "Dale People: walk like Dale, drive like Dale." Their sideline antics remain some of the best color in ultimate.
All Tournament Team
Henry Fisher (Carleton)
Tannor Johnson (Massachusetts)
Billy O'Bryan (Florida)
Tristan van de Moortle (Minnesota)
Jonah Wisch (Pittsburgh)
Pat Barron (Massachusetts)
Ethan Bloodworth (Carleton)
---
Both turnovers came on the same D point early in the second half. ↩

It should be mentioned that Brown were without Mac Hecht in their quarterfinal game ↩