UC San Diego, Texas, Carleton, Western Washington, Michigan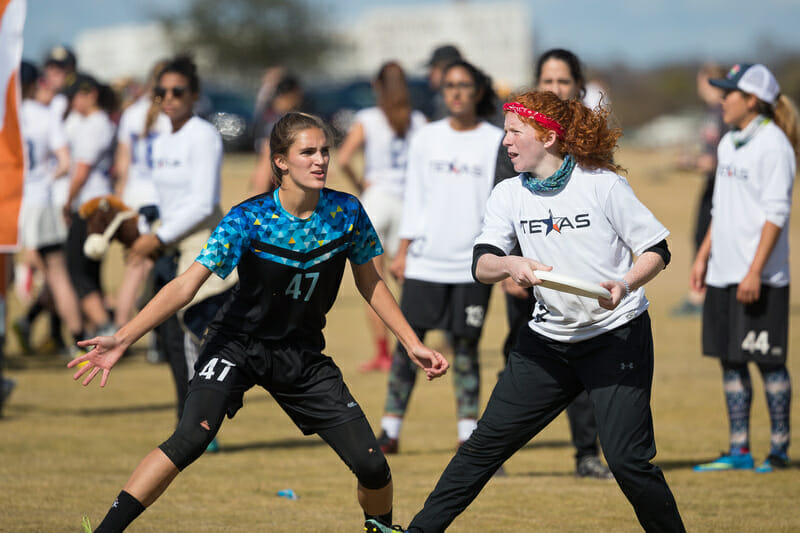 Coverage of the Women's Division of the 2018 D-I College Championships is presented by VC Ultimate as part of their season-long support of our women's coverage. All opinions are those of the authors. Please support the brands that make Ultiworld possible and shop at VC Ultimate!
UC San Diego has played a charmed season so far, but they shouldn't take their top spot in Pool B lightly: in the last two years, the tournament No. 2 seed was upset. In 2017, Oregon claimed the top spot over eventual champions Dartmouth, and in 2016, UBC was toppled by UCLA and Dartmouth in this pool. Pool B doesn't have the closest-seeded teams, and it's not the pool of death this year. But there's just something about this pool.
This year, UCSD is an imposing top seed with only three total losses and a stacked starting line. Texas returns to the Nationals field with new names in their starring roles, and they're hoping to keep their 17-game winning streak going through pool play.
After the top two seeds, the field in Pool B gains more parity. Carleton has wins against Western Washington and Michigan each this season, but the three teams are well-matched to challenge each other on Friday and Saturday.
Let's dig deeper into how these teams could fare in pool play.
UC San Diego Psychos
Seeding: B1, Overall No. 2
Power Ranking: #2
Overall Record: 36-3
Against the Nationals Field: 12-3
Against the Pool: 2-0 vs. Texas, 1-0 vs. Carleton
Watch: On USA Ultimate, Friday 8:30 AM vs. Michigan
Cinderella isn't the right fairy tale to describe UCSD's meteoric rise over the last two seasons. Let's try Sleeping Beauty instead.
UCSD woke from a long, decade-long sleep last year to qualify. This year, our San Diego sleeping beauties discovered they actually have pretty nifty jump shots and a five second 40-yard dash times to boot.
The Psychos only lost to two teams this season, Stanford and Dartmouth, who are the two most recent defending National Champions. They know how to win games by crushingly big margins, and their top seven players can outlast most teams' top seven in any scenario. Last year marked their return to Nationals in over a decade, and this year they are in strong contention to reach the final.
"We're honestly still surprised at how our season turned out. Going to Nationals is something we always work hard towards, and ending up in this position is just whip cream on top. Doesn't mean we're satisfied though. We're always hungry to learn more and get better," said the UCSD captains.
Their experienced roster relied on chemistry and strong fundamental offense to bulldoze past every opponent they met at their first few tournaments. UCSD's chemistry facilitates quick disc movement and easy execution of their offensive structure, leaving plenty of room for individual flair from stars Kelli Iwamoto and Dena Elimelech. Their only losses early this year were to Stanford who knocked them out in the semifinals at their first two tournaments. UCSD got their revenge when it counted, however, beating Stanford 8-6 in a windy Regional final.
RELATED: Making Basics Look Beautiful: A Breakdown Of UC San Diego's Offense
That win earned them a No. 2 seed this weekend, a dramatic turnabout from their No. 4 seed and 0-4 pool play record last season. And how far UC San Diego has come in only a year rarely shows in their play; only in the highest pressure moments does their relative inexperience show.
They lost twice early in the season to Stanford, a longtime rival who seemed to have the Psychos' number. They played with nerves and a tinge of panic in the Northwest Challenge final as well, against an imposing Dartmouth who had just knocked aforementioned Stanford. But UCSD isn't going to let the big stage or a few nerves get in their way. When asked if they've talked as a team about these nerves, the captains replied:
"Yes we have. A lot of our nerves come from cutthroat expectations we put on ourselves, so we try to combat this by balancing confidence with being humble. We really try to cut the noise and really focus on our inner drive to learn and play good ultimate."
UC San Diego is 3-0 over the top half of their pool, and they're easy money for the bracket, where their real challenge will begin: this fresh-faced, relatively untested team will try to complete their incredible season with a final appearance.
Texas Melee
Seeding: B2, Overall No. 7
Power Ranking: #7
Overall Record: 24-8
Against the Nationals Field: 8-7
Against the Pool: 0-2 vs. UCSD, 0-1 vs. Carleton, 2-0 vs. Western Washington
Watch: On Ultiworld, Saturday 2:30 PM vs. Carleton
Texas Melee reached the National final last year in a blaze of big plays and deep chemistry among their top eight to ten players. Texas graduated the players responsible for most of the touches in that final, and as a result the 2018 regular season has featured more highs and lows for Texas. Through early stumbles and gritty wins, Texas focused on building their chemistry anew.
Younger players stepped into bigger roles this season, showing their mettle in big game moments. Players like Ivy Harrison and Caroline O'Connell are shouldering more responsibility and time with the disc this year, and Texas' upward trajectory from tournament to tournament proves the depth this roster already had on its bench. Laura Gerencser is a calm and imposing force on both sides of the disc, and Texas relies on her length and height in diametrically different ways than they count on the speed of cutters like Marissa Land or Harrison.
Texas stuttered early at Presidents' Day Invite, but their record has improved at every tournament since, including a third Centex win and a 12-10 victory over Colorado at the Southwest Regionals.
"This team is very different from last year and there are big shoes to fill," said the Melee captains. "We have improved at every tournament and hope to keep the trend going at Natties."
All the chemistry in the world may not be enough to get this squad back to the final this year. Texas has only won one game against a Nationals team by more than three points this season, and their penchant for hot and cold streaks makes Melee the most vulnerable No. 2 seed in the tournament. What's more, they're still missing key cutter Gabby Cuina, who tore her ACL at Stanford Invite.
This Texas team may not be bound for another final appearance, but they still have the skill and the big game grit to last deep into the bracket.
Carleton Syzygy
Seeding: B3, Overall No. 11
Power Ranking: #15
Overall Record: 24-7
Against the Nationals Field: 5-6
Against the Pool: 0-1 vs UCSD, 0-1 vs Texas, 0-1 vs Western, 1-0 vs Michigan
Watch: On USA Ultimate, Friday 12:30 PM vs. Western Washington; On Ultiworld, Saturday 2:30 PM vs. Texas
Last season's class of rookies gave Carleton a booster shot of energy and talent, and their depth re-earned them a Regional title and an appearance at Nationals. This year is more of the same for Syzygy, and it's paying dividends. Carleton's latest rookie class features two women who are already on the ROTY watchlist, Isabel Arevalo and Nariah Sims, and both women are already mainstays in Syzygy's game.
These rookies join a strong sophomore class that created a deep foundation of disc skills and field IQ that keep Carleton in games with the division's best teams. All of Carleton's losses this season have been to their fellow Nationals teams,1 and they have several banner wins over elite teams like Colorado (13-9) and Texas (9-8).
Carleton's play style is straightforward and it's proven maddeningly tough for teams to disrupt. Syzygy doesn't lean too heavily on any one player to make the big plays, and as a result this roster can weather most defenses it faces. Senior captains Naomi Price-Lazarus and Maddie Preiss are calm and decisive guardians of Carleton's backfield, and they rarely place the disc into a 50/50 situation. Fellow senior captain Ellen Jacobus creates a lot of momentum in Carleton's horizontal stack, alongside sophomores Anika Thomas-Toth and Karen Ehrhardt.
Last year, Carleton was eliminated in prequarters by the eventual finalist Texas. This weekend they'll see Texas once more, this time in pool play. Carleton has the speed to run with Texas and the rest of their pool, but they'll have to play possession ball when their young D-line gets chances if they want to start controlling games.
Western Washington Chaos
Seeding: B4, Overall No. 14
Power Ranking: #11
Overall Record: 19-14
Against the Nationals Field: 5-11
Against the Pool:  0-2 vs. Texas, 1-0 vs. Carleton
Watch: On USA Ultimate, Friday 12:30 PM vs. Carleton
After missing the postseason last year,2 Western Washington Chaos is particularly thrilled to have the chance to compete together a little longer this season. This year's Chaos has earned it: Western is a young, smart team that can outlast elite teams in long points and muscle through zones and matchup defense to get to the end zone. Nine of their 14 losses this season were to teams they could face this weekend, and they racked up statement wins at Northwest Challenge over UBC (12-10) and Carleton (12-8).
Despite the roster's relative youth – more than half the team are freshman or sophomores – Chaos plays with less, well, chaos, than they have in years. Handlers are taking better options, in part because more players are cycling through the classic handling roles. Chaos' new offensive system also gives cutters more room and time to work in the open lane.
Western returns to Nationals with all the pedigree of a top ten team and none of the hubris. If they can stay focused and calm on offense, they could easily outlast Carleton or even perhaps Texas.
"We have the potential to compete against any team," said the Chaos captains, "and breaking seed is just another way to prove that to ourselves. Especially considering last year, building confidence in the strength of our team is valuable to us."
Michigan Flywheel
Seeding: B5, Overall No. 18
Power Ranking: #19
Overall Record: 22-12
Against the Nationals Field: 2-9
Against the Pool:  0-2 vs Carleton
Watch: On USA Ultimate, Friday 8:30 AM vs. Michigan
Michigan Flywheel's lost a pair of pocket aces last year when they graduated Tracey Lo and Hannah Henkin, however the team's performance this year revealed how strong their poker hand has been for years. This Great Lakes squad returned most of their core contributors for 2018, and they've got a lot of experience: of the 26 players on their roster, only two women hadn't played ultimate with a Michigan-based team prior to this season.
"That [fact] afforded us the ability to be a little more flexible with how we planned the arc of the season in terms of the strategic things that we covered and the variety of things we covered," said Michigan coach Ben Murphy.
Michigan fully shifted from the set-based offense they'd played a few years ago into a player-empowered offense that allowed cutters to determine their own spacing and timing. This shift is only more potent with veteran cutters like Brittany Wright and Amy Stoddard who are capable of getting yards on an under and then ripping the disc.
Michigan enters Nationals with the prototypical No. 18 seed record: a mix of wins over lesser teams and tough losses to the top of the division. Their double point loss to Oregon at Northwest Challenge offered a glimpse of how this Flywheel team can perform when they're playing lights out, but their big margin losses to Dartmouth and Whitman were reminders that Michigan still has room to grow to become a takeover team.
Michigan has to take down Western Washington and Carleton in order to reach prequarters. Carleton and Michigan already played twice this season with Carleton as the victor in both encounters. Murphy is already planning for their Friday meeting:
"I think whether or not we beat [Carleton] is probably not as much about whether we're savvy in terms of our defensive matchups or our defensive schemes, but more about whether we're going to do well on executing on our defensive efficiency."
Michigan's experience and ultimate literacy make them a tough bottom seed in pool play, and they have a real chance to steal a game and break seed in pool play.
---
Except their loss to BYU, whose potential to reach Nationals is unknown. ↩

The club was suspended by their school due to rules violations. ↩