Dartmouth, Tufts, Colorado, West Chester, UC Santa Barbara.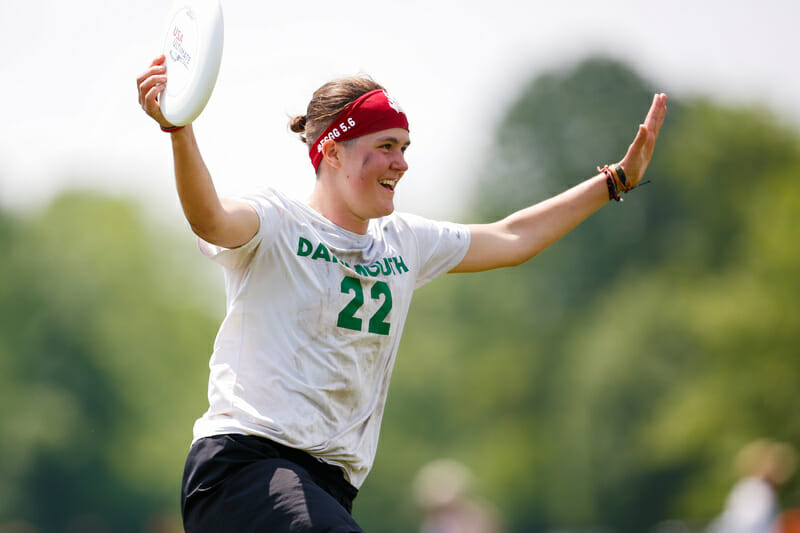 Coverage of the Women's Division of the 2018 D-I College Championships is presented by VC Ultimate as part of their season-long support of our women's coverage. All opinions are those of the authors. Please support the brands that make Ultiworld possible and shop at VC Ultimate!
Five times in the last eight seasons, the No. 1 overall seed at Nationals has won the national title. Dartmouth is as heavy a favorite to match that feat as any of the others before them. In fact, pool play isn't likely to be much of a challenge for them, but it could very well be the first chapter of their title defense story. Below them in the pool, however, there is plenty of intrigue.
Tufts, Colorado, West Chester, and UC Santa Barbara all have decent chances of making the bracket and each have their own storylines to reveal. In the same eight years that have had five No. 1 seed champions, only twice did Pool A finish to seed. Because teams two through five are so close in seeding, Pool A often is one of the more chaotic pools. Even with Dartmouth's presumed dominance at the top, 2018 has a good chance of continuing that trend.
Dartmouth Princess Layout
Seeding: A1, overall No. 1
Power Ranking: #1
Overall Record: 24-11
Against The Nationals Field: 8-1
Against The Pool: 1-0 vs. Tufts
It feels disingenuous to say Dartmouth has a key pool play matchup. They are a class above the rest of the pool, and, truthfully, they may be a class above everyone else in the entire division. By now, everyone is familiar with their murderers' row of a roster and how dominant they've been over the last two seasons. Yes, they shockingly dropped a pool game against Oregon last year, but they doesn't seem possible this year. They likely won't be tested until quarters, maybe even semis. Truthfully, they could feasibly blow through the whole tournament without playing a close game. That's certainly less likely, but the point is that Dartmouth should have little trouble getting through Pool A unscathed.
The team's only loss this year, if you can call it that, was a 8-6, weather-shortened result to Ohio State at Queen City Tune Up. Their only other close game all season was a 14-13 win over Stanford in the semifinals of Northwest Challenge. They've only allowed two opponents to reach double digits all season.2 In short, they've put together one of the most dominant seasons in recent history.
Head coach Eugene Yum says the team is able to stay driven despite their dominance by always staying in the moment. "As a team, we do not really focus or talk about past our accomplishments and instead focus on what we can do to make the team better as a whole," he explained. "During each game we focus on winning mini games to three and always treat each point as if it were 0-0. When we score the last point, the team usually doesn't know that the game is over until I walk over and say 'Let's line it up.' We've had this team attitude for the past couple of years and I believe it allows us to stay focused in the moment and stay hungry."
Dartmouth would have to play shockingly below their standard level to suffer a blip in the pool and they haven't any shown any signs of that this season. That's not a knock on their poolmates either. All four teams are realistically capable of making the bracket and two or three are decent candidates of winning a game there. But Dartmouth is such a power and has so few — if any — weaknesses that it's very difficult to see where they could trip up before the bracket.
Tufts EWO
Seeding: A2, overall No. 8
Power Ranking: #8
Overall Record: 25-43
Against The Nationals Field: 4-4
Against The Pool: 0-1 vs. Dartmouth
Watch: On Ultiworld, 8:30 AM Saturday vs. UC Santa Barbara
After losing their top two players of 2017 to graduation, and arguably their third best player to an ACL injury over the summer, Tufts still came back stronger in 2018. Their young depth from a season ago stepped up this year to be the team's top players. More evenly spreading touches across the team has shown its benefits, too, as teams can no longer stop one or two players to shut down the whole team.
In addition to being a deeper team this season, Tufts also now has Nationals experience to fall back on.  "Coming into Nationals this year with experience from last year is a huge benefit for our team. Now that we have a year of Nationals experience under our belts we are better prepared and ready for the many tough games to come and hope to improve on our finish from last year," said captain Valerie Willocq. "We learned a lot after competing at Nationals in 2017 and this helped us structure our practices and team goals heading to Nationals this year."
The next step for Tufts is to make it out of the pool. They've put themselves in a great spot to do that by earning the eighth overall seed, but the second and third spots in the pool should still be highly competitive. Willocq is hopeful that the team will be able to grow with weekend and play their best ultimate of the season.
"A successful weekend for our team would include getting better with each game and ending the tournament playing the best ultimate of our season as a team," she said. "We want to play the best we can and utilize our roster depth to make this tournament our strongest showing yet this season." If they're able to do that, then Tufts should make their first bracket appearance since 2014.
Colorado Kali
Seeding: A3, overall No. 12
Power Ranking: #16
Overall Record: 25-6
Against the Nationals Field: 3-6
Against the Pool: N/A
Watch: On Ultiworld, Friday 10:30 AM vs. West Chester
Colorado has had a rocky season. A #4 preseason ranking and a run to the Presidents' Day Invite final had them looking like one of the teams that would headline the 2018 season. But they dropped off at Stanford Invite and failed to register any marquee wins at Centex. The return of star Nhi Nguyen at Regionals provided reason for optimism, but even there they only narrowly avoided disaster, having to come back late in the game-to-go against Washington University.
But there isn't as much cause to panic for Colorado as there would be for other programs. They have a strong Nationals pedigree and the experience of a semis run just last year to fall back on. Head coach Claire Chastain thinks that will be a huge asset for this team. "We're a relatively young team, about half of our players are first years so inconsistency in the regular season makes some sense as we're trying to work people into new roles and figure out the strengths of this years squad," she said. "I think Kali tends to show up in big ways at Nationals and we have people who will be playing their fifth Nationals; that experience on that stage is invaluable."
Chastain also believess the ups and downs this season have helped her team hone their game to be the best when it matters the most. "Looking back on the season we've been able to play really close games with great teams, and have shown we can come back from huge deficits, even if we didn't close out the game. We've definitely honed in on some weak points in game management and subbing and have hopefully strengthened our lines by flexing players back and forth between O and D."
In a pool that seems wide open after Dartmouth but features little in the way of Nationals experience, Colorado has to like their chances of making it out of the pool. Players like Nguyen, Kelsey Bennett, and Jean Russell have been important pieces of a team that made a big run at Nationals. Apart from Dartmouth, Tufts is the only other team to have any Nationals experience at all on the roster. Colorado may have not had the regular season many expected, but don't be surprised if their talent and experience help them break seed at Nationals once again.
West Chester
Seeding: A4, overall No. 13
Power Ranking: #12
Overall Record: 18-44
Against the Nationals Field: 5-5
Against the Pool: N/A
Watch: On Ultiworld, Friday 10:30 AM vs. Colorado
The only program in the field making their first ever Nationals appearance, West Chester is the least known commodity in the pool. In addition to making their maiden voyage to the big dance, West Chester didn't attend a regular season tournament after Queen City Tune Up in February. They have some impressive results, most notably two wins over Ohio State, but most of them came early in the year, when those teams were still in the early stages of developing into what they'd be come May.
Some may criticize West Chester for not fully preparing themselves for this stage, but their scheduling gave them their best chance of making Nationals and it's hard to fault them for that. "This is our first trip to the post season so I'm not sure that preparing for it was on our minds.  We were simply trying to make it there," said head coach Marc "Doc" Stachowski.
But Stachowski, who coached a Penn team that featured Opi Payne and Raha Mozaffari to quarters at Nationals in 2009, believes his team has the talent to surprise on the biggest stage. "Our pool play upset of Ohio State at Regionals, going on a 5-1 run in the second half after being down 6-8 on a windy day, shows we can put up points in bunches, even when a good team knows about our deep game," he said. "We'll see how it works out. Just hope we can give some of these teams a few 'oh shit' moments."
The deep game that Strachowski refers to is one of the most exciting offenses in the game and a big part of what makes West Chester so intriguing. Lindsay McKenna is a tall, powerful deep and has massive throws; Liz Hart is a long, speedy deep cutter; Danielle Byers is a hyper-athletic hybrid; Rachel Alfano is a cunning, incisive red zone cutter; and the four of them lead their aggressive, long ball oriented attack. They don't have a deep roster, and that might prevent them from making a run in the bracket, but they have the top end talent to put a real scare in teams and a play style that will entertain anyone who watches.
UC Santa Barbara Burning Skirts
Seeding: A5, overall No. 17
Power Ranking: #18
Overall Record: 31-12
Against The Nationals Field: 1-10
Against The Pool: N/A
Watch: On Ultiworld, 8:30 AM Saturday vs. Tufts
After a four year absence, UC Santa Barbara makes their return to the National stage. The program has one of the richest histories in the sport, boasting five national championships, good for second most in the division's history. But it's been a lean four years between 2014 and this season, and for the first time since 2006, they have a roster devoid of any players with any Nationals experience. But that lack of experience obviously didn't prevent them from qualifying in 2018, and in a pool with other relatively inexperienced teams, it might not be the end of the world for them here either.
According to coach Ronnie Eder, though, the team isn't overly concerned with wins and losses, even at this stage of the season. "Our plan was never to try and make it to Nationals," she said. "We were and still are trying to be the best squad we can be, constantly growing together and making our systems better. That being said, the team is incredibly excited to be heading to Milwaukee and to have one more tournament to push ourselves and refine our system. We are so glad to be back representing our alumni and the strong tradition of excellence that is Santa Barbara ultimate."
Whether they're seeking them or not, UCSB is a team capable of pulling off an upset or two in pool play. They've played in eight games decided by two or fewer points and they've won five of those. The most dramatic of those wins came in the game to go of Southwest Regionals, a 14-13 thriller over Cal Poly SLO, but the best win on their resume is a 10-9 win over Texas at Presidents' Day. That ability to come out on top in close games bodes well, and their win over Texas has to instill confidence in their ability to hang with elite teams.
They also have a true elite player in Julia Kwasnick. Really, very little about UC Santa Barbara feels like a traditional pool five side. From their program history to their ability to win in tight games, they don't fit the usual underdog mold. Maybe they finish last in the pool, but maybe they finish third and steal a spot in prequarters. It's exciting to have low seeded teams that are capable of making a run, and it's a little more special when it's a program like UCSB.
---